Your home is your biggest investment, and you want to do everything you can to protect it. But how do you know what kind of homeowners insurance is right for you? And what exactly does homeowners insurance cover? What doesn't it cover?
Insurance might be complicated, but it's not rocket science. Don't let lack of knowledge keep you from protecting your home and your finances. The reality is that many homeowners are underinsured—leaving them exposed financially.
Our homeowners insurance guide will break down everything you need to know about homeowners insurance!
Key Sections:
What Is Homeowners Insurance?
Homeowners insurance is financial protection for your home and personal belongings in the case of accidents, fires or other disasters. It's a way to avoid financial ruin by transferring risk to an insurance company. Homeowners insurance also protects you from lawsuits due to accidents on your property (think dog bites or other injuries).
Here's how it works. By paying monthly premiums, you enter into a contract with your insurance carrier. Your insurance company then agrees to cover you in the case of an incident, if it's covered. You pay a certain amount out of pocket (your deductible). Next, you file a claim and your insurance company will pay any costs above your deductible, up to the policy's limit.
The bottom line? If you own a home, you need homeowners insurance. In fact, almost all mortgage companies require you to have homeowners insurance, even though it's not required by any state laws. Even if you rent, a lot of landlords require you to have renters insurance to protect your stuff.
What Does Homeowners Insurance Cover?
Like most types of insurance, homeowners insurance is not just one blanket policy that covers everything. It's a lot more complicated than that. That's why getting educated is so important. It's the first step to making sure you're in that Goldilocks sweet spot of homeowners insurance coverage. (And if you're researching homeowners insurance because you're just starting to shop for a home, check out our free Home Buyers Guide.)
Let's start with what homeowners insurance covers so you can understand where you're protected. Pro tip: Your insurance declaration page will show you what coverages you currently have so you can see where the gaps are.
A typical homeowners insurance policy addresses five basic things.
1. Dwelling Coverage
This coverage pays to repair or rebuild your dwelling (aka your house and anything attached to it) due to damage from disasters like fire, windstorms, hail, lightning, theft and vandalism (also known as hazards). So if a tornado destroys your roof, dwelling coverage will kick in and your insurance company will pay to replace it. However, there are a few exceptions like damage from flooding and hurricanes (more on that in a bit).
2. Other Structures Coverage
Other structures coverage covers things other than your house. Some examples are: detached garage, tool shed (or she shed?), barn, gazebo, swimming pool, fence or driveway.
Basically, any structure that is a permanent, valuable feature of your property. But this coverage does have limits—usually around 10% of the total policy you have on your house.
3. Personal Property Coverage
Personal property coverage protects what's in your home—the possessions you use every day, like clothes, furniture and electronics. It also covers expensive stuff like jewelry, art and collectibles. But there's often a dollar limit attached to those high-end items—so make sure you have enough insurance to replace everything. Most insurance companies cover your belongings at around 50% to 70% of what your house is worth.1 Create a thorough inventory of all your things so you have a record of your belongings and what they're worth.
4. Personal Liability Coverage
Personal liability protection covers you from lawsuits for bodily injury, property damage that occurs on your property and even dog bites (depending on the breed). Personal liability coverage doesn't cost much, so you can get plenty at a reasonable rate. You should carry at least $500,000 in liability because—let's be real—no one sues for $250,000. And if you have a larger net worth, you should also look into umbrella insurance.
5. Additional Living Expenses (ALE)
Additional living expenses (ALE) coverage helps pay for the costs of living away from home due to damage from an insured disaster. Whether it's for a few days or even months, ALE covers things like hotel bills, restaurant meals, pet care, transportation and even moving expenses.

Protect your home and your budget with the right coverage!
However, ALE won't pay for all your expenses. It covers costs over and above your usual living expenses (like your mortgage and regular grocery budget).
Now that we've seen the good news of what a typical homeowners insurance policy covers, we're ready for the bad news—what's not covered.
What Isn't Covered by Homeowners Insurance?
What's not covered by standard homeowners insurance? And when should you consider buying additional coverage? Let's take a look.
Flooding
Most homeowners simply don't consider natural disasters like floods and earthquakes.2 In fact, only 27% of homeowners say they have flood insurance—yet 90% of natural disasters in the U.S. involve flooding.3,4 (Come on, people! Let's turn these numbers around.)
We're going to be as crystal clear as we can on this one: Standard homeowners insurance policies won't cover flood damage to your home.
And, no, you can't call the insurance company while you're standing knee-deep in water (nice try). You need flood insurance before the waters start rising. It will pay for damage to the structure of your home and anything attached to it.
If you live in a designated flood zone, get flood insurance. Now.
Earthquakes and Hurricanes
Basic homeowners insurance also won't cover damage from earthquakes, unless it's a house fire caused by an earthquake. So if you live in an earthquake-prone area, you'll want to look into adding earthquake insurance.
What about hurricanes? We're glad you asked. If you live in a coastal area that gets hit by hurricanes, dwelling coverage won't cover wind or flooding damage. You'll need a separate hurricane policy for that.
Sinkholes
Homeowners policies typically don't cover sinkholes—unless you live in Tennessee or Florida. Insurers in these two states are required to offer optional sinkhole protection. If you live in a state where sinkholes are common—like Tennessee, Florida, Alabama, Kentucky, Missouri, Texas and Pennsylvania—you might want to consider this extra protection.5
Maintenance Issues
In most cases, your homeowners insurance won't cover damage caused by termites, mold, burst water pipes and sewage backups. Instead, these are considered part of the regular maintenance of owning your own home. Just like your car insurance doesn't pay for oil changes, your homeowners insurance company won't pay to maintain your house. (Welcome to the "joys" of homeownership!)
This is why it's important to stay up on your home maintenance. Deal with those small issues before they get big—and costly! It's also smart to do things like save up an emergency fund and get out of debt so you've got extra cash to cover things that break (because things always break).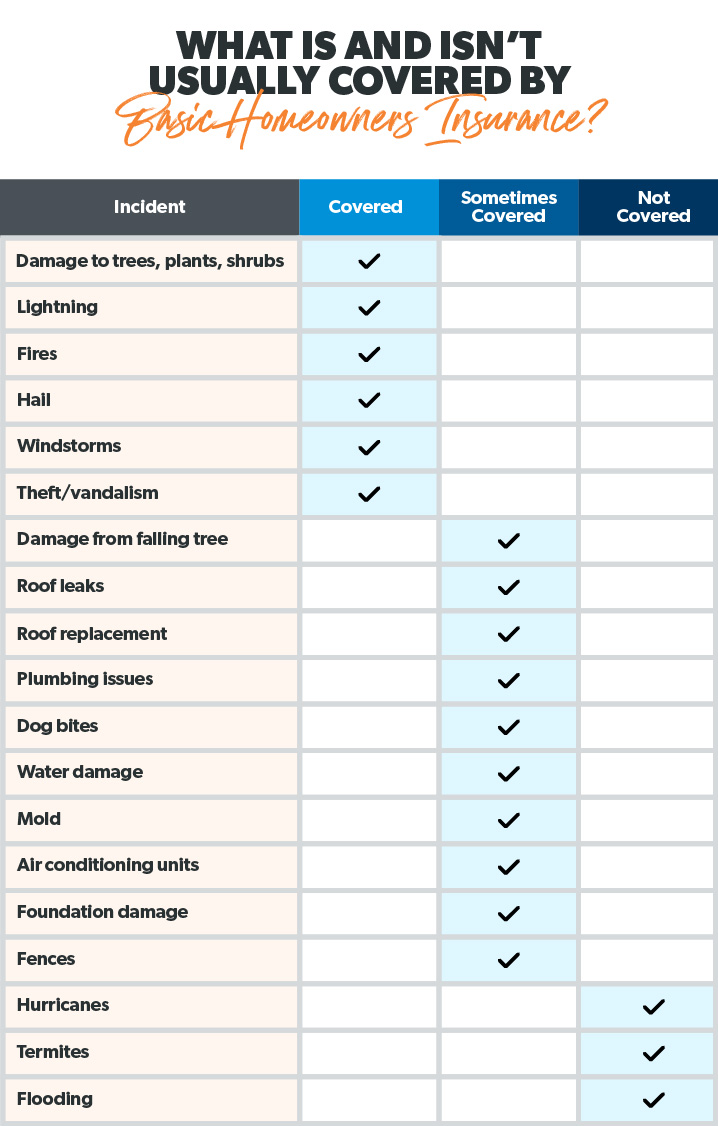 Types of Homeowners Insurance
Now let's talk about the different types of homeowners coverage.
Choosing the right kind of homeowners insurance is crucial. And it's a balancing act. You want the most protection at the best value—without being underinsured or paying high premiums for coverage you don't need.
Let's look at four main types of homeowners insurance.
Actual Cash Value
An actual cash value (ACV) homeowners policy will pay to repair or replace your home and personal belongings, minus depreciation. So let's say somebody steals your TV. The insurance company will pay what the TV was worth when it got stolen—not when it was new in the box.
Replacement Cost
Replacement cost coverage offers more protection than actual cash value because it doesn't consider depreciation. It will pay to repair or replace your home up to the home's original value (within some limits). For example, if you have a $200,000 dwelling coverage limit and the rebuild costs $250,000, you'll have to pay $50,000. Some replacement cost policies also offer cash value for personal property.
Guaranteed Replacement Cost
Guaranteed replacement cost coverage pays the full replacement cost if your home is destroyed—without factoring in depreciation or dwelling coverage limits. So if the rebuild costs $250,000, that's what the insurance company will pay. Simple. The only downside is that it's more expensive, so you should only get it if you really need it.
Extended Replacement Cost
Another variation on replacement cost coverage is extended replacement cost coverage. This type of homeowners insurance pays the replacement value of your home up to the coverage limit—plus a percentage of the coverage limit.
This kind of replacement coverage is also more expensive. But it can be helpful if you live in an area where construction costs are rising quickly (which seems to be nationwide in 2021) and your home is at relatively high risk of being damaged.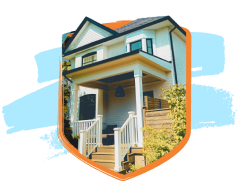 Protect your home with the right insurance.
Having a RamseyTrusted pro by your side means you'll get quality insurance coverage without breaking the bank.
Connect With a Pro Today
How Much Homeowners Insurance Do I Need?
Now that we've learned what is and isn't covered by homeowners insurance, along with the types of coverage, you might be wondering, How much homeowners insurance do I need?
The level of homeowners insurance you need depends on a ton of factors. But one of the biggest pitfalls people make when buying homeowners insurance is not having enough. For instance, if a wildfire destroys your house, it'd be awful to find out your homeowners insurance policy won't cover the costs. And unfortunately, an estimated three out of every five Americans are underinsured when it comes to homeowners insurance.6
Here's a good rule of thumb. Your homeowners insurance should:
Rebuild your home (extended dwelling coverage)
Replace your stuff (personal property)
Cover injuries and damages that happen on your property (personal liability)
Reimburse your living expenses after the loss of an insured home (additional living expenses)
And by the way, the value of your homeowners insurance will not automatically increase along with the value of your home. That's why it's crucial for you to routinely check up on your policy and make changes to it, if necessary.
There are a few other add-ons, or endorsements, you can add to your policy if you think you need extra coverage. Here are a few common examples:
If you have a really expensive piece of jewelry, you can get something called scheduled personal property. This will cover a specific item that you typically will need to get appraised.
Water backup coverage will cover the costs from sump pump accidents or backed-up sewer lines.
Ordinance or law coverage will pay to make sure your home is up to the latest building codes during a repair.
Equipment breakdown coverage will help if your HVAC or major appliances break down (over and above the usual wear and tear).
We recommend working with an independent insurance agent who can look at your situation and find you the right coverage while helping you not overpay for stuff you don't need.
How Much Does Homeowners Insurance Cost?
So you're getting closer to figuring out how much you need, but what about the price tag? How much does the average homeowners insurance policy cost?
Homeowners insurance costs range widely depending on your situation. Your monthly or annual premium is based on factors like the cost of your home, your past history of homeowners insurance claims, what type of coverage you need, your credit score, if you live in a hurricane-prone area, and how much your belongings are worth.
That said, the average homeowners insurance annual premium is $1,015.7 But again, this number varies widely. And when it comes to things like the cost of flood insurance, you can expect to pay more. In fact, many Americans will see the price of flood insurance rise because of the Federal Emergency Management Agency's (FEMA) updated rates.8
Finally, if you're looking for ways to save on homeowners insurance, read on, my friend, read on.
How to Save on Homeowners Insurance
While you definitely don't want to cut corners on something like homeowners insurance, there are a few ways you can save some money.
Bundle!—We've all seen the TV ads: "Bundle and save!" Although it gets old, it's true. You can save money on your homeowners insurance by bundling it with your auto policy.
Improve safety features—By simply installing things like burglar alarms, smoke detectors or deadbolt locks, you can sometimes score a discount.
Careful about claims—If you file too many claims, it could increase your premium. Think through how many claims you make, especially on small repairs.
Increase your deductible—You could save some money monthly on a lower premium if you raise your deductible. But only do this if you can afford the bigger deductible from your savings.
Check for better rates—By not shopping around once in a while, or having your insurance agent check for you, you might be leaving money on the table.
Pay your mortgage in full—If you're able to pay off your house, one nice bonus is that your insurance premiums will drop. Sweet!
How to Get the Best Homeowners Insurance
How should you actually go about getting homeowners insurance?
One way is to shop around and buy it directly from a carrier. But this can take a lot of time and still leave you without the best protection in place. With so many different coverages and add-ons, it's easy to miss one you need or accidentally buy one you don't need.
What if you could delegate this to someone else? You can!
By working with an insurance agent who is part of our Endorsed Local Providers (ELP) program, you can work with an expert in the industry to make sure you have the right coverage. Our insurance ELPs are RamseyTrusted and they can shop for you and get you the best protection at the right price. Plus they live all over the country—so you can find a pro in your area.
Did you find this article helpful? Share it!