Ahhhh. Home sweet home. There's nothing like that feeling after coming home after a long trip away. Or that moment you get the keys to your first house and you walk through the front door, lay down, and do snow angels on that plush living room carpet (weird, but we get it).
But now that the new-home smell has worn off, it might be time to double-check your homeowners insurance coverage. Or maybe you're getting homeowners insurance for the first time and you're wondering, How much do I really need? And what does homeowners insurance cover?
Homeowners insurance can be confusing. If my basement floods, am I covered? Or what if a tornado sweeps through my neighborhood and pulls my roof off? Am I on the hook for the repairs?
Never fear! We've broken down into plain English what a standard homeowners insurance policy actually covers. So your biggest asset is protected.
Let's dig in!
What Is Homeowners Insurance?
Homeowners insurance is financial protection for your home and personal belongings in the case of accidents, fires or other disasters. It's a way to transfer risk to an insurance company to avoid budget-busting events. Homeowners insurance also protects you from lawsuits due to accidents on your property (think dog bites or other injuries).

Protect your home and your budget with the right coverage!
Having the right amount of homeowners insurance can make a huge difference in you reaching your goals. For most people, their home is their largest investment. So the last thing you want is to be underinsured.
What Does Homeowners Insurance Cover?
Like most types of insurance, homeowners insurance is not just one overarching policy that protects you against anything that could happen. In reality, there are an almost endless amount of customizations you can make to your homeowners policy. That's why knowing the basics of coverage is so crucial. It's the first step toward getting the right amount of coverage. (And if you're wondering what your current coverage looks like, check out your insurance declaration page to see a breakdown of your policy.)
So, what does home insurance cover?
A standard homeowners insurance policy addresses five things:
Here's a look at how each part works to provide you a solid foundation of protection. (To get the full picture of what kind of home insurance coverage is available, check out our Homeowners Insurance Guide.)
1. Dwelling Coverage
Dwelling coverage pays to repair or rebuild your dwelling (aka your house and anything attached to it) due to damage from disasters (also known as hazards) like:
Fire
Windstorms
Hail
Lightning
Theft
Vandalism
Let's see how dwelling coverage could help you in three different scenarios.
Example 1: A tornado destroys your roof. With dwelling coverage, your insurance company will pay to replace the roof.
Example 2: Your garage catches fire. Your insurance carrier will pay to rebuild it if you have dwelling coverage. But if your garage was detached, you'd need something called other structures coverage (more on that in a second).
Example 3: If you live in a coastal area that gets hit by hurricanes, dwelling coverage won't cover wind or flooding damage. You'll need separate policies for that—and if you live near water, you probably will too.
2. Other Structures Coverage
Other structures coverage is just what it sounds like: It covers things other than your house. But what counts as a structure? Here are some examples:
Detached garage
Tool shed
Barn
Gazebo
Swimming pool
Fence
Driveway
Basically, a structure is a permanent feature that's been built on your property. But there are limits to how much the insurance company will pay to repair or replace these structures—usually around 10% of the total policy you have on your house.
Let's go back to that tornado for a second (sorry, but these are just scenarios). It not only destroyed your roof but also turned your tool shed into kindling (ouch!). Let's say you have a $200,000 policy on your home. The insurance company will pay up to $20,000 (10%) to repair or replace the shed.
Different policies cover different structures, so make sure the structures on your property are actually covered in your policy. This is one big reason we recommend working with a trusted and independent insurance agent to look at your unique situation.
3. Personal Property Coverage
Personal property coverage protects what's in your home.
Imagine coming home one day to find that thieves broke into your home and stole your vintage baseball card collection. While you can't get back the time and emotion that went into collecting all those cards, at least your insurance will pay for it.
Personal property coverage protects your things, like clothes, furniture and electronics. It also covers expensive stuff like jewelry, art and collectibles. That said, there's often a dollar limit attached to those high-end items—so you need enough homeowners insurance to replace damaged or stolen valuables. Most insurance companies will cover your belongings around 50% to 70% of what your home is valued at.1 So if your house is valued at $300,000, you could expect coverage up to around $210,000 for your things.
To make sure your stuff is actually covered, go through your house and take an inventory of everything. A lot of us underestimate what our stuff is worth. This normally wouldn't be an issue, but if we underinsure our personal property we could end up with a reimbursement check that doesn't actually cover the losses.
So pour yourself a strong cup of coffee, get out your clipboard or phone, and take a few hours on a Sunday to inventory your stuff.
4. Personal Liability Coverage
Personal liability protection is one of the best types of homeowners insurance you can buy. It protects you from lawsuits for bodily injury, property damage that occurs on your property and even dog bites (depending on the breed of the dog). Let's look at what happens when a married couple doesn't have this coverage versus when they do.
Tom and Amy invited their new neighbors over for dinner. Their neighbor's son jumped off the staircase and broke his arm. Now the neighbor is suing for $500,000. (Sadly, this happens more often than you might think.)
Without liability insurance, Tom and Amy would be in big trouble. They would have to pay thousands of dollars for lawyers. And if they lost the lawsuit, they could lose everything they own.
But good news! Tom and Amy have liability coverage. The insurance company will pay for legal representation and cover the damages if Tom and Amy are found responsible for the accident.
More good news: Personal liability coverage doesn't cost much, so you can get plenty of it at a reasonable rate. You should carry at least $500,000 in liability because—let's be real—no one sues for $250,000. And if you have a larger net worth, you should also look into umbrella insurance to protect everything you've worked for.
5. Additional Living Expenses (ALE)
Some disasters do so much damage that you can't actually live in your home until it's fixed. Whether it's for a few days or a few months, additional living expenses (ALE) coverage will help you pay for the expenses of living away from home due to damage from an insured disaster.
That includes things like hotel bills, restaurant meals, pet care, transportation and even moving expenses if you're out of your home for a while. But keep in mind that ALE won't pay for all your expenses. It only kicks in for costs that are over and above regular living expenses.
If a fire forces you into temporary homelessness, you might have to stay in a hotel for a month or so. And if the hotel room doesn't have a kitchen, you'll be eating out a lot. On top of that, you'll still have to pay your mortgage. Let's look at some sample expenses:
Normal Costs:
$1,200 mortgage + $600 groceries = $1,800
Costs After the Fire:
$3,000 hotel + $1,200 mortgage + $1,800 restaurants = $6,000
That's a huge increase—you can see why you'll need ALE!
Since ALE only pays for extra expenses, it won't cover the $1,200 mortgage. And since you didn't have to buy groceries, the insurance company will subtract your normal grocery budget from the amount you spent eating at restaurants.
So let's see what ALE actually pays for:
Costs ALE Covers:
$6,000 - $1,200 mortgage - $600 groceries = $4,200
ALE has limits—usually around 20% of your dwelling coverage. And it's designed to help you maintain your standard of living, not live luxuriously on the insurance company's dime. (If you try that, your claim's going to get denied. Yikes!)
But when you use ALE right, it's one of the most helpful coverages to have after a disaster.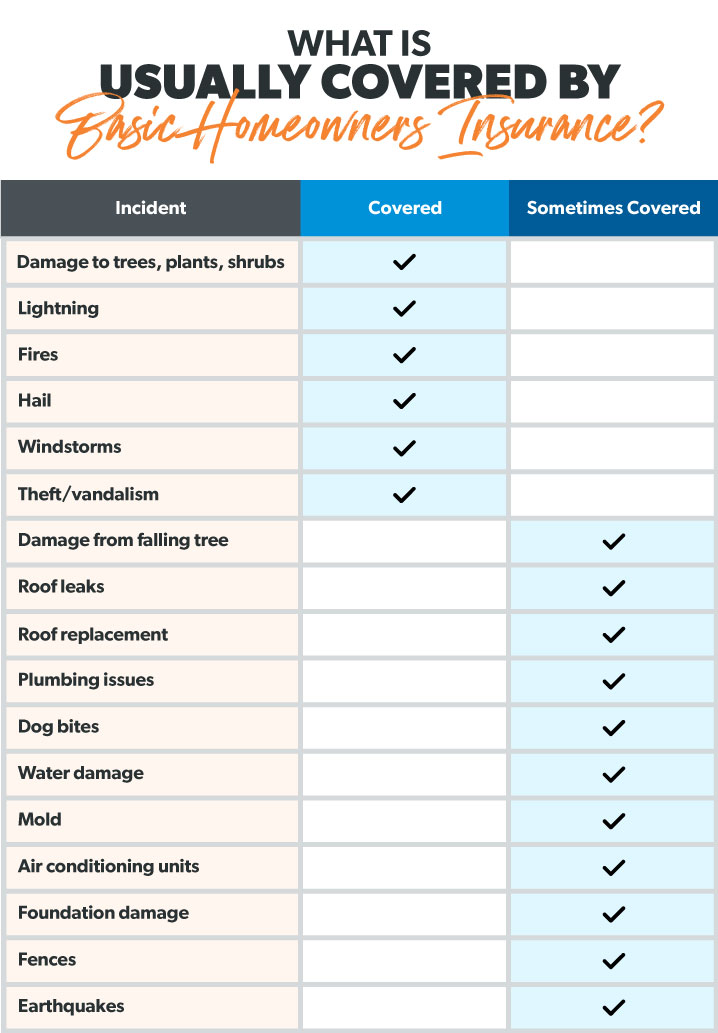 What Does Homeowners Insurance Cost?
Now that we've answered, What does homeowners insurance cover?—we're ready to look at how much it costs. The price of an average homeowners insurance policy premium is $1,015 per year.2
However, the cost of homeowners insurance ranges widely depending on a ton of factors. Things like the value of your home, your past history of homeowners insurance claims, your credit score, the level of your coverage, whether you need extras like flood or hurricane insurance and how much your stuff is worth.
How to Get the Right Homeowners Insurance
The typical homeowners insurance policy gives you a lot of bang for your buck. We saw that you'll be covered from a ton of different bad things that could happen. There are also extras you can add to your policy if you need more coverage.
However, homeowners insurance doesn't cover every possible incident that could set you back. Flooding is just one example. If you live in a flood zone, you'll need flood insurance to cover this type of damage.
Finally, you might be wondering, How do I know I have the right level of home insurance coverage?
Great question! When it comes to something as important as protecting your home, we recommend working with a top-notch insurance agent. Especially since the value of your policy won't automatically increase along with the value of your home, it's crucial to work with someone you can trust to make sure you have enough coverage.
That's where our RamseyTrusted agents come into play. They're part of our Endorsed Local Provider (ELP) program and can look at your unique situation to help you find the sweet spot of coverage. You'll be protected and get to work with one of the best agents in your area.
Connect with a RamseyTrusted agent today!