Like people, businesses are unique. Unique needs. Unique industry risks. Unique revenue streams. Unique everything!
That's why there is no one-size-fits-all business insurance package. There are a ton of different types of business insurance coverages you can mix and match.
We'll go over what's out there so you can get the coverage you need.
Types of Business Insurance
Whether you're selling pop sockets out of your garage, or building apartments in Atlanta, business insurance (also called commercial insurance) is one of the best defensive strategies to protect your company.
It covers things like theft, on-the-job injuries, vehicles, medical costs, expensive lawsuits, cyberattacks and other events that could put you out of business. Some coverages pay you directly for covered events. Others pay the people you owe for claims that are filed. (If you already know what types of business insurance you need, check out our five-step guide on how to get business insurance.
Here's a breakdown of 11 types of business insurance you can get.
1. Business Owners Policy (BOP)
A business owners policy (BOP) is a great place to start if you own a small business. It's a bundled policy that usually includes at least general liability and property insurance. It's also a great way to save!
2. General Liability
General liability is like the superhero of all business insurance coverage. It covers things like:
Property damage
Legal costs
Medical expenses
Bodily injury
So if a customer slips on the ice in front of your building, breaks their foot and sues, general liability swoops in and covers legal and medical costs. It can also cover space you rent for your company and help if you're found responsible for damage to your landlord's property.
If you own a business, you need general liability. Bottom line.
But just like Superman, it does have some Kryptonite weaknesses. It won't cover employees who get hurt at work, or cases of poor workmanship, professional mistakes and car-related accidents.
3. Workers' Compensation
Most people have heard of workers' compensation (or workers comp). It protects your company and employees when there are on-the-job injuries. Like if someone slips on a monkey wrench left lying around and breaks their ankle (c'mon, people!). Most states require you to have workers' compensation coverage—even if you just have a few employees. It covers:
Medical bills for the injured worker
Lawsuits against you or the company
Lost wages if someone misses work
Physical therapy
Funeral costs for worst-case scenarios
Without workers' comp, you'd probably have to pay for these costs out of your own pocket. Not good.
4. Health Insurance
Health insurance is another type of business insurance you can add to cover your employees' health expenses. It's also a great way to attract and keep employees. There's even a small-business health care tax credit you might be able to take advantage of.
5. Business Personal Property (BPP)
Business personal property (also called business contents insurance) protects stuff like your inventory, tools, office supplies, computers, heavy machinery, furniture and other equipment. It also covers buildings you own or rent. So if a fire broke out and you lost a warehouse full of inventory, you wouldn't be devastated. But it won't help with floods or earthquakes. You'll need separate flood and earthquake insurance for those.
And a side note: If you run your business from your home, don't assume your stuff is covered under your homeowners insurance policy. It's usually not.
6. Professional Liability Insurance
Professional liability business insurance (also called errors and omissions insurance) covers you if you're in the professional-service industry (think consulting or accounting). If someone sues you or files a claim for negligent work, you won't be stuck paying legal fees on your own.
7. Business Auto Insurance
If you use vehicles for your business, you'll need business (or commercial) auto insurance. (Your personal auto insurance policy won't cover business use.) You can also get commercial fleet coverage. So if those donut trucks break down—while you might be "forced" to eat all those donuts yourself (to prevent spoiling, you know)—at least you can get the trucks back on the road soon.
8. Cyber Liability Insurance
Digital threats are a big deal these days. And with cyber liability insurance, you'll have some coverage in this new Wild West of digital bad guys. It takes care of costs related to data hacks and leaked customer data. If you're running your business on cloud storage or servers, check out cyber liability.
9. Excess Liability
Worried about a claim or lawsuit going above the limits of a policy? That's where excess liability coverage comes in. It's an additional layer of coverage you can add to existing policies that raises the limit on how much your insurer will cover for damages you or your employees are responsible for. It's also sometimes added to an umbrella insurance policy.
10 .Crime Insurance
Does someone keep stealing those colorful yard gnomes you're making? Crime insurance protects your business against things like theft, forgery and fraud. It doesn't matter if it's done by employees or nonemployees.
11. Business Income Insurance
Business income (also called business interruption) covers lost revenue if your business is down. Like if a freak tornado destroys your main warehouse and you lose income for a couple months while you rebuild your inventory.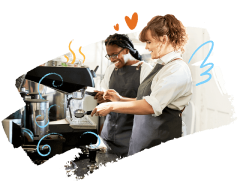 Get the right coverage to protect your business.
When a RamseyTrusted pro is in your corner, you'll have peace of mind knowing your business is protected with the right insurance.
Connect With a Pro Today
What Types of Business Insurance Are Required?
Most states require you to have workers' compensation. And if you have over 50 employees, you're required to provide some kind of health insurance. In some states, accountants need professional liability insurance and doctors are required to have malpractice insurance.

Protect your business and your budget with the right coverage!
Research your state's laws and work with an independent agent who can steer you in the right direction.
Get Covered Today!
Don't wait to put the right protection in place. Just a little work on the front end can go a long way in making sure your business is covered.
You also need the right amount of coverage, and when it comes to your business, you can't afford to hope you have the right protection. You need to know. That's why we recommend working with one of our independent insurance agents who is part of our Endorsed Local Providers (ELP) program. They look at your business and industry and put together a customized plan that covers you.
And they're RamseyTrusted—meaning they've been vetted by the Ramsey team and they're some of the best agents out there.
Expert Advice Delivered Straight to Your Inbox
Our weekly email newsletter is full of practical advice you can easily apply to your daily routine so you can win with your money, relationships and career.
Did you find this article helpful? Share it!