Everyone needs an expert in their corner. The more complicated life gets, the more we need someone to help us navigate daily tasks. A pro. A specialist. An authority. Whatever you want to call it, we all need one.
Finding the best insurance coverage is no different. The right professional can easily sift through all the insurance coverage options out there and find the one with the best value that's a perfect fit for you.
These professionals are called independent insurance agents. Let's walk through the advantages of working with an independent agent.
What Is an Independent Insurance Agent?
An independent insurance agent is someone who sells insurance policies from several different insurance companies rather than just a single company. They act as a middleman between insurance buyers and insurance sellers.
Independent insurance agents are usually qualified to sell a variety of different types of insurance coverages (auto, home, health, etc.). They typically work for themselves, receive commissions for the policies they sell, and are not considered employees of any specific insurance company.
What Does an Independent Insurance Agent Do?
Now let's talk about how independent insurance agents work.
Because independent agents work with a bunch of insurance carriers, they're able to provide a bunch of coverage options and prices to their clients. The most important part of their job is to match clients with the right insurance coverage and price.
First, they consider individual customer needs. Then they find policy options that meet those needs. A good independent insurance agent will provide a side-by-side comparison of the pricing and coverage options they find. Lastly, the agent walks through all the options with you so you can choose the best policy.
Successful independent agents—the ones who super-serve their clients—make it their job to stay current on all the different coverage options and the prices available from the insurance carriers they represent. Essentially, this means they do the legwork for you, so you don't have to fill out a bunch of different online applications to get your own quote comparisons.
Even better? Your inbox isn't flooded with dozens of cheesy sales pitches from different insurance companies.
Once you buy your policy, the insurance company pays a commission to the independent agent. Commission rates are usually comparable across multiple insurance companies, so independent agents can focus on finding the policy that's really right for you—not the one that will make them the most money.
Independent Agents vs. Insurance Brokers vs. Captive Agents
This one is tricky to explain, but it's really important to understand the distinction.
First, let's go over the difference between independent agents and insurance brokers. The best way to explain the difference is to start with the fact that insurance brokers can't actually sell you insurance—they're the go-between between you and insurance agents. Their purpose is to find the best policy and rates for your situation.

At Ramsey, the majority of our Endorsed Local Providers (ELPs) are both brokers and independent agents. So, from your perspective as a customer, the distinction is basically irrelevant because all of our ELPs are qualified to find the best coverage at the best price for you and your family.
So, what's the difference between captive vs independent insurance agents?
The main difference is that captive agents can only sell the products of the insurance company they work for—they can't talk about or sell options outside of their company's lineup.

Do you have the right insurance coverage? You could be saving hundreds! Connect with an insurance pro today!
On the other hand, independent agents aren't bound to one carrier, so they can shop around for the best coverage and price.
Here's an image that shows independent agents vs. captive agents and how they relate to brokers.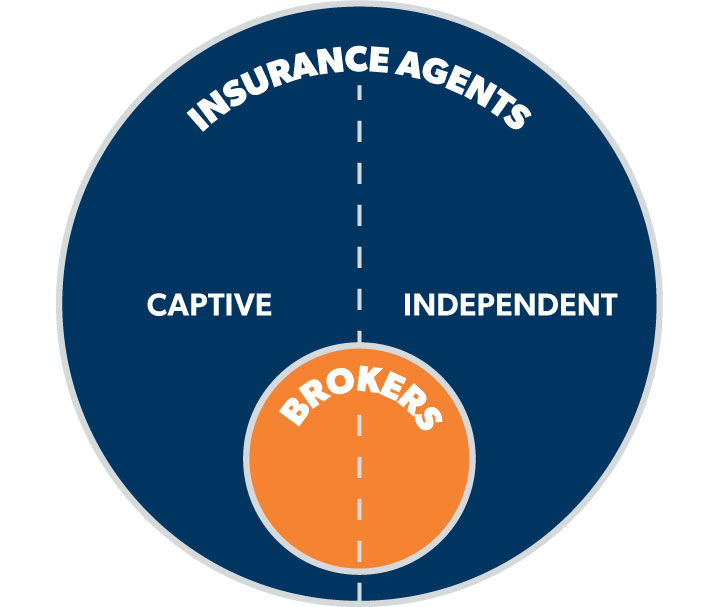 The Benefits of Working With Independent Agents
The flexibility independent agents have to work with multiple companies is the number-one reason we're big fans of working with independent agents for your insurance needs. It's just a fact of life that the more options you have, the more likely you'll be able to save money while getting the best coverage.
Hold on though. There are more benefits you should know about.
Licensed Experts
Insurance can get complicated, but independent agents know their stuff. They've passed their state exams and have the license to prove it.
They can take time to translate industry terms to help you make smart decisions. They've built their career on learning how to assess your needs and match them with the insurance carrier that's best equipped to meet those needs.
Personal Advisers
Remember when we mentioned the importance of having someone in your corner? This is what independent insurance agents do best. They eat, sleep and breathe insurance because they love helping people. They work with you one-on-one, taking time to listen and understand your individual needs. They know it's not all about getting the best price—it's also about making sure your insurance coverage will come through if you ever have to use it.
Local Authorities
Independent agents are your neighbors. We built our ELP program specifically so you can work with an agent who lives in your community. Local independent agents understand the challenges and benefits of living in your area and are right around the corner, ready to help.
Consultants for a Lifetime
Good independent agents periodically review your policies to make sure you're still getting the right coverage at the right price. Life comes with lots of changes, some good and some bad, (marriage, childbirth, starting a business, divorce, buying a home, insuring a teenage driver, etc.) and independent agents are there to help you adjust to every change.
Frequently Asked Questions
Still have questions? We've got answers.
1. How can I tell if an agent is independent?
There are a few easy ways to find out.
Ask the insurance agent directly: "Do you work with multiple insurance companies? How many carriers do you represent?"
Look for website or advertising wording that describes them as an independent agent.
Review their record with your state licensing agency and see how many insurance companies they represent.
2. How do I become an independent agent?
Becoming an independent insurance agent requires several steps, including taking courses (set by your state) and passing license exams (depends on the type of insurance you want to sell). Becoming an independent insurance agent is becoming an increasingly popular career choice due to its flexibility.
Most newly licensed agents work for an established agency to gain experience before becoming an independent agent. Additional education and licensing are required for you to move forward in your career.
3. How does an independent agent get paid?
Independent agents are paid on commission and earn a higher commission than captive agents. In general, independent insurance agents earn between 10% and 25% commission on an insurance policy.
4. How much do independent agents make?
The annual salary range for insurance agents is $29,000 to $127,840.1 Like any commission-based job, your location, marketing skills and the amount of effort you put into the job have a direct effect on your take-home pay.
Everyone Needs an Independent Insurance Agent in Their Corner
Our Endorsed Local Providers (ELPs) are all independent agents. They work for you, not the insurance company. Plus, they're your neighbors and will take the time to get to know you—so you never feel like you're just another number in a sea of faceless customers. Their number-one goal is to help you find a policy that's tailor-made for you and your family.
Did you find this article helpful? Share it!