Safe or sorry?
We recommend safe. Especially if you live in an earthquake-prone area.
Here's why.
Suppose you just bought your dream home. You're standing in your new kitchen admiring all the little details that made you fall in love with your home when, suddenly, you feel the ground rumble under your feet. The pendant lights over the kitchen island are swaying back and forth.
After quickly finding safety, your first thought is, I wonder if my new homeowners insurance covers earthquake damage.
Unfortunately, the answer is most likely no. You need separate earthquake insurance to avoid paying out of your own pocket for earthquake damage. And we're talking about what could be a huge chunk of change.
To help you make smart decisions about coverage in case the big one hits, we put together a complete earthquake insurance guide that spells out everything you need to know.
What Is Earthquake Insurance?
Earthquake insurance is a type of property insurance that pays the policyholder if an earthquake causes damage to their property. Most standard homeowners insurance policies do not cover earthquake damage.
The purpose of earthquake insurance is transfer financial risk from you to the insurance company so you're not on the hook for paying repair or replacement bills out of your own pocket.
What Does and Doesn't Earthquake Insurance Cover?
First, we'll answer the question, What does earthquake insurance cover? Earthquake insurance covers the cost of rebuilding your home or replacing your belongings if they're damaged during an earthquake. If your home is so damaged that you can't live there, earthquake insurance can also pay for temporary living expenses (hotel, food, etc.) while your home is being fixed.
Earthquake insurance doesn't cover everything though. It doesn't cover damage caused by a disaster (fire, flood, etc.) that's caused by an earthquake. This type of loss is called indirect damage. For example, suppose your home is damaged by a tsunami that was caused by an earthquake. Earthquake insurance won't help here, but if you have flood insurance, you'll get some financial help.
How Do Earthquake Insurance Deductibles Work?
Earthquake insurance deductibles work a little differently from most insurance deductibles. They're usually much higher because earthquake damage is often catastrophic. That's a ton of risk for insurance companies, who balance out their potential loss by requiring you to carry a high deductible.
Here's how it works. Instead of specifying a dollar amount, earthquake insurance deductibles are determined by a percentage of the value of the property you want to insure. Most insurers give you the option of choosing a deductible that's between 10% and 20% of the value of your property.
For example, if your home is insured for $500,000, a 10% deductible would be $50,000. That's a pretty steep deductible. So, a moderate earthquake that causes $20,000 in repairs wouldn't be worth filing a claim on because your deductible is more than the cost of repairs.
But if it's a major earthquake and your home is destroyed, the $50,000 deductible will feel a lot less painful than the $500,000 you'd have to come up with to replace your home.
Another difference between earthquake insurance deductibles and other types of insurance deductibles is the way earthquake insurance splits up dwelling and personal property into two separate categories.

Protect your home and your budget with the right coverage!
For example, while homeowners insurance often has one deductible that applies to your dwelling, your personal property and outside structures (fence, garage, etc.), earthquake insurance might have one deductible for your dwelling, another for your personal property and yet another for outside structures. That can add up fast!
Since insurance companies handle earthquake insurance deductibles differently from company to company, it's a good idea to connect with one of our Endorsed Local Providers (ELPs). Our ELPs are insurance experts who can tell you exactly how deductibles are calculated for coverage in your area.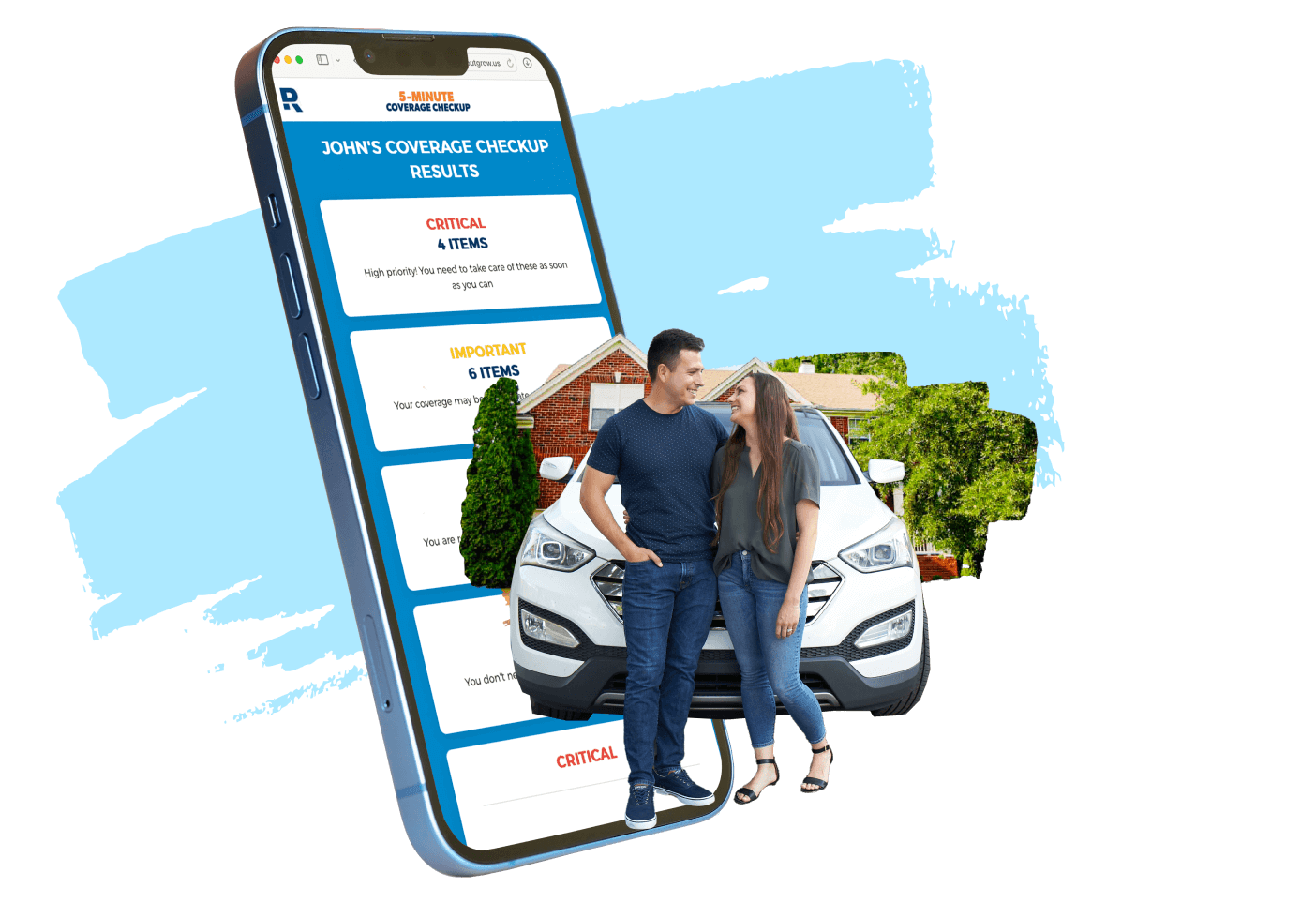 Do You Have the Right Insurance?
Find out what insurance coverage you should add, tweak or drop based on your individual needs.
Take the Coverage Checkup
What Is Earthquake Retrofitting?
Earthquake retrofitting refers to specific changes you make to your home to increase its strength and safety. (No, wrapping the windows in duct tape doesn't count.)
In addition to helping you save money on repair costs from earthquake damage, earthquake retrofitting can help you get a discount on your earthquake insurance premium. Win-win.
Here are some ways you can retrofit your home:
Bolt your house to the foundation.
Brace your chimney.
Brace your water heater to a wall.
Install automatic gas shut-off valves.
Use plywood to strengthen cripple walls.
Secure breakable items with museum putty.
Put latches on china cabinets.
Bolt tall furniture, like bookcases and armoires, to the studs in the walls.
Tie down computers and TVs.
Look in your local hardware store for latches, putty, computer straps and other devices to help you protect your belongings.
Ask your insurance agent about how earthquake retrofitting discounts work in your area.
How to File a Claim for Earthquake Insurance
Most people are, understandably, pretty frazzled after an earthquake. Filing an insurance claim isn't usually top of mind. But it's super important to file a claim as soon as possible, so we put together some easy steps you can follow.
If you notice damage to your home after an earthquake, or even if you just suspect it, report it to your insurance company right away.
Once you talk with your insurance agent, they'll open a claim and ask you questions about what happened and what was damaged.
Your insurance agent will assign an adjuster to your claim. The adjuster is trained to assess damage to your property. When the adjuster visits your home, be sure they inspect hidden areas (crawl space, basement, slabs, foundation, etc.).
Throughout the process, take notes on everything including the names and numbers of everyone you talk to, the date and time you talked, and what you talked about.
Always ask what happens next so you and the insurance company are on the same page about your claim's progress.
Do I Need Earthquake Insurance?
Remember that the whole point of insurance is to transfer financial risk from you to an insurance company so you can continue building personal wealth. It's an important part of protecting your money and assets.
And while earthquake insurance isn't mandatory in any of the United States, if you live in one of the earthquake-prone Western states like California or Alaska, it's a good idea to connect with one of our Endorsed Local Providers (ELPs) to find a homeowners or renters insurance policy that includes trustworthy earthquake coverage.
How Much Is Earthquake Insurance?
The short answer is, it depends. When tallying your earthquake policy costs, insurance companies consider multiple factors. They look at things like the way your home was built, its age, its size, its zip code and the type of soil underneath it. They also consider your coverage limits and your deductible before finalizing your rate.
California Earthquake Insurance
There's no doubt that California is earthquake country. It holds the top spot for the state with the most earthquakes that cause property damage. Even though earthquakes happen more frequently in Alaska, it's a big state with a small population, so most of the quakes are centered in rural areas away from structures and people. 1
Because California is known as the state with the most earthquake damage, California law requires any insurer who offers residential property insurance to include coverage for earthquake damage in their policies. It's not mandatory for homeowners to buy California earthquake insurance, but insurers must at least offer it.
California even has its own state-run earthquake insurance provider—it's called the California Earthquake Authority (CEA). The CEA is a publicly managed (privately funded) provider with more than 1.1 million policies.2 It's one of the largest providers of residential earthquake insurance in the world with over $18 billion available to pay claims from devastating earthquakes.3
You can get affordable CEA insurance regardless of whether you own a stand-alone house, a condo or a mobile home. Even renters who want to protect their belongings can buy CEA insurance.
Keep in mind that you must purchase your CEA policy from the same insurance company that owns your homeowners insurance policy. Connect with one of our Endorsed Local Providers (ELPs) who can walk you through your options.
Where Do I Buy Earthquake Insurance?
Remember our better safe than sorry recommendation we mentioned earlier? We said it because we truly want to help you make smart decisions about protecting your financial assets, including being prepared when the big one hits.
If you live in an earthquake-prone area, talk with one of our Endorsed Local Providers (ELPs) about earthquake insurance. Your ELP will walk you through earthquake insurance requirements in your area and recommend the same coverage that Dave does.
Interested in learning more about homeowners insurance?
Sign up to receive helpful guidance and tools.
Earthquake Insurance Frequently Asked Questions
Earthquake insurance can get complicated, so we put together answers to some common questions.
1. Is earthquake insurance worth it?
If you're on the fence about buying earthquake insurance, the best way to decide if you need it is to ask yourself how much it would cost to rebuild your home without insurance—and if you can take on the risk of paying for it yourself.
Consider this harsh reality too: Even if your home is destroyed by an earthquake, you'd still be on the hook for any remaining mortgage payments if you haven't paid off your mortgage.
2. Should renters get earthquake insurance?
Renters insurance does not cover earthquake damage. If you live in an earthquake-prone area, you want to protect your belongings, and you want a roof over your head in case you lose your home, you should buy earthquake insurance.
3. Does car insurance cover earthquakes?
If you have comprehensive insurance on your car, earthquake damage is normally included in the "weather-related incidents" bucket.
4. Does earthquake insurance cover tsunamis?
Even though earthquakes often cause flood damage related to tsunamis, it's not covered by earthquake insurance. You need separate flood insurance to cover damage caused by water.
5. What happens if you don't have earthquake insurance?
If your home is damaged in an earthquake and you don't have earthquake insurance, you'll most likely end up paying out of pocket to make any necessary repairs. And in case you're wondering if you can buy earthquake insurance to cover damages from an earthquake that has already occurred, the answer is no.
Did you find this article helpful? Share it!