You want to level up your insurance game but aren't exactly sure where to start? Awesome! You're on the right path. Insurance is a big part of reaching your financial goals. But let's face it. Insurance is complicated. Trying to figure it all out on your own can be harder than trying to change the oil in your car while driving down the highway (kids, don't try this at home).
In comes the insurance declaration page to save the day. An insurance declaration page is just a fancy term for a summary of your insurance policy. It outlines the who, what and how much of your insurance policy, whether it's for your car or house.
We'll break down everything you need to know about your insurance declaration page.
What's an Insurance Declaration Page?
The insurance declaration page (also called a standard declaration page or dec page) is a snapshot of what coverage you have, who is covered and how much it's costing you. It's provided by your insurance carrier and is usually the first page of your policy.
The declaration page is kind of like a Wikipedia page for your insurance coverage (except not just anyone can go in and edit it and claim the earth is flat). It also includes things like your limits of liability, deductibles, policy number, length of policy and when it went into effect.
How to Get Your Insurance Declaration Page
You'll want to have easy access to your insurance declaration page because sometimes it's used for proof of insurance. You can typically download it from your insurance carrier's website. If you can't find it, reach out to them and have them send it to you.
Keep in mind, too, that even if you're bundling home and auto, the coverages are still going to be broken out into separate documents. And it's a good idea to check for errors right after you get your coverage set up. The carrier will send you a new declaration page whenever your policy is renewed.
What's in Your Auto Insurance Declaration Page
When it comes to your auto insurance declaration page, here's a summary:
Policy period—This shows when your policy starts and ends. Most car insurance periods are usually for six months but sometimes can be a year. Your policy number is also listed.
Drivers—This section is your go-to place to check which drivers are covered under the policy. Anyone who drives your car regularly should be listed here, like your roommate who borrows it once in a while (and that "once in a while" turns into every day . . . ). This section also names excluded drivers who aren't covered.
Vehicles—Yep, you guessed it. There's a place where your vehicles are listed (year, make, VIN, etc.) and the coverages for each one.
Loss payees—This part describes the person or company who has any vested interest in the car. If the vehicle is financed or has a lease (don't do it people!), the bank or financial institution will be listed.
Discounts—If you're getting certain discounts (good for you!), you'll also find these listed here.
Premium—This shows how much you're paying.
Coverages—We won't bore you by listing out every type of auto insurance coverage (you can thank us later), but we will at least say that this is where you'll find a breakdown of what coverage you're paying for. Any extra coverages (roadside assistance, rental car reimbursements, etc.) are also included here.
Limits—This section details the limits on your policy. Limits of liability are the maximum the carrier will pay out if something happens. For example, if you have $10,000 in collision coverage, the company won't pay more than $10,000 if your car is totaled.
Here's an example of an auto insurance declaration page.

Do you have the right insurance coverage? You could be saving hundreds! Connect with an insurance pro today!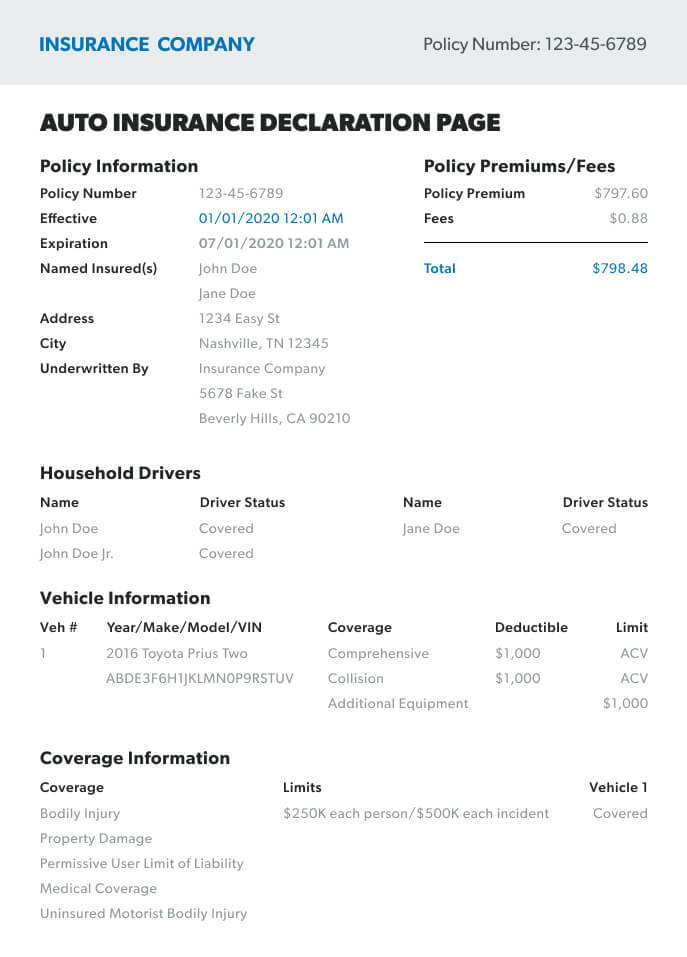 If you're in the market for better auto insurance coverage, or if you still have questions about car insurance, our auto insurance pros can help you understand it and make sure you have enough coverage.
What's in Your Homeowners Insurance Declaration Page
The homeowners insurance declaration page is similar to the layout of your auto insurance with a few minor details. They're kind of like second cousins, twice removed (does anyone really know what "twice removed" means?).
Here's the lowdown of what's in your homeowners insurance declaration page:
Policy number and address—If you're filing a claim for anything related to your house, you're going to need your policy number. The address of the property being insured is also listed here.
Effective date—This section shows you when the policy kicks in and when it expires. Most homeowners insurance lasts a year.
Limits—This is where you'll see the cap of what the company will pay for a claim. Limits for things like guest medical protection, dwelling coverage and personal property protection are found here.
Deductible—The amount you have to pay out of pocket before your insurance company starts ponying up.
Premium—The amount you're paying for the insurance, broken out into monthly payments or a yearly total.
Discounts—By now, you get the point. This is where the discounts are found. (It's insurance, folks, not rocket science.)
Here's an example of what a homeowners insurance declaration page looks like.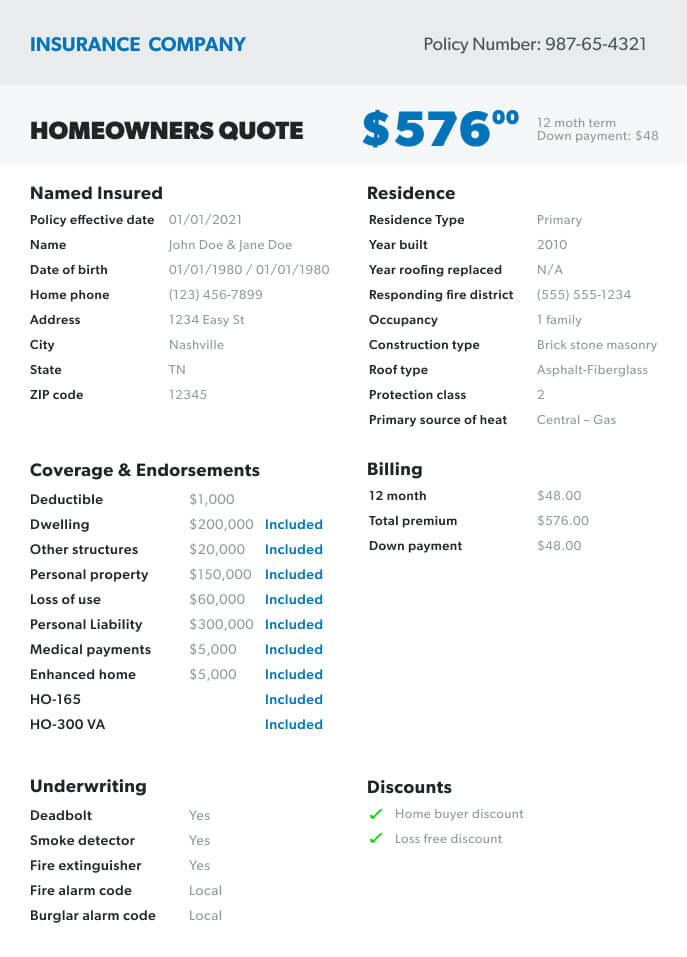 If you're reading this and wondering if you have enough homeowners coverage, or are buying a house and shopping around, our trusted and independent insurance agents have the heart of a teacher and can help you understand exactly what kind of coverage you need. They'll get you the best bang for your buck when it comes to protecting your biggest investment.
Finding the Right Coverage
Whether it's for your home or car, the insurance declaration page is a great tool to understand your insurance coverage. It can help make sure your assets and finances are protected and that you actually have the coverage you need to protect against all that life could throw at you.
And if you want help shopping or comparing the best rates, or have questions about whether your home or vehicle has enough coverage, or even too much, our Endorsed Local Providers (ELPs) can give you free quotes and can answer any questions you have.
Don't leave these things to chance. Reach out to an ELP today.
Did you find this article helpful? Share it!