Do you own anything? If not, you can stop reading. But... if you have physical possessions, and you're renting, you need renters insurance.
Renters insurance is a great (and cheap!) way to protect your stuff and your finances. Because let's face it. It would be super expensive to replace all your things if they were ever destroyed in a fire or stolen.
Let's look at seven reasons you need renters insurance!
But first...
What Is Renters Insurance?
Renters insurance is a type of property insurance that pays to replace your things if they're damaged, vandalized or stolen while you're renting. It protects you from dealing with the financial fallout of unexpected catastrophes like fires, electrical surges, sewer backups and explosions. Without renters insurance, you could end up dipping into your savings to replace everything you lost. Not good.
Is Renters Insurance Required?
Unlike auto insurance, renters insurance is not required by state or federal law. However, more and more landlords are requiring people to have renters insurance before they finalize their lease.
7 Reasons You Need Renters Insurance
Renters insurance might not be required, but it's still important. If you're asking yourself, Do I need renters insurance?, here are seven big reasons it's a smart move.
1. It helps replace your belongings.
If we think our stuff really isn't worth that much, then we assume it's easier to replace it. But the reality is, for most of us, our clothes, furniture and electronics are worth thousands of dollars. Replacing it all would be no easy task. But many of us still undervalue our stuff. This is partly because we buy it over a long period of time. We don't really see how much it's worth unless we really stop and think about it.
2. It fills in gaps from landlord's insurance.
Another reason folks don't see a need for renters insurance is that they assume (incorrectly) that their landlord's insurance will cover them. Not true. Your landlord's insurance only protects their building, not your stuff—no matter who's at fault.
3. It protects against lawsuits.
Renters insurance also protects you from budget-breaking lawsuits. For example, if someone is injured on the property you rent, they could sue you. The personal liability part of renters insurance will help pay for legal fees and even court judgments if you're found to be at-fault and have to shell out big bucks. Liability even protects you when other people's stuff is damaged. Like if your kid accidentally breaks an expensive vase at your friend's house, you're covered.
Even for renters who have more money in savings, the cost of a lawsuit or dog bite could be a pretty big financial setback. And renters insurance also covers some of the medical bills for these types of accidents.
4. It's inexpensive.
Renters insurance is one of the cheapest of all the different types of insurance you could get. It only costs about $15 per month on average.1 So even if you're working hard to pay off those student loans, or you're saving for the down payment of your first home, you can afford to put away 50 cents a day to insure your stuff.
5. It might be required.
One more reason you should get renters insurance is that you might have to. Again, more landlords are requiring tenants to have it in place before their application is approved.
6. You'll be covered while you're traveling.
Did you know renters insurance protects your belongings even while you're traveling? So if your favorite purse is swiped during that tour of the Louvre Museum in Paris, your renters insurance will pay to replace it. Nice!
7. It covers additional living expenses.
If your place is totally wrecked, forcing you to live somewhere else temporarily, renters insurance will kick in with something called additional living expenses (or loss of use coverage). It will pay for things like hotel stays and restaurants while you're waiting for your apartment or house to be rebuilt or repaired.
What Does Renters Insurance Cover?
Now that we've seen how valuable renters insurance is, what else does it cover?

Protect your home and your budget with the right coverage!
Here are just a few of the things a standard renters insurance policy covers.
Personal Property
Everything you own, up to certain limits. Your electronics, furniture, that collection of vintage baseball cards. Renters insurance has you covered if anything catastrophic happened at your place. Once you pay the deductible, your insurance company will reimburse you the amount to replace your things.
Liability Coverage
With liability protection, you'll be covered from accidents. So if someone sues you, renters insurance will help with those legal bills. We recommend dialing liability up to $500,000 to get yourself plenty of coverage for just a few dollars on your premium.
Additional Living Expenses
As we learned above, renters insurance also gives you financial security if you temporarily can't live in your apartment. It pays for things like hotel and restaurant costs.
Water Damage
Renters insurance won't cover damage from flooding unless it's something you caused. Like if you accidentally flooded your apartment, renters insurance would help with that. If you're not at fault, and it's water damage from a structural problem, your landlord's insurance will cover that.
Renters insurance also covers things like theft, certain portions of stuff you have in a storage unit, and spoiled food from a power outage.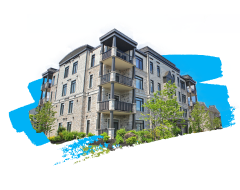 Get the right protection for your belongings.
Having a RamseyTrusted pro by your side means you'll get quality renters insurance without breaking the bank.
Connect With a Pro Today
How Much Renters Insurance Do I Need?
Now, you might be wondering, How much renters insurance do I need? We'll walk you through exactly how to figure that out.
How much personal property coverage should I get?
Personal property coverage depends on how much you own. So the amount differs for everyone. You should ask: If I lost everything, how much would I need to get back on my feet?
Start by taking inventory of your stuff. Set aside time on the weekend, grab a strong cup of coffee, and create a list of everything you own: socks, silverware, wall shelves, books, toaster ovens, mattresses, electronics—everything!
And take photos and videos too. This way you have a record of what you owned if your claim is ever disputed.
Once you have a list of all your earthly possessions, estimate how much each item is worth. Even if you think some things only amount to a hill of beans, add it anyway. You'll be surprised how quickly things can add up.
Once you know the value of your stuff, you'll know how much coverage you'll need. You should also know the difference between actual cash value (ACV) coverage and replacement cost value (RCV). ACV factors in depreciation, so your insurer will only write you a check for what your couch or TV was worth when it was damaged or stolen. On the other hand, RCV will pay you enough to actually buy a brand-new TV.
How much liability coverage do I need?
You should have at least $100,000 in liability coverage. But if you'd feel better about having more protection, you can always increase your liability limits.
Extra coverage to consider
If you live in an area of the country prone to floods or earthquakes, you should get extra layers of flood insurance or earthquake insurance to protect your stuff. (Remember, landlord insurance won't cover your things if they're damaged.) You can also get an add-on to protect yourself against sinkhole damage.
Finally, if you own higher end items (like art, collectibles or expensive jewelry), you should look into getting additional coverage. Property coverage has what are called sub-limits. This means an insurer will only pay up to a set amount to replace certain categories of things, like jewelry.
Need Help Finding the Right Policy?
You've worked too hard to get your stuff to have it all disappear overnight. And the price to replace it all could keep you from hitting your financial goals. Don't leave this stuff to chance.
Our network of independent insurance agents—called Endorsed Local Providers (ELP)—can help you find your renters insurance sweet spot. And they're RamseyTrusted. So you know you'll be working with the best agents in the business.
Connect with one of our property insurance agents today!
Frequently Asked Questions
If my roommate has renters insurance, do I still need it?

If your roommate has renters insurance, they have insurance for themselves—not you. While it might seem like sharing a renters insurance policy with roommates is a good way to save money, it's really not. Mixing insurance with roommates is like mixing oil and water—it just doesn't work out. You're better off just getting your own policy.

If I'm a college student, do I still need renters insurance?

If you're attending college and you live on campus, your stuff is most likely covered under your parents' property insurance policy. However, if you live off campus, you'll need to get your own policy.
Did you find this article helpful? Share it!