Have you ever heard of the Waffle House Index? It's how locals gauge how severe an oncoming hurricane is likely to be. In the words of the former head of FEMA, "If you get there and the Waffle House is closed? That's really bad."1
The reality is, every year, hurricanes cause billions of dollars in damage and the majority of it is caused by wind and flooding—two things most regular homeowners insurance policies don't cover. That's why if you live in a hurricane prone area, you need to make sure you've got the coverage you need.
We'll dig into everything you need to know about hurricane insurance so you can protect your biggest investment—your home. (And if you're also looking for tips on preparing for the next hurricane, check out our handy Hurricane Checklist.)
Hurricane insurance is actually made up of two different types of coverage you add to your existing homeowners or renters policy: wind and flood insurance.
Homeowners insurance does not cover damage from high winds (if you live in a coastal state) or flooding from a hurricane.
Nineteen states along the East Coast offer hurricane deductibles as part of their wind insurance. Hurricane deductibles kick in if your home is damaged by a named storm, and they usually mean you'll end up on the hook for more of the costs.
What Is Hurricane Insurance?
In reality, you can't go out and buy a "hurricane insurance" policy. Instead, you have to buy coverage in addition to your homeowners or renters insurance for specific types of damage that usually accompany a hurricane, like flooding and wind damage.
So if you live in a hurricane-prone area, listen up: If you haven't already, you need to add a flood insurance rider and a wind insurance rider to your homeowners policy ASAP!
Riders are extra layers of insurance that can be added to a standard homeowners policy.
Does Homeowners Insurance Cover Hurricane Damage?
You'd think the typical homeowners insurance policy would protect your house, belongings and property from hurricanes and flooding, but this just isn't the case. Homeowners insurance doesn't cover much of the damage from hurricanes.
You should have enough insurance to replace your house and belongings
And if you're renting, your renters insurance coverage is also spotty when it comes to hurricanes. It will likely cover wind damage to your stuff, but not flooding.
Usually Covered by Home Insurance
Here's a summary of the types of hurricane damage that are typically covered by your homeowners insurance policy:
Wind damage (except if you live in a coastal state)
Temporary relocation expenses like food and lodging
Flooding caused by water coming through a hole in the roof
Lightning damage
Food spoiling in the freezer or refrigerator due to a power outage caused by a hurricane
Windstorm Damage
Damage from wind can be a tricky one. Your homeowners policy may cover it, but likely won't if you live on the coast or in other areas that see a lot of wind damage. If your homeowners policy doesn't cover wind damage specifically caused by a hurricane, you'll need to add on a wind coverage rider.
Water Damage
Water damage coverage depends on where the water is coming from. If a tree falls on your house and gouges a hole in your roof allowing rain to gush in, that's covered. But if water from a storm surge, flooding from a nearby body of water, or heavy rains gets inside your home, you'll need flood insurance to be covered.

Protect your home and your budget with the right coverage!
Additional Hurricane Coverages to Consider
As we mentioned, if you live somewhere that deals with frequent hurricanes like a coastal area, you're not really protected unless you have extra coverage specifically for hurricane damage. Like we said earlier, you can't actually buy hurricane insurance, so you'll need to get these additional coverage types:
Wind Insurance
For states near the coast, wind insurance is a separate policy. You add a wind insurance rider to your homeowners policy to cover damage to your home from weather events with gusty winds, like hurricanes and tornadoes. Damage covered will include:
Water damage from wind-driven rain
Damage to personal property
Roof damage from winds (aka shingles shorn off or a hole punched by flying debris)
Damage to sheds and garages (some policies)
Flood Insurance
Flood insurance is also a rider added to your homeowners policy to protect your home from:
Water damage to your home from rising water (aka flooding)
Personal property destroyed by flooding (aka appliances, furniture, etc.)
Sewer Backup Coverage
Flooding can cause problems with your sewer or septic tank, which means you could end up with sewage water in your home. Pretty terrible to think about, we know. Even worse, regular homeowners insurance doesn't usually cover it. A water backup rider will help cover the costs to clean up the damage if it does.
Comprehensive Car Insurance
Your house isn't the only property that could be damaged by a hurricane. Your car is vulnerable too. Damage from hail, a falling tree or other debris could put a serious dent in your wallet if you don't have comprehensive insurance. Comprehensive coverage will pay for:
Hail damage
A tree or limb falling on it
Flooding
How Does a Hurricane Deductible Work?
For wind damage coverage, some insurance companies use what's called a hurricane deductible. It only applies to damage caused by a named storm. And it's usually higher than your normal deductible.
Here's the deal: Hurricanes are super expensive events for insurance companies. Hurricane deductibles are all about minimizing their losses. So, where you usually have a typical flat-rate "dollar" deductible for most claims, your hurricane deductible is based on a percentage of the insured value of your property.
Most hurricane deductibles are from 1–5% but can go as high as 10% in places like Florida. So, if your Cocoa Beach home is worth $250,000, and you have a 10% hurricane deductible, you would need to pay $25,000 out of pocket before your insurance company would cover any repairs for hurricane damage.
For the most part, insurance companies in different states decide how high your deductible percentage will be and when it will apply. The only exception is Florida, where state law lays out what insurance companies must charge. In the Sunshine State, all insurers are required to offer a hurricane deductible of $500, 2%, 5% and 10% of the policy's stated structure or dwelling limit.2
C ertain states do give you the option of paying a higher premium for a traditional dollar deductible. But it can depend on how close your house is to the shore.
States Where Insurance Companies Can Charge Special Deductibles for Hurricane Damage
Nineteen coastal states plus Washington, D.C., charge hurricane deductibles, usually for any damage caused by a named storm:
Hurricane Deductible States

Alabama

Hawaii

Mississippi

Rhode Island

Connecticut

Louisiana

New Jersey

South Carolina

Delaware

Maine

New York

Texas

Florida

Maryland

North Carolina

Virginia

Georgia

Massachusetts

Pennsylvania

Washington, D.C.
Data from iii.org3
How Much Is Hurricane Insurance?
So it's looking like this extra coverage might be necessary, but now you're wondering, How much is hurricane insurance? Well, just to be extra clear, we'll say it one more time: You can't buy a hurricane insurance policy. Instead, hurricane insurance is made up of flood insurance and wind coverage riders added to your existing homeowners or renters insurance policy.
On average, flood insurance from the National Flood Insurance Program (NFIP)—which sells most of the flood insurance policies out there—is about $900 a year.4
For protection against hurricanes or the Big Bad Wolf, a wind rider (or hurricane deductible) is your best bet. As we said up above, the cost of these is based on a percentage of your home's insured value, so how much you pay will vary wildly.
Some other factors that go into your wind insurance costs are your location, how old your house is, how it was constructed, and the condition and age of your roof specifically.
How Can I Lower Hurricane Insurance Costs?
So at this point, you know what we're really talking about is how to lower your flood and wind insurance costs.
Flood Insurance
For flood insurance, there are a number of ways you can lower your costs:
Increase your deductible: If you're willing to pay more when disaster strikes, you can benefit from lower premiums.
Compare rates: Don't just assume an NFIP policy will be your cheapest option, shop around among private insurers as well.
Maintain your coverage: Don't let your flood coverage lapse.
Flood-proof your home: Adding improvements to make your home more flood-proof could earn you a cheaper premium.
Wind Insurance
What kind of savings you can get on wind insurance depends on where you live. In Florida, insurers are required to offer discounts on your insurance if you add some wind mitigation improvements to your house, like a better roof shape, better roofing materials and adding a secondary water barrier.
In other states, wind mitigation inspections are one of the best ways to earn a discount or credit with an insurance provider on your coverage. The inspection involves hiring a licensed inspector to check your home's roof, windows, doors and other features to see if it's up to code and built well enough to withstand strong winds.
Costliest Hurricanes for Insurance Claims in the U.S.
If you're thinking, That's nice, but hurricanes are really rare and I can probably get by without insurance, take a look at this hurricane stat: 9 out of the top 10 most expensive hurricanes for insurance to hit the U.S. happened within the last 20 years.5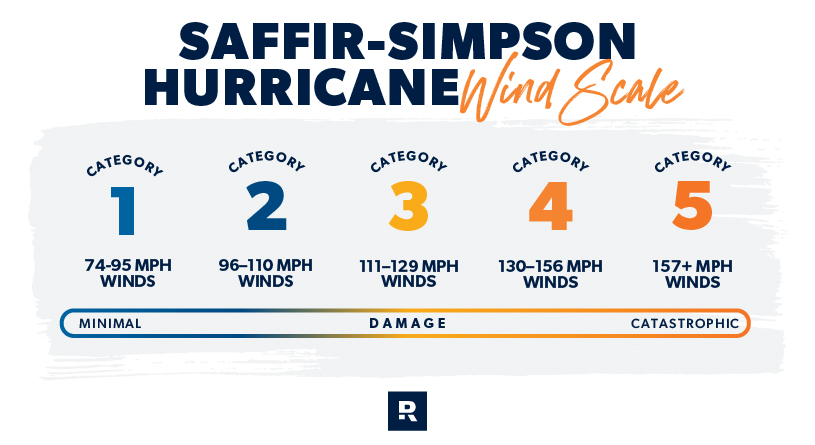 Saffir-Simpson Hurricane Wind Scale

Category 1

Category 2

Category 3 (major)

Category 4 (major)

Category 5 (major)

74–95 mph sustained winds

96–110 mph sustained winds

111–129 mph sustained winds

130–156 mph sustained winds

157+ mph sustained winds

Solidly built home could suffer damage to roof, shingles, siding and gutters

Well-built home could see major roof and siding damage. Small trees could be uprooted.

Solid homes could see devastating damage. Trees will be uprooted. Electricity and water will be unavailable for days.

Catastrophic damage to homes and landscape: Loss of roof and exteriors walls, trees uprooted. Power out for weeks up to months.

Catastrophic damage to framed houses. Areas directly hit will be likely uninhabitable for weeks or longer.
Data from NOAA6
Let's look at a few:
#5: Hurricane Harvey, 2017
Growing massive in the Gulf of Mexico, Hurricane Harvey hit Texas as a Category 4 and still holds rainfall records. The highest recorded rainfall was over 60 inches in one town.7 Residents suffered $30 billion in insured losses.8
#4: Hurricane Sandy, 2012
With tropical storm-force winds extending 870 miles across, Hurricane Sandy became known as a superstorm. She made landfall in New England, shutting down New York City and the surrounding region with winds and flooding. This storm also dumped multiple feet of snow in the Appalachians. Sandy's total insured damage costs hit $30 billion.9
#3: Hurricane Ida, 2021
This hurricane slammed into Louisiana and Mississippi as a Category 4 storm but pushed deep inland causing flooding across many states all the way up into Massachusetts and New York City. Ida caused $36 billion in insured losses.10
#2: Hurricane Ian, 2022
The second-most expensive hurricane to hit the U.S. is also the most recent. Hurricane Ian made landfall in Southwest Florida, dumping over 10 inches of rain over 3,500 square miles and causing $52.5 billion in insured losses.11, 12
#1: Hurricane Katrina, 2005
Causing $65 billion in insured losses, Hurricane Katrina is still the most expensive named storm to hit the U.S. Residents in Louisiana were devastated when this Category 5 storm made landfall over New Orleans and broke the levees, flooding hundreds of thousands of homes.13
Tips for Buying Hurricane Insurance
If you've looked over your homeowners insurance policy and realized you need more protection, here are some tips for buying wind and flood coverage:
There are two types of deductibles for wind damage: hurricane and windstorm. The trigger for a hurricane deductible is often damage by a named storm, but can be different depending on the state you're in. The second is activated anytime a storm with high winds (think tornadoes, tropical storms, blizzards, etc.) blows through.
Make sure you have enough coverage to replace your house. Whether you're just adding flood and wind insurance to your homeowners policy or you're buying the whole shebang right now, you need enough coverage to keep you from getting into a financial bind if your whole house and all your stuff needs to be replaced. An independent insurance agent can help you figure out what that number looks like.
Consider buying ALE (Additional Living Expenses) coverage. This stuff may come with your homeowners policy or you may have to add it on as a rider. It pays for the extra cost of living in a hotel and eating out if your house becomes uninhabitable from a hurricane (or other problem)—a cost that could wipe out your savings.
If you're waiting until the Waffle House closes to buy hurricane insurance . . . don't. Flood insurance policies in particular often have a waiting period before they take effect (usually 30 days).
Our final tip for buying hurricane insurance (by this time you know we mean flood and wind insurance) is to go through an independent insurance agent. If you're not sure where to find a good one, start with a RamseyTrusted local insurance pro. Our insurance agents are vetted experts in their fields and can help you navigate all the ins and outs of getting the right protection. They also do all the heavy lifting for you—shopping around so you can know you're getting the best deal.
So, what are you waiting for? It better not be the next named storm!
Get in touch with a local insurance pro today.
Frequently Asked Questions
What happens if your car is damaged in a hurricane?

Does renters insurance cover hurricane damage?

It's hit and miss. Renters insurance will cover the cost to replace your personal property if it's damaged by wind (including rain coming through the roof or broken window). But many renters policies won't cover flood damage. You can buy separate renters flood insurance if you live in a high-risk area.

Is hurricane insurance the same as flood insurance?

Hurricane insurance is what many people call the coverages you need to protect you financially from hurricane damage. Flood insurance is one of those coverages (also included under the banner "hurricane insurance" is wind insurance).

Flood insurance usually covers:

Water damage to your home caused by flooding
Water-damaged appliances due to a flood (if you live in a non-coastal state)
Furniture destroyed by floodwaters (if you live in a non-coastal state)

Does hurricane insurance cover flooding?

While flooding is something you need to get covered if you live in a hurricane-prone area, you can't actually buy "hurricane insurance." Hurricane insurance just refers to the separate coverages you need to get to be financially protected from hurricane damage, which generally are: flood insurance and wind insurance.

So the term hurricane insurance does cover flooding, but you have to actually buy flood insurance.

How do I buy flood insurance?

You can buy flood insurance through the National Flood Insurance Program (NFIP) or through a private insurer. Most flood insurance policies currently held are through NFIP. You can buy this federal flood insurance through non-federal, independent insurance agents.

Private insurance prices vary a lot between insurers, but they tend to be more expensive than NFIP. As always, make sure to shop around different private insurers and compare to an NFIP policy to make sure you find the best deal.

How much is hurricane insurance in Florida?

Hurricane insurance consists of separate flood and wind insurance coverages. In Florida, the average cost of flood insurance in 2022 was $958.14

Insurance companies are required by the state of Florida to offer hurricane deductible options for wind damage of $500, 2%, 5% or 10% of residents' homeowners policy dwelling or structure limits.
Did you find this article helpful? Share it!