Illinois is a state with lots of history and lots of identities: The Prairie State, Land of Lincoln, The Crossroads of a Continent, and more. It's a state with bustling city streets and quiet small towns. Rural and urban. Deep-dish pizza and miles and miles of corn fields.
If you're reading this, you might be considering a move to Illinois. Maybe you found a good job in the big city. Or you're looking for a nice town to raise a family. Or you might be looking for the peace and quiet of a small community after retirement.
Let's take a look at the best places to live in Illinois.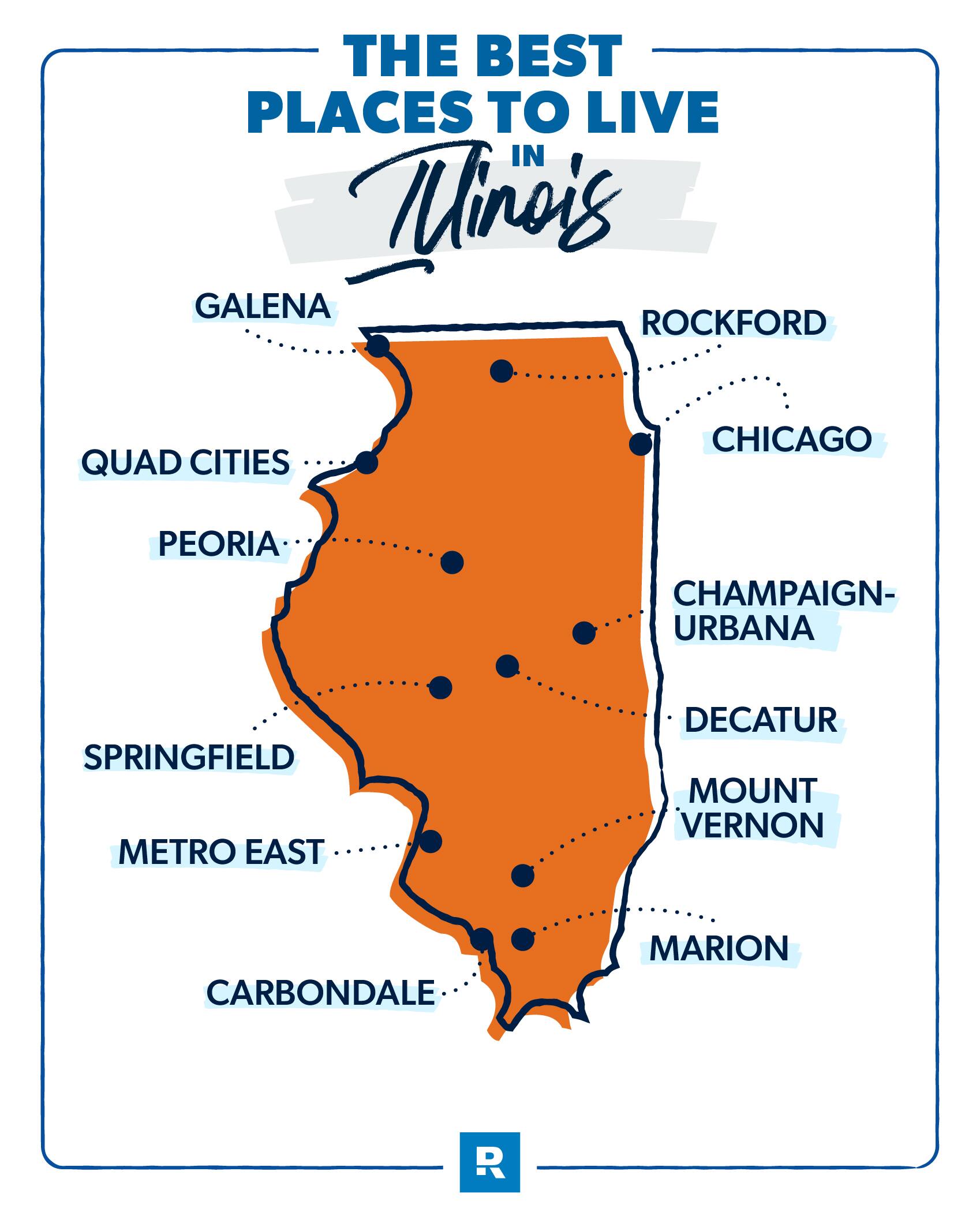 Illinois can be divided into three broad regions: northern, central and southern. Each region has a distinct identity based on its geography as well as the local culture.
But no matter which region you might call home, you'll experience the fun and not-so-fun aspects of life in Illinois. Illinois has lots of wide-open spaces outside the cities that give way to outdoor fun, like lake life during the summer and snow activities during the winter. But those summers and winters can be extreme at times—the winters being especially long and cold in the north.
Many areas in Illinois might have a low cost of living, but state and local taxes are among the highest in the country. Property taxes in particular are extremely high (only New Jersey is worse).1 The state also has a flat income tax of 4.95%, no matter the size of your income.2 So be prepared to factor those into your cost-of-living estimates as well as your future budget.
Because of record high taxes, not to mention the rising crime found in the larger cities, not many people are moving to Illinois—and many Illinoisans are leaving. The state's drop in population during the great migration of 2020–2021 was second only to New York.3 In fact, the population of Illinois has dropped eight years in a row—so much that the state recently lost a seat in the U.S. House of Representatives.4
With all that said, that doesn't mean there aren't nice places to live in Illinois. It just requires a bit more research on your part.
So, let's get into some of the best cities and metro areas in Illinois so you can compare their stats and features to see if any stand out to you. We've included metro areas because many Illinois residents who work in the big cities prefer to live outside the city limits and commute to work.
One more thing: All "best places" lists are subjective, including this one. While we did use some data, a "best place to live" remains purely opinion and will ultimately depend on your personal likes and dislikes. For example, some people actually love busy city life while others prefer a more laid-back place out in the sticks. To add a little more authenticity to our list, we consulted a few former and current Illinoisans who gave us some insights based on their personal experience.
So, here are the best place to live in Illinois. We've sorted them by region and in no particular order.
The Best Places to Live in Northern Illinois
We're starting our trek through the Prairie State in the most un-prairie part of it. Because it includes the Chicago metro area, northern Illinois is the most densely populated part of the state and contains most of the state's industrial engines. But it's not all city there—in fact, northern Illinois looks a lot like the rest of the state (flat and green) once you get out of Chicago.

Find expert agents to help you buy your home.
All this makes northern Illinois the most expensive region to live in—especially the closer you get to Chicago.
Galena
Located in the northwestern tip of Illinois, Galena is a small town with a lot of charm cultivated primarily from its rich history. Over 60% of the buildings in the city are under the Galena Historic District—preserving the city's look from the 1800s.5 Galena is also the hometown of President Ulysses S. Grant. His postwar home in Galena is a National Historic Landmark.
Today, Galena is a bustling tourist destination that attracts almost a million people a year with lots of outdoor festivals, activities in both winter and summer, quaint resorts and B&Bs, and more.6
| | |
| --- | --- |
| Metro Area Population* | 21,9957 |
| Median Household Income | $61,2898 |
| Median Home Price | $370,0009 |
| Median Monthly Rent** | $74910 |
| Average Annual Rainfall | |
*For each city, the metro area population numbers
include the citytogether with the surrounding urban and suburban areas.
**Rent data for Galena is based on a general average;
the others are based on the average rent for a two-bedroom apartment
Pros

Low cost of living
Good schools
Low crime rate
Business-friendly
History

Cons
Rockford
Rockford is a picturesque city with a lively local culture and lots of green spaces like parks and Japanese gardens. It's no wonder why Rockford is called the City of Gardens. It's one of the largest cities in Illinois outside of Chicago, but still retains a small-town feel. The Rock River cuts right through the middle of the city and is the place for many events, like water ski shows in the summer and Christmas light displays in the winter.
If you're familiar with the 1992 movie A League of Their Own, Rockford is home to the Peaches—the women's baseball team at the center of the story. The city pays tribute to that history with a city-wide Peaches Fan Trail. In addition to Peaches history, Rockford is also home to cultural centers, theaters, a symphony orchestra, and many world-class museums, like the Burpee Museum of Natural History.
| | |
| --- | --- |
| Metro Area Population | 335,34212 |
| Median Household Income | $47,00213 |
| Median Home Price | $209,00014 |
| Median Monthly Rent | $1,15615 |
| Average Annual Rainfall | 38"16 |
Pros

Affordable cost of living
Good community
Lots of activities

Cons
Best Suburbs of Rockford
If you want all that Rockford has to offer, but don't want to live right in the middle of it, here are some superb suburb options that are close enough to the action.
Quad Cities
Divided by the Mississippi River, the Quad Cities metro area covers five cities in two states: Davenport and Bettendorf in Iowa and Rock Island, Moline and East Moline in Illinois. You might be asking yourself why it isn't "Quint Cities" instead of "Quad Cities." Well, when Bettendorf grew into a city as big as its four sisters in the 1970s, some folks wanted to adopt "Quint Cities," but it never caught on. Old habits definitely die hard!
The Quad Cities is another area that offers that fun combo of city excitement while keeping the small-town feel. A big chunk of the industry here is manufacturing. In fact, John Deere is headquartered in Moline. But the Quad Cities also has centers of culture and commerce, like The District in Rock Island. Not to mention lots of opportunities for outdoor play and sports.
| | |
| --- | --- |
| Metro Area Population | 378,26917 |
| Median Household Income | $65,63618 |
| Median Home Price | $237,09819 |
| Median Monthly Rent | $95220 |
| Average Annual Rainfall | 39.4"21 |
Pros

Affordable cost of living
Good schools
Lots of things to do

Cons
Best Suburbs of the Quad Cities
The Quad Cities may offer the big city vibe with a small-town feel, but if you want to live in an actual small town near the big city action, here are some nice little towns and villages that will fit the bill.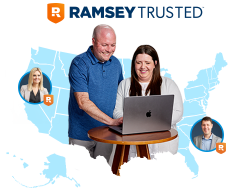 Don't buy or sell without an agent you can trust.
There are RamseyTrusted real estate agents all over the country who are ready to help you win.
Find a Local Agent
Chicago
And now we come to the Chicago metro area (also known as Chicagoland)—the biggest metro area in Illinois and the third largest in the country (behind New York City and Los Angeles).22 Like its bigger east- and west-coast cousins, the Windy City is a global center for industry and commerce with towering skyscrapers. Lake Michigan adds to the city's beauty and character.
Chicago has plenty of museums, theaters, parks and tourist attractions like Navy Pier. The food is also famous—especially the deep-dish pizza, popcorn and Italian beef sandwiches. And several professional sports teams call Chicago home: dah Cubs (MLB), dah Sox (MLB), dah Bulls (NBA), dah Blackhawks (NHL), dah Fire (MLS) and . . . daaaah Bears (NFL).
| | |
| --- | --- |
| Metro Area Population | 9.4 million23 |
| Median Household Income | $65,78124 |
| Median Home Price | $375,00025 |
| Median Monthly Rent | $1,45926 |
| Average Annual Rainfall | 42.3"27 |
Pros

Lots to do
Public transportation
Pro sports teams

Cons

Lots of people
High cost of living
Crime
Traffic
Intense winds
Harsh winters
Best Suburbs of Chicago
Many of the people who work in Chicago live outside the city in one of the small surrounding towns and suburbs—commuting in using the city's public transportation system (Chicago is a hub for Amtrak). You can even take the train for a day at Wrigley Field to watch the Cubs play! Here are a few of the top communities surrounding Chicago.
The Best Places to Live in Central Illinois
Lots of people think that there are only two regions of Illinois: Chicago and everything else. While that might be true when talking about the population of Illinois (the Chicago metro area has almost two-thirds of the state's total population), most of the land in the state is rural, especially in Central Illinois.28,29
We're talking tens of millions of acres dominated by forests and farmland. The farms of Central Illinois specialize in soybeans and corn—helping supply the entire country with both. And because the state is the biggest provider of pumpkins in all of America, there's a pretty good chance that your Halloween jack-o-lantern came from a farm in Central Illinois.30
You'll find lots of mid-size cities and small towns peppered in between green pastures and fields of golden corn. They're perfect for the type of folks who want to escape the hustle and bustle of big-city life and have a lower cost of living.
Peoria
The Illinois River provides a beautiful backdrop on the east side of Peoria. The river is such a vital part of the city's character that Peoria is revitalizing its riverfront with even more community space for multiple festivals throughout the year. The city has activities for every taste and interest—from ax throwing and escape rooms to museums and a symphony orchestra. It also holds the country's longest-running Christmas parade each year. And the Peoria International Airport offers service to a bunch of destinations without the stress of a big-city airport.
Health care and manufacturing are Peoria's biggest industries.31 In fact, Caterpillar, the folks who make all those cool construction machines, was based in Peoria for over 100 years before moving to Texas in 2022 (those high Illinois taxes even apply to businesses!). But they still have a presence in the city with their 720-acre visitors center, museum and demonstration area. What boy wouldn't love to play in that sandbox?
| | |
| --- | --- |
| Metro Area Population | 397,00932 |
| Median Household Income | $53,56833 |
| Median Home Price | $168,95034 |
| Median Monthly Rent | $1,38035 |
| Average Annual Rainfall | 40.2"36 |
Pros

Low cost of living
Thriving local community
Airport

Cons
Best Suburbs of Peoria
If you want all the river-fueled fun of Peoria without some of the issues like crime, check out these great suburbs.
Springfield
Before he was elected president, Abraham Lincoln spent most of his adult life in Illinois. And if there's one city that could carry the title of the Lincoln capital of Illinois, Springfield would be the place (it just so happens that Springfield is also the literal state capital). When he left Springfield for Washington, D.C., in 1861, Lincoln wrote, "To this place, and the kindness of these people, I owe everything."
Now who can beat an endorsement from Honest Abe? Lincoln fans will find many historical sites in the Springfield area related to the 16th president, like the Lincoln Home, the Abraham Lincoln Presidential Museum, a re-creation of the town of New Salem, the Lincoln Tomb at Oak Ridge Cemetery, and more.
Outside of the amazing history, Springfield also has lots of local eateries and hotspots. The Illinois State Fair is a huge draw to Springfield each year. The University of Illinois also has a campus in Springfield. And because Springfield is the state capital, the state of Illinois is the largest employer in the city, followed by Memorial Health and Springfield Public Schools.37
| | |
| --- | --- |
| Metro Area Population | 205,51338 |
| Median Household Income | $57,59639 |
| Median Home Price | $177,45040 |
| Median Monthly Rent | $1,20741 |
| Average Annual Rainfall | 41.3"42 |
Pros

Low cost of living/home prices
Low traffic
Good medical access
History

Cons

Crime
High property taxes
Declining population
Best Suburbs of Springfield
Looking for a small town to call home near Springfield? Check out these great examples.
Auburn
Jerome
Leland Grove
Rochester
Pawnee
Petersburg
Sherman
Williamsville
Decatur
A true blue-collar city, Decatur is a town that revolves around agriculture and manufacturing. The city is known as the Soybean Capital of the World and is a nationwide leader in soybean and corn processing courtesy of plants owned by companies like Archer Daniels Midland (ADM) and Tate & Lyle.43 While the processing plants keep the local economy humming, they also generate a bad smell that can be overpowering the closer you get to them.
Decatur isn't all business, though. The tight-knit local community is alive with festivals and events throughout the year. The Scovill Zoo, located on the banks of Lake Decatur, is a great place for family fun, as is the Children's Museum of Illinois. And during the summer, you can cool off in the lake or at Splash Cove water park.
| | |
| --- | --- |
| Metro Area Population | 101,48344 |
| Median Household Income | $45,11145 |
| Median Home Price | $156,95046 |
| Median Monthly Rent | $77047 |
| Average Annual Rainfall | 42.6"48 |
Pros

Low cost of living
Tight knit community

Cons

Industrial smell
Crime
Not many big-city amenities
Best Suburbs of Decatur
Working in Decatur but the smell of soybeans just isn't your thing? Try some of these nearby small towns with a speedy commute to and from the city.
Assumption
Clinton
Dalton City
Moweaqua
Mount Zion
Sullivan
Champaign-Urbana
With the Champaign-Urbana metro area, you're getting the excitement of a college town and all the amenities of a large city. Champaign-Urbana (or "Chambana" to the locals) is a twin city metro area: Champaign to the west and Urbana to the east. And sandwiched in between is the University of Illinois, home of the Fighting Illini.
There's always something to do in the three downtown areas (Champaign, Urbana and Campustown)—each one with its own vibe, local culture and diverse food options. There's theater, live music festivals, college sports at State Farm Center, and the Ebertfest film festival (legendary film critic Roger Ebert was a native of the area). The unemployment rate is low here, as Champaign-Urbana hosts regional offices for several Fortune 500 companies, including Kraft Heinz.
| | |
| --- | --- |
| Metro Area Population | 223,26549 |
| Median Household Income | $56,93950 |
| Median Home Price | $275,00051 |
| Median Monthly Rent | $1,49952 |
| Average Annual Rainfall | 42"53 |
Pros

Low cost of living
Lots to do
Low unemployment rate

Cons
Best Suburbs of Champaign-Urbana
If you're someone who can only take the excitement of a college town in small doses, take a look at some of the smaller towns and villages that surround Champaign-Urbana.
The Best Places to Live in Southern Illinois
It seems that the further south you get from Chicago, the more rural and woodsy Illinois becomes—and southern Illinois is probably the most rural and woodsy part of the state. A good chunk of the area is taken up by the Shawnee National Forest and the towns in between the farms of wheat, corn and soy are relatively small. Most of the residents identify more with the Southern culture of nearby Kentucky than they do with the city slickers in Chicago!
The fertile and green landscape of southern Illinois, with its rivers and streams, resembled the Nile River Delta to the early settlers, which is said to be one of the reasons why the area is still known as "Little Egypt." Southern Illinois has many towns with Egyptian names like Cairo (pronounced "kay-roh"), Thebes and Karnak. And after the winter of 1831–32 devastated northern Illinois crops, southern Illinois provided their northern neighbors with grain, like in the biblical story of Joseph.
Metro East
Metro East, the most populated area in southern Illinois, is a little different than the other metro areas we've listed here. It's actually considered part of the metro area for St. Louis, Missouri, which is located directly across the Mississippi River. Belleville is the largest city but is a suburb of St. Louis—as are the rest of the surrounding small cities, villages and towns in four Illinois counties.
This means that if you're looking for access to big-city amenities but want to put a literal river between you and the big-city problems, Metro East might be a place for you to settle. But each town also has its own legends, legacy, culture and personality. Downtown Belleville is filled with lots of unique restaurants and shops. And Columbia offers small-town traditions like a Christmas tree lighting and the Scarecrow Crawl.
| | |
| --- | --- |
| Metro Area Population | 2.8 million54 |
| Median Household Income | $56,40455 |
| Median Home Price | $138,30056 |
| Median Monthly Rent | $92557 |
| Average Annual Rainfall | 44.1"58 |
Pros

Low cost of living
Big-city amenities
Schools

Cons
Best Suburbs in Metro East
Carbondale
Following the Mississippi River south of Metro East, we come to Carbondale. This is another college town (home of the main campus of Southern Illinois University), but not as busy or rowdy as Champaign-Urbana.
Carbondale has its own ideas of fun, like sunset concerts in the city's many parks, racing cardboard boats (and watching them sink), and the annual Lights Fantastic Christmas Parade. The city is known as one of the main hubs of the Shawnee Hills Wine Trail, featuring 11 of the Midwest's finest wineries. Given its proximity to Shawnee National Forest, Carbondale is also big on the outdoors, with lots of nature trails and campgrounds.
| | |
| --- | --- |
| Metro Area Population | 132,56359 |
| Median Household Income | $24,45260 |
| Median Home Price | $157,50061 |
| Median Monthly Rent | $67062 |
| Average Annual Rainfall | 44.9"63 |
Pros

Cost of living
Schools
College town

Cons

Crime
Declining population
Marion
East of Carbondale on Illinois State Route 13 is Marion, named for the legendary American Revolutionary War hero Francis Marion (the "Swamp Fox"). Carbondale and Marion share the same metro area and are similar in size, but Marion is known as the center of commerce and industry in southern Illinois. Companies like Pepsi, General Dynamics and Blue Cross/Blue Shield all have offices here.
Like Carbondale, Marion is a great jumping-off point to all kinds of nature-based activities. The Crab Orchard Wildlife Refuge offers things like camping, hiking, fishing, kayaking and more.
| | |
| --- | --- |
| Metro Area Population | 132,56364 |
| Median Household Income | $46,51565 |
| Median Home Price | $157,50066 |
| Median Monthly Rent | $60067 |
| Average Annual Rainfall | 45.1"68 |
Pros

Low cost of living
Low crime
Schools

Cons
Mount Vernon
Named for the Virginia plantation home of George Washington, Mount Vernon is a city with a long history—one that beats Illinois' own admission into the union by one year! Even though there are many historic sites to experience around Mount Vernon (like the Jefferson County Historical Village), this is a city centered around creativity. It's gained a reputation for its community activities like the Southern Illinois Steel Guitar Show and the Midwest Light Sport Aircraft Expo. Mount Vernon also has its own city-sponsored waterpark, the Aquatic Zoo.
| | |
| --- | --- |
| Metro Area Population | 37,36269 |
| Median Household Income | $53,15370 |
| Median Home Price | $143,75071 |
| Median Monthly Rent | $95772 |
| Average Annual Rainfall | 45.6"73 |
Pros

Low cost of living
Good schools
Low property taxes

Cons

High sales tax
Not many big-city amenities
Best Places in Illinois for Families
If you're bringing a house full of kids to the Prairie State, factors like school quality and safety are probably at the top of your mind. Here are some examples of cities and towns that provide a nice place to raise your family.
Best Places in Illinois for Young Adults
The young and single professional set will find plenty of activities and nightlife in these Illinois cities.
Best Places in Illinois to Retire
Illinois might love to tax everything that isn't nailed down, but it doesn't tax retirement income, pensions and Social Security payments.74 That's music to the ears of retirees. Here are some cities and areas that offer peace and quiet, along with close proximity to quality medical care.
Ready to Move to Illinois?
Now that you know that there's more to Illinois than Chicago (though that Italian beef is pretty wonderful), you might have your sights set on a nice little spot in the Prairie State to call home—whether that be urban, suburban or rural, Illinois has got it all.
So, what's your next step on your way to that Illinois life you want? Here are some ideas to start on.
Get our free Ramsey Relocation Guide for a step-by-step overview of the whole process.
Research the area or city you want to live in a little more to make sure it's right for you.
Create a practice Illinois budget based on your potential expenses and household income.
Start a relocation fund for moving expenses.
Get with a local Illinois real estate agent who's dedicated to serving you and honest as Honest Abe himself.
Did you find this article helpful? Share it!