If you're considering a relocation, you probably have a lot of questions. What should you expect? How can you save money on relocation costs? How do you make smart real estate decisions when you don't know the area you're moving to?
These relocation tips can help you answer those questions and understand the process a little bit better. That way, you can make a smooth and confident transition. Let's get started!
Here's what we'll cover:
Questions to Ask Before Relocating
If you're thinking about relocating, make sure it's the right decision before you start packing boxes. After all, moving is a big deal! Here are some questions you should think about before packing your bags and hitting the road:
Do the costs make sense? Consider the cost of moving to and living in your relocation destination. If you're moving to a city with a higher cost of living, make sure you'll still be able to make progress on your financial goals. We'll talk more about the costs of relocating in a little bit.
If you're married, is your spouse on board? Making a move can be tough, and it's important to be on the same page with your spouse if you're married. You'll also want to consider how a move will impact your spouse's career and every other aspect of their life.
Do you like the area? Visiting the area before you move could give you a good idea of what it'd be like to live there. Plus, if you own a business or work as an independent contractor, you'll want to do your homework on state business and tax laws that could affect your day-to-day operations.
And if you're planning to relocate for a new job, make sure you answer these questions too:
Are you excited about the job opportunity? It doesn't make sense to move for a job you know you'll hate—even if it pays more money. So make sure you get a job you love lined up before you move.
Is the company culture a good fit? Whether or not you'll enjoy your coworkers and your work culture has a huge impact on your day-to-day life.
Is there a long-term benefit? Think about your five-year plans for your career and your life. Will this move help you accomplish your goals?
Asking these questions will cover the basics. For a more detailed, step-by-step plan that will walk you through how to answer all these questions about moving and more, check out our free Ramsey Relocation Guide.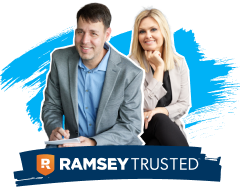 With the right agent, taking on the housing market can be easy.
Buy or sell your home with an agent the Ramsey team trusts.
Connect for Free
What Areas Are Popular Relocation Destinations?
The five most popular relocation cities in the U.S., based on the number of people moving there, are:
Myrtle Beach, South Carolina
Sarasota, Florida
Fort Myers, Florida
Lakeland, Florida
Port St. Lucie, Florida.1
Yep, 4 of the top 5 relocation cities in the U.S. are in Florida. But if those southern beaches aren't calling your name and you're looking for other popular destinations, major cities in these five states are also seeing a big relocation boom:
To really be confident you're moving to the right place, use our Cost of Living Calculator. It's a handy tool that shows you a breakdown of how your city's monthly expenses compare to another city's. Once you know the cost differences, you'll have a better idea if that destination makes sense for you right now.
How Much Does Relocating Cost?
The cost of your move depends on your specific situation. For example, a move within your state will likely be cheaper than moving from, say, California to Alabama.

Find expert agents to help you buy your home.
How much cheaper? On average, moving to a nearby state costs anywhere from $700 to $5,000, while moving cross-country can set you back between $4,000 and $10,000 or more.3
When calculating your moving costs, you'll have to think about not only the cost of moving your belongings, but also the closing costs for selling your home and buying a new one. Or if you're a renter, the cost of getting out of your current lease and getting a new rental.
Here are some common expenses to consider:
Closing costs on a home sale
Cost for breaking your lease
Moving expenses
Security deposits for a rental
Fees to turn on/off utilities
Closing costs on a new home purchase
Repairs/updates to a new home
How to Save Money on Relocation Costs
After seeing all the costs involved in a relocation, it's easy to feel overwhelmed. But there's good news: It's still possible to save money when you relocate! Here are two ways you can do just that.
Find out if your new employer offers relocation assistance. If you're moving for a job, many companies offer lump-sum relocation packages to help employees cover the cost of moving. In fact, 64% of people who relocated for a job in 2022 received some kind of relocation package.4 Ask your new employer if they offer relocation assistance to help you save some money.
Downsize your personal possessions. Another way to save money on relocation costs is to sell some stuff! We're talking about that armoire you never found the right place for or that kayak that's been gathering dust in your garage for years. Now's the perfect time to get rid of that junk. You'll save on moving costs, and you could make some extra cash by selling some items you don't need. It's a win-win!
Tips for Selling Your House When Relocating
If you're planning to relocate and you own a home, you'll need to sell it! After all, you can't just give your landlord a 30-day notice, like a renter could. So, let's go over some tips for selling your home when relocating.
1. Work with an expert real estate agent.
Anyone who's selling a home should work with a real estate agent. But especially when you're on a tight timeline because of a relocation, you can't afford to go the DIY route. So if you'll need to sell your home before the big move, hiring a top-notch agent should be your first step.
How exactly do you find a good agent? We make it easy! With our RamseyTrusted program, you can easily get connected with top performing agents in your local area who we endorse. Our team vets RamseyTrusted agents to make sure they're committed to serving you with excellence and helping you reach your financial goals.
Connect with a local RamseyTrusted agent.
2. Stage your home—inside and out.
If you really want your home to stand out in the crowd, you'll need to spend some time and money staging it. Add lamps to dark corners and anywhere else that could use some more light. Declutter your closets and counters. Clean everything. Make sure every room has furniture. And take an honest look at your home's curb appeal—you may need to trim some bushes or add a fresh coat of paint.
Little updates like those can go a long way toward your home selling more quickly and for more money. Over half of sellers' agents say home staging can decrease a home's time on the market. And 23% of buyers' agents believe staging a home increases the offer price by 1–5%.5
3. Sell your house before you buy a new one.
It may be tempting to buy a new place before your current house sells, but it's a bad idea. You don't need the financial risk of having two mortgages—that's a great way to wind up with a huge financial mess on your hands. Luckily, it's totally possible to smoothly buy and sell a home at the same time with the right plan.
Tips for Buying a House When Relocating
You also may be looking to buy a home in your new city. Here are some tips for getting the job done on that front.
1. Find a real estate agent who's a market expert.
Just like when you're selling a home, you need to hire a real estate agent when you're buying. Specifically, you should work with an agent who's an expert in the housing market you're moving to.
Not only will a top-notch agent walk you through all the steps of the buying process—like getting preapproved for a mortgage, filling out paperwork, and closing—but you likely won't have to pay them a dime! That's because, in most cases, home sellers pay the commission for their agent and the buyer's agent.
Chances are, you're relocating to an area you don't know very well. That's why it's so important to partner with a real estate agent you can trust and who's an expert in that area. They'll help you figure out what neighborhoods to look at and what kind of homes fit your budget.
Like we talked about earlier, our RamseyTrusted program is a great way to find an agent who can do just that. The agents in our network are experienced high-performers and experts in the local areas they serve. You can connect with one today.
2. Figure out your housing budget.
Before you start house hunting, make sure you get clear on your budget by figuring out how much house you can afford. If you're getting a mortgage, stick to a 15-year fixed-rate loan with a monthly payment that's no more than 25% of your take-home pay—including private mortgage insurance (PMI), property taxes and insurance.
You should aim for a 20% down payment, since that would let you avoid PMI. But if you're moving and buying your first home, putting 5–10% down is okay as long as you can stick to the 25% rule for monthly payments. For an easy way to estimate your monthly payment, use our free mortgage calculator.
Knowing your home budget will help you target your search to the neighborhoods and areas of town that fit your budget.
3. Focus on resale value.
Wait, I'm moving into my dream home! Why would I worry about resale value—I'm never going to move. We hear you, but here's the deal: Most homeowners only stay in their houses for 10 years.6 So chances are you will be reselling at some point, and you'll want the value of your home to increase before that happens.
How do you make sure you buy a home that's likely to increase in value? Buy in the bottom price range of the neighborhood, buy a home with a good floor plan that's attractive from the street, and research whether any developments are planned for the area. Your agent can help you figure all that out.
Did you find this article helpful? Share it!