Renters insurance does a lot more than just cover your belongings. It also protects you from lawsuits, expensive medical bills, theft while backpacking Europe, and so much more.
But there are a few things renters insurance won't help with. So if you're wondering, What does renters insurance cover?, you're in the right place.
We'll explain everything you need to know about what renters insurance covers so you can make sure you're protected.
Let's dig in!
What Is Renters Insurance?
Renters insurance protects your things if they're ever damaged, vandalized or stolen. It's a type of property insurance that covers you from destructive events like explosions, fires, electrical surges and even sewer backups.
If you rent, you definitely need renters insurance. Without it, you could be on the hook for a pretty penny replacing your possessions after a fire or burglary. And don't assume your landlord's insurance covers you. It won't. (Your landlord's insurance only covers their building, not your stuff.)
Renters insurance is a lot like homeowners insurance. By paying monthly premiums, your insurance company will pay any claims you make for incidents that are covered in your policy, but only after you meet your deductible.
What Does Renters Insurance Cover?
Here's a look at four main things a standard rental insurance policy covers.
1. Personal Property Damage
Renters insurance will pay to replace your things, up to certain limits. That's everything you own—clothes, electronics, furniture, that epic Beanie Baby collection that's probably worth millions.

Protect your home and your budget with the right coverage!
Start by creating an inventory of your stuff (with photos, videos and spreadsheets). Then estimate how much it's all worth. This way you can get enough coverage to actually, well, cover you. For example, if you have $20,000 worth of things, you'll need $20,000 in personal property coverage.
You'll also need to decide between actual cash value (ACV) and replacement cost value (RCV). Actual cash value means the insurance company will only pay you what your items were worth when they were stolen, lost or damaged, factoring in depreciation. With ACV, you'll be at a greater financial risk since you might not get enough back to actually replace certain items. For instance, if you paid $400 for your TV five years ago, and now it's worth $100, the insurer will write you a check for $100—hardly enough to buy a new TV.
On the other hand, replacement cost coverage pays the total amount it would cost to replace whatever you lost. So if your TV was stolen, your insurance company would simply write you a check to buy a brand-new TV. And you can get back to the important work of binge watching the latest streaming series.
2. Personal Liability Coverage
If a visitor was accidentally injured in your apartment and they sue you, you could be facing a boatload of legal fees. But with liability, you would be covered, up to certain limits. A typical policy offers up to $100,000 in liability coverage.
Liability also covers some accidents caused by you. Like if your apartment floods because you left the water running in a plugged bathtub. Your renters insurance would help pay for your repairs and even damages caused to neighbors. You would also be covered if the water damage was from structural problems like leaky pipes or flooded toilets.
Liability even covers you if your precious pooch bites your neighbor, depending on your dog's breed.
3. Additional Living Expenses
Let's say a fire destroys your apartment and you have to live in a hotel for a month or two. With proper renters insurance in place, this catastrophe would turn into a minor inconvenience. Additional living expenses (also called "loss of use" coverage) will help pay for extra expenses related to hotels and restaurants.
4. Medical Payments
Renters insurance coverage also helps pay for some of the medical bills if someone is injured on your property. And the good thing is that it doesn't matter who is at fault. They're still covered.
Other Things Renters Insurance Covers
Besides these four main areas, renters insurance covers a few other bonus situations.
Theft—Renters insurance doesn't just cover thieves breaking in and stealing stuff from your apartment. It protects you against stuff that's stolen from your car, at the airport—or even theft that happens while you're touring Italy. Basically, your stuff is covered—no matter where it is.
Spoiled Food—If a power outage shuts down your fridge and that chest freezer filled with 100 pounds of ground beef, don't sweat it! Renters insurance will pay for any food that goes bad from power outages.
Removing Debris—Your renters insurance policy will sometimes cover the costs of debris removal under your personal property coverage. But only if it's from an event that is covered.
Upgrades or Property Alterations—What if you paid for a renovation to your rental and it was damaged? Your renters insurance might cover you up to a certain percentage of your personal property coverage limit.
Financial Fraud—Surprisingly, your renters insurance could help pay for money you lose from credit card or check fraud. So reach out to your insurance company if you are ever the victim of fraud or forgery. They might be able to help recoup some of those losses.
Storage Units Coverage—Renters insurance typically covers stuff in a storage unit. But it doesn't cover all of it—usually only around 10% of your personal property coverage. So if you had $20,000 of coverage, you would have $2,000 in storage unit coverage.
What Does Renters Insurance Not Cover?
Like most types of insurance, renters insurance won't cover every single possible bad thing that could happen to you. (Like if a scientist actually does bring a T-Rex back to life and it decides to start its rampage in your apartment complex. Renters insurance won't help with that.)
Here are a few things renters insurance doesn't cover.
Flood, Earthquake and Sinkhole Damage
Standard renters insurance policies won't cover your stuff if it's damaged in a flood, earthquake or sinkhole. So if you live in an area where extreme weather is more common, look into getting a separate flood insurance policy or earthquake insurance. You might also be able to get a sinkhole endorsement as an add-on.
Pests
No, we're not talking about your cousin who's been crashing at your pad for the last month and a half. We're talking about insect pests. Renters insurance typically won't cover damage from things like rodents, bed bugs and other insect infestations. Sorry, but you're on your own.
Business Equipment
Let's say you operate a business from your home and your work laptop is stolen. Will your renters insurance cover it? Nope. Your renters insurance policy won't usually cover business losses. (You'll need separate commercial insurance for that.)
High-End Items
If you own expensive jewelry, collectibles or a Rembrandt, standard renters insurance won't cover these higher-end items. You'll need an extra layer of coverage.
Dog Breeds
Certain dog breeds are not covered by most insurance companies because they are more aggressive. So if Fluffy is a pit bull, and she ends up biting someone, there's a good chance your insurer won't be pitching in.
Vehicles
Vehicle damage isn't covered under renters insurance—that's why you need auto insurance. However, the stuff you keep inside your car is covered.
Roommates' Stuff
Your renters insurance policy won't cover anything related to your roommates' belongings. They'll need a separate policy to protect themselves, and we don't recommend going halvsies on a renters insurance policy, for a bunch of reasons.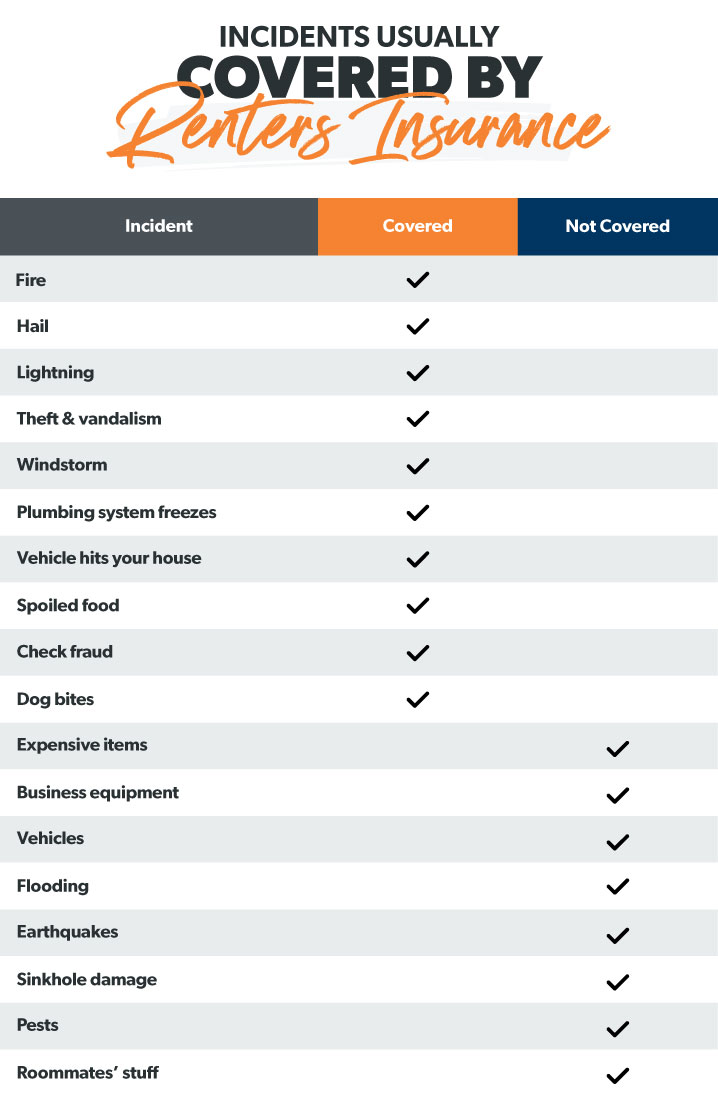 How to File a Renters Insurance Claim
First, get in touch with your insurance company ASAP. Explain what happened and find out how to start the claims process. Depending on your insurer, filing a claim can be as easy as filling out a form inside their app.
Next, pull up your inventory, along with any receipts. This will serve as evidence of what was lost or damaged. And figure out which kind of claim you'll be filing: Will it be for personal property reimbursement, liability or additional living expenses?
The next step is to document everything that happened. For instance, if thieves stole your furniture, take photos and videos of your empty living room and the window they busted to gain entrance. This will act as proof to your insurer that it is a valid claim and will usually speed up the process. Meaning you'll get your money faster!
Once the insurance company reviews your info, they will either approve or deny the claim. (Hopefully approve!)
Get the Right Coverage
Getting the right amount of renters insurance coverage can be complicated. Too little coverage and your claim could be denied. You could end up digging into your savings for unexpected costs. Too much coverage and you're paying for something you don't need.
That's why we recommend working with one of our insurance agents who is part of our Endorsed Local Providers (ELP) program. You'll have the peace of mind knowing your finances are protected from everything life could throw at you. And all our agents are RamseyTrusted, so you know you'll be working with the best in the business.
Connect with one of our property insurance agents today to get free quotes!
Did you find this article helpful? Share it!