Florida has seen a lot of growth over the last three years. People seem to be flocking to the Sunshine State in droves from across the country for its warm weather, stunning coastlines, booming career opportunities, and zero state income taxes. (No taxes equal more prosperity—who knew?)
If you're reading this, you might be one of those people considering the move. Are those endless warm-weather days calling your name? Does the idea of no state income taxes put a giant smile on your face? Can you live among gators and torrential rain?
Whether you're moving the whole family, scoping out a new young-professionals scene, or looking for your dream retirement destination—we'll help you narrow down the best places to live in Florida.
Let's dive in!
Choose Your Region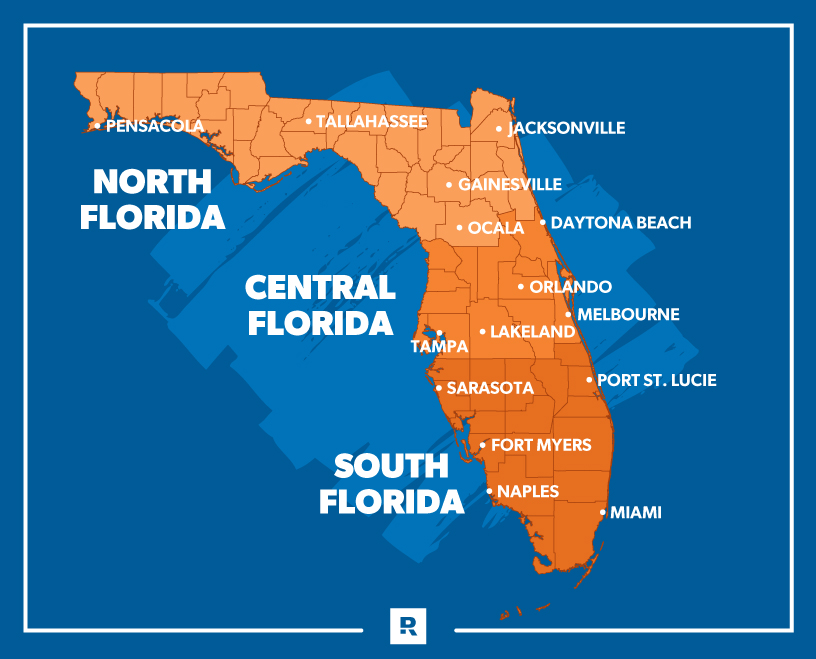 Florida can be divided into three broad regions: north, central and south Florida. Each one has a distinct identity brought about through decades of history, cultural crossover, environmental factors and changing industry centers. Though many native Floridians may argue the state is actually made up of many more regions, we're going with these three for the sake of simplicity.
These regions may be different culturally, but they all share one thing: a subtropical climate. No matter which region you choose, you'll probably encounter alligators and bugs, deal with high humidity (all the frizziness!), get rained on every summer afternoon, look out for sinkholes, and ride out a hurricane every so often.
But depending on where you land, the severity of these hazards could go up and down (just like your property insurance premiums). For example, the inland cities don't get direct hits from hurricanes, but they still encounter lots of aftermath (which can be pretty harsh).
One more thing: Let's admit all "best places" lists are subjective—including this one. While we did use some data (population, home and rent prices, etc.), it remains purely opinion and will ultimately depend on your personal likes and dislikes. For example, some people love busy city life while others prefer a more laid-back place in the suburbs. To add a little authenticity to our list, we consulted a few friendly former and current Floridians who graciously gave us insight based on their own personal experience.
With that said, let's get into some of the best cities in Florida so you can compare their stats and features to see if any stand out to you. The cities on our list are presented by region and in no particular order.
The Best Places to Live in North Florida
The north Florida region covers what's known as the Panhandle. This is the only part of the state that's directly connected to the rest of the continental U.S. and resembles (you guessed it) the handle of a pan.
Because of its proximity to the rest of the American South, north Florida is the most "Southern" region of the state culturally. It's also the oldest in terms of human settlement and has lots of history in its cities and towns.
Pensacola
If you head to the westernmost point on the Panhandle, you'll find Pensacola. Known as the City of Five Flags, Pensacola has a long history of various governments laying claim to the area (Spanish, French, British, Confederate, and American)—and it's no wonder why. In Pensacola, you'll find sunny skies and emerald-green waves from the Gulf of Mexico gently splashing along the shoreline. Pensacola offers plenty of water activities like boating and deep-sea fishing.
Pensacola is also a military town—home to Naval Air Station Pensacola, the primary base of the world-famous Blue Angels. NAS Pensacola also hosts the National Naval Aviation Museum, where visitors can hop aboard sophisticated flight simulators to see if they also have "the right stuff."
| | |
| --- | --- |
| Metro Area Population | 516,3881 |
| Median Household Income | $59,1192 |
| Median Home Price | $389,9003 |
| Median Monthly Rent* | $1,3544 |
| Average Annual Rainfall | 58"5 |
*Median Monthly Rents refer to two-bedroom apartments.
Pros

Beautiful beaches
Great job market
Affordable cost of living
Good schools
Military town

Cons

Crime
Gulf coast weather considerations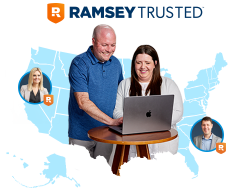 Don't buy or sell without an agent you can trust.
There are RamseyTrusted real estate agents all over the country who are ready to help you win.
Find a Local Agent
Tallahassee
Even though it's the state capital, you might say Tallahassee feels like the least Floridian city in all of Florida. For one thing, it enjoys four actual seasons because of its unique position in the Panhandle. If you're used to seeing fall colors, look no further than Tally (as it's called by some locals).

Find expert agents to help you buy your home in Florida.
With its gently rolling hills of red clay soil and surrounding natural springs and underwater caves, Tallahassee feels more like a little slice of Southern heaven. Aside from all the natural beauty, Tally also offers a college-town vibe thanks to Florida State University and Florida A&M University. So even though it has an old Southern look and history, Tally definitely has a youthful spirit.
| | |
| --- | --- |
| Metro Area Population | 387,1276 |
| Median Household Income | $49,0777 |
| Median Home Price | $325,2508 |
| Median Monthly Rent | $1,2519 |
| Average Annual Rainfall | 47"10 |
Pros

Four distinct seasons with mild winters
College town
Good schools
Less tourist-oriented

Cons
Gainesville
Speaking of college towns, Gainesville is a city practically built around the University of Florida. In fact, the university is the biggest employer in the city—almost 12% of the city's total workforce!11 And because of the university, Gainesville is known as the birthplace of Gatorade.
But there's more to Gainesville than Gator football and sports drinks. Even though Gainesville isn't near any beaches, you'll find plenty of outdoor opportunities in the city's parks, botanical gardens and nature preserves—which includes the famous Satan's Sinkhole. Gainesville's arts community boasts everything from theater and public murals to museums like the Florida Museum of Natural History and the Cade Museum for Creativity and Invention.
| | |
| --- | --- |
| Metro Area Population | 344,88112 |
| Median Household Income | $40,93713 |
| Median Home Price | $371,62514 |
| Median Monthly Rent | $1,18815 |
| Average Annual Rainfall | 42"16 |
Pros

College town
Vibrant arts community
Parks and nature preserves
Low cost of living

Cons

Crime
High property taxes
Jacksonville
Now let's travel up to the northeastern corner of Florida, just south of the Georgia state line. That's where you'll find Jacksonville—the largest city by population in Florida and the largest city in the U.S. by land area (outside of Alaska).17 If life in the big city is more your speed, Jacksonville might be for you.
Jacksonville is located along the banks of the St. Johns River and several bridges make it convenient to travel between the vibrant downtown area and Jacksonville's gorgeous beaches. Plus, Jacksonville gives you a front-row seat to cheer on the Jaguars at TIAA Bank Field, among other sports teams.
| | |
| --- | --- |
| Metro Area Population | 1,637,66618 |
| Median Household Income | $58,26319 |
| Median Home Price | $399,70020 |
| Median Monthly Rent | $1,41221 |
| Average Annual Rainfall | 41"22 |
Pros

Big-city energy
Younger population
Lower cost of living
Great job market

Cons

Low-rated schools
Traffic
Crime
Ocala
A popular spot for retirees, Ocala offers a small-town feel with a tight-knit community. The city is surrounded by natural beauty—rolling hills and green pastures with no civilization for miles. It's even home to one of the largest natural springs in America at Silver Springs State Park. You can board one of the park's famous glass-bottom boats to observe the spring's unique underwater ecosystem.
Ocala is also known for its connection to horses. In fact, Ocala rivals Lexington, Kentucky, for the title of Horse Capital of the World with its many horse farms. The World Equestrian Center, the largest horse complex on Earth, also calls Ocala home.
| | |
| --- | --- |
| Metro Area Population | 385,91523 |
| Median Household Income | $46,84124 |
| Median Home Price | $306,45025 |
| Median Monthly Rent | $99326 |
| Average Annual Rainfall | 42"27 |
Pros

Low cost of living
Small-town feel
Direct access to major Florida highways
Horse Capital of the World

Cons

Geared more toward older residents
Lack of big-city activities
Limited job market
The Best Places to Live in South Florida
Because of its proximity to the Caribbean, the vibe of south Florida is decidedly more tropical and laid back. Everything from the food to the music scene is infused with Latin flavor, courtesy of people who have immigrated to the region for many decades from places like Cuba, Brazil, Mexico, Costa Rica and Colombia.
Sarasota
Along the southern Gulf Coast of Florida is Sarasota—home to some of America's best beaches, like Siesta Key Beach. Sarasota consistently holds the top spots for places to live in Florida on many "best places" lists. The water is clear and warm, and the sand is so soft and white you'll feel like you're sinking your toes into powdered sugar (just don't sprinkle any on your French toast).
Sarasota is an ideal place to hang your hat if you're looking for a good life after your well-earned retirement. The median resident age of the Sarasota metro area is 54, so the population is made up of lots of retirees.28 That means more friends to reminisce about the good old days, complain about those darn kids, and play some serious shuffleboard with.
| | |
| --- | --- |
| Metro Area Population | 859,76029 |
| Median Household Income | $62,61530 |
| Median Home Price | $547,45031 |
| Median Monthly Rent | $1,87532 |
| Average Annual Rainfall | 40"33 |
Pros

Beautiful beaches
Good schools
Small-town feel

Cons

High cost of living
Traffic
Red tide34
Social scene skews older
Naples
Just south of Sarasota on Florida's Paradise Coast is Naples—which got its name from the famous Mediterranean community on the Italian coast. And there are definite similarities between the two: paradise weather, gentle waters and lots of fishing. Naples is especially known for its sugar sand beaches and beautiful coastal sunsets (with the legendary green flash in the summer!).35 But there's more to Naples than beaches (though they are pretty cool). There's fine dining, boutique shopping, botanical gardens, dolphin viewing and swamp buggies too.36
While Ocala may be the horse capital, Naples calls itself the Golf Capital of the World. If a day on the links does your heart good, there are over 90 golf courses throughout the city and many more in the vicinity. Bonus: If your ball lands near a gator, you get a free drop with no penalty!
| | |
| --- | --- |
| Metro Area Population* | 385,98037 |
| Median Household Income | $125,30638 |
| Median Home Price | $892,00039 |
| Median Monthly Rent | $2,11940 |
| Average Annual Rainfall | 39"41 |
Pros

Beautiful beaches
Great job market
Golf Capital of the World

Cons

High housing costs
Lots of bugs and gators
Red tide
Very touristy
Port St. Lucie
Over on the Atlantic coast of southern Florida, well north of Miami, is Port St. Lucie. This city offers year-round perfect weather (compared to other areas of the state), along with all the water activities of a beach town—things like boating, fishing, and even paddling near manatees. Golf carts are a way of life there, and many of the businesses in Port St. Lucie provide golf cart parking.
Speaking of golf, sports can be enjoyed year-round in Port St. Lucie. It may not be the golf capital, but you can work on your swing at one of the 72 holes at the Professional Golfers' Association (PGA) Village Resort—it's like a theme park for golfers! And the New York Mets visit the city every year for spring training.
| | |
| --- | --- |
| Metro Area Population | 503,52142 |
| Median Household Income | $68,64743 |
| Median Home Price | $459,90044 |
| Median Monthly Rent | $1,59045 |
| Average Annual Rainfall | 40"46 |
Pros

Great for families
Low homeowners insurance rates
Laid-back lifestyle

Cons

Lack of high-paying jobs
High cost of living
Fort Myers
If you follow Florida's southwestern Caloosahatchee River, you'll spot Fort Myers. This is the is the sunniest place in Florida, averaging about 265 sunny days a year. Thomas Edison and Henry Ford put Fort Myers on the map when they chose to build their winter homes there. The famous sight of Edison's royal palm trees along McGregor Boulevard earned Fort Myers its official nickname: the City of Palms. Hurricane Ian did a number on the city back in 2022, and it's still bouncing back.
As you travel past the gateway of Fort Myers and head closer toward the gulf, you'll come across a series of islands—including the shelling beach of Sanibel (famous for the Sanibel Stoop tourists do when they pick up the shells). Fort Myers' shoreline sits on a shallow water plateau, which makes collecting seashells really fun.
| | |
| --- | --- |
| Metro Area Population | 787,97647 |
| Median Household Income | $51,68248 |
| Median Home Price | $499,00049 |
| Median Monthly Rent | $1,73750 |
| Average Annual Rainfall | 45"51 |
Pros

Low cost of living
Small-town feel
Great schools (both elementary and college)
Growing job market

Cons

Touristy
Population density
Crime
Traffic
Miami
Miami is the third most populated metro area on the East Coast. Seated on the southern tip of Florida, this tropical city has a lively beach scene and nightlife that attracts people from all over the world. In fact, celebrities from sports, music and movies can be regularly spotted at Miami's beaches and resorts. Since a majority of its population is Hispanic (around 70%), Miami has a sizable Latin influence in its local culture, food, and customs.52 And don't forget to check out the dancing scene in Little Havana for live Latin music.
Miami also offers year-round perfect weather, so you can enjoy outdoor shopping and watching pro teams from every major sport—like the Dolphins (football) and the Marlins (baseball). The popular Miami Open tennis tournament is also held there.
| | |
| --- | --- |
| Metro Area Population | 6,091,74753 |
| Median Household Income | $47,86054 |
| Median Home Price | $599,41055 |
| Median Monthly Rent | $2,08756 |
| Average Annual Rainfall | 44"57 |
Pros

Vibrant culture and nightlife
Beautiful beaches
Great job market

Cons

High cost of living
Traffic
Spring break central
Crime
Very touristy
The Best Places to Live in Central Florida
Central Florida is where everything comes together, culturally speaking. It's really the best of both worlds—the Southern charm of the north and the energy of south Florida. Central Florida is also the center of the state's tourism industry and home to its most popular vacation destinations.
Melbourne
With a front-row view of the Atlantic Ocean, Melbourne is part of Florida's Space Coast thanks to its proximity to Kennedy Space Center (KSC). This is where every crewed space flight by NASA has been launched. It's also where Elon Musk's SpaceX has been launching astronauts (and his Tesla) into space. Melbourne is also close to Port Canaveral, one of the busiest cruise and shipping hubs in the world.
Beyond the cool space and seacraft stuff, Melbourne's beach-based community offers all kinds of fun activities for residents—a trendy downtown area, thriving art and festival scenes, and a variety of sports for both in and out of the water.
| | |
| --- | --- |
| Metro Area Population | 616,62858 |
| Median Household Income | $55,54359 |
| Median Home Price | $376,72560 |
| Median Monthly Rent | $1,41361 |
| Average Annual Rainfall | 42"62 |
Pros

Great schools
Good job market
Low cost of living

Cons

Not-so-lively nightlife
Higher property insurance premiums
Orlando
When people think of Florida, chances are they think first of Orlando (well, maybe second after the alligators). After all, it's one of the top family vacation destinations in not just the United States, but the world! It's the home of Walt Disney World and Universal Orlando Resort—Mickey Mouse and Hogwarts. Not to mention SeaWorld Orlando and Legoland Florida Resort. It's basically theme park heaven.
But there are also plenty of activities to enjoy in the Orlando area besides just the theme parks. Because of its multicultural base, the city boasts lots of cultural festivals and a variety of restaurants that'll be sure to satisfy any hankering you have. There are also pro sports teams to watch and follow, like the Orlando Magic (basketball) and Orlando City SC (soccer). And because of its central location in the state, you can get to so many places other places in Florida in a matter of hours—including the beach.
| | |
| --- | --- |
| Metro Area Population | 2,691,92563 |
| Median Household Income | $58,96864 |
| Median Home Price | $440,99565 |
| Median Monthly Rent | $1,58266 |
| Average Annual Rainfall | 43"67 |
Pros

Good job market
Great cultural makeup
Well maintained roads
Plenty of things to do
Lower cost of living

Cons

Very touristy
Traffic
Toll roads
Not-so-great schools
Crime
Tampa
With Tampa, you get the touristy energy of an Orlando-type big city combined with a laid-back beach lifestyle along the shores of Tampa Bay. It makes for a great combo. Tampa does have its own theme park: Busch Gardens Tampa Bay—the second largest in Florida—which has roller coasters and exotic animal exhibits. And if big-city life isn't your thing, Tampa's suburbs are a little quieter.
The city is full of intertwining cultures, including a thriving Hispanic community. In fact, Tampa has claimed to be the birthplace of the Cubano sandwich, one of the signature dishes of south Florida—though Miami would say otherwise. Every year, the city celebrates its legendary pirate history (pirates in the Caribbean—it's a real thing) with the Gasparilla Pirate Festival. And the metro area is also home to three major sports teams: the Buccaneers (NFL), the Lightning (NHL), and the Rays (MLB).
| | |
| --- | --- |
| Metro Area Population | 3,219,51468 |
| Median Household Income | $59,89369 |
| Median Home Price | $411,00070 |
| Median Monthly Rent | $1,64171 |
| Average Annual Rainfall | 44"72 |
Pros

Good job market
Great culture combo
Low cost of living
Family friendly
Great beaches

Cons

Very touristy
Traffic
Lots of snowbirds every winter73
Homeowners associations everywhere
High property insurance costs
Daytona Beach
Daytona Beach is probably known best as the home base of NASCAR—specifically for the famous Daytona 500 at Daytona International Speedway. That's pretty awesome all by itself.
But there's more to Daytona than super fast stock cars. Daytona's unique beach culture includes a beautiful boardwalk with restaurants, shops, a pier and an amusement park. You can also fish, golf, and visit museums and performing arts centers. Plus, trips to the beach are especially convenient because you're still allowed to drive on the actual beach in certain areas!
| | |
| --- | --- |
| Metro Area Population | 685,34474 |
| Median Household Income | $42,39275 |
| Median Home Price | $399,00076 |
| Median Monthly Rent | $1,43577 |
| Average Annual Rainfall | 41"78 |
Pros

Low cost of living
Friendly beach community
Good job market

Cons

Very touristy
High insurance costs
Crime
Lakeland
Our final city is a land of lakes (no, not the butter). Lakeland is home to nearly 40 beautiful lakes, so you'll have plenty of options to enjoy Florida's warm weather on the water. It's also close to popular cities like Tampa and Orlando.
Lakeland is famous for having the largest collection of buildings designed by the legendary architect Frank Lloyd Wright—all located at Florida Southern College. This city is also home to nature parks and one of Florida's top-ranked art museums, the Polk Museum of Art.
| | |
| --- | --- |
| Metro Area Population | 753,52079 |
| Median Household Income | $52,97280 |
| Median Home Price | $349,95081 |
| Median Monthly Rent | $1,36082 |
| Average Annual Rainfall | 42"83 |
Pros

Good job market
Low cost of living
Nice downtown area
Good retirement community

Cons
Best Places to Live in Florida for Families
If you're moving the whole family to Florida, you probably want to find an area near the safest cities and the best school districts. To get you started on your search, here are a few places that our Florida friends recommended as great places to raise a family:
What Part of Florida Is Good for Young Adults?
Now, if you're a young professional moving to the Sunshine State, you'll probably want to know more about Florida's economy and where you can find the best job opportunities—not to mention where the other young adults are too.
Here are a handful of suburbs that are great for young adults:
North Bay Village (Miami)
Jacksonville Beach (Jacksonville)
Doctor Phillips (Orlando)
Best Places to Live in Florida for Retirees
For you folks who have been crushing it with your finances and can now enjoy your dream retirement, Florida is a great choice. It's no secret that Florida ranks high on many "best cities to retire" lists year after year. After all, does any other state scream paradise as loud as sunny Florida?
Here are a few favorite Florida cities among retirees:
What's the Most Affordable Place to Live in Florida?
If you're anything like us at Ramsey, you know one of the most important things to do before moving to a new area is to make sure you can actually afford living there.
One way to know you can afford it is to research the cost of living in Florida. The biggest factor that'll determine whether you can afford living there is the cost of housing.
Here are Florida areas that rank high for affordable housing:
Keep in mind, these locations may be above or below your own housing budget. To figure out your housing budget, use the 25% rule—never buy or rent a home that comes with a monthly payment that's more than 25% of your monthly take-home pay.
If you're getting a mortgage, that 25% limit includes principal, interest, property taxes, home insurance and private mortgage insurance (PMI)—and don't forget to consider homeowners association (HOA) fees (which are part of many Florida neighborhoods). Use our mortgage calculator to enter your down payment amount and try out different home prices within your budget.
If you want a mortgage you can pay off fast, talk to the home loan specialists we trust at Churchill Mortgage about getting a 15-year fixed-rate conventional loan. Any other type of mortgage will drown you in interest and extra fees and keep you in debt for decades.And don't forget about the cost of the move itself.
Ready to Move to Florida?
If you're ready to move to Florida, the next step on your relocation journey is to find a real estate agent. For a fast and easy way to find local Florida agents, look no further than our network of RamseyTrusted agents.
We only recommend agents who know their territory, will take care of you the Ramsey way, and are on a mission to help you crush your relocation goals.
Did you find this article helpful? Share it!