For over three years, federal student loan payments have been on hold. But that's about to change very soon.
Federal student loan payments will start again in October 2023—with interest restarting September 1, 2023.1
Yep, like Twitter and the show Riverdale, the student loan payment pause is coming to an end. And the sooner you prepare for it, the better off you'll be. Here's what you need to know about student loan payments resuming—and how to get ready to pay them back.
When Do Student Loan Payments Resume?
Federal student loan payments are starting back up this October. When exactly your payment is due depends on your specific loan servicer, but you can expect to get your bill at least 21 days before your due date.
Federal student loans have been on pause since March 2020, and interest has been at 0% (both thanks to the CARES Act). And this student loan relief has been extended not one, not three, but eight times—first because of the ongoing pandemic and the struggling economy and then because President Joe Biden was waiting on his forgiveness plan to come through (which, spoiler alert: It didn't.).
But now student loan servicers are about to hit Play on people's federal student loan accounts. And it's for real this time. No more extensions. So, if you've been ignoring your student loans for the last three years, this is your wake-up call. It's go time, people!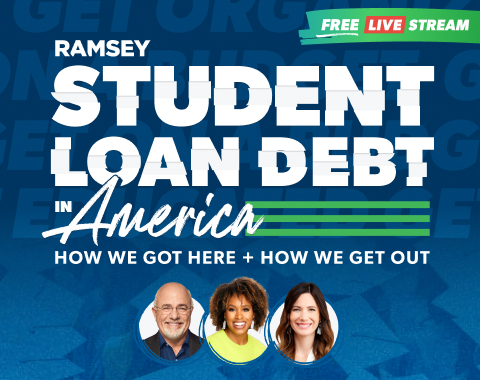 Student loan payments restart this fall!
Get a plan to ditch your loans for good. Watch our student loan livestream replay.
Watch Now
When Does Student Loan Interest Start Again?
Even though student loan payments resume in October, student loan interest starts back up in September. During the pause, interest was set to 0%—which meant people's student loans didn't grow, even if they didn't pay anything toward their balance.
But as of September 1, your interest will kick back up to whatever it was before the pause. That means you won't be able to just ignore your student loans anymore—at least not without your balance growing faster than one of those magic capsules that turns into a dinosaur underwater.
And since interest restarts at least a month sooner than payments are due (we can just see the loan servicers high-fiving at that), you need to go ahead and get ready to start paying back your student loans as early as September—or better yet, right now if you can (while it all goes to the principal).
How Much Will My Student Loan Payment Be?
Your student loan payment will depend on your total balance and the type of payment plan you're on. But half of borrowers are expected to have payments of at least $200, and 1 in 5 borrowers will have a monthly payment of $500 or more.2
The best way to find out your exact payment is to contact your loan servicer. They should be able to tell you your current student loan balance, your interest rate and your monthly payment amount. Not sure who your student loan servicer is? Log in to your student loan account to find out.
Pro tip: Use our student loan calculator to see when you'll pay off your student loans with your current payment plan—and how you can speed up your timeline.
What if I Can't Make My Student Loan Payment?
We get it. A lot's changed since payments were put on pause.

Ready to get rid of your student loans once and for all? Get our guide.
Most people have gotten used to not having a $200 student loan payment coming out of their bank account every month. Heck, some of you recent grads have never even had to make a single payment. Add on car payments, mortgages and other debts you maybe didn't have three years ago—and now things are feeling pretty tight.
So, what happens if you miss a payment? Normally, your account becomes delinquent the first day after you miss a payment. If your payment is delinquent for 90 days or more, it can go into default and get sent to collections.
But Biden announced a 12-month on-ramp transition period for those who can't make their student loan payment.3 This would technically keep borrowers who miss payments within the next year from defaulting and their loans from going to collections. But interest would still build up in most cases—so you don't want to miss any payments on your loans if you can help it!
Let's talk about how to prepare for student loan payments starting back up, especially if you're worried about not being able to make your payment.
What You Should Do Before Student Loan Payments Resume
Don't wait until October to get on top of your student loans. The sooner you make a plan, the less anxious you'll feel about your student loan payments.
Get Organized
How many student loans do you have? What's your balance? Who's your loan servicer?
If your student loans have been out of sight, out of mind for the last three years, you may have no clue how to answer those questions. But now's the time to find out and get organized—so you're not completely caught off guard come September.
Don't be surprised if your loan servicer has changed since you last made a student loan payment. In fact, around 16 million people are expected to have new loan servicers.4 If your loans were transferred to another servicer, you should've gotten a letter or email letting you know about the switch. Otherwise, log into your student loan account to see if it's changed. If so, you may need to create an online account with your new loan servicer.
Also, make sure your payment history and loan balance are correct so you're not stuck paying more than you owe.
Update Your Info
Odds are, some of your personal information has changed since March 2020. Did you get married and change your last name? Get a new phone number or email? Move to a new place?
Double-check that your current loan servicer has all your correct info on hand before that first payment is due. The last thing you want is to default on your student loans because they sent your bill to the wrong address. Just log in to your student loan account to view and update your info.
Get on a Budget
Probably the best thing you can do to get ready for your student loan payment is to start budgeting if you're not already. A budget will tell you if you've got enough to cover your monthly payment or not—and help you find ways to adjust your spending.
First, download the free EveryDollar budgeting app. Then plug in your monthly expenses and debt payments. If things are tight, see what you can cut from your budget to make more room for your student loan payment.
Right now, you may not believe you can pay off your student loans. But seeing the actual numbers in your budget will show you it's possible. And having a game plan for your money will give you so much confidence and peace of mind!
Increase Your Income
If you've made a budget and cut back where you can but there's still not enough to cover your student loan payment, it's time to give your income a boost.
What can you do now to get more money coming in the door? Choose a side hustle to earn some extra cash—like driving for a rideshare company, delivering food, pet sitting or mowing lawns. Whatever you do, don't just sit back and wait for payments to start. In the words of Rihanna, you'd better "work, work, work, work, work, work!"
Are You Ready for Student Loan Payments to Start Back Up?
With EveryDollar, you can be sure you've got enough to cover your student loan payment—no sweat!
Check Out EveryDollar
Did you find this article helpful? Share it!