If you want to know how to increase your income—to fight inflation, reach your money goals quicker, or just get some more margin in the budget each month—then we've got some tips for you.
Yes, it'll take some extra work, but it'll bring in extra cash. Worth. It.
1. Get a side hustle.
Lean into the power of a good side hustle. Seriously. This is that extra gig you can work into your free time, like driving for a ride-share service, delivering food, or teaching a skill. Hey, there are some jobs you can do from your very own couch—which means you can increase your income in your pj's.
2. Ask for a raise.
Okay, this one sounds a little forward, and it won't work for everyone. But don't rule it out. It might be time to ask for more money at work. Don't just rush the boss's door tomorrow morning, though. Make sure you ask for a raise the right way.
3. Work overtime.
Putting in extra hours at the job you already have can help in several ways. The work gets done, the boss is happy, and your bank account grows.
4. Find a better-paying job.
This tip isn't perfect for every situation, but it might be just what you need. If you're working like crazy, and you know you could make more elsewhere, it could be time to get a new job.
You've got a lot to sort through here, like hours and commute and even company culture, so really think this one out. Take our Should I Quit My Job quiz to help you decide if this is the right call for you.
But if you realize you should leap to a new job so you can increase your income, don't be afraid leap.
5. Sell stuff.
Unless you're a minimalist, you've probably got one of those closets (or attics, or drawers, or all three) filled with stuff you haven't used in years. Sell it.
The video games you beat and will never play again? Time for someone else to win. That cardigan you wore once before you realized fuchsia is not your color? It is someone else's color. Post the stuff for sale online or have an old-fashioned garage sale. Turn the clutter into cash!
6. Freelance.
Why not increase your income by doing more of what you're already good at? We're talking about nabbing some freelance gigs. You can find work through freelance apps or by networking. Yes, use word of mouth! Tell people you're looking for clients and ask them to spread the word. This is often one of the best ways to drum up business.
7. Check your tax withholdings.
If you're used to a hefty tax refund each year, it's fun in the moment—but wouldn't it be nice to have that increase in income each month instead? Yes! Then you're in charge of what that money's doing instead of the government.
Check your tax withholdings to see if you should make some tweaks to get that cash in your income line all year long.
8. Pay off your debt.
We checked around, and we aren't the only ones with this radical tip, though we'd still say it (and proudly) if we were. When you have debt, part of each month's paycheck goes to pay for the past. When you pay off your debt, all the money that was going toward those payments will now go back into your budget. So you can do what you want with every dollar.

Need an extra boost in your budget? Find more money each month with our 14-Day Money Finder!
That's right—you can cover that rising cost of inflation, stash it in savings, invest it, or breathe deeper at night knowing you've finally got some wiggle room in your budget. Who needs lavender tea when you have that kind of calming security? (Okay, you can still sip your tea.)
9. Budget.
Here's the deal, though—make sure you include all this extra income in your budget. You don't want to spend that money impulsively or accidentally.
Also, guess what? People who budget feel like they got a raise. Why?
A budget is a plan for your money. It's telling every dollar you make where to go, so you don't wonder where it went. And when you're keeping tabs on your money like that, you find money you didn't even realize you had!
And we happen to have a free budgeting app called EveryDollar. Our budgeters typically find an extra $332 in their first month of budgeting. That's extra income too! And it was right there. All. Along.
However you budget, budget. Budget your normal income. Budget your increased income. Budget all your money. Every month.
Budgeting is always important, but it's even more important when times are tough!
Hey—we believe in you. No joke. You can increase your income and start moving forward with your money. You've got this!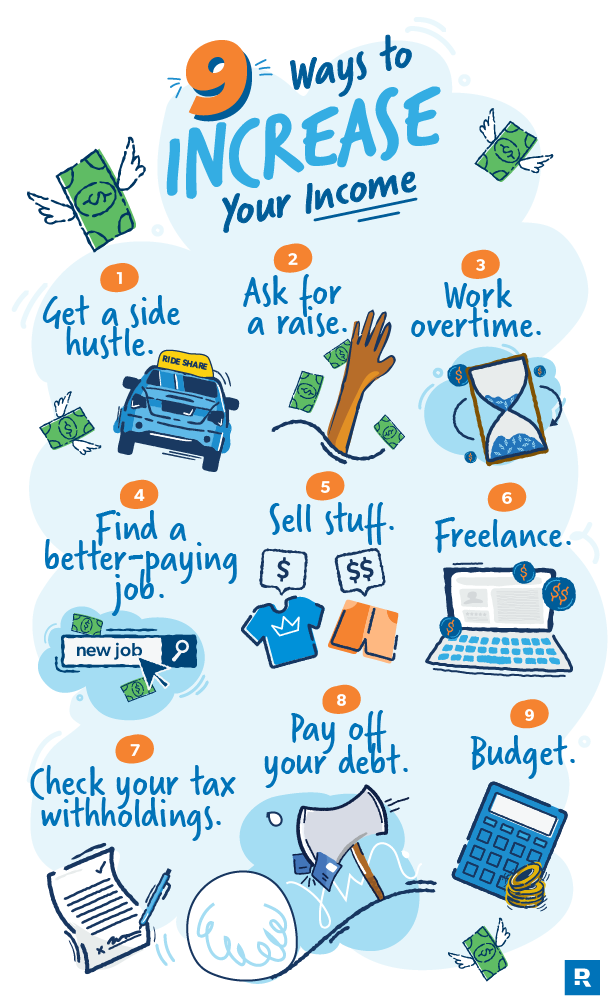 Did you find this article helpful? Share it!