Remember the day you got accepted into college?
Your bright-eyed younger self couldn't wait to take on the world. So, when you signed up for a student loan, you didn't look too closely at the fine print. (If you're like me, you were more concerned about making sure there was a little extra to pay for clothes and entertainment.)
But now you're having to pay back your student loans (maybe for the first time). Problem is, you don't remember who owns your loans or how to get that information.
Don't worry, I got you! Today's the day you find out who owns your student loans—so you can start making progress on paying them back.
Who Owns My Student Loans?
Just so we're clear, there's a difference between who owns your student loans and your loan servicer.
Whoever gave you the money for your education (the lender) is usually who owns your student loan. This is either the federal government or a private company. But your loan servicer is who handles the loan repayment.
Both the government and private lenders assign loan servicers to manage student loans on their behalf. This means whoever gave you the loan may be different than who you pay each month.
And (as if the whole thing wasn't already complicated enough) student loans often get transferred—so your loan servicer can change. In fact, about 16 million borrowers are expected to have a new loan servicer when payments start back up in October.1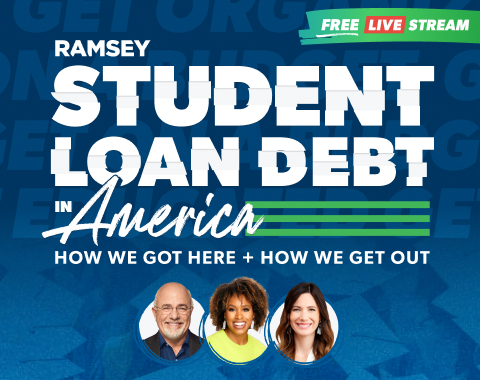 Student loan payments restart this fall!
Get a plan to ditch your loans for good. Watch our student loan livestream replay.
Watch Now
How to Find Out Who Owns Your Student Loans
Go to the Federal Student Aid website.
Since the government owns most student loans, start by logging in to your Federal Student Aid account. (If you don't already have an account, you'll need to create one.)
All of your federal student loans will show up on your dashboard. If it says Dept of ED, it means that loan is owned by the Department of Education. It'll also list who your loan servicer is (like Nelnet, Aidvantage or MOHELA)—that's who you'll be making payments to and who you should contact if you have any questions about your loan.
Good to know: If you've got a Federal Family Education Loan (FFEL) that is not owned by the government, it might be held by a guaranty agency (this is a state or private nonprofit agency that helps oversee FFEL Program loans).
Contact your school.
Your school's financial aid office should be able to give you details about your individual student loans and who owns them. In some cases (like with Federal Perkins Loans), it may be that the school owns your loan.
Good to know: If you're wondering about a student loan for the current or upcoming school year, your school's financial aid office is the only place that can give you any information about that loan.
Check your credit report.
Unfortunately, there's no central hub for private student loans like there is for federal student loans.
But you can request a free credit report from the three main credit bureaus: Experian, TransUnion and Equifax. All of your federal and private student loans will show up on your credit report, along with the name of who owns each loan. Then you can reach out to that company directly to get the details of your student loan—including who your loan servicer is.
Can I Change Who Owns My Student Loans?
The only way to change who owns your student loans is to refinance them. You can choose to either refinance your federal student loans with a private lender or refinance your private loans with a new lender. But hear me when I say, refinancing isn't for everyone.

Ready to get rid of your student loans once and for all? Get our guide.
You should only refinance your student loans if:
It's 100% free
You can get a lower interest rate
You can keep a fixed rate or trade your variable rate for a fixed rate
You don't have to sign up for a longer repayment period
You don't need a cosigner
You haven't recently declared bankruptcy
It will actually motivate you to pay off your student loans faster
Take Charge of Your Student Loans
So, now you know who owns your student loans (or you will after you follow the steps I just laid out). But if you don't have a plan for attacking your loans, they will own you.
I know what it's like to feel frustrated by student loan debt and like you'll be making payments forever. But it doesn't have to be that way! You can pay it off. And you can do it much faster than your loan servicer will have you believe (yeah, you heard me, Nelnet!). You just need a plan.
Start with a budget. Telling your money where to go in advance gives you the power to cover the basics and make your student loan payments—instead of just hoping you'll have enough. Plus, you can adjust your budget to throw even more at your loans so you can get them out of your life faster!
Go ahead and start budgeting for your student loan payments today!
Don't Just Make Payments, Make Progress
A budget puts you in charge of your money—including your student loan payments. Get started with the free EveryDollar budgeting app.
Check Out EveryDollar
Did you find this article helpful? Share it!