So you're hoping to buy or sell a home and want to know what the housing market forecast is like—especially after such an unpredictable year. Well, keep in mind that no one can predict what's going to happen with 100% accuracy. But we can check out what real estate experts are seeing and make some guesses about the future from there. (Hint: It's looking strong!)
Remember, housing market predictions can only give you an idea of what to expect if you buy or sell a house this year. But never let them dictate your housing decisions—only your personal situation and finances should do that.
With that said, let's take a closer look at how the market is doing.
Your Housing Market Forecast for 2021
Get your fireworks ready because the housing market for 2021 could be a blast! Experts predict a post-pandemic rebound—we're talking steady mortgage rates, job recoveries, and the law of supply and demand all working together to spark a match that will make home sales go kaboom!1

Find expert agents to help you buy your home.
That's right, forget the slow start to 2020 where all the unknowns of the pandemic outbreak had home buyers and sellers feeling a bit shy to pull the trigger. Real estate agents have had a full year to adopt new ways to respect social distancing guidelines when necessary. And with super low inventory, pent-up buyers are scratching and clawing to enter the market.
Real estate gurus believe low mortgage rates and the rise of remote workers with flexible schedules will keep home sales booming in 2021. For the math nerds out there, here's a snapshot of what that could look like numbers-wise:
| | |
| --- | --- |
| Housing Market Predictions | 2021 |
| Existing home sales | Up 9% |
| Newly built home sales | Up 21% |
| Home prices | Up 8% |
| Mortgage rates (30-year fixed) | |
For a better understanding of what that means for you, let's take a deeper dive.Remember, these numbers are only predictions made by people who study the housing market. In other words, while the numbers will probably change here and there as experts crunch new data, the bottom line will mostly stay the same: Home sales and prices are likely to be higher in 2021 compared to last year.
Plenty of Home Buyers Will Enter the Market
Just before we rang in the new year, real estate agents across the country were asked to describe their market based on how many buyers were looking for homes and how many sellers were selling their homes. Check out the first map to see how hot the buyer traffic was in your neck of the woods: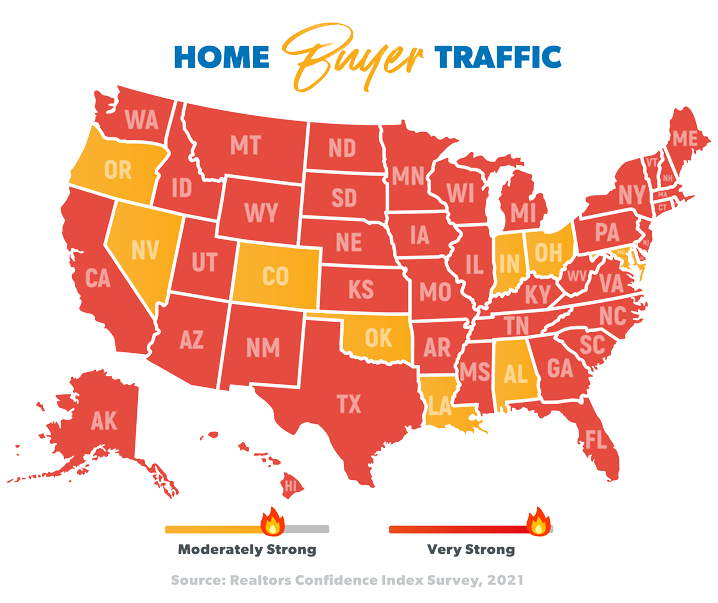 As you can see, buyer traffic has been piping hot in 22 housing markets and pretty strong throughout most of the country—a great sign for sellers.
Not Enough Homes Will Be Listed for Sale
On the other hand, the amount of homes listed for sale are down 22% compared to last year.4 The next map shows how the majority of markets are looking somewhat slow when it comes to seller traffic—so buyers will have to work a little harder to find their dream home.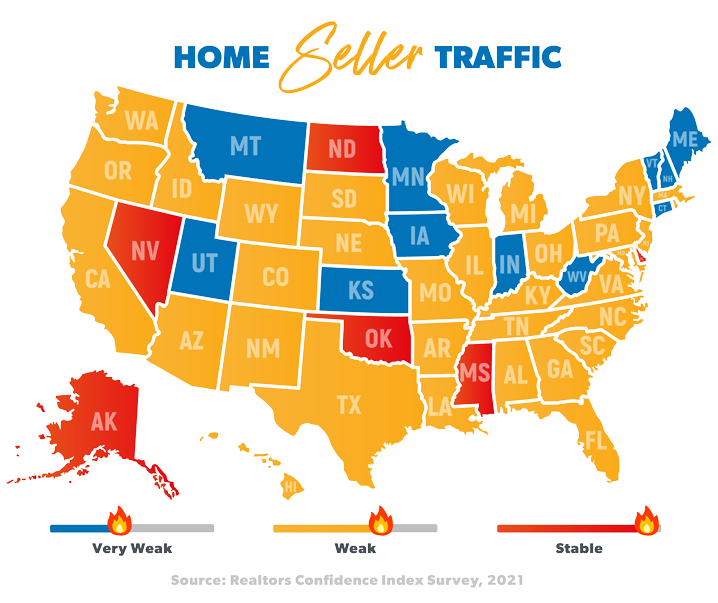 How Fast Will Homes Fly Off the Market in 2021?
Before the start of 2021, existing homes were typically on the market for just 21 days—meaning houses were plucked off the market two weeks faster than a year ago.5
That's great news for sellers who are itching to get their homes sold fast. But buyers need to stay focused! You won't want to dawdle once you find your best home because it'll likely be gone if you wait too long to commit.
Of course, every market is a little different—here's a state-by-state breakdown so you can see about how many days existing homes stayed on the market in your area.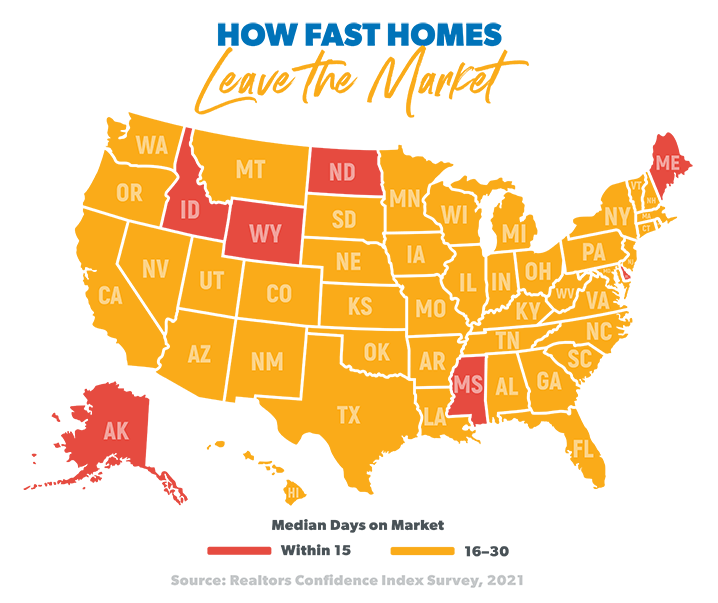 Will There Be a Lot of Foreclosures in 2021?
Projections show that 225,000–500,000 homeowners across the country might face foreclosure (eviction for missing mortgage payments) in 2021.6 Is that more than normal? Yes. For perspective, experts predict that in spring 2021 the amount of foreclosures will more than double compared to the same time last year.7
Why the increase? Well, those projections are mostly based on job losses connected to the pandemic. Imagine how hard it'd be for a homeowner to keep up with mortgage payments after losing a stable job and income. If that's you, hang in there. There's more you can do to avoid foreclosure like tightening up your monthly budget and finding multiple jobs.
On the other hand, what do more foreclosures mean for home buyers? You might find a sweet discount! But keep in mind, buying a foreclosed home could come with its own set of potential issues. So make sure you do your homework on the house and know what you're getting yourself into before you buy.
Is the Housing Market Going to Crash in 2021?
It's pretty unlikely that the housing market will crash within the next two years at least. Remember, real estate experts predict that home prices will increase by 8% in 2021—and from there, they're projected to grow at a slightly slower rate of 5.5% in 2022.8
With new buyers continuing to enter the market and not enough homes for sale to meet demand, home sales and prices are still going up. On the other hand, if the number of houses for sale was crazy high and the number of buyers willing to buy them suddenly plummeted, home prices would get slashed and that's when a crash would be something to worry about.
What Does This Mean for Home Buyers in 2021?
Okay, so far it looks like you'll need to bring your A game if you want to buy the home of your dreams this year. With more buyers than sellers, you'll probably be up against some heavy competition. But don't worry—there's a bright side for buyers too.
If you're getting a mortgage, you might still be able to get a low interest rate in 2021. The annual average interest rate for a 15-year fixed-rate mortgage in 2020 was only 2.61%—the lowest it's been since Freddie Mac started reporting nearly 30 years ago!9
Sure, rates might start to increase a little in 2021. But you'll probably still have a good chance of locking in a lower than average one. A low rate means a lower monthly payment and less of your money going toward interest over the life of the loan. Woo-hoo!
What Does This Mean for Home Sellers in 2021?
Sellers out there can feel pretty good about 2021. There are still plenty of buyers in the market and not as many sellers to compete with you. If you work with an experienced agent, you'll be able to set the best home price and find the right buyer. You should have no problem selling your house this year.
How to Buy or Sell With Confidence in Any Housing Market
The housing market isn't known for being simple to predict. That's why it pays to have an expert in your corner. To connect with an agent who has weathered the storms of real estate, try our Endorsed Local Providers (ELP) program. We only recommend top-notch agents who help you crush your housing goals—no matter what the market is doing.