So you're dreaming of moving to Florida—the home of Disney World, Universal Studios, the Kennedy Space Center and some of the country's most beautiful beaches!
But how expensive is the cost of living in Florida? That's a smart question to ask before you replace all your winter clothes with gallons of suntan lotion and head toward the Sunshine State.
To learn if you can afford to live in Florida, you'd have to compare the cost of living in your current city with the Florida city of your dreams. To help you make a confident decision, we'll show you how much Florida charges for "super fun" grown-up stuff like housing, food, taxes and bills.
Let's hit the beach!
The cost of living in Florida is 2% higher than the national average.
Florida's median home price is $478,500. Its median rent (two bedroom) is $1,682. Both are higher than the national average.
There is no state income tax in Florida, and its average sales tax is 7.02%.
What's the Average Cost of Living in Florida?
The average cost of living in Florida is very close to the national average—just over 2% higher. But while that 2% represents the state average, there's a wide range in cost of living among individual cities in Florida, ranging from 8% lower to 21% higher in cost when compared to the average U.S. city.1
So, let's take a look at the cost of living in some of the best places to live in Florida.
| | |
| --- | --- |
| Florida City | Cost of Living vs. the U.S. Average |
| Ocala | 8% lower |
| Jacksonville | 6% lower |
| Pensacola | 5% lower |
| Tallahassee | 5% lower |
| Daytona | 3% lower |
| Tampa | 1% lower |
| Gainesville | 2% higher |
| Orlando | 4% higher |
| Fort Myers | 8% higher |
| Miami | 20% higher |
Where did those numbers come from? We looked at the 2023 Cost of Living Index from The Council for Community and Economic Research.2 Unless otherwise stated, all the numbers in this article come from that index.
To better understand these numbers, let's take a closer look at some of the most common individual categories of expenses: housing, utilities, groceries, transportation, health care, taxes, and miscellaneous goods and services.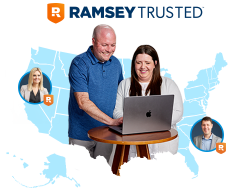 Don't buy or sell without an agent you can trust.
There are RamseyTrusted real estate agents all over the country who are ready to help you win.
Find a Local Agent
Housing Costs in Florida
Let's start with housing costs. In June 2023, the median home price in Florida was $478,500—a little over $30,000 (7%) higher than the national median of $445,000.3
Unfortunately, rent prices in Florida aren't so close to the rest of the country. The median monthly rent for a two-bedroom apartment in Florida was more than $1,682—nearly 25% higher than the national median of $1,346!4
But remember, those numbers cover the entire state. Some cities in Florida will have cheaper housing than that, and some will have more expensive prices. To find the Florida city that fits your budget, check out the cost differences between these cities:
| | | |
| --- | --- | --- |
| City in Florida | Average Home Price | Average Apartment Rent |
| Miami | $597,159 | $2,768 |
| Pensacola | $393,788 | $1,480 |
| Orlando | $455,120 | $1,822 |
| Tampa | $423,986 | $1,543 |
| Jacksonville | $386,748 | $1,592 |
Utilities
Utility costs like energy and phone use in Florida range from 13% lower than the national average in Tallahassee to 17% higher in Pensacola. Fort Meyers is somewhere in the middle range among Florida cities for utility costs and is pretty much the same as the national average.

Find expert agents to help you buy your home in Florida.
Trust us, you're going to want to crank up the AC. They're not called the Miami Heat for nothing.

Groceries
Grab your grocery cart, we're headed to Publix! This popular Southeastern supermarket chain was founded and is headquartered in Florida, so there's a good chance you'll buy some oranges and key lime pies there if you move to the sunny state. Groceries in Florida range from 10% lower than the national average in Daytona to 16% higher in Miami.

Transportation
Rev up your engines! Florida transportation costs range from 16% lower than the national average in Jacksonville to 8% higher in Fort Myers.
Since Florida is mostly a driving state, you'll want to keep transportation costs low by getting the right insurance coverage. Try bundling your auto insurance for a discount by talking to one of the independent insurance agents we recommend.

Health Care
Florida health care costs range from 18% lower than the national average in Jacksonville to 12% higher in Tallahassee. Here's a look at the typical bill for common medical expenses across the state.
| | | | |
| --- | --- | --- | --- |
| Health Care Type | Average Florida Cost | Average U.S. City Cost | Cost Difference |
| General doctor | $115 | $127 | 10% lower |
| Dentist | $109 | $110 | 1% lower |
| Eye doctor | $97 | $119 | 23% lower |
| Advil | $11 | $10 | 9% higher |
| Prescription drug | $470 | $462 | 2% higher |
Taxes
Can you guess how much income tax Florida charges? Zilch, zip, nada, nothing! That's right, folks, the Sunshine State doesn't take any of the hard-earned money out of your paycheck or retirement income—one of the many perks that makes Florida such a popular place to retire.
Keep in mind, Florida still has a state sales tax rate of 6%—or 7.02% if you include its average local tax rate. That's not too bad, though, considering the percentage is only the 24th highest in the country for total sales tax.5
There's a downside, though: Florida has one of the highest taxes in the country on cellphone use and gas—along with some other special taxes.6 If all this tax talk makes you feel dizzy, don't worry. You can find out exactly how moving to Florida will impact your taxes by connecting with one of our trusted tax advisors.

Miscellaneous Goods and Services
Miscellaneous costs refer to a wide range of goods and services, including things like common restaurant foods, clothing, entertainment, activities and personal care. In Florida, these costs range from 8% lower than the national average in Ocala to 9% higher in Miami.
Daytona falls right in the middle of Florida cities for miscellaneous costs. In Daytona, the typical resident can order a pizza for $11, get a haircut for $19, and buy a new shirt for $30. For reference, those prices are $12, $23 and $35 for the average U.S. city.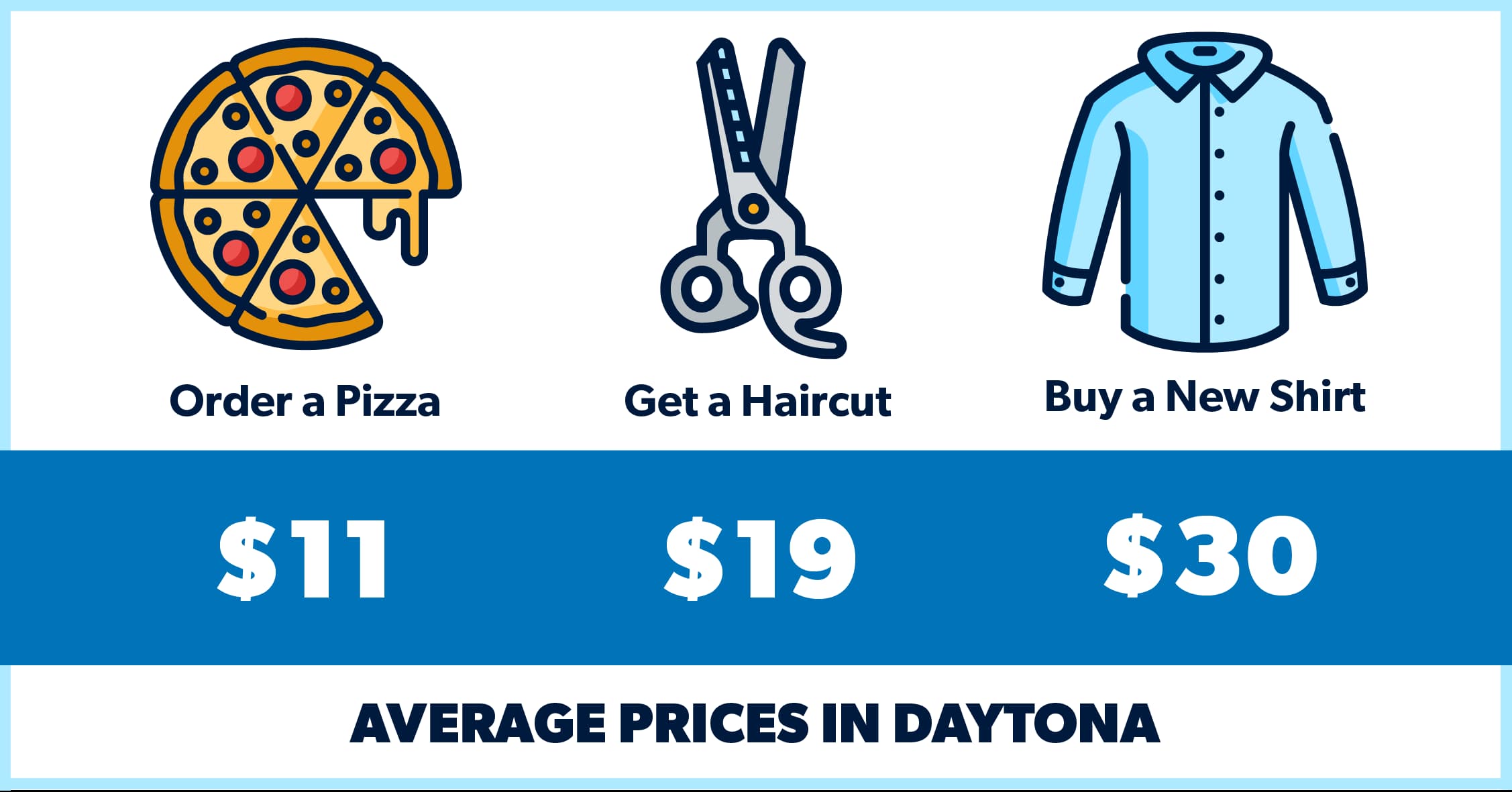 How Much Do You Need to Live Comfortably in Florida?
In Florida, the median household income is $61,777.7 But if you make that much, it doesn't automatically mean you can afford to live anywhere in Florida—at least not comfortably. If you want to live comfortably in the Sunshine State, first make sure you can afford your biggest expense: housing.
Whether you decide to rent or buy in your new city, stick to the 25% rule—never move into a home that comes with a monthly payment bigger than 25% of your monthly take-home pay. For home buyers getting a mortgage, that 25% limit includes property taxes, homeowners insurance, homeowners association (HOA) fees and private mortgage insurance.
Why 25%? Anything more and you won't have enough money left in your budget to put toward other important financial goals, like saving for retirement. You can use our free mortgage calculator to get a good idea of which home prices would fit within your budget.
Compare the Cost of Living in Florida With Your Current City
Now you know the cost of living in Florida—but can you afford it? If you want to be sure, try our free Cost of Living Calculator to determine how much more or less expensive it would be for you to live in the Florida city that's calling your name.
What should you do if you can't afford the housing market in Florida, but you still want to move there? Try one of these ideas:
Ready to Move to Florida?
If you're able to afford living in Florida, congrats! The next step on your relocation journey is to handle your housing. For an instant way to find real estate agents we trust in Florida and your current city, try our RamseyTrusted program. We only recommend top agents who are on a mission to help you crush your relocation goals.
Find a RamseyTrusted Florida real estate agent!
Decide where in Florida you want to live.
Interview at least three local agents.
Choose one we trust to help you find a home within your budget.
Did you find this article helpful? Share it!