Florida has become a hot spot (pun intended) for people relocating across the country. And with its affordable cost of living, sunny climate and lack of income tax, there are some compelling reasons families are flocking to the Sunshine State.
But in a big move, there's always more to consider than tank-weather and taxes—especially when factoring in kids. To know if Florida could be a good fit for your family, let's take a look at what you need to know about the best school districts in Florida and some highlights on Florida education.
But wait! Before we dive in, remember: All "bests" lists are somewhat subjective. However, they can still point you in a pretty promising direction. Choosing a school is a very personal thing for families, so our goal here is just to get you the information you need to kick off your research. With that said, let's get to it!
The Best School Districts in Florida
Eight out of 67 stand out as the best school districts in Florida based on test scores, college readiness, teacher quality and graduation rate.1,2 Here's who made the list:
St. John's County: St. John's County school district is located in the northeastern part of Florida where the beachy town of St. Augustine is the claim to fame. St. John's has 46 schools total, including 13 high schools with an average graduation rate of 94%—for reference, the average graduation rate for the entire state of Florida is 90%.3,4

One of the top high schools in this district is Creekside High School, where 18% more of those tie-dye-wearing, TikTok-loving high schoolers pursue a college or vocational program compared with the rest of the state.5

Sarasota County: If you take I-75 South out of Tampa, you'll reach Sarasota County, home of 54 of Florida's public schools, including 33 elementary schools, 23 middle schools and 15 high schools.6 The student to teacher ratio in Sarasota County schools is pretty amazing at 14:1—for reference, the state average is 17:1.7 For accelerated high school learners, Sarasota County schools will help them get their nerd on (in a great way) with its International Baccalaureate, Advanced Placement and Advanced International Certificate of Education programs.8

Okaloosa County: Located in Fort Walton Beach on the gulf's sandy panhandle is the Okaloosa County school district. One of the top high schools in Okaloosa County is Niceville Senior High. Having a nice ring to its name isn't the only thing Niceville Senior High has going for it—it's one of the best schools in Florida! Not only is its graduation rate 98%, but in both 2018 and 2020, Niceville also won GreatSchools' College Success award, which is granted to schools that do a killer job at prepping students for college and career.9,10
Seminole County: Kids are going to love that the Seminole County school district is in the greater Orlando (aka Magical World of Disney) area. Most of the schools in Seminole County are above average in school quality and show promising signs of students making more progress than their peers at other schools in the state.11 Ninety-two percent of students in Seminole County pass their eighth grade Algebra 1 class, while only 33% pass in the rest of the state.12 Keeping with the STEM education trend, Seminole County is also the best school district in Florida for calculus and physics enrollment.13
Martin County: Nestled in between Orlando and Miami in Florida's Treasure Coast region is a little gem called the Martin County School District. Though it's a smaller school district in Florida with only 36 schools, it is mighty still.14 Compared to the state average, more graduates from Martin County schools pursue higher learning and are more likely to return to college for a second year.15 And if you're blessed to have a gangly middle schooler on your hands, check out Hidden Oaks Middle School in Palm City. It's one of the top-rated middle schools in the district for academic progress and test scores.16
Collier County: The Collier County school district is located in the gulf-side city of Naples—which just happens to top our list of best places to live in Florida. The majority of the schools in this district rate above average in quality, not to mention the students would make Einstein proud by outperforming state averages in Algebra, Geometry and Biology.17 If you're looking for a standout school, Mason Classical Academy, a 900-student K-12 Charter School, definitely takes the cake with college readiness and student progress far above the state's average.18 Not to mention three high schools in Collier County—Barron Collier High, First Baptist Academy and Naples High—all teach Ramsey's personal finance curriculum!
Clay County: Hanging out in the Jacksonville metro area is Clay County School District. Clay boasts a low student to teacher ratio at 15:1, as well as a much lower student to counselor ratio coming in at 383:1 compared to the state average of 481:1.19 One of the best Florida schools in Clay County is Orange Park Elementary School in Orange Park, Florida. One hundred percent of the kids in this K-6 elementary school are performing at or above grade level in science.20 So if Junior loves learning about types of matter and other science-y things, check Orange Park out!
Santa Rosa County: In the northwestern portion of Florida's panhandle is the Santa Rosa County school district with 39 schools and over 28,000 students. Twelve percent of high schoolers here are dual enrolling (meaning they're taking college credits while in high school) which is a good bit above the state average of 7%.21 Pace High School deserves a shoutout for earning the Great Schools College Success Award in 2020 based on its success in preparing students for college and a career.22 Fun fact: Our Foundations in Personal Finance curriculum is also taught at Pace High!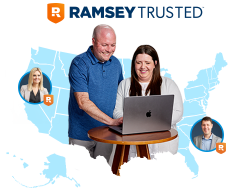 Don't buy or sell without an agent you can trust.
There are RamseyTrusted real estate agents all over the country who are ready to help you win.
Find a Local Agent
What's the Best High School in Florida?
Another notable mention for our list of school districts is Miami-Dade, which is the largest school district in Florida with over 350,000 students and 550 schools.23 If you need help getting a mental picture of just how big the Miami-Dade district is, it has almost as many students as the city of Tampa has humans.24 According to U.S. News & World Report, the best public high school in Florida is also in the Miami-Dade school district—the School for Advanced Studies (SAS)!25 At the SAS, students have the opportunity to graduate with an Associate Degree in the Arts. Talk about advanced.
How Does Florida Education Compare to the Rest of the U.S.?
Even though when you think of Florida, you probably think "beaches" or "Buccaneers" before you think "education," it's actually a force to be reckoned with when compared with the rest of the country. U.S. News & World Report ranks Florida #16 nationally considering the state's test scores, graduation rates, preschool enrollment and college preparedness.26 And U.S. News also puts Florida at #1—yes #1!— in the nation for higher education, with Washington and California following behind.27
Want to Learn More About Florida?
If you're trying to figure out if Florida is the right place for your family to settle down, you're already doing a stellar job. Researching topics like Florida's best school districts, Florida's cost of living, and Florida's safest cities is a great way to get a baseline knowledge for whether packing up and moving down south is something you should seriously consider.

Find expert agents to help you buy your home in Florida.
Another great way to learn about an area—especially if you're considering a move—is to ask a local expert, like a real estate agent. While, due to real estate steering laws, agents can't suggest whether or not to buy a home in a certain school district, they can be an amazing resource as you learn about what it's like to live in an area.
But if you don't know any real estate agents in Florida, don't worry—we've got you covered. Our nationwide RamseyTrusted program endorses real estate agents all over the country who we handpick to serve you based on their years of experience, consistent record of success and commitment to integrity.
Did you find this article helpful? Share it!