So your eyes are set on Florida—the subtropical paradise and home to endless gorgeous beaches. Who wouldn't want to live in a place that makes you feel like you're on vacation every single day?
Still, moving to Florida is a big deal. And you'll have a ton of decisions to make before and after you move there. But don't worry. We'll help you unpack all the relocation info you need—including Florida's pros and cons, cost of living, schools, jobs, places to live, and things to do—so you can make confident decisions all along the way.
Bust out that suntan lotion and let's get started!
Moving to Florida: How to Get Started
There are a lot of steps that go into relocating to a new state and we know everyone moves at a different pace. So we broke down the main Florida topics into two categories to make it easier for you to select what you're most interested in learning about:
Discover Florida
Why Are People Moving to Florida?
Get this: 900 people move to Florida every single day!1 In fact, Florida ranked among the top five states in the U.S. people moved to in 2021.2
Here are the primary reasons people moved to Florida:
Retirement (39%)
Lifestyle (27%)
Family (22%)
Job (18%)3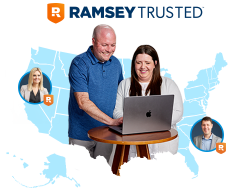 Don't buy or sell without an agent you can trust.
There are RamseyTrusted real estate agents all over the country who are ready to help you win.
Find a Local Agent
Pros and Cons of Moving to Florida
While Florida is famous for its popular vacation destinations, it's not always sunshine and rainbows. To help you decide whether Florida is right for you, try comparing the pros and cons of moving there to see if any outweigh the others.
Pros
No state income tax
825 miles of sandy beaches4
Warm and sunny weather
World-class amusement parks
Cons
Scorching heat and humidity
Hurricanes and rainfall
Flat landscape (if you like hills)
Bugs, gators and snakes—oh my!
What to Know When Moving to Florida
Next, let's dig into the essential things you need to know about Florida when moving there.
Climate
If you're moving from a cooler region to Florida, you might want a heads up on the typical climate. Sure, Florida is known for its sunny beach weather. But living there can be hotter and rainier than you might think.
Temperatures: Florida has a mostly humid subtropical climate—with temperatures generally ranging between 60–80º F.5 Summers can feel extremely hot. But at least you can cool off in the ocean!
Rainfall: While Florida does get plenty of rain, the odds are still in your favor. On average, it's not raining 70% of the time—that's over 250 days to play in the sun.6
Seasons: Florida really only has two seasons—wet and dry. The wet season typically kicks off in May, while the dry season starts in October. Usually only the northern parts of Florida can get cold enough to see some light snow in winter.
Hurricanes: Not to scare you, but hurricanes are a thing in Florida. Hurricane season runs from June through November.7 So flooding and crazy windstorms can occur. But there are live weather services available to help keep you advised and safe.
Crime and Safety
Safety is a huge factor in where you call home. That's why it's important to learn as much as you can about the crime rate of the Florida neighborhoods you're interested in before deciding on where to live. To get you started, we broke down the top 10 safest cities in Florida.
Cost of Living
Relocating can impact your budget big time! So you'll want to be familiar with the cost of living in Florida to make sure you can afford changes in living expenses like housing, utilities, food and health care.

Find expert agents to help you buy your home in Florida.
As an example, here's a snapshot of what housing prices are like in Florida:
| | |
| --- | --- |
| Florida Median Housing Prices* | Spring 2022 |
| House | $472,9908 |
| Rent | $1,6669 |
*Median refers to the midpoint—half of Florida's housing prices went for more, half for less. Rent represents two-bedroom apartments.
How Much Money Do You Need to Move to Florida?
On average, it costs $3,000–7,000 to move out of state.10 Of course, the real cost to move really depends on how much stuff you're moving and how far away you currently live from your destination.
If your moving cost estimates start sounding too high, tighten up your budget and search for the cheapest ways to move out of state.
What Is There to Do in Florida?
Here are some of the exciting adventures you have waiting for you in Florida:
Walt Disney World® Resort (four world-class theme parks in Orlando)
Universal Orlando Resort (three theme parks and home of The Wizarding World of Harry Potter)
SeaWorld Orlando
LEGOLAND® Florida Resort (just outside of Orlando and Tampa)
Busch Gardens Tampa Bay
Kennedy Space Center Visitor Complex (east coast)
Gatorland (central Florida)
Everglades National Park (southern tip of Florida)
Swamp airboat rides
Bioluminescent (glowing water) kayaking
You get the idea—there are thousands of things to do all over Florida! Go have some fun!
Moving to Florida Checklist
To help you get all your moving tasks organized into a workable timeline, we created a Moving to Florida Checklist for you.
Moving to Florida Checklist
Easily mark your progress and see what still needs to be done by printing out this Moving to Florida Checklist and slapping it on your refrigerator. Or you can use it on your phone.
Get the Checklist
The checklist includes things like when to:
Gather important documents for school and medical transfers
Purge and declutter your current home
Purchase moving supplies and pack your stuff into boxes
Finalize everything you need to do to sell or move out of your current home
Arrange for movers
Cancel your old utilities and arrange for new ones
Close on your new home and start unpacking
Settle into your new neighborhood
What Do I Need to Do When Moving to Florida?
Okay, now let's take a closer look at how to tackle the more complicated Florida moving tasks so you can feel confident about checking those off your list.
As you know, deciding where to move in Florida really depends on your personal situation and life goals. Here are some questions to ask yourself:
Which cities have a cost of living that fits my budget?
Do I want to live in the suburbs near a family-friendly community or a big city full of active, young professionals?
How close do I want to live to work, school, stores and the beach?
Would I rather be surrounded by Jaguars, Buccaneers or Dolphins fans? (Choose wisely.)
After you nail down your needs and wants, research the different cities in Florida to see which ones match your list—no doubt one will stand out above the rest. For inspiration, check out the best places to live in Florida.
Next, let's look at jobs. Good news! The Florida economy is looking healthy—in fact, the unemployment rate in Florida dropped from 5.4% in March 2021 to 3.2% in March 2022 (the national rate is even higher at 3.6%!).11 In other words, Florida's economy is creating more jobs than last year and at a better rate than the national economy.
If you don't already have a gig lined up, you can find jobs in Florida using online job boards like LinkedIn and Indeed. Who knows, this may be your chance to find your dream job!
Create Work
Now, if you're an entrepreneur and plan to start or expand a business in Florida, make sure to register your company with the state and county. This is a must whether your business is at home or online. For more information on how to do that, visit Florida's Division of Corporations website.
Want help growing your business in Florida? Learn the Ramsey way of building a successful business through our coaching and training solutions like EntreLeadership.
If you're moving with kiddos, finding the best school districts in Florida is probably on the top of your list. Try using online tools like GreatSchools that rate and compare different schools in any area to help you pick the right one for junior.
Fun fact: Many schools in Florida teach our Foundations in Personal Finance curriculum—also available for homeschool—which teaches your teen how to handle money the right way so they can pay cash for their car and graduate debt-free.
Let's say you have a general idea of where you'd like to live in Florida. Now what? Unless you'll be renting for a while, your next step is to find your Florida home!
For help finding a house in Florida that's within your budget, work with an agent who knows the area like the back of their hand. To find the best real estate agents in Florida, try our Endorsed Local Providers (ELP) program. These pros are RamseyTrusted because they share our high standards for excellence.
No matter what the Florida housing market is doing, make sure your monthly housing payments will be no more than 25% of your monthly take-home pay.
If you're getting a mortgage, that 25% limit includes principal, interest, property taxes, home insurance, private mortgage insurance (PMI) and homeowners association (HOA) fees. Use our Florida mortgage calculator to enter your down payment amount and try out different home prices within your budget.
If you want a mortgage you can pay off fast, talk to the home loan specialists we trust at Churchill Mortgage about getting a 15-year fixed-rate conventional loan with at least a 10–20% down payment. Any other type of mortgage will cost you so much more in extra interest and fees and keep you in debt for decades.
One of the best perks of living in Florida is that it has zero state income tax!12 Still, Florida does have a state sales tax rate, but it's only ranked as the 23rd highest in the country for total sales tax.13
The downside is that Florida has fairly high taxes on cellphones, beer, wine and gas.14
Moving to a new state can sometimes complicate your taxes. But don't sweat it. We've got the people and programs to help you file your first Florida tax return with confidence. Check out our trusted tax services.
Update License and Registration
Now, let's not forget your car (or van or motorcycle or bus?). Whatever it is you'll be driving in Florida, you'll need to go through the annoying hassle of getting a new driver's license and vehicle registration—same as moving anywhere else. Visit the Florida Department of Highway Safety and Motor Vehicles website (basically Florida's DMV) to punch that off your Florida moving checklist.
Last, but not least, you need to update your will to meet Florida's requirements. We don't mean to close things out on a down note, but your legacy is important! Getting a last will and testament in place is super important for those you love. And if you move to Florida, you need to know that Florida's will requirements have a few specific ins and outs.
After all, the last thing you want is to find out the will you created is not legally binding in Florida. That could mean losing the legacy you hoped to leave for your loved ones after years of building and planning. Not sure how to get started? We can walk you through how to make a will in Florida.
Is Florida the Right Move for You?
Moving to Florida can be a good idea if the pros outweigh the cons for you. At the end of the day, you want to feel confident you'll enjoy living there—and that you can afford it.
We can't tell you what you will—or won't—like about living in Florida. But we can help you with the money stuff (no surprise there). Use our cost of living calculator to see how your dream city in Florida compares to your current town. We also have a free relocation guide to help your move go smoothly.
Find a Florida Real Estate Agent
If you're ready to get the ball rolling on moving to Florida, the next step on your relocation journey is to find a real estate agent. For a fast and easy way to find Florida agents we trust, try our RamseyTrusted program. We carefully select the leading agents in their markets and regularly coach them to serve you with excellence. That's how they've earned the right to be called RamseyTrusted.
Did you find this article helpful? Share it!