Trying to figure out what types of car insurance you need can be like trying to find the square root of 64. It's complicated. There are so many different types of car insurance it can be pretty overwhelming. It might even be tempting to just throw up your hands and say, "I'll just go with my state's minimum."
But wait. Don't do that. With just a little education, you can make sense of the wild world of car insurance (and we won't even need help from geckos or emus).
Let's break down the seven main types of car insurance so you can make sure you're protected.
1. Liability Insurance
The first type of car insurance we'll look at is liability insurance. Liability insurance is the most important kind of auto insurance. It works alongside comprehensive and collision, making up the foundation of rock-solid car insurance coverage.
Liability insurance covers expenses you are found liable for. So if you cause an accident, liability insurance will save you from having to pay thousands of dollars out of pocket. With liability insurance, your insurer will pay to repair or replace the other person's damaged property up to a certain limit. (It doesn't cover your costs. That's where things like collision or your health insurance kicks in.) It will also cover the medical bills of anyone injured, including legal fees if you're sued.
You don't need every type of car insurance out there (unless you're one of those gotta-collect-them-all types). But you definitely need liability insurance. It's even required by law in every U.S. state except New Hampshire and parts of Alaska.
2. Comprehensive Insurance
Comprehensive insurance protects your vehicle from a comprehensive list of bad things that could happen. Things like wildfires, fallen trees, debris from other cars, theft, vandalism, riots, fire, explosions, earthquakes, landslides, other weather events and wildlife.
You pick a deductible—the amount you have to pay before your insurer chips in. There's also a policy limit based on what your car is currently worth (not what you originally paid for it).
No matter where you live—or how good your luck may be—bad things can happen. With comprehensive insurance, you'll be covered. It's optional but some lenders or leaseholders will make you get it.
3. Collision Insurance
Remember how liability insurance covered the other person's property? Collision insurance is the other side of that coin. Collision covers the cost of repairing or replacing your car after an accident. It's not required by state law, but it's still a good idea to get even if you're driving around a paid-off vehicle (good for you!).
Like comprehensive, collision insurance isn't mandatory unless your lender or leaseholder requires it. But if you can't afford to replace your car with cash, you need collision insurance. This way, if you total your car, you won't bust your budget replacing it.
4. Full Coverage
The next type of car insurance is full coverage. First, there isn't technically a policy called "full coverage" you can buy. It's a combination of coverages. Full coverage consists of liability, comprehensive and collision. So if you have all three, congratulations! You're fully covered.
Full coverage can also mean you have certain add-ons, like roadside assistance, uninsured/underinsured motorist coverage, guaranteed auto protection, medical expenses coverage, personal injury protection, or towing and breakdown coverage.
Each add-on will increase your premium to some degree. But if you can get full coverage at a good price, you should do it. You'll have extra security and peace of mind.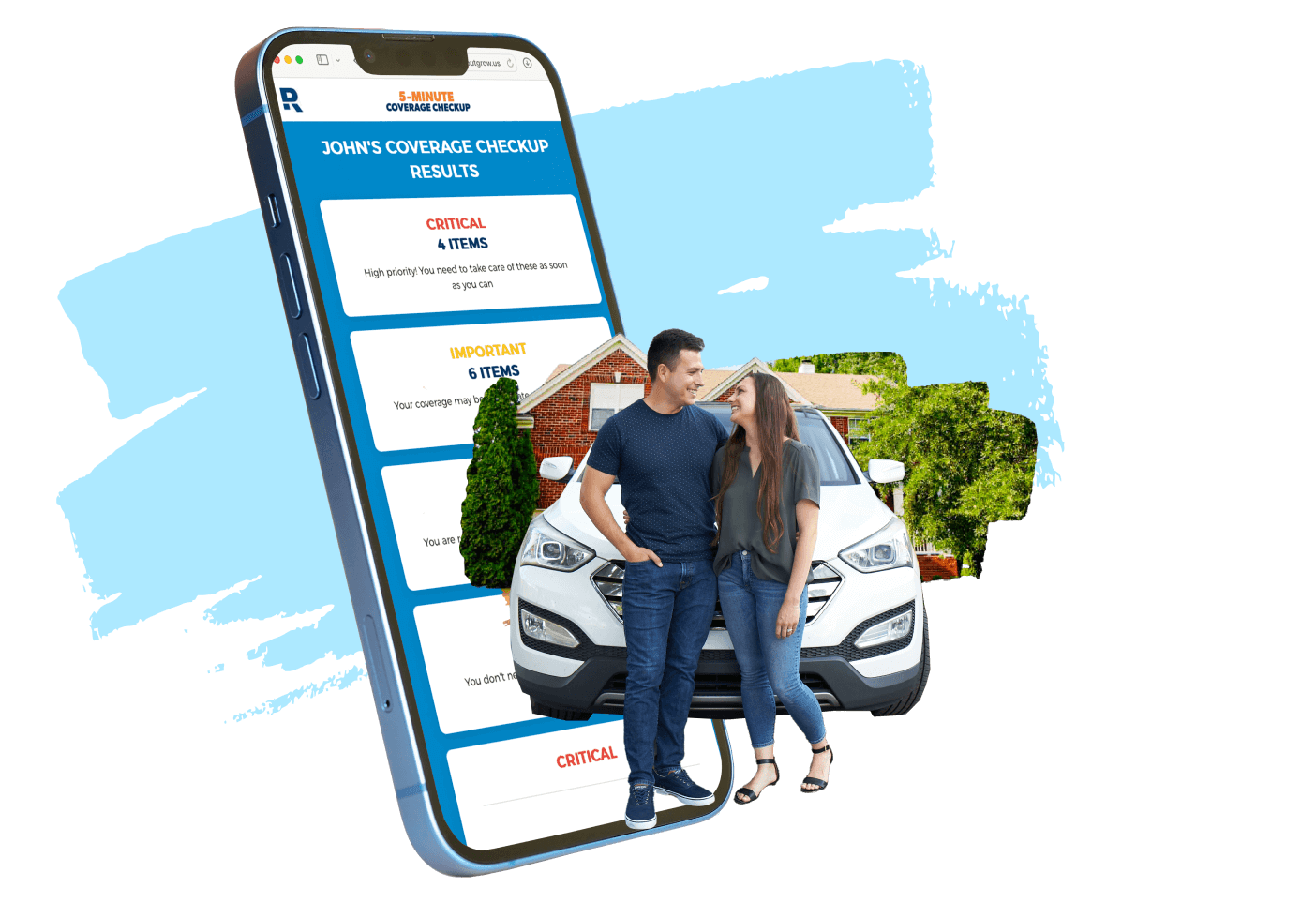 Do You Have the Right Insurance?
Find out what insurance coverage you should add, tweak or drop based on your individual needs.
Take the Coverage Checkup
5. Uninsured and Underinsured Motorist Coverage
Uninsured motorist coverage is not coverage for people who don't have insurance (that makes no sense). Instead, it covers your medical expenses (and your passengers) if an uninsured driver hits you or from a hit-and-run. It doesn't cover vehicle damage though.

Don't let car insurance costs get you down! Download our checklist for easy ways to save.
Underinsured motorist insurance protects you if you're hit by a driver who doesn't have enough insurance—they're underinsured. It protects you if the other driver doesn't have enough liability limits to cover your medical bills.
6. Medical Payments Coverage
Medical payments coverage (MedPay) helps pay for medical expenses for you and any passengers in your vehicle after an accident. These costs would involve surgery, X-rays and hospital visits. It also doesn't matter who was at fault. So with medical payments coverage, you're protected no matter what. And depending on where you live, medical payments coverage is required.
7. Personal Injury Protection
Personal injury protection (PIP) is kind of like medical payments coverage. If you're seriously injured in an accident, it can help pay for costs like childcare or lost wages if you can't work. It's also required in certain states.
Okay, now that we've seen seven of the main types of auto insurance, let's look at a few extras.
Other Types of Car Insurance
Rental Car Reimbursement
If you're worried about transportation while your car's in the shop, you can get something called rental car reimbursement. Your insurer will cover the costs of a rental car while you're waiting to get your vehicle back.
GAP Insurance
Guaranteed auto protection—fondly referred to as GAP insurance—covers the difference between what you still owe on your vehicle and how much it's actually worth. For instance, let's say you owe $20,000 on your vehicle and you end up totaling it. Your car's actual cash value is only $16,000 due to depreciation. Ouch! Gap insurance can help fix this problem when you're stuck paying a loan for a car you can't even drive. It really comes in handy if you're leasing or have a car loan.
Temporary Car Insurance
Temporary car insurance is coverage for a vehicle you're only planning on driving for a little while, normally six months or less. So if you're going on a road trip for a few weeks and plan to drive your friend's car, temporary car insurance is helpful. However, it's not available from most reputable insurance companies. Instead, it comes in the form of non-owner car insurance or rental car insurance.
High Risk Insurance
There are a couple different reasons an insurance company could decide you're high risk. If you are, you'll definitely end up paying more. But if you behave, and let time do its thing, you'll eventually break out of the car insurance doghouse and your premiums will come back down.
Classic Car Insurance
If you're into classic cars (who isn't?), there's a special kind of insurance for you. Classic car insurance can help you protect your investment in the event your baby blue '69 Mustang is damaged or stolen.
Rideshare Insurance
If you're driving for a rideshare company, you'll want to look into an extra layer of protection called rideshare insurance. If you're driving for Uber or Lyft, your personal policy won't cover you. And the rideshare companies don't offer full coverage. Rideshare insurance can make up that difference.
Get the Right Coverage
Car insurance can be tough. We've just seen there are tons of different options and it can be hard to figure out what you actually need.
That's why we recommend using an insurance agent who is part of our Endorsed Local Providers (ELP) program. They're RamseyTrusted and can look at your specific situation and figure out how much insurance is right for you. They might even be able to find some ways you're overpaying on car insurance and save you some money.
Connect with an ELP today to get the right coverage at the best price.
Ways to Save on Car Insurance Checklist
Don't let car insurance costs get you down! Here's a checklist for easy ways to save.
Did you find this article helpful? Share it!