Imagine you're driving along, obeying all the traffic laws and listening to your favorite song on the radio. Wham! The passenger side of your car is suddenly sideswiped by a beater car.
We're not talking about a fender bender here. Your car has major damage to the passenger door panel and a crushed side mirror that's now dangling by a single wire.
You pull over and get out of your car to talk with the other driver. The first words out of his mouth are "I don't have insurance." Time to panic?
Not necessarily.
If you have uninsured motorist (UM) coverage, you won't have to pay your medical or car/property repair bills. We'll go over everything you need to know about UM coverage and how it can help keep you out of financial car trouble.
What Is Uninsured Motorist Coverage?
If you're in a car accident, and the other driver is at fault, their insurance company is supposed to pay for repairs to your car and any medical bills for you and your passengers.
But what if the other driver doesn't have insurance?
There's a good chance that could happen. About one in eight drivers (12.6%) are uninsured.
That's a lot of uninsured drivers on the road. Fortunately for those of us who opt to buy car insurance, most insurance companies offer UM coverage as an add-on to standard auto policies.
So, if you get in an accident with an uninsured driver, and you're not at fault, there's no need to panic. If you have UM coverage, your car insurance will pay for your medical bills and repair costs.
How Does Uninsured Motorist Coverage Work?
Let's dig a little deeper. There are two main types of UM coverage:
Uninsured Motorist Bodily Injury (UMBI): This first type of coverage pays for medical bills and lost wages. It also covers those same costs for your passengers. Typically, this coverage has two limits: $25,000 per person and $50,000 per accident. Some states even allow drivers to combine limits into a single amount.
Uninsured Motorist Property Damage (UMPD): The second type of coverage pays for repair costs to your car or other property after an uninsured driver causes an accident. Some states also apply this type of coverage to hit-and-run accidents.
To get an idea of how UM coverage works, let's think back to that nightmare crash we imagined earlier. Remember you were listening to your favorite song on your car's radio when you were sideswiped by an uninsured driver.
Thankfully, you were smart enough to include UMBI and UMPD insurance in your policy so the damage to your passenger door and side mirror is covered. And if you suffered any bodily injuries from the accident? That would be covered by UMBI insurance.
Otherwise, you'd be on the hook for some hefty bills.
Do You Need Uninsured Motorist Coverage?
The number of uninsured drivers in this country is a big-enough problem that almost half of all states require that you have some form of UM insurance. And as the number of drivers without insurance continues to climb, your need for UM coverage goes up too.
Take a look at the 2019 statistics for uninsured motorists in the United States.
| | | | |
| --- | --- | --- | --- |
| State | Percentage of Uninsured Motorists | State | Percentage of Uninsured Motorists |
| Alabama | 19.5% | Missouri | 16.4% |
| Alaska | 16.1% | Montana | 8.5% |
| Arizona | 11.8% | Nebraska | 9.3% |
| Arkansas | 19.3% | Nevada | 10.4% |
| California | 16.6% | New Hampshire | 6.1% |
| Colorado | 16.3% | New Jersey | 3.1% |
| Connecticut | 6.3% | New Mexico | 21.8% |
| Delaware | 8.5% | New York | 4.1% |
| D.C. | 19.1% | North Carolina | 7.4% |
| Florida | 20.4% | North Dakota | 13.0% |
| Georgia | 12.4% | Ohio | 13.0% |
| Hawaii | 9.3% | Oklahoma | 13.4% |
| Idaho | 13.2% | Oregon | 10.7% |
| Illinois | 11.8% | Pennsylvania | 6.0% |
| Indiana | 15.8% | Rhode Island | 16.5% |
| Iowa | 11.3% | South Carolina | 10.9% |
| Kansas | 10.9% | South Dakota | 7.4% |
| Kentucky | 13.9% | Tennessee | 23.7% |
| Louisiana | 11.7% | Texas | 8.3% |
| Maine | 4.9% | Utah | 6.5% |
| Maryland | 14.1% | Vermont | 8.8% |
| Massachusetts | 3.5% | Virginia | 10.5% |
| Michigan | 25.5% | Washington | 21.7% |
| Minnesota | 9.9% | West Virginia | 9.2% |
| Mississippi | 29.4% | Wisconsin | 13.3% |
| | | Wyoming | 5.8% |
Statistics are from the Insurance Information Institute.

Don't let car insurance costs get you down! Download our checklist for easy ways to save.
Like we mentioned before, there are a lot of uninsured motorists. It's no surprise that almost half of the United States requires UM coverage. Most of the states that don't require it, do mandate that coverage is at least offered, and if you don't want it, you need to decline it in writing.
Even if it's not required in your state, it's worth considering. UM coverage is relatively inexpensive (in some states it might add as little as $5 or $10 to your monthly premium) and can provide crucial financial support so you can save your emergency fund for another time.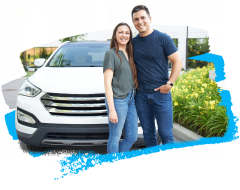 Get the car insurance you actually need.
With a RamseyTrusted pro in your corner, you'll get the top-notch insurance coverage you need without breaking the bank.
Connect with a Pro Today
What Does Uninsured Motorist Coverage Pay For?
Typically, if you get hit by an at-fault driver who doesn't have insurance, UM coverage pays for medical bills, lost wages, pain and suffering, and funeral expenses. But there are some specific situations that you need to be aware of.
Hit-and-Run Accidents
First let's talk about those unfortunate accidents where the driver leaves the scene without exchanging insurance or contact information. Does UM insurance cover this type of accident?
If you're truly unable to track down the driver, and there was actual vehicle contact, yes, UM coverage kicks in here.
Property Damage
Collision insurance plays a role here.
If you already have collision coverage on your policy, you might not need UMPD coverage. That's because collision insurance pays for damage to your car regardless of who caused the accident. But it pays for damage to your car only, so if you want to be on the safe side, purchase UMPD so other types of property are covered too.
If you don't have collision insurance, consider purchasing UMPD because it covers your car and other types of property. The downside of choosing UMPD over collision coverage is that collision coverage covers damage to your car regardless of whether the other driver is at fault, and UMPD only covers your car if the other driver is at fault.
Ideally, having UMPD and collision coverage on your policy is preferred.
Bodily Injury
Now let's talk about UMBI. One of the most common questions asked about UMBI coverage is if health insurance can fill in the gaps. The answer is generally yes.
Let's say your UM coverage is 25/50. This means that you have $25,00 bodily injury per person, and $50,000 bodily injury per accident. So, if you have two passengers in your car and get into a serious accident with an uninsured at-fault driver, your maximum payout is $50,000. However, if needed, your health insurance can kick in once your UM coverage is exhausted.
We recommend connecting with one of our Endorsed Local Providers (ELPs) to discuss which type of UM coverage is best for you.
What's the Difference Between Uninsured and Underinsured Motorist Coverage?
Here's how they're different. Uninsured motorist (UM) coverage pays out after a crash with an at-fault driver who doesn't have any insurance. Underinsured motorist (UIM) coverage pays out after a crash with an at-fault driver who has some insurance, but not enough to cover all costs.
Even though they're two different types of car insurance, they both provide you with financial protection against irresponsible drivers. A lot of drivers on the road choose to either skip insurance altogether (even though there's a penalty), or choose the bare minimum to save money. Either way, their decision could lead to your financial ruin if you're not protected.
Whether bundled together or offered separately, both uninsured and underinsured motorist coverage are inexpensive additions to your policy that provide essential financial protection.
Get the Best Uninsured Motorist Coverage for You
Is uninsured motorist coverage worth it? Yes! The cost is minimal, and it could save you a boatload of money if you're hit by an uninsured driver.
We recommend connecting with one of our Endorsed Local Providers (ELPs) who will know how uninsured motorist coverage works in your state and how to find the best price. Our ELPs are independent agents, meaning they can work for you, not the insurance company.
Connect with an ELP who can help you find the best UM coverage for you!
Did you find this article helpful? Share it!