Making sense of auto insurance options can be like trying to figure out the Rosetta Stone without your decoder ring. It's hard. How much do you need? How do you know if you're really covered? Collision, comprehensive, liability, limits, deductibles, premiums . . . yikes! Then there's something called personal injury protection. What is that, and do you really need it?
We've got you covered! We'll explain what personal injury protection is so you can make sure you have the right coverage.
What Is Personal Injury Protection (PIP)?
Personal injury protection (PIP) is a specific type of car insurance that covers hospital bills, medical costs and lost wages if you get injured in a car accident. It's also called no-fault protection because it doesn't matter who is at fault—you're still covered. PIP insurance helps fill in the coverage gaps for you and your passengers from medical costs your health insurance company won't cover.
PIP insurance is similar to medical payments coverage (MedPay) but has some key differences. First, PIP gives you better coverage with higher limits. But it also comes with higher premiums and usually has a deductible.

Don't let car insurance costs get you down! Download our checklist for easy ways to save.
Though it varies by state, PIP coverage generally kicks in right away up to the limit you choose. And PIP must be used up first before you can use your MedPay or health insurance policies.
What Does Personal Injury Protection Cover?
Personal injury protection protects you in a variety of situations. It can even cover you if you're not driving. Let's say you're hit by a car while walking down the street, just minding your own business. Or you're injured riding your bike or while riding in someone else's car. Your PIP policy could kick in for all these situations, depending where you live.
Here are some things PIP might cover:
Medical expenses (this includes things like trips to the emergency room, surgeries, dentistry and optometry, ambulance rides, medication, prosthetic devices and other medical supplies.)
Funeral costs
Physical or occupational therapy
Substitute services like childcare, lawn care or cleaning services (if your accident left you unable to take care of your family or household chores)
Partial lost wages
Funds to hire subcontractors to complete your work (if you're self-employed)
Can sometimes help cover your health insurance deductible
What's Not Covered by PIP?
Just like other kinds of car insurance, personal injury protection has its limits. It won't cover everything under the sun.
Here's a list of some of the things PIP won't pitch in for:
Personal injury protection also won't pay for anything above the limits of your policy. So if your medical bills just keep getting bigger and bigger, PIP will only cover you up to a set amount.
What States Require Personal Injury Protection (PIP)?
There are 12 states and Puerto Rico that require you to have personal injury protection in place.1 There are another 10 states (and D.C.) where it's optional.2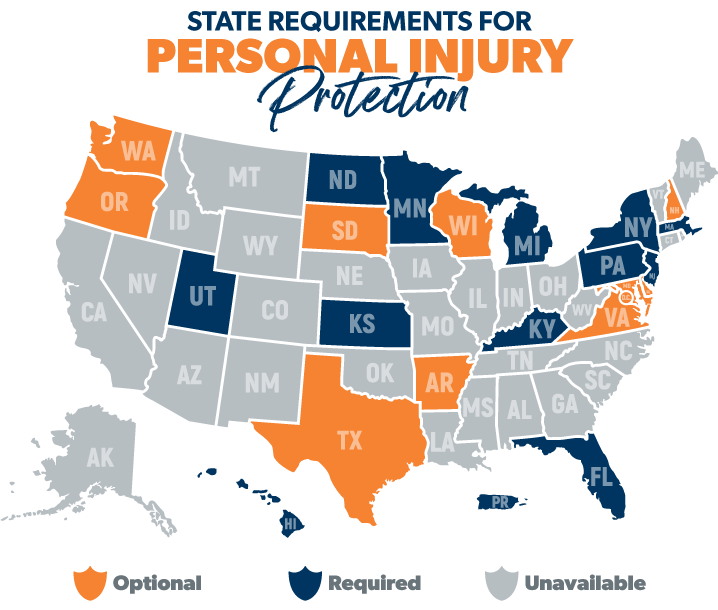 Do I Need Personal Injury Protection?
If you live somewhere personal injury protection is required, you definitely need it (thanks, Captain Obvious!).
If you live somewhere PIP is optional, you should take full advantage of this type of coverage.
And if you live in a state where you can't get PIP, here's what would happen if you were injured in an accident. If you're at fault—and you have medical payments coverage—MedPay might cover some of those medical expenses. If the other driver's at fault, their bodily injury liability protection would potentially cover your medical bills, but only up to their policy limits.
Do I Need PIP if I Have Health Insurance?
Now, if you already have health insurance, you might be wondering if you really need PIP. The answer? It depends.
If you have really good health insurance, with a policy that provides thorough post-accident coverage, you might want to simply get the bare minimum of PIP.
On the other hand, if you don't have health insurance, or don't have a very solid plan, you might want to look into getting it. PIP will give you extras like reimbursement of lost wages and some of those helpful substitute services we saw above. Work with your insurance agent to see what kind of policy might be right for you.
How Do You File a PIP Claim?
If you're looking to file a claim right after an accident, just go about it like you normally would—through the phone, online or through the app. But if you need medical services for a longer period, you'll need to work with your insurance company to create a plan for medical care and get it preapproved.
Once you file the necessary paperwork, your insurance company will look over your claim and either approve or deny it. They might decide to only approve partial reimbursements. Also, your insurance company might require you to be examined by a medical provider they pick.
Finally, be aware of your insurer's timeline for filing claims. They can sometimes have a strict process about when you need to file a claim after an accident. If you don't follow their procedure, you could end up paying hefty penalties.
Get the Right Coverage
When it comes to car insurance, the bare minimum just isn't going to cut it. You need the right amount of coverage. There's a lot that could potentially set you back from reaching your financial goals. That's why we recommend working with one of our insurance agents who is part of our Endorsed Local Providers (ELP) program.
They are RamseyTrusted and will work with you to make sure you're getting the right amount of coverage at the best price. You'll sleep a lot better knowing that you are protected.
Did you find this article helpful? Share it!