You're standing at the rental car counter at the airport when the agent looks at you and asks that age-old question: "Would you like the rental car insurance?"
Sweat starts forming at your brow. Is rental car insurance worth it? Am I just throwing money away? Does my regular car insurance cover me? Can I phone a friend?
We've all been there. But don't worry. We'll break down whether you actually need rental car insurance, so next time you're at that counter, you don't have to sweat over your answer!
Do I Need Insurance to Rent a Car?
You do need insurance to rent a car. But there's a deeper question behind that question—which kind of insurance do you need to rent a car? That'll depend on your situation. You're not likely to need car rental insurance because your own auto insurance will generally cover a rental car too—assuming you have that coverage. That's the short answer. We'll get into more of the details below.)
But maybe you don't even own a car and don't need car insurance. (You're probably in great shape from all of that walking!) If that's you, the rental company will require you to have liability coverage—but you don't have to buy it through them.
Or here's a scary thought: Maybe you do own a car, and you're playing a dangerous game by driving without any coverage at all. In that case, rental car insurance is the least of your problems—but you'll definitely want to buy it before renting (and go ahead and get standard car insurance in place, on the double!)
What Is Rental Car Insurance?
Rental car insurance is an optional layer of protection you can choose to add to your rental car agreement anytime you rent a car. It gives you extra coverage if you get in an accident while driving a rental. (And like we said earlier, you'll rarely need this kind of coverage.)
Here's a breakdown of what car rental insurance usually covers.
Rental Car Insurance Coverage Options
The collision damage waiver (also called loss damage waiver) covers damage to the rental vehicle in a collision or theft. It's not really insurance, though. It's a waiver that says the rental car company won't hold you responsible for all the damage. That may sound nice, but it won't cover you if the accident was caused by your carelessness (like speeding). And the rental company could still charge you for other things, like towing expenses or loss of use—the money they lost because they couldn't rent out the car.
Supplemental liability coverage covers you if you damage other people's vehicles or property. (Liability limits for rental cars are usually between $300,000 and $1 million.)
Personal accident insurance covers medical bills for you and your passengers if you're injured while driving the rental. It even includes death benefits for worst-case scenarios.
Personal effects coverage will pay for any of your personal property (up to a certain amount) that's stolen from the vehicle. It's the same kind of coverage you get from your renters or homeowners coverage, so you probably don't even need this protection.
Do You Need Rental Car Insurance?
In most cases, you can rent a car without buying rental car insurance coverage. In fact, you should usually skip rental car insurance. That's because (like we just talked about) most of what rental car insurance protects you from is either kind of pointless or covered by other policies you probably already own.

Don't let car insurance costs get you down! Download our checklist for easy ways to save.
On the other hand, we can never repeat this too often: If for some reason you don't have auto insurance, the rental company will require you to get liability coverage. You sure as heck don't want to be on the hook financially for damages you caused while you were driving a rental.
Does Car Insurance Generally Cover Rental Cars?
In general, yes, your auto insurance will cover your rental car the same way it covers your own car. So you probably don't need rental car insurance.
For example, if you have comprehensive or collision coverage, you won't need the collision damage waiver. And if you have the right amount of liability coverage, you don't need rental car liability either. Skip it.
Also, you probably won't need personal accident insurance. Your health insurance or the personal injury protection on your auto policy probably provides enough coverage. Here's hoping you have renters or homeowners coverage too, not just because it's wise (it is) but also because it means you don't have to pay for personal effects coverage when renting a car. And as far as death benefits? You're better off buying term life insurance.
Rental Car Insurance vs. Your Auto Insurance Policy
It's still a good idea, though, to understand your personal car insurance policy before paying for your rental car. Here's a quick reference that shows which rental insurance options are likely to be covered by your auto policy.
Which Rental Car Insurance Options Are Covered by My Auto Policy?
| | |
| --- | --- |
| Rental Insurance Option | Covered by Personal Auto Policy? |
| Collision Damage Waiver | Yes, if you have comprehensive or collision. |
| Supplemental Liability Coverage | Yes, if you have enough liability coverage. |
| Personal Accident Insurance | Yes, if you have personal injury protection. |
| Personal Effects Coverage | No, but you're already covered for this if you have renters or homeowners coverage. |
Don't assume you're covered. Check your coverage policy.
Interested in learning more about car insurance?
Sign up to receive helpful guidance and tools.
When Should I Get Rental Car Insurance?
Are you still wondering, Do I need rental car insurance? Let's sum it all up. You'll need it in these situations:
Your personal insurance policy doesn't cover rentals.
You don't own a car and don't have auto insurance.
You rent cars more than the average person.
You're worried about paying a high deductible.
You're traveling for business and your company doesn't cover you.
If you rent cars a lot but don't carry your own auto insurance policy, you might consider non-owner car insurance. It covers bodily injury and property damage if you're in an accident when you're driving a car you don't own. It's also less expensive than standard insurance, which is good for your budget.
If you decide to use your own insurance instead of buying the rental company's extra coverage, you're making a smart move for most situations. But be aware of a few things:
If the rental car is damaged or stolen and you have to file a claim, it'll affect your premium the same as if the incident involved your own car.
The rental company may charge a deposit on your debit card and then refund the money when you return the car in good condition.
Your personal auto coverage doesn't cover vehicles like moving trucks. In that case, you should buy insurance from the truck rental company.
Do I Need Rental Car Insurance for International Travel?
Renting a car outside the U.S. brings its own challenges. Fewer insurance companies cover customers who rent cars internationally. So contact your insurer to see if your rental is covered.
Some people like to buy the extra coverage when traveling abroad because of the increased risk of accidents from unfamiliar driving conditions and traffic laws. The additional coverage will also help you avoid the hassle of filing a claim in a foreign country.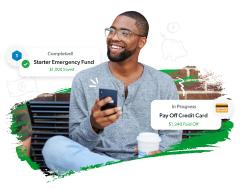 Have you started budgeting yet?
A budget (like insurance) is something you need at every stage of your money journey. With EveryDollar, you'll make a plan for your money – so you can save more and spend smarter.
Start Budgeting for Free
How Much Does Rental Car Insurance Cost?
The cost of rental insurance varies, but typically, full coverage insurance costs $30–60 per day. If you choose to shop a la carte, here's about how much each will cost:
Collision or loss damage waiver: $20 per day
Liability insurance: $15 per day (for $1 million in coverage)
Personal accident insurance: $5 per day
Personal effects coverage: $2 per day
Do I Have to Buy Rental Car Insurance Through the Car Rental Company?
You can also purchase rental car insurance through a third party (like Bonzah or Insure My Rental Car) if you don't want to buy at the counter. It's usually cheaper than buying the often overpriced rental car insurance (that's why the rental car folks are pressuring you to buy it!).
But for most people, the cheapest route will usually be just to use your own auto insurance policy. If you don't have rental coverage on your auto policy or you can't add it, the next best choice will be using a third-party provider. The most expensive option will be buying it there at the counter—the salespeople are highly incentivized to sell you all the bells and whistles on a car you're already renting from them.
Do I Have to Use a Credit Card for Rental Car Insurance?
No way—you do not have to use a credit card for rental car insurance. In fact, we're really not fans of using credit cards for any reason, to be 100% clear. But even if we didn't feel that way, it's just a fact that you don't need plastic to get that optional rental car coverage.
Maybe you've heard a rumor that you need a credit card to rent a car at all. That's a myth a lot of people have fallen for. The truth is, plenty of car rental companies will rent to you without a credit card.
And if you don't need a credit card to rent, guess what else you don't need it for—the optional (and usually unnecessary) rental car insurance. Certain credit cards do offer protection against rental car incidents, but they shouldn't be your go-to solution. Credit cards come with so many downsides they're simply not worth using—ever! Also, credit card protection is secondary, so it'll only kick in after your personal policy pays out.
Rental Car Insurance: To Buy or Not to Buy?
There are two important things to keep in mind when it comes to rental car insurance:
You don't want to pay for something you don't need. But also . . .
It's not worth taking unnecessary risks to save a buck.
If you rent cars often, you might want to update your personal policy to get more coverage while you rent. And even if you don't rent often, it's still good to review your personal policy when you travel—or at least once a year.
As long as you have a solid auto insurance policy, next time you're at the rental agency counter you can simply smile and say, "No thank you."
If you need to update your auto insurance policy or want to make sure you have enough coverage, we recommend working with an independent insurance agent who's one of our RamseyTrusted local pros. They'll listen to your specific situation to get you coverage that suits your needs and your budget.
Connect with a RamseyTrusted pro near you and start saving today!
Expert Advice Delivered Straight to Your Inbox
Our weekly email newsletter is full of practical advice you can easily apply to your daily routine so you can win with your money, relationships and career.
Did you find this article helpful? Share it!