We hear it all the time.
People think they can't reach their goals because they don't make enough money. Part of the problem could be their paycheck. But an equally important, if not more important, part is where the money from their paycheck goes.
If you want to get ahead, you need to spend less than you make. It isn't a revolutionary idea, but it's the only way you can reach the goals you set for your family. If you don't make a plan for every dollar, those little green bills will disappear—whether you make $40,000 or $100,000!
Spend Less Than You Make
"...keep your money flowing in the right direction..."
If you want to reach your financial goals, one of your top priorities should be to spend less than you make. That means, if you haven't already, you need to create a budget.
A zero-based budget is the best way to keep your money flowing in the right direction: toward your goals. Start with your current take-home pay and decide how much you want to give, save, and spend—in that order. You can use EveryDollar to customize your budget and make adjustments on the fly. It's simple and quick, and can help you see exactly where your money is going.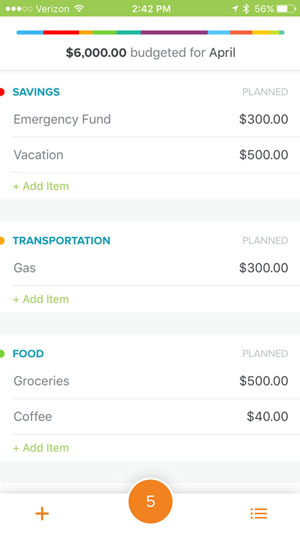 Don't forget to include debt payments if you have something you need to pay off. And keep in mind, the sooner you free yourself from those payments, the sooner you can achieve some of your big goals—like traveling the world, buying your dream home, or starting a business!
Increase Your Income
"...your biggest wealth-building tool!"
If you created your budget but you're coming up short, it's time to reassess. You might need more money to make ends meet so you can quit living paycheck to paycheck. Or maybe you have some big goals you want to hit and your current income won't get you there as soon as you want it to.
If that's the boat you're in, you should look for ways to increase your income. After all, it's your biggest wealth-building tool!
You can temporarily increase your income by selling things you already own or picking up a part-time job. Tidy up the house and have a yard sale. Drive for companies like Lyft or Uber to bring in some extra money on the weekends. Use the skills you already have to pick up freelance work for a season.
Or look for a more permanent move that will allow you to make more money long-term. Pursue a job with a different company or negotiate a raise where you already are.
The Most Important Thing
"Those dreams will become a reality!"
Remember, you can double your income and still fall short of your goals if you don't make a plan for your paycheck. Whether you cut back on spending or increase your income, you want to give every dollar a name before the month begins!
And when you do, those dreams—like traveling the world, saving for a new car, or buying a house—will become reality faster than you can say "budget!"
You can use EveryDollar to make a plan for your money and hit your goals faster than ever. The best part? It's free and only takes 10 minutes to set up! Sign up today!
Did you find this article helpful? Share it!