Where do Americans tend to overspend the most in their budgets? The answer probably won't surprise you. It's food! There are lots of reasons why. Grocery prices are on the rise, and, well—we're busy people! It's all too easy to make a last-minute run to the drive-thru or fill up your grocery cart with good intentions but no real plans.
But there's the key word: plan. Just like in every area of life, we need to be intentional here. That's why the best way to help your food budget is to learn how to meal plan. It'll take a little time on the front end, but meal planning is a game changer for your budget. Let's talk about how to create a meal plan that works for your life.
What Is Meal Planning
But first, let's talk about what a meal plan even is. Meal planning is deciding up front—and on purpose—what you'll eat for breakfast, lunch, dinner and snacks throughout the week.
When you meal plan, you won't buy food you don't need. That's because you'll look at the recipes you'll be using, see what's on sale, and know what ingredients you already have in your pantry. Then you'll make your grocery list for only what you need. (Don't worry, I'll break that down in a minute.)
That means no more randomly buying things you might use because they seem like a good idea in the moment. It means no unplanned trips to the snack machine or drive-thru. You guys, you're totally going to eat healthier and save so much cash! Because a meal plan is all about being intentional with what you're spending and what you're eating. It's a win-win.
Guide to Meal Plan in 10 Steps
I broke down how to meal plan into 10 super manageable steps. Let's do this!
1. Make time to meal plan before the week begins.
You'll get faster at this as you go, but when you're first learning how to meal plan, start off giving yourself at least 30 minutes each week. Get a sheet of paper and head to the kitchen. Or download my free meal planner!
Pro tip: You really do need to be in your kitchen to make the best meal plan possible. You have to look at what you already have on hand (more on that in step three). Don't trust your memory here! That's how you end up with five cans of black beans and no salsa for taco Tuesday.
2. Check your calendar.
Your meal plan should line up with your schedule. So, check out what's coming up and plan ahead. You might need to double a recipe to feed a crowd this week or have a quick meal ready to go for those nights you have to run kids from soccer practice to piano lessons.
Pro tip: Let's talk leftovers. First off, go ahead and double recipes when you can. Then freeze the leftover half to pull out on evenings when you don't have time to meal prep. You can also put a leftovers night on the calendar—where everyone eats what you've already made that week.
3. Look through your pantry, fridge and freezer.
If anything's expiring soon, use it before it spoils! Also, work some of what you already have into this week's meal plan. You'll save money by shopping your pantry and fridge—and you'll save those perfectly ripe veggies from ending up in the trash, which is a total waste of money and food.
Pro tip: Use those leftover ingredients in a new recipe. Take the extra chicken sitting in the fridge from salsa chicken rice bowl last night and put chicken and cheese quesadillas on the meal plan for early next week!
4. Search the sales ads and coupons.
This is a huge money-saving step in learning how to meal plan. Yes, it takes a little time to check out the sales ads and find coupons, but it's totally worth it! So, hop online or download your grocery store's app. Be sure to plan your meat and fresh produce purchases based on these discounts because they can get real pricey if you don't.

Try our free Meal Planner to save money on groceries!
Pro tip: When staples that won't go bad like rice, frozen veggies, pasta, spices and sauces go on sale, buy more than you'll use just that week. Stock up on these to use throughout the month.
5. Find recipes.
Look online or ask friends for their favorite recipes. Then pick out meals based on the ingredients on sale and what you've already got at home.
Pro tip: If you try a new budget-friendly meal and everyone raves about it, save that recipe! Either put it in an old-fashioned recipe book or save it online. (Pinterest was so made for this moment.) When you're feeling stuck one week as you stare down the calendar, pull out one of these tested-and-approved meals and put it back in action.
6. Write down your meal plan.
You might do this as you're shopping your pantry, looking at sales, and finding recipes. Or you might wait until you figure out where you stand before you decide exactly what you'll be eating this week. Whenever you're ready, write down the meals you plan on making for the week.
Pro tip: Jot down ideas for breakfasts, lunches and snacks as well—even if you eat the same thing for these meals each day. A solid meal plan helps you build a grocery list for all the food you need that week.
7. Make a grocery list based on your meal plan.
As you're planning, write down the items you'll need (including spices) to make those meals happen.
Pro tip: Don't be afraid to buy generic. Seriously, even top chefs use generic brands! They're often really similar to name brands when it comes to actual ingredients and even quality. You could be paying extra for the brilliant marketing and logo designs. Try the boring label and save some cash!
8. Go shopping.
And stick to the list! If you realize you forgot something you needed (because we all do!), that's fine. But listen, the quickest way to bust your grocery budget is buying all the random junk on those eye-catching displays at the end of the aisles. Are those triple-stuffed sandwich cookies on the list? No? Then you don't need them. Move along.
Pro tip: Have you looked into buying your groceries online? Now you can fill your virtual shopping cart from anywhere. If you're the kind of shopper who gets sidetracked in the actual store—tempted by all those snacks and BOGOs for things you won't even eat—you'll probably save more in the long run with this option, even if there is a fee.
Bonus pro tip: I also have to give a shout-out to Aldi here. If you've got one in your area, you'll probably slash your grocery bill in half by making the switch to this store! Try it for a couple weeks to see for yourself!
9. Add meal prep to your to-do list.
Okay, so I love meal prepping. I get it if you don't! But chopping up all those veggies or getting lunches ready for the week will save you so much money! Listen, it's worth the short time investment to chop and portion your own food rather than pay someone else to do it! Don't skip this step.
Pro tip: Get the kids involved! Maybe they're too little to handle the knives (use your best judgement there!), but find a way for them to help you prep for the week. Make it a chore they can earn commission for! Then everyone wins.
10. Consult your budget.
Honestly, you should do this step at the start and end of each meal planning cycle. If it helps, break your monthly grocery budget into weeks. For example, if you spend $800 a month for your family, that's about $200 a week. Plan your meals to stay under that amount. Then track that grocery bill in your budget at the checkout line! That way you'll know exactly where you stand week to week.
Pro tip: If you spend too much one week, be really intentional about shopping your pantry and fridge so you can buy fewer things to make meals the next week. That'll help you balance out and stay in budget overall that month.
Bonus pro tip: If you don't have a budget already, it's time to start! Check out my personal favorite budgeting tool, EveryDollar. It's totally free to use and makes the whole process super easy.
Sample Meal Plan
Here's an example week to help you see how to meal plan: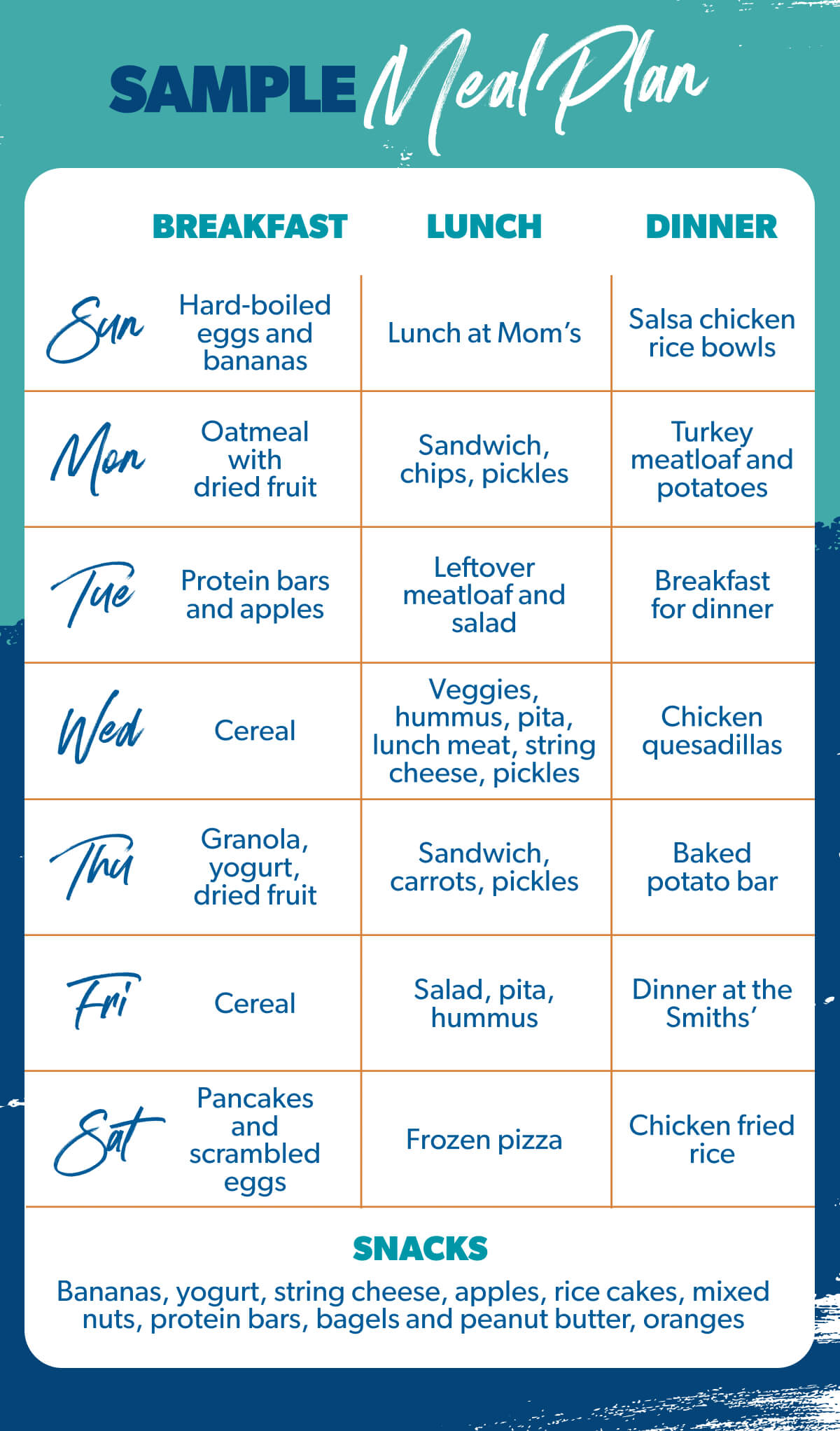 Don't forget to double up on items when it makes sense. For example, let's say that 10-pound bag of frozen chicken costs less than two five-pound bags. If you've got a chicken recipe ready that week, add in a second chicken recipe to double up on the value. Also, cooking it all in one batch saves you time—you'll have the chicken you need later in the week ready to go!
The same is true for things you'd use just half of for one meal. If you buy a whole head of lettuce for rice bowl night and you know you won't eat it all, plan a salad later in the week. Less waste. More savings.
Meal Planning Is Worth It
Okay guys, that's it! Now you know how to meal plan. It might seem like a lot at first, but you will get the hang of it—and you'll never go back. Because you're about to save some serious money and time. And your sanity!
When you plan out your meals every week, you'll feel less stressed. You won't have frantic runs to the store, hoping to find dinner inspiration in one of the aisles. You won't have that "what the heck" moment again and again.
Instead, you'll be able to enjoy the drive home! Crank up your favorite podcast and breathe easy knowing you have everything you need for dinner already at home.
Like I said before, it's all about being intentional and having a plan. That's how you save money in all areas of life—really!
Hey, if you want to learn more, check out my free grocery savings guide. You'll get downloads for my grocery list and weekly meal planner—plus all my best tips and tricks for saving money on food . . . all in one place!
Did you find this article helpful? Share it!