Buy Now, Pay Later? Why Installment Payment Plans Are Hurting Your Wallet
15 Min Read | Aug 16, 2022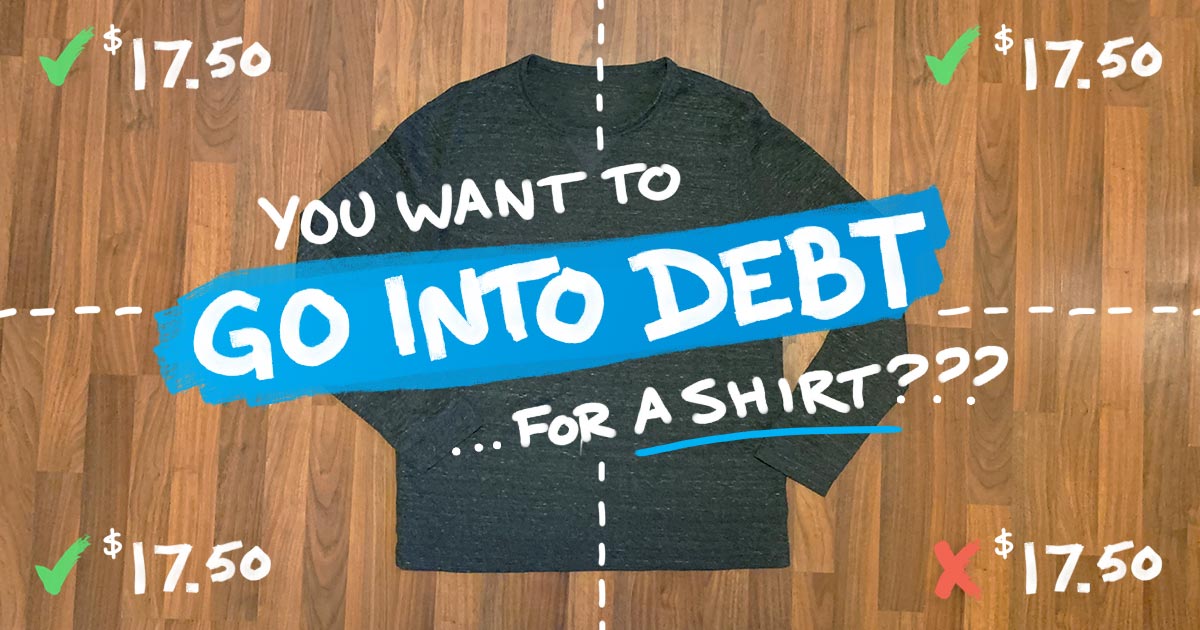 Go with us: You're scrolling Instagram . . . liking something here, saving something there, leaving a couple comments here and there. But then, you're hit by the most beautiful targeted ad for the exact shoes you've been wanting. Obviously, you click on the ad and find out the shoes are a little too pricey—especially this month since you've already blown your budget. But wait. There's a banner at the bottom that reads, "Buy now, pay later! Only four easy installment payments of $19.50."
Four payments of $19.50? Shoot, I can afford that right now! Maybe I should go ahead and buy these beauties.
Stop.
Pump the brakes.
Don't do anything until you hear us out about the real truth behind these installment payment plans.
What Are Installment Payment Plans?
What Are Some of the Biggest Digital Installment Brands?
How Do Installment Payment Plans Work?
What Can You Buy With an Installment Payment Plan?
Do Buy Now, Pay Later Plans Make You Spend More Money?
Installment Payments Are Just Another Form of Debt
How to Buy Things the Right Way
What Are Installment Payment Plans?
They're like digital buy now, pay later setups. A digital installment plan breaks up your bill into smaller chunks or installment payments that you pay over a set amount of time. Think of it as layaway and credit falling in love, getting married, and having a baby—a really ugly baby.

Pay off debt fast and save more money with Financial Peace University.
Unfortunately, the use of installment payment plans has skyrocketed. It was up 215% in the first two months of 2021 compared to the year before!1 Over one-third of Americans have used a buy now, pay later (BNPL) service, and most said they used it because they either couldn't fit the purchase into their budget or they didn't want to pay interest on a credit card.2 What's really scary is that people who are using installment plans—because they claim they can't afford not to—are somehow placing orders that are 18% larger.3 How backward is that?
In 2021, Ramsey Solutions' State of Personal Finance found that the majority of those who recently used a BNPL service missed a payment. And while the younger consumers are more engaged with these services, so are the more affluent households. More than 35% of households making more than $100,000 have used a digital installment plan—they're also more likely to miss payments. Eighty-two percent of shoppers making more than $100,000 a year admitted to missing a payment.4 That's a head-scratcher isn't it?
What Are Some of the Biggest Digital Installment Brands?
If you try to buy anything online these days, you might be greeted by one of these heavy hitters in the world of easy payments:
Afterpay
Affirm
Klarna
Sezzle
Zip
Uplift
Most of these buy now, pay later companies give consumers the option to "pay in four" by making four interest-free payments every two weeks. But some offer shoppers different ways to pay that are even more sketchy.
Afterpay
Afterpay's tagline is "Shop now. Pay over 6 weeks. Never pay interest." Their service allows buyers to split their bill into four equal payments with the first paid up front and the rest billed every two weeks. There's no minimum purchase required by Afterpay—so yes, technically you could buy something for $1 and split it into four payments of 25 cents—but some stores do require a minimum amount before they'll offer Afterpay as an option. Get this: They even have an app that allows users to pay in four while shopping in-store. Yikes.
So, there's no interest . . . what's the catch? Late fees. For orders below $40, Afterpay users can face a one-time fee of up to $10 for every late payment, and for orders above $40, late fees can be up to 25% of the order value, capped at $68.5
Affirm
Unlike Afterpay, Affirm offers lots of ways to pay later—insert their tagline: "Pay at your own pace." Once at checkout, customers can choose how they want to split the bill and over how much time. If it's a smaller purchase, you can pay interest-free every two weeks, and if it's a larger purchase, you can take out a bigger loan. In that case, you'll be subject to a credit check. Depending on your score, you'll be saddled with a fixed interest rate (from 0% to 30%) plus finance charges.6 Big yikes.
Klarna
With its bright pink logo and promise that it "makes shopping smooth," Klarna is like that adorable baby girl who's got Mom and Dad wrapped around her finger—or rather, millennials and Gen Z wrapped up in debt.
For the most part, Klarna looks a lot like Afterpay with its popular pay-in-four option. But like Affirm, Klarna also offers other payment plans, including a pay-in-30-day option (nothing due until 30 days are up) and financing from six to 36 months that comes with interest at an annual rate up to 29.99%.7,8 Be warned: If you miss a payment on the financing option, you'll pay a $35 penalty on top of the interest.9 That'll hurt!
Sezzle
We'll admit, it's got a fun name, but that's the only thing that's fun about Sezzle. Its slogan is "The way forward," and on its website, Sezzle claims they're "here to help you . . . take control over your finances so you can build your future." Which is rich coming from a company that also wants you to "get what you want now" by attaching yourself to a ball and chain of debt. But we'll save that rant for another day.
Similar to Afterpay, Affirm and Klarna, Sezzle splits orders into four interest-free payments over six weeks and can charge a late fee up to $10.10 Sezzle also gives you the option to reschedule your payment. Your first reschedule is free (and in some states, you could get three free reschedules). The reschedule fee can be up to $5 for customers needing wiggle room in between payments—how kind of them!11 Note: Sezzle was just bought out by Zip (another BNPL company), so changes will be coming later this year.12
Zip (Previously Quadpay)
Zip also boasts the ability to let you split your payment into four installments over six weeks (déjà vu, anyone?). But there's something a little extra special about Zip, as seen in their slogan: "Buy now, pay later. Anywhere." Anywhere? Yep—Zip is accepted anywhere Visa is accepted . . . which is pretty much everywhere. Though they don't charge any interest, Zip does charge a $1 convenience fee for every payment, as well as $7 fees for late payments.13,14
Uplift
Uplift is slightly different from the rest of the buy now, pay later services in that it's exclusively for traveling. Customers use it to buy things like flights and cruises. We'll admit, Uplift does have a . . . well . . . uplifting tagline: "Experience Buyers Joy." But don't let that fool you. That buyer's remorse will still set in eventually.
When you buy travel accommodations and check out with Uplift, you can choose from several different payment plans, from three months up to two years. But you'll pay extra for this in the long run—Uplift charges up to 36% interest (based on your credit score) and a loan origination fee.15 Dang! Doesn't sound so uplifting now, does it?
Okay, so even though buy now, pay later is a fairly new way to pay for things, it's clear people are already relying on these companies more than they should. Take Afterpay, for example. In the first half of their fiscal year for 2021, they made $10.1 billion in sales!16 And what's worse is that the popularity of installment payment plans seems to be increasing at a time when people are hurting financially. Buy now, pay later services grew as much as 200% at the height of the COVID-19 pandemic.17 Not cool.
How Do Installment Payment Plans Work?
So, let's say you're browsing online and spot a new shirt on sale at your favorite store. It's a little expensive and out of your budget at $70—but because the store uses a buy now, pay later plan, you can have that shirt delivered to your door and only have to pay $17.50 right now.
Oh. But wait. There's more. (There's always more.)
Two weeks from now, you'll owe another $17.50. And another . . . and another—until you pay the balance off. If you're keeping up with the math here, you're still paying $70, but it's broken up into four "easy" payments. And if you miss even one of those payments (oops!), you'll get hit with a late fee.
For example, if you're using Afterpay, they'll slap a $10 fee on the balance you already owe. And every week you don't pay, they'll tack on another $10 until the bill is paid (or the fees total up to 25% of the balance). Woof.
While late fees are bad, interest is arguably worse. Take Uplift, for example. Say you spend $1,000 on flight tickets to Mexico and choose to pay it over one year. It's just $83 a month—so reasonable! Yeah, well, if you look in the fine print on that flight checkout page, you'll see the flexible payment option comes with 15% interest on average (or up to 36%).
So, by the end of the year, you've paid at least $150 extra. Think of all the tacos, burritos and guacamole you could have enjoyed in Mexico with that extra $150 in your pocket. No bueno.
Even if you do make your payments on time, the big problem is that it numbs you to the reality of how much you're really spending. Instead of making you feel that sticker shock, installment payments are just feeding your "I want it now" mentality . . . and hiding the cost of what you're buying.
What Can You Buy With an Installment Payment Plan?
That shiny new $1,000 iPhone? It could be yours now for just four installments of $250!
How about a $2,500 ticket for a two-week Mediterranean cruise? No need to save up—you'll definitely feel relaxed on the deck knowing you've still got a year's worth of payments long after your tan fades! Yeah, right!
Craving a pint of ice cream? Nothing is sweeter than being able to dig in now and pay later when you grocery shop online!
We hope you caught all of our sarcasm there. Unfortunately, we're not joking. You can buy all of those things with an installment payment plan—and then some. Take a look at the other popular buy now, pay later items:
Clothing
Concert tickets
Cosmetics
Electronics
Furniture
Groceries
Gym equipment
Hotels
Flights
And more
Do Buy Now, Pay Later Plans Make You Spend More Money?
Let's just say they definitely don't make you spend less money.
Remember, these companies want you to believe they aren't out to make money off you. But hey, if people just so happen to spend more when using their service, well, that's fine with them. And it's not a secret. These buy now, pay later businesses are actually pretty proud of helping you blow your budget.
Afterpay brags that retailers who use their service see a 20% increase in consumer purchases and a 25% increase in the average order price.18 Klarna actually promises even more, with customers buying 30% more and the average order price going up by 41%.19 And not to be shown up by its buddies in the business, Affirm boasts an 85% increase in upgrades, bundling and add-ons!20 Is your stomach turning now? Yep, ours too.
The numbers don't lie—people spend more when they use installment payments like these. And it makes sense. If you get to the checkout online and see you can get $125 worth of items by paying just $31.25 now, then you might go ahead and add a few more items you had your eye on—why not?
Get this: In an interview with Ben Pressley, executive vice president of sales, operations and strategy for Afterpay, he admitted, "Instead of adding three items to a cart, when they [customers] use digital installments, they add seven items to their cart. And the basket size changes from $50 to over $100."21
And Afterpay's co-founder Nick Molnar straight up calls Afterpay a "service for millennials that can help them spend responsibly and also help retailers sell more stuff."22
There you have it. Apparently, if you don't have enough money to buy what you want, then the "responsible" thing to do is borrow money using an installment payment plan—from a company who's in this game to help the retailer sell more stuff to you. Why? To get you to rack up more debt so that you'll come back to buy even more stuff.
No wonder 78% of Americans are living paycheck to paycheck.23 Thanks, Afterpay.
Don't be fooled by these guys. They aren't your friends. They don't want to swoop in and save the day so you can buy that $250 leather jacket you "deserve." They want to make money off you. They're betting you won't be able to make a payment, and they'll get to cash in on it. If they can lure you in and make you comfortable, then they've got you right where they want you—with your guard down and cozied up with more debt.
Installment Payments Are Just Another Form of Debt
Pro tip: If it walks like debt, talks like debt, and smells like debt—it's debt. And these "easy payments" companies are boasting about aren't any different. They aren't a smart way to buy things you want. They aren't more harmless than a credit card. And they aren't a fancy way to "budget" for a purchase. They're just wannabe credit cards dressed in shiny clothes, pretending to be your ticket to having it all.
Whatever you do, don't fall for an installment payment plan—unless you plan to stay broke.
What About Your Credit Score?
While most buy now, pay later companies run a soft credit check on you, they don't really do much more than make sure you're over 18 years old and have a phone number and bank account. That means a lot of people get approved but don't really understand the potential consequences of BNPL.24
This "anyone can use it" idea is a sure way to get a lot of people into trouble—fast. Not only that, more and more shoppers are buying now and forgetting to pay later. And there are consequences for that.
Recently, Experian (the major credit reporting bureau) decided they'd jump in to "offer lenders a wider view of a borrower's financial obligations."25 That means they're starting to record shopper's digital installment payments from these buy now, pay later companies. Yep—if you're behind on payments, it could hurt your credit score. That makes these companies seem less appealing, doesn't it?
Credit bureaus are saying this move could help consumers build their credit scores if they use these digital installments the right way. But here's the truth: Buy now, pay later schemes are just going to dig you deeper in debt (and mess with your credit—but we don't care about that).
Credit scores only tell you how well you've used (and abused) debt throughout your life. Not only that, they keep you chained to the idea that you need a credit score to survive. That's a myth! You don't need a credit score to win with money. But that's another rant for another day.
How to Buy Things the Right Way
Hey, we all want to buy stuff. And sometimes, we actually need to buy things too. The hard reality is that we might not have the money to foot the entire bill at the moment (sorry, instant gratification). But guess what? Using an installment payment plan isn't the way to do it.
Want to know what really works? A zero-based budget. Not only will you give every single dollar a job to do, you'll also be able to see where your money is actually going—and do a little course correcting when needed. Oh, you're spending $100 on coffee this month? Try brewing your coffee at home to cut that spending in half. And look, now you've got an extra $50 to put toward that shirt you really wanted . . . or your debt payments.
So, instead of giving your money to Afterpay or Klarna (and taking a chance on missing a payment), use your own money to pay for what you want. No middleman. No hoops to jump through. No feeling like a teenager borrowing money to buy stuff you can't afford (because Afterpay isn't your dad).
Sure, saving up for something over time takes willpower—a lot of willpower. But you can do it! It's called delayed gratification. And that monthly budget we're talking about is your key to success.
With a budget, you can save up to buy what you want using cash. And you'll know for sure if you can even afford it without having to rely on using someone else's money. So, step away from the buy now, pay later schemes and start using EveryDollar—the free budget tool that empowers you to give, save and spend. . . no digital installment payments necessary.