Did you know Americans spent $789.4 billion on Christmas last year?1 That's a lot of photo cards, personalized stockings, candy canes, Christmas music, Santa hats and sparkly ornaments. But unless you plan on skipping Christmas this year, you'll find yourself a part of that $789.4 billion machine too.
To enjoy the gift-giving season without any guilt-ridden overspending, you've got to set up a Christmas budget, save up the money in your Christmas fund—and then stick to your plans. Once you've got your plan set, you can shop, spend and enjoy the season without feeling ashamed for going overboard.
What Is a Zero-Based Budget?
First things first. Before we can dive in, you need a little background on zero-based budgets. It's pretty simple: Your income minus expenses equals zero.
In other words, if you earn $3,000 a month, you want every dollar you spend, save, give or invest to add up to $3,000 too. That way you know where every one of your hard-earned dollars is going.

Start budgeting with EveryDollar today!
Without a budget, you might look up one day and find you have no money—and no clue about where it even went. That's why having a zero-based budget is so important all year long, especially when you're trying to keep your Christmas spending from going off the rails.
How to Make a Zero-Based Christmas Budget
In the classic Christmas movie Home Alone, Kevin McCallister makes a plan for how he's going to tackle the intruders in his house—a little glue here, some glass ornaments there, and a couple swinging paint cans for good measure.
What's our point? Well, just like Kev, you need a plan—and the Christmas budget is your plan. Here's how to make one in three easy steps:
1. Write down your monthly income.
What counts as income? Easy—any and all money that your household brings in each month is income. This includes things like paychecks, small-business income, side jobs, residual income and any other money coming in.
Grab our favorite budgeting app, EveryDollar, and start jotting it all down. If it's money that's coming into your bank account this Christmas season, it counts!
2. Write down your expenses.
Even though we're hyper focused on your Christmas budget, that doesn't mean we can ignore all your regular monthly expenses. So, before the month begins, write down every expense you know is headed your way.
Be sure to start your budget with giving, then saving (depending on what Baby Step you're on), then the Four Walls—that's your food, utilities, shelter and transportation. After those essentials are covered, list your other monthly expenses, like cable, phone bills and everything in between.
And since we're gearing up for the holidays, don't just think about saving up for gifts and forget all the other fun that comes along with the Christmas season. You'll probably need things like gift wrap, decorations and ingredients for all those delicious Christmas dishes you make every year.
3. Subtract your expenses from your income to equal zero.
Here's the deal with a zero-based budget: Every dollar needs a job! That means you need to have zero dollars left to budget. But heads up, it might take some practice to get this number to zero. Don't be shocked if your income and expenses don't balance each other out the first time you run the numbers. This just means you need to move some digits around.
And if you're someone with an irregular income—don't sweat it. You can still use zero-based budgeting. It's just as easy. Really.
How to Set Up Your Christmas Budget in EveryDollar
Oh, Christmas gifts. It's always better to give than to receive—unless you go over your Christmas budget, that is. Then you just end up with a twisted stomach like you ate some bad Christmas ham, and you can't even enjoy the process of giving (and you should!). Here's how to set up a gift budget using our free budgeting tool, EveryDollar.
1. Plan how much you'll spend this year.
This year, the average American plans to spend around $998 on Christmas shopping.2 That might sound like a whole lot or not nearly enough, depending on who you are. But let's get one thing straight: You should never feel pressured to spend that much—or more, or less!
The amount you should spend is based on what you make, what you've saved, and what you can move around in your budget to get the job done. So, crunch some numbers and see how much you've got to play around with for Christmas this year. Set your budget for Christmas gifts. And whatever amount you decide to spend, just make sure you stick to it.
2. Create a Christmas budget category in EveryDollar.
Can't figure out how to do it? Have no fear. We'll break it down step by step: Sign in to your EveryDollar account on desktop, scroll down to the bottom, and you'll see "Add Group." This is how you add a new category. Name it anything you want: Santa's Stash, Festive Finances, Merry Money or the super straightforward name we've given here—Christmas Gifts.
3. Add the names of everyone who needs presents.
List the people you want to buy for and how much you plan to spend on each of them. This includes everyone from Aunt Ida to that co-worker you got for Secret Santa this year. Just click "Add Item" and type in the name of each person. (Nope, we don't think people are items. It's just budget terminology, folks.)

At this point, every dollar you'll spend is attached to someone's name, just like categories in a normal budget. So, your Christmas budget might look a little something like this: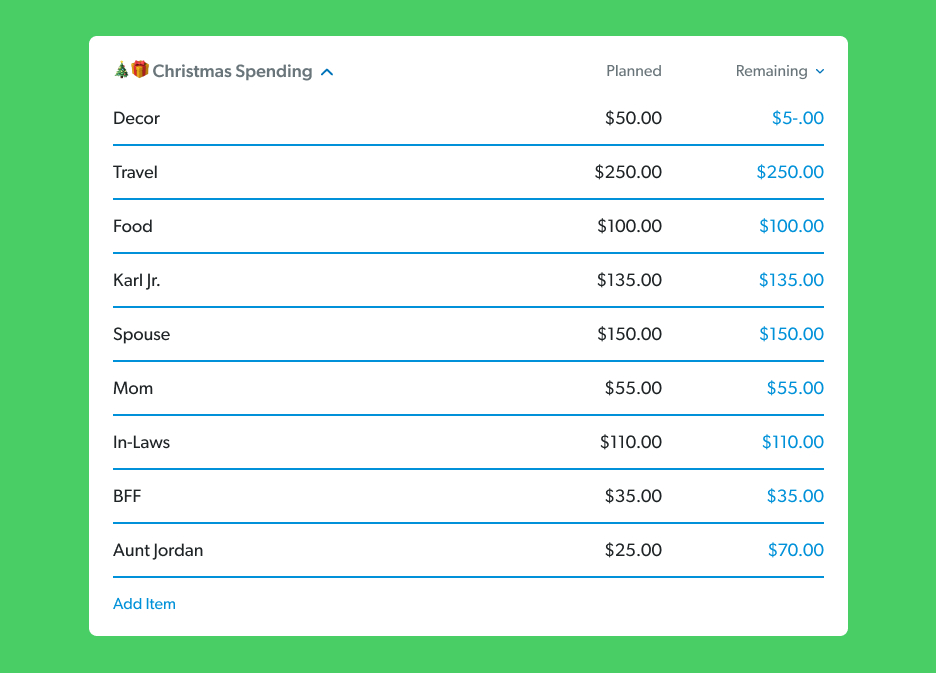 4. Track your spending as you go.
Want to know how you don't overspend? You track. You track hard. You track often. Keep up with all that spending as you go. Log in to your budget (on the app or desktop), click on the "Transactions" icon. Next, click the orange plus sign. Then, record the expense!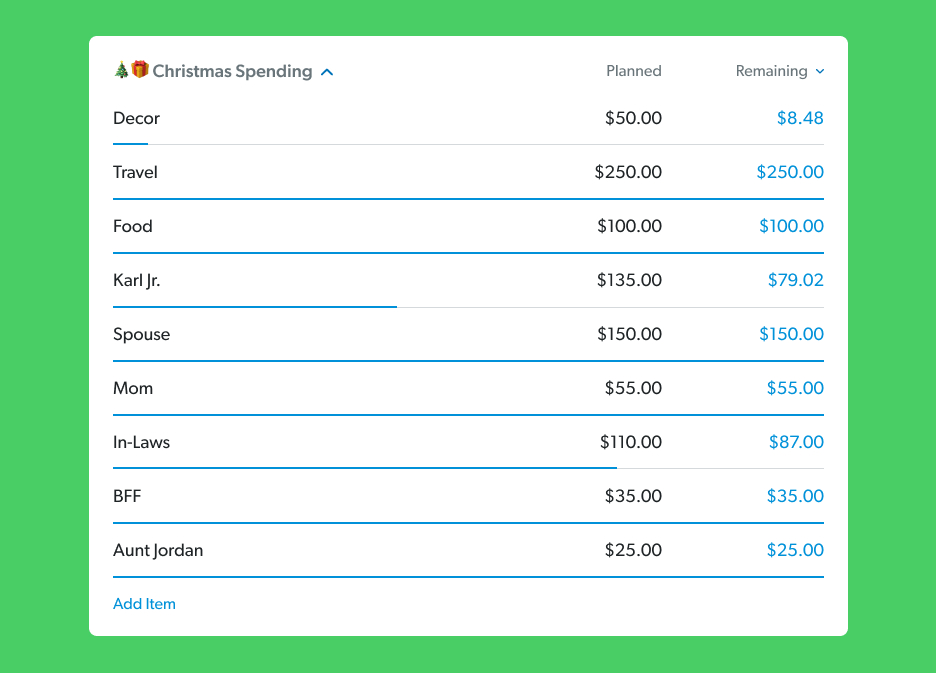 5. Move amounts around when needed.
If you budgeted $70 on gifts for Aunt Ida but hit a few sales and got everything you need for only $50, then take that extra $20 and put it to good use. You can buy Aunt Ida another gift or add that amount to another budget category where you might need a little more wiggle room—like your 6-year-old's Christmas list that seems to get longer by the day!
That's the beauty of your Christmas budget—this thing's not set in stone. You can change up the planned amounts after you put them in there. And you should. Real life might strike, and you'll have to move the money around. That's okay. Adjust it if you need to. Just make sure you don't overspend the total amount you set up for the entire Christmas Gifts category.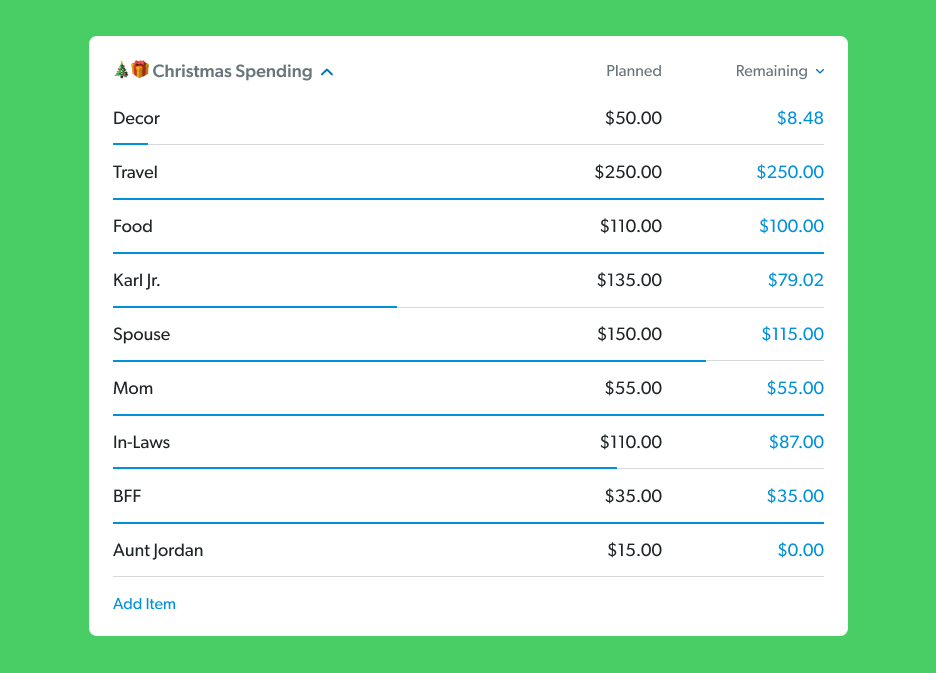 Save Money Through the Year With a Christmas Fund
We've talked a lot about your Christmas budget, but now it's time to talk about a Christmas fund (yep—they're two different things). Think of a Christmas fund like a savings account that you set up for all your Christmas needs. This is where you'll stash the money you're saving for Christmas and watch it grow as the season gets closer.
For your total Christmas fund goal this year, take a look at how much you spent on Christmas gifts last year. Where did you overspend? Do you need to up your budget or lower it a smidge? Where can you cut back this year? Set a goal amount for your Christmas fund and use your Christmas budget to help you get there! You'll be amazed by how quickly you can pile up a stash of cash when you make a point to save.
How to Set Up a Christmas Fund
It's easy to create your Christmas fund! All you have to do is log in to EveryDollar from a computer and insert a budget line item for your Christmas fund. Next, click the "Make This a Fund" feature. Now you can start entering how much you've saved so far, the amount you plan to save each month, and your long-term goal!
Once you've figured out the total you want to spend for Christmas, divide it by the number of months or weeks left until Christmas. Let's say your budget is $1,000 and you're just getting started now. That means you'll need to save $500 a month over these next two months. EveryDollar will track how much you're saving and how much more you need to save to meet your goal. In December, your Christmas savings will be fully funded, and you can savor the season instead of feeling pinched for extra money.
And here's a quick shout-out to budgeting early for next Christmas—do it! Seriously. The best thing you can do is save all year long instead of trying to cram it in the last two months before Christmas hits. Put a sinking fund in your budget as soon as January to start stashing away cash for next year's Christmas. That $1,000 will be a lot easier to bite off when you're stashing away $83 a month. If you do it little by little, month by month, coming up with Christmas money won't hit you like grandma getting knocked out by a reindeer in that crazy song.

Do a Christmas Budget Inventory
It's time to do some digging into your Christmas budget. If you really want to find extra cash for Christmas this year, do a budget inventory. That means you need to ask yourself questions to see where your spending stands now so you'll know how to reach your Christmas budget goal this year.
What Budget Lines Can You Tweak?
Little splurges here and there, spa days, a new album on iTunes—look through your normal budget and figure out what can get trimmed down, freeing up gift money for your Christmas budget.
Don't know where to start? Try buying generic at the grocery store, using coupon apps, meal planning, drinking homemade coffee, or carpooling to work. Don't forget scaling back on things like restaurants, clothing, personal spending, gourmet hot cocoa and entertainment too.
"Oh no!" you say. "If I trim back on entertainment, my family can't go see the Christmas lights this year!" Oh, heck yes, they can. Drive to a neighborhood that goes all out and enjoy that free experience. BYOHC (bring your own hot cocoa) and make a cheap—but valuable—memory.
How Can You Boost Your Income?
If you need some more money to hit your Christmas budget goal, get out there and up your income. Bring in some extra cash for a couple weeks to boost your spending power. You could sell baked goods, take on extra hours at work, or even start a side hustle. Make some money quick by selling things on Facebook Marketplace, Decluttr and OfferUp, or try cashing out rewards from moneymaking apps like Ibotta and Receipt Hog. Get creative: Babysit so parents can go Christmas shopping alone, shovel driveways and sidewalks full of snow, offer gift-wrapping services . . . the sky's the limit.
What Christmas Traditions Can You Skip?
Psst, guess what? You don't have to do Elf on the Shelf this year. Or fancy Christmas card photo sessions. Or a Tim Taylor-style Christmas lights display. The kids will survive, we promise. You can save money this year by editing out traditions that you don't truly have to do. Be open and honest with your budget and your family as you try to figure out which traditions to cut and which to keep.
How Can You Cut Down on the Cost of Gifts?
Shop sales. Use coupons. Opt for DIY homemade gifts instead of buying gifts at the store. Give out baked goods for gifts. Skip all the random gift exchanges. Instead of presents for every extended family member, just draw names and buy only one gift for the person you get. So, breathe a big, fresh sigh of relief. You can still save serious cash on presents this year—without being a Grinch.
Will Making a Christmas Budget Really Save Money?
Yes! You'll find your Christmas shopping experience is much merrier and brighter when you can check everyone off while sticking to your budget, instead of spending first and worrying about the fallout later. Having a budget is the quickest way to make your money goals a reality. Saving for Christmas? You need a budget. Trying to get out of debt? You need a budget. Saving for retirement? You need a budget. Already a millionaire? Guess what—you still need a budget.
Saving money for Christmas with your budget doesn't have to be complicated. With our free budgeting tool, EveryDollar, you can create Christmas funds and track gift buying for everyone on your list.
And if you want even more insight to your budget plan, get the snazzy premium version of EveryDollar (available only in Ramsey+) for yourself this Christmas. With this upgraded version, you'll connect your budget to your bank account, and those transactions will just stream on over for you. All you have to do is drag and drop each purchase into your budget. That's simpler than any reindeer game (and a lot more helpful too). Follow these steps to set up your budget so you can have a holly, jolly, well-budgeted, debt-free Christmas and enjoy giving again!