Parties. Whether you're hosting them, attending them, or avoiding them at all costs—we know it can get difficult and pricey. And if you're in the middle of a busy party season, like the holidays or that month when all the cousins are celebrating birthdays, you might start to feel like it's impossible to throw or take part in all the celebrations and stay on budget.
But you can! You can celebrate good times (come on!) and still have space in your budget for all the essentials in life. And you don't even have to sacrifice taste with these cheap party foods and potluck ideas.
1. Don't Cater. Hit Up Your Wholesale Food Store.
Skip the expensive catering services. Instead, go to your local wholesale food store (like Costco) and shop those bulk-priced savings. The frozen section is now party food central. You can fill your cart with a wide range of deliciousness from mini quiches to bite-sized eclairs (why are tiny versions of a food somehow fancier?).
Some of these foods just need to thaw and some need to be cooked. But all are simpler and thriftier than paying someone else to do all the work.
2. Have Everyone Bring a Pot of Soup.
No soup for you! JK—all the soup for you. Because soups are a great way to feed a crowd. And when multiple people pitch in, you can share the expenses when you share the table. As the host, you can either ask everyone to bring a soup for a giant potluck, or you can provide a soup or two and just ask everyone else to show up with toppings, drinks and desserts.
3. Become the King or Queen of the Charcuterie Board.
Charcuterie is just a fancy name for a board covered in cheeses, meats, fruits, crackers, jams, nuts and the like. And you can make them as pricy or as thrifty as you want—while still creating a feast for the eyes and the mouth. For the sake of the budget, let's go with thrifty.
It's really all about the food placement. Look up some visual examples online, and then shop sales, use coupons, or go to your cheapest grocery store to pick up the ingredients. Deli meats rolled up make a great impression. And buy the block of cheese rather than the already sliced version. It's way cheaper (and for some reason, it feels more sophisticated when guests have to slice off their own portion).
For display, use your everyday wooden cutting board. Or if you want to be the go-to "charcuterist" (yeah, we made up that word) in your crew, invest in a lovely board you can use over and over and over.
4. Pick Up the Cheapest and Easiest Item on the Potluck Sign-Up List.
No one needs a party moocher. If there's a potluck sign-up list going around for the event, then don't come empty-handed. But you also don't have anything to prove. Really. Bringing sliders stuffed with leg of lamb you roasted all day is fine if that's your thing and it's in the budget to cover that expense.
But don't bust your budget for praise or likes on social media. There's no shame in signing up for the simplest and thriftiest item on the list. You're still showing up—physically and with a food contribution.
5. Bust Open Those Crescent Roll Recipes.
Crescent rolls: It's what's for dinner. And breakfast. And lunch. And everything in between. Seriously, this super versatile dough helps you build an entire kingdom of options for party food. Let's roll out a few:

Try our free Meal Planner to save money on groceries!
Crescent Rings: A crescent ring is when you lay out the dough in a ring, fill it with some sort of tasty goodness, and fold until you've made it into a fancy pocket (that looks like a golden-buttery wreath . . . yum). There are so many great options, and we love them all: buffalo chicken, spinach ricotta, Italian sub, and so much more. Do some online searching and find one that works well for the occasion and your budget.
Egg and Sausage Bake: You say you got brunch problems? Well, worry no more . . . because with this simple recipe, a brunch invite is not one of your problems. Ever.
Roll out one can of dough in a greased 9-by-13-inch pan. Then cook a pound of sausage, break it up, and sprinkle that meat and 2 cups of mozzarella or cheddar cheese (you pick!) on top of the dough. Finally, whisk 8 eggs, 2 cups of milk, and some salt and pepper in a bowl. Then pour that mixture on the meat and cheese. Bake for around 40 minutes at 375 degrees, and you'll be the favorite guest.
S'mores Roll-Ups: This one is an activity and a treat for a party with kids. Roll out the triangles on a baking sheet, and let the kids cover each one in chocolate chips, crushed-up graham crackers, and marshmallows. Roll each up into the classic crescent roll shape and bake for 10 minutes at 375 degrees.
Little Pumpkin Hand Pies: You'll need some dough-pinching skills here, but we know you have it in you. First, stir a can of pumpkin pie mix, a teaspoon of pumpkin pie spice, and 2 egg yolks really, really well. Roll out 2 cans of crescent rolls onto baking sheet, and then fill each with a heaping spoonful of that pumpkin mixture. Fold the dough over the mixture and pinch the sides shut. Bake these for about 10 minutes at 375 degrees. Top each off with a glaze made of 1 cup of powdered sugar mixed with 2 tablespoons of milk. Is anyone else getting hungry?
6. Think Ahead and Double That Recipe.
If you're making a main dish, go ahead and double it. Doing so doesn't cost that much more, and you can freeze the second portion for your fam. Your couple-weeks-later self will thank you when dinner comes easily the evening you pop that casserole or pasta dish in the oven and kick back in your fave cozy socks as it heats up.
7. Build a Bar.
When you host a buffet-style bar, you provide the main course and have everyone bring ingredients or toppings. It's a great way to feed a crowd by sharing the food responsibilities. Here are some examples:
Baked Potato Bar: Host = potatoes. Guests = cheese, bacon crumbles, butter, cooked ground beef, chili, grilled chicken, sour cream.
Pasta Bar: Host = a couple kinds of pasta (tortellini, ravioli, spaghetti, lasagna, penne, etc.). Guests = marinara sauce, meat sauce, alfredo sauce, mushrooms, meatballs, cheeses, diced tomatoes, grilled chicken, sautéed veggies, pesto, mint, lemon, sausage, basil, etc.
Taco Salad Bar: Host = ground beef or shredded chicken. Guests = lettuce, guacamole, sour cream, cheese, beans, salsa, chips, corn, diced tomatoes and whatever else you like.
Regular Salad Bar: Host = grilled chicken. Guests = cheese, lettuce, hard-boiled eggs, cucumbers, tomatoes, dried fruit, nuts, various salad dressings, croutons, beans and legumes, chopped raw veggies and whatnot.
8. Bring the Drinks.
It isn't high-priced or high-stress to be the one in charge of covering drinks at the party. And if you want to make things a bit more upscale without upping the cost much, add some scoops of sherbet to lemon-lime soda for a simple party punch.
9. Dive Into a Dip-Themed Menu.
Ask everyone to bring a savory or sweet dip to the party, and you'll have a table covered in delish dipping delights. Try one of these:
Cowboy Caviar: Just dump all this in a bowl and mix it up: 2 cans of black-eyed peas, 1 can of diced tomatoes and chilis, 1 can of sweet corn, 1 bell pepper, and your preferred amount of lime juice, cilantro, salt, pepper, chili powder and cumin. Serve with tortilla chips.
Black Bean and Corn Salsa: You'll need ⅓ cup of olive oil, ¼ cup of balsamic vinegar, 1 tablespoon of lime juice, 2 cans of black beans, 2 cans of corn, 4 ounces of feta cheese crumbles, 1 teaspoon of salt, 1 teaspoon of pepper, and as much cilantro as you enjoy. Let it sit for at least an hour to marinate and serve with tortilla chips.
Spinach and Artichoke Dip: Mix up 1 cup of mayo, 1 cup of sour cream, 1 packet of dry ranch mix, 1 can of chopped-up and drained artichoke hearts, and 10 ounces of once-frozen (now thawed and super well drained) chopped-up spinach. Chill that in the fridge, then give everyone at the party chills with this flavorful and financially reasonable dish. Serve with some buttery crackers or ripped-up pieces of whatever bakery bread was on sale.
Churro Cheesecake Delight: Beat 1 package of cream cheese with 3 tablespoons of softened butter, 2 tablespoons of powdered sugar, ½ teaspoon of vanilla extract, and 2 teaspoons of cinnamon. Serve with cinnamon-covered graham crackers.
Cannoli Dip: This dip is so good—you'll never forget about it. Beat 2 cups of ricotta cheese and 1 block of cream cheese until smooth. Then add 1 ½ cups of powdered sugar and 1 teaspoon of vanilla extract—and turn up the beat again (meaning your mixer and your food-prep music . . . so you can hear it over the mixer). You'll finish this off by folding in 1 cup of chocolate chips. You can serve with broken pizzelle cookies, waffle cones, or graham crackers.
10. Go With Beans and Rice.
We have a saying here at Ramsey Solutions (the home of EveryDollar) about how to save money so you can meet your money goals: Live for a while on beans and rice, rice and beans. That's because it's thrifty, friends.
But this economical lifestyle doesn't mean you invite people over, open a can of beans, cook up a pot of rice, and say, "Voila!" Or you could, of course. No judgement.
But if you want to take this frugal rice-and-beans concept to the next level with a little more taste and a lot more class—try a recipe that's built on these two menu items as the foundation. Jambalaya. Mexican casserole. Red beans and rice. Gumbo. And remember, any time you skip the meat on one of those recipes, you save some money. Meat is expensive, and beans are cheap protein!
11. Try One of These Cheap and Easy Appetizers.
You can build an entire party by just serving appetizers—little foods people can enjoy while they wander, mingle, play games, or whatever else the party is offering. If you go to or host a party where apps are the thing, try one of these recipes:
Meatballs: Plop some frozen meatballs in your slow cooker with various sauces depending on the flavor profile you're wanting to end up with. See our handy-dandy guide for some examples.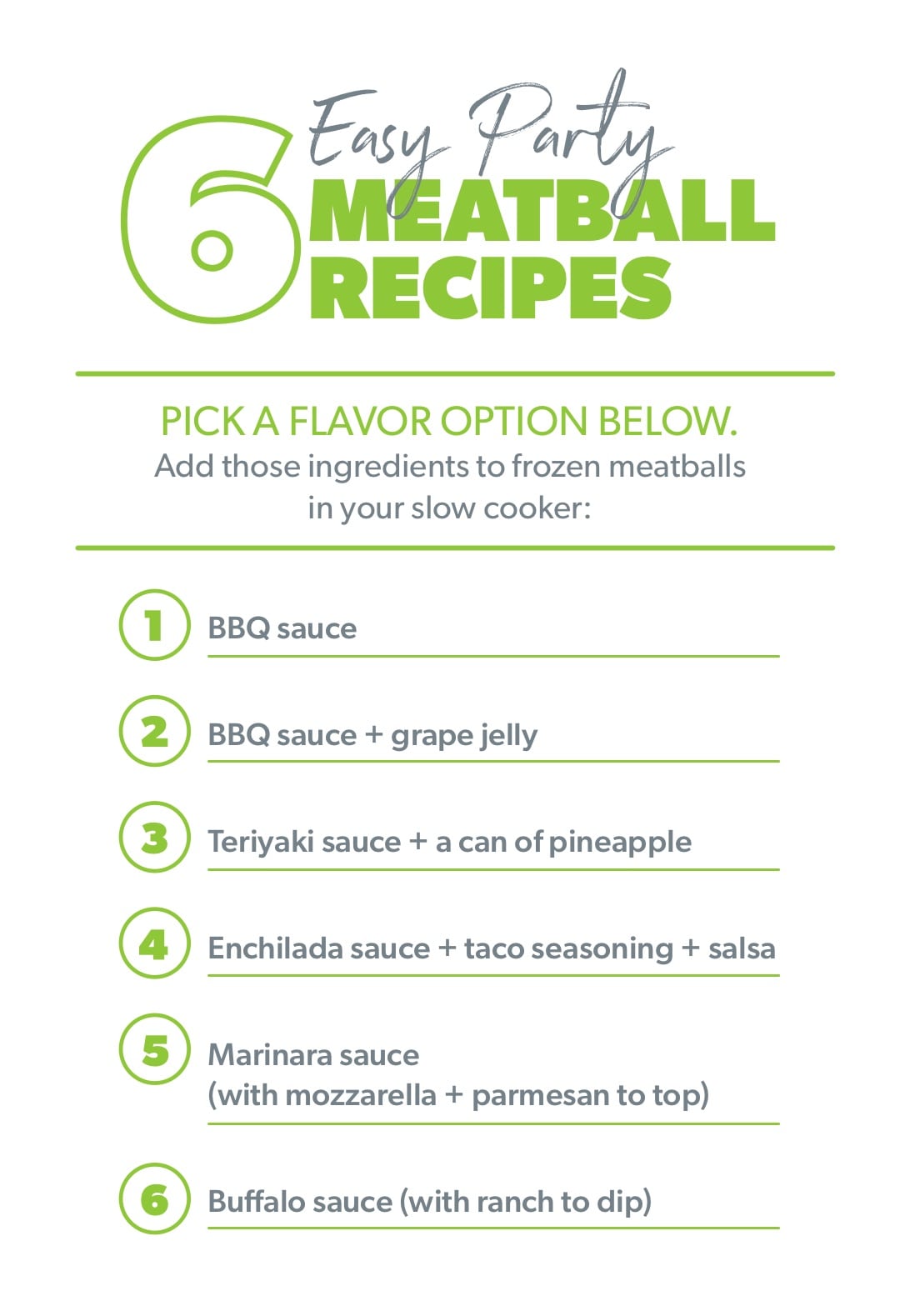 Deviled Eggs: They say it's not a party without streamers—and deviled eggs. You can go the typical route of mustard, mayo, salt, pepper and paprika. Or you can jazz things up by using a spicy mustard or ranch dressing and adding bacon crumbles. Really mix it up by doing pimento cheese, mayo and sour cream. Or go green with some mashed avocado, cayenne pepper, mayo and garlic.
Goat Cheese Trio: Buy a 12-ounce log of goat cheese (only if you can get it on sale) and cut it into three equal portions. Roll one in dried cranberries and chopped nuts. Roll another in honey and chopped pistachios, walnuts or almonds (whichever is cheapest). Then roll the final cheese log in dried herbs. Serve with crackers.
Veggie Platter and Ranch Dip: Know how to serve a cheap veggie platter? Chop the veggies yourself. When you buy one prechopped in the produce area, you're paying a pretty penny for someone else to spend time with a sink and a knife. Just do it yourself!
Homemade Hummus: The thing with homemade hummus is that you might not have a few of the ingredients on hand. But if you decide to bring the hummus for several get-togethers, investing in the stuff that goes in there will pay off in the end. It's canned chickpeas (AKA garbanzo beans), lemon juice, tahini, garlic cloves, olive oil, cumin, salt, and the thriftiest ingredient—water!
Fancy Phyllo Cups: Let's be real—anything plopped into a phyllo cup is suddenly fancy. So if you find them on a buy one, get one free or half-off sale, stock up for party season. You can dollop in so many things! What about some of those dips from the previous dip section? Or try fluffing up some hazelnut spread with whipped topping. Pizza toppings or pimento cheese and a quick 10 minutes in the oven sounds like food heaven. You can't really go wrong, unless you go pricey. But you're a deal grabber, and we believe in you.
12. Make a Cheap and Easy Dessert for a Crowd.
If you sign up for desserts, here are some budget-friendly simple and sweet treats:
Trifles: Buy or make a cake, rip it up, and layer the pieces with whipped topping and fresh or thawed fruit.
Ice Cream: Just be sure you buy the brand that's on sale that week. Bring several toppings like chocolate sauce, candy pieces, sliced fruit and whipped topping to impress the crowd. Or keep it simple and buy a gallon of vanilla ice cream and a couple two-liters of soda for a float dessert.
Brownies: Remember, it's more economical to buy a boxed mix or two than it is to get some premade from the bakery. And we keep telling you to go for add-ons. That's because putting more on top can really top off the food presentation. Icing and crushed-up candies, hazelnut spread and cookie crumbs on top? Okay, if you insist.
Chocolate Pretzel Bites: Lay out some pretzels on a baking sheet. Pop some Hersey Kisses or Rolos on each pretzel. Then melt for a few minutes in the oven. It's cute and has that whole salty-plus-sweet vibe going for it. Yum.
Extreme Rice Krispies Treats: Follow the typical recipe, but then add in colorful chocolate candies, pretzel or cookie bits, sprinkles or broken-up candy bar pieces. It's a safe and sweet way to live life to the extreme.
Cookies: You probably have lots of these ingredients in your house anyway!
Always Plan Ahead for Party Foods
If you know you've got one or more parties coming up, and you know you'll need to host or bring a dish—just budget ahead! You don't want this extra expense coming out of your regular grocery budget line, after all. So either add extra to that budget line for the month or make a new Party Food line. When you have EveryDollar, budgeting ahead is easier than tossing together any of these quick recipes. You can change up a budget line each month so you're always prepared for what that month brings.
And if you love to party, just remember to do it responsibly. That is, with a budget. Because you can make all your money goals come true while still enjoying that party life.
Did you find this article helpful? Share it!