These days, it's easier than ever to shop online. After all, if I wanted to, I could order a night-light for my toilet and have it show up on my doorstep just a day or two later. (Okay, I actually did that. And it may have been the best $10 I've ever spent.)
Because online shopping is so easy, we all wind up doing a whole lot of it. And since there are so many different sites competing for your money, it's harder than ever to know if you're actually getting the best bang for your buck.
If only there was something that could help us save money on all our online shopping, like an app that automatically searches the entire internet for the best deals on the stuff we want. Or an app that sends us alerts when an item we're waiting to buy goes on sale. Or, best of all, an app that actually lets us make money while shopping online by giving us cash-back rewards on our purchases.
Well, I've got some good news, people: Apps like those are very real, and there are a ton of them.
That's right—you can save and actually make money while you shop online with apps! No more clipping coupons, folks. These apps do the dirty work for you. I'm going to show you all of my favorite money-making apps and walk you through how they work.
Now, it's important to remember that you should never spend money just to save. Apps like these are awesome for getting rewards on purchases you'd make anyway. But you should never buy something just because you get cash back or it's on sale. Don't forget about the best deal of all time: Everything is 100% off when you don't buy it.
Before I get into my list of money-making apps that actually work, I want to share my biggest hack of all: Shop on a desktop or laptop computer. I know, I know . . . shopping on your phone is way easier. But when you use an actual computer, you have way more options with things like browser extensions. Yep, it's true. By shopping on your smartphone, you could be missing out on some sweet, sweet savings opportunities.
All right, let's dive into how you can use apps to make money while you shop through cash back, promo codes, price comparisons and so much more.
10 Apps to Make Money
1. Honey
When it comes to using apps to make money, Honey is one of the easiest out there. Not only do they automatically apply coupons to your online shopping cart, but they also give you cash back with Honey Gold—just for making purchases you would normally make.
In case you're not familiar, Honey is a free tool that scours the internet for you to search for deals, discounts and promo codes on whatever you're shopping for. You can download Honey as a browser extension on Chrome or Safari, or you can use their app. They also have a Honey Mobile Safari Extension that works on your iPhone!
When you're shopping online, Honey will pop up with alerts to let you know if you're getting the best deal. And when you check out, they'll automatically test out coupons for you. Pretty sweet, right?
Honey also has something called Droplist. If you've been eyeing a pair of Apple Airpods Pro but don't want to pay full price, add them to Droplist and they'll notify you when they're on sale (so you don't have to keep checking every single day). To date, I've saved over $5,000 on purchases and received $175 in cash back using Honey. Not too shabby.
Pros: You get automatic coupons and cash back for purchases.

Need an extra boost in your budget? Find more money each month with our 14-Day Money Finder!
Cons: You don't make as much cash back as some other apps.
How you make money: Honey finds you deals, discounts and promo codes.
How to shop: Use the app for iOS and Android or the browser extension for Chrome and Safari.
2. Rakuten
The best thing about Rakuten is the opportunity to earn cash back. You can get up to 10% in cash back while shopping at stores you normally shop at (as long as you use Rakuten's website link for shopping online). They'll let you cash out your rewards every three months and either send them to your PayPal account or—if you want to go old school—will cut you a paper check.1 So far, Rakuten has paid over $2 billion in cash back to their members.2
If you're using the browser extension on your computer, Rakuten will show you when another site has a cheaper price on the item you're looking at. For instance, I looked up a pair of shoes on Nike, and Rakuten shared that I can get the same pair at Shoe Carnival for $6 cheaper. Score! Plus, if you sign up, you can get $10 cash back when you spend $25 in the first three months.3
And if you think you can't earn cash back while shopping in person, you thought wrong. Just link the offer to your debit card and pay with your debit card in the store. Easy enough, right?
But remember: Don't spend just to get the cash back. Only buy what you already planned for in your budget!
Pros: Rakuten helps you find the best deals, and you get up to 10% cash back as well as a sign-up bonus.
Cons: They only do their payouts quarterly.
How you make money: You get cash-back reward payouts through PayPal or a check in the mail.
How to shop: Use the app for iOS and Android or the browser extension for Chrome and Safari.
3. RetailMeNot
If you're a deal lover, you've probably heard of this one. When I'm shopping online, the first place I go is RetailMeNot. It's quick, it's easy, and it lets me know if there's a promo code or discount for whatever I'm planning to buy, whether it's a new pair of shoes or a pizza.
And just like with Honey Gold and Rakuten, RetailMeNot offers its account holders the opportunity to get cash back (up to $50).4 They'll even let you get cash back and use a promo code for a discount—at the same time, on the same purchase. Now that's what I'm talking about!
And when it comes to cashing out your cash back, they'll either send it to your PayPal account or Venmo you. Just remember, getting your purchases approved takes some time. For RetailMeNot, it's a 45-day process.5
Pros: You can get cash back and discounts at hundreds of stores.
Cons: Getting your cash rewards takes a while.
How you make money: Cash-back rewards pay out through PayPal or Venmo.
How to shop: Use the website or the app for iOS and Android.
4. Ibotta
Ibotta makes it fairly easy to earn cash-back rewards both in store and online. All you have to do is download the app (or browser extension), add the offers you want to use, do some shopping, and then scan your receipt if you're shopping in store. Ibotta's cash-back offers vary depending on the brand or store you're shopping with.
If you're one for gift cards, you can get cash back on those too. And once your account reaches $20 or more, you can send the money to PayPal—instead of getting more gift cards (which encourages even more spending).6 The welcome bonuses are pretty great too.
Something to keep in mind: This app is all about brands and may sway you toward one brand over another depending on the cash back. So don't buy the more expensive name-brand item just to save some money—that's how they get you!
Pros: You can earn cash back on purchases both online and in store.
Cons: You get ads, you have to add the offers before you shop, and if you shop in store, you need to upload receipts.
How you make money: Cash-back rewards pay out through PayPal.
How to shop: Use the app for iOS or Android and the browser extension for Chrome.
5. Fetch Rewards
You can also use the Fetch Rewards app to make money, and unlike many other apps, it lets you cash out with as little as $3 worth of rewards after your first redemption.7 The only thing is, you can only cash out for things like gift cards or cash sweepstakes. That's definitely not as great as cold hard cash.
Using Fetch Rewards is easy enough. Snap a picture of your receipt from any store (digital receipts work too), and you'll get at least 25 points for each shopping experience.8 And if you really want to earn more points, Fetch rewards you even more for shopping at specific stores or buying specific brands. Here's the nice thing: You don't need to add offers to your app before you use it (which I love). And last but not least, Fetch gives you two whole weeks to upload your receipt.9
Pros: You can shop anywhere to earn points.
Cons: You can only cash out for gift cards and cash sweepstakes entries.
How you make money: You can earn points and exchange them for gift cards or entries in cash sweepstakes.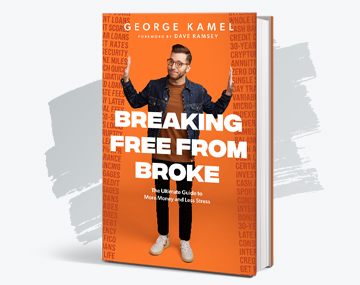 More Money. Less Stress. Yes, Please.
In his new book, George Kamel does the research for you and exposes all the worst money traps out there so you can build real wealth!
Start Reading for Free
6. Target
You've probably heard of Target—it's only the best store to shop for . . . everything. And if you aren't taking advantage of Target Circle Rewards in the Target app to save on your purchases, you're missing out.
One of the things I love most about Target Circle offers is that you can sort them by discount amount—which can be up to 50% off! Now, don't get crazy and start buying stuff you don't need just because it's on sale. But using this feature might save you money on something you were going to purchase already (stick to the list!). If you're someone like me who doesn't care about brands, then this is a great way to save on your next shopping trip.
Using the Target app gives you 1% cash back on eligible purchases and in-app discounts.10 Just make sure to add the coupons to your app before you shop. And if you want to save even more, check out Target's store debit card (known as the RedCard) to get 5% instant savings on all purchases.11 Just be sure not to get it confused with the credit card they offer (also called the RedCard).
Pros: You can save money with the RedCard and filter by discount using the app.
Cons: You have to add offers before you shop.
How you make money: You get cash-back rewards and discounts for purchases at Target when you join their shopper's club and use their store debit card.
How to shop: Use the website or the app for iOS or Android.
7. Slickdeals
Slickdeals is another money-making app to keep in mind when you're shopping for something specific. They hang their hat on being the app that helps you shop smarter and save more. With this app (or browser extension), you can type in the item you're looking for and sign up for a custom deal alert. They'll let you know when your item is on sale or when there might be a deal. Keep in mind that this app does promote and advertise specific deals—and those deals may not even be the very best ones out there on that item.
Slickdeals also has a cash-back rewards program. When you make your purchases through their website, app or browser extension, you'll collect points that can be redeemed through PayPal or gift cards.12 Another unique thing about Slickdeals is that you can vote on deals and post new deals yourself to let others in on the money-making goodness—without clipping coupons. That's my favorite feature, personally.
Pros: You get custom deal alerts and cash back.
Cons: Promoted deals aren't always the best deals.
How you make money: You get alerts for discounts on items you're interested in and rewards points you can redeem for cash or gift cards.
How to shop: Use their website, the app for iOS or Android, or the browser extension for Chrome.
8. Dosh
The best part about Dosh is how easy it is to use (no receipt scanning, offer loading or even promo codes). The less hassle the better, right? It's so easy because Dosh has you link your debit card straight to the app so when you shop, your cash back goes straight to your Dosh wallet.
But here's the kicker: Not all debit cards work with Dosh, so you'll have to do some research to see if yours earns cash back. If you do earn cash back, once you get up to $15, you can transfer it to your bank, PayPal or Venmo or give that money to charity.13 Now that's pretty cool.
Pros: You don't have to scan your receipts or load your offers before making a purchase.
Cons: You have to link a card to earn points (so it doesn't work for cash spending).
How you make money: Cash-back rewards pay out through your bank, PayPal or Venmo.
How to shop: Use the app for iOS or Android.
9. Swagbucks
If you're looking for an app to make money, Swagbucks should be next on your download list. Not only can you earn points by shopping online with Swagbucks, but you can also earn points by taking surveys, searching the web, making referrals, playing games, watching videos and more. When you use the browser extension (the SwagButton—is that not the coolest name ever?), you can get alerts for deals when you're shopping online too.
Plus, when you sign up for your free account, you can get $10 for spending $25 at a Swagbucks-approved store.14
But one more time for the folks in the back: Don't spend money just to save money! Only use these apps for purchases you would make even if you didn't have the apps.
Pros: You can earn cash back through more than spending.
Cons: The points may not be worth the effort.
How you make money: You get deal alerts, cash back and other rewards.
How to shop: Use their website, the app for iOS or Android, or the browser extension for Chrome, Firefox or Edge.
10. Camelcamelcamel
Last but not least on the list is Camelcamelcamel (no relation or affiliation with this Kamel), which is a free Amazon price tracker. While it technically isn't an app (it's a website and browser extension), Camelcamelcamel still a great way to save money while shopping online. You can sign up for alerts on items you've got your eye on, and they'll tell you when the price drops. Pretty great, right?
Let's say you're in the market for a new TV but you don't want to spend the list price on Amazon. That's where their free browser extension, the Camelizer, comes in (almost as cool of a name as the SwagButton). Just sign up for price-drop alerts, and before you know it, you'll get a notification in your email telling you it's the right time to buy.
The beauty of this site is that it saves you time . . . and it's free. Not only that, but you'll be able to see the price history on what you're purchasing so you know if you're getting the best price possible.
Pros: You get a free Amazon price tracker.
Cons: It may not have everything you're looking for.
How you make money: Price-drop notifications alert you about specific items you're interested in.
How to shop: Use the website or the browser extension on Chrome.
The Best Money App
Now that you've maxed out your smartphone's storage from downloading all these apps (I currently have 284 apps on my phone—send help), I want to talk about the one app that will help you keep track of all the money you're making (and saving) every month: EveryDollar.
EveryDollar is the world's best budgeting app, and it's the one I personally use to manage my money and track my spending. Not only is it free, but it helps you save money each and every single month by doing a zero-based budget. And as long as you're intentional and stick to the budget, you can find money you never knew you had. Now that's what I'm talking about.
Download EveryDollar for free today and start saving money. Believe me—it's worth the storage space on your phone (149.5 megabytes to be exact). Now, go forth and spend wisely, my friends.
Did you find this article helpful? Share it!