If you don't use coupons when you shop, you could be missing out on some serious savings! Luckily, gone are the days when you have to clip, organize and haul hundreds of paper coupons out the door with you. Now all you need is your trusty smartphone loaded up with the best coupon apps out there.
Which should you check out first? So glad you asked. Here are 16 of our favorite coupon apps to help you save big.
The 16 Best Coupon Apps for 2024
1. Rakuten
Shopping is fun, but earning cash back for buying stuff? Well, that's what dreams are made of. Meet Rakuten, the app that gives you cash back on your purchases plus more coupon codes than you can imagine. And you don't even have to wait for a check to hit your mailbox if you don't want to. Yep, these guys will pay you through PayPal if you prefer!
Not impressed yet? When you sign up, they'll even give you a $10 bonus when you spend your first $25.
Standout feature: cash back on stuff you're already going to buy
Best used for: getting cash back—need we say more, folks?
Platforms: iOS, Android and a desktop extension on Chrome
2. Honey
Life's about to get a whole lot sweeter! Allow us to introduce you to Honey, one of the best coupon apps (in our opinion). Install the app on your Chrome browser, and Honey will search through the best coupons available for the website you're shopping on. It'll even apply the best coupon it finds to your cart at checkout—with no hassle for you. No more Googling "coupon code" every time you shop and crossing your fingers for a good one. Uncross those fingers. Get Honey.
But wait. There's more! If you aren't ready to buy, add an item to Droplist. Honey will watch it like a hawk and message you the moment there's a price drop. See? So sweet.
Standout feature: telling you if another seller offers the item at a cheaper price when you're shopping on Amazon
Best used for: finding coupons and comparing prices online
Platforms: iOS, Android and a browser extension on Chrome, Firefox and Safari
3. Drop
Think of this as the ultimate rewards system. Drop lets you collect reward points on all sorts of purchases—everything from groceries to your weekend Uber rides. You can even play games in the app to rack up more points. Once you've gotten enough points to use, you can trade them in for gift cards at big-name companies like Kroger, Amazon and Starbucks.
Standout feature: game-changing rewards system
Best used for: racking up reward points to save more money at your favorite shopping destinations
Platforms: iOS, Android and a desktop extension on Chrome, Safari and Firefox
4. Flipp
Let's say it's Black Friday, Presidents Day or one of the other huge deal-heavy holidays, and you're wishing there was one place to see all the best-priced items at your go-to stores. Oh, but there is! It's called Flipp.
And when it isn't a shopping-focused season, Flipp still helps you save money on normal things by letting you browse tons of digital weekly ads. That way you can make your meal plan and grocery list based on the sales without navigating a million sites.
Standout feature: easy cost comparison—see deals for over 2,000 stores in one spot
Best used for: comparing prices and getting the best deals
Platforms: iOS, Android and desktop use directly from Flipp's website
5. Ibotta
There's a reason why this one is on nearly every list of best coupon apps—it's pretty amazing. With this discount app, you find and add offers for things you plan to buy and submit your receipt—and Ibotta will give you cash back. Once your total adds up to $20, you can cash out and stick those earnings in your bank, PayPal or a gift card.
P.S. Sometimes Ibotta offers higher bonuses on specific products—and they give out referral bonuses for getting your friends to sign up. Don't be weird about it, but if you know someone else who'd love to save money with this easy couponing app, get in on that extra cash.

Start budgeting with EveryDollar today!
With this app, you won't see immediate savings at checkout like you would with a coupon. But you will get actual cash back or gift cards in your pocket to use later on down the road—and that's worth the wait.
Standout feature: cash back that adds up over time
Best used for: getting "paid" for items you're already purchasing at the store
Platforms: iOS, Android and a desktop extension on Chrome
6. Shopkick
Shopkick is like other saving apps out there that use rebates, but instead of getting cash for your points, you can redeem them for gift cards. And who doesn't love gift cards?
But here's the best part: You can earn points (they call them "kicks") just by walking into a store. And if you're up for a little scavenger hunt, you can earn even more points for scanning products they list throughout the store.
You don't even have to spend money to earn a little kickback! (See what we did there?) Just don't get too carried away and start impulse buying things just because you're in the store. (Hey, that goes for all these coupon apps.)
Standout feature: no need to make a purchase to rack up points
Best used for: earning points you can redeem for gift cards
Platforms: iOS and Android
7. Checkout 51
The nice thing about Checkout 51 is that you can earn cash back on gas and groceries. (Yep, two things you have to spend money on anyway!) Just check the app for new offers, head to the store or gas station, and buy the featured items. Then, snap a picture of your receipt and earn some cash! Not only that, but you can also get bonuses from taking surveys right in the app!
Standout feature: cash back for common purchases
Best used for: earning cash back
Platforms: iOS and Android
8. Target Circle and RedCard
If you shop at Target, we've got two money saving tips for you. First, be sure to check the Target Circle offers in the Target app before you head into the store. You'll find coupons and major savings on groceries, clothing, home goods, toys—well, you already know Target carries all the things, and using Target Circle is a great way to save on all the things. You can also get special deals when you ship items or use their pickup and grocery delivery service.
Second, Target fans need the Target RedCard. This debit card gets you 5% off every purchase in the store or online, plus free shipping. No, this isn't a couponing app, but when you pair it with Target Circle deals, the savings go up and up. (That joke's for the Target superfans.) Just make sure you sign up for their debit card option—and don't let anyone talk you into their credit card.
Standout feature: scoring deals on select items with Target Circle, plus an immediate savings of 5% off each purchase with the Target RedCard
Best used for: saving money at Target
Platforms: iOS and Android
9. RetailMeNot
Remember to check this major coupon code hub before making an online or in-store purchase. Just type in the store you're planning to shop at, and RetailMeNot will list all its active offers. An extra 20% off that thing you were about to buy anyway? Cha-ching!
Standout feature: a one-stop shop for all your coupon code needs
Best used for: scoring a 20% coupon (or promo code) to your favorite store
Platforms: iOS, Android and a desktop extension on Chrome
10. ShopSavvy
ShopSavvy calls itself a price comparison tool, but it seriously offers so much more. If you're at the store, you can scan a barcode to see if there's a better deal out there. Or you can get their mobile browser extension to price compare while you're shopping online.
Here's another great feature: ShopSavvy pulls in user reviews and hands you a summary including pros, cons and the bottom line so you can figure out if a purchase is a good idea. And if you aren't ready to buy something just yet, or the last cardigan in your size is sold-out, you can get alerts for price drops and when something's back in stock.
Standout feature: price comparisons and user reviews
Best used for: finding the cheapest price on the item you're searching for
Platforms: iOS, Android and a desktop extension on Chrome, Edge and Safari
11. Sherpa Perks
You should download this app for the fun name alone. Sherpa Perks is a lot like Ibotta and RetailMeNot, but you can never have too many of the best coupon apps at your fingertips. It has coupon codes for almost anything, including specific stores. Instead of sorting through that old-school coupon book packed with pieces of paper, just show the coupon on your screen to the retailer and start saving!
Standout feature: savings and coupon codes (and the name)
Best used for: finding promo codes that save you money
Platforms: iOS and Android
12. GasBuddy
Here's another oldie but goodie. GasBuddy will search your local area and find the cheapest gas prices near you. Then all you have to do is get yourself to the pump and fill up.
And if you want to save even more money, you can use GasBuddy's card. No, it's not a credit card, but it's not quite a debit card either. Instead, it's a gas payment card that links to your checking account.
Every time you use it, you'll save up to 25 cents per gallon at the gas pump. Just pay attention: GasBuddy offers a credit card too, and you definitely don't want to sign up for that. You're looking for deals—not debt.
Standout feature: gas payment card that links to your bank account
Best used for: finding the cheapest gas prices near you
Platforms: iOS and Android
13. Dosh
Dosh is a typical cash-back app, but it cuts out some of the hassle from the process. They boast that you'll be able to take advantage of cash-back rebate offers without using barcode scanning, receipt photos or promo codes.
So, how does it work? Well, you link your debit card to the app, or see if your favorite virtual payment method can be linked, and then Dosh watches what you purchase and deposits money into your "wallet." Once you get up to $15, you can transfer from that "wallet" to your bank, Venmo, PayPal . . . even to your favorite charity!
Standout feature: cash-back rewards without the pain of scanning receipts
Best used for: getting cash back for online purchases
Platforms: iOS and Android
14. GoodRx
Prescription drug costs can derail your budget quickly. But how do you know if you're paying too much for your prescriptions? Check out the GoodRx app! Just type the name of your prescription in the search bar along with your zip code. The app will show you which pharmacies in your area carry it and how cheap (or not) it is. Plus, they give out extra coupons every now and then for even more savings.
Standout feature: prescription price comparisons in your local area
Best used for: saving money on prescription medication
Platforms: iOS and Android
15. The Coupons App
Where have all the good old-fashioned coupons gone? They're right here—only better! Download The Coupons App to your smartphone and you'll find so many coupons. So. Many. Plus, they serve up daily deals and promo codes right in the palm of your hand. You can even set up notifications for local sales and find the cheapest gas in your area. All in this one well-named app.
Standout feature: coupons galore (updated daily)
Best used for: saving instantly on groceries, clothing, gas, restaurants and household items
Platforms: iOS and Android
16. Receipt Hog
Kind of like Ibotta, Receipt Hog lets you just scan your receipt and get points for specific items you purchased. All these points add up, and you can cash them out once you hit a certain level.
By now you might be thinking, Not another rebate app! Isn't using one or two good enough? No way! By using multiple discount apps, you could be getting a ton of rebates for the same item. And different items might be eligible with different apps. You've already spent the money, so why not make every single receipt work for you?
Standout feature: cashing out points for, well, cash!
Best used for: earning points at any store that gives you a receipt (paper or digital)
Platforms: iOS and Android
The Best Coupon Apps—And The Best Budgeting App (A Dream Team)
We love coupon apps and saving money just as much as the next person, but we have to say it: You should never buy something simply because it's on sale. Buying things you don't really want or need just to get a discount is a great way to go real broke real quick. Don't forget—everything is 100% off when you don't buy it. (Mic drop.)
And as you're shopping and saving, you should always stick to your budget. One of the best ways to make sure you do that is to use another favorite app of ours: EveryDollar. EveryDollar makes setting up—and sticking to—your monthly budget way easier. You can track your spending—so you avoid overspending—and give every dollar you make a job to do. (See where our app got its name?)
Okay, you've got a lot of apps to check out and a lot of money to save. Happy downloading, and happy savings!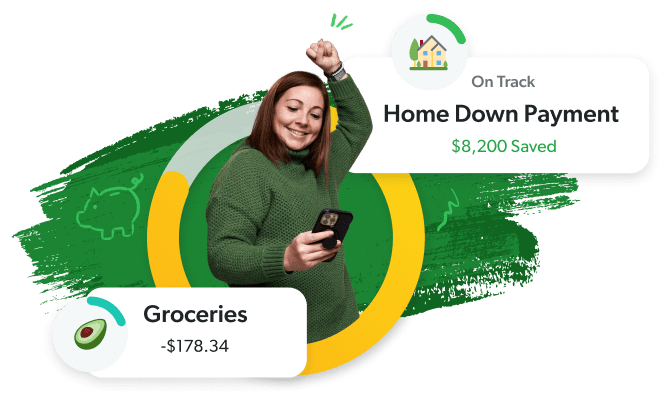 Save more. Spend better. Budget confidently.
Get EveryDollar: the free app that makes creating—and keeping—a budget simple. (Yes, please.)
Start EveryDollar for Free
Did you find this article helpful? Share it!