No matter what you want to do with your money, it starts with a budget. Because a budget is a plan for your money—you tell it where to go, so you stop wondering where the heck it went.
But if you've never budgeted before, or it's been a while, jumping in can be challenging. You know what can help? A budget template!
There's nothing like having clear directions to follow and step-by-step blanks to fill in to give you the confidence you need to get going on this budgeting journey. You ready? (Yes, you are.)
Steps for Using Your Budget Template
A budget template (or budget worksheet) is a great way to get everything on paper, right there in front of your eyes. We've got three steps to set up that budget and two more to keep it going—each and every month.
Before you dive in, print out your Quick-Start Budget template and open up your online bank account!
Also, heads up: We're about to mention the Baby Steps a couple of times. This is the proven plan to get ahead with your money—from saving more to paying off debt to building real wealth.
1. List your income.
Do you see the Planned column at the top of your Quick-Start Budget template? That's where you list out all the money that's coming in this month. Here are some quick callouts when it comes to this first step:
Make sure you write in regular paychecks and anything extra, like that side hustle money. (Go you!)
If you're married, list out all the income for both of you. (It's pretty romantic, really.)
If you've got an irregular income, take a look at what you've made the last few months and list the lowest amount as this month's planned income budget line. You can adjust later in the month if you make more. (We've got a special irregular income budget template if you need it.)
Now, add it all up and write in your total. Now you know how much money you have to work with this month.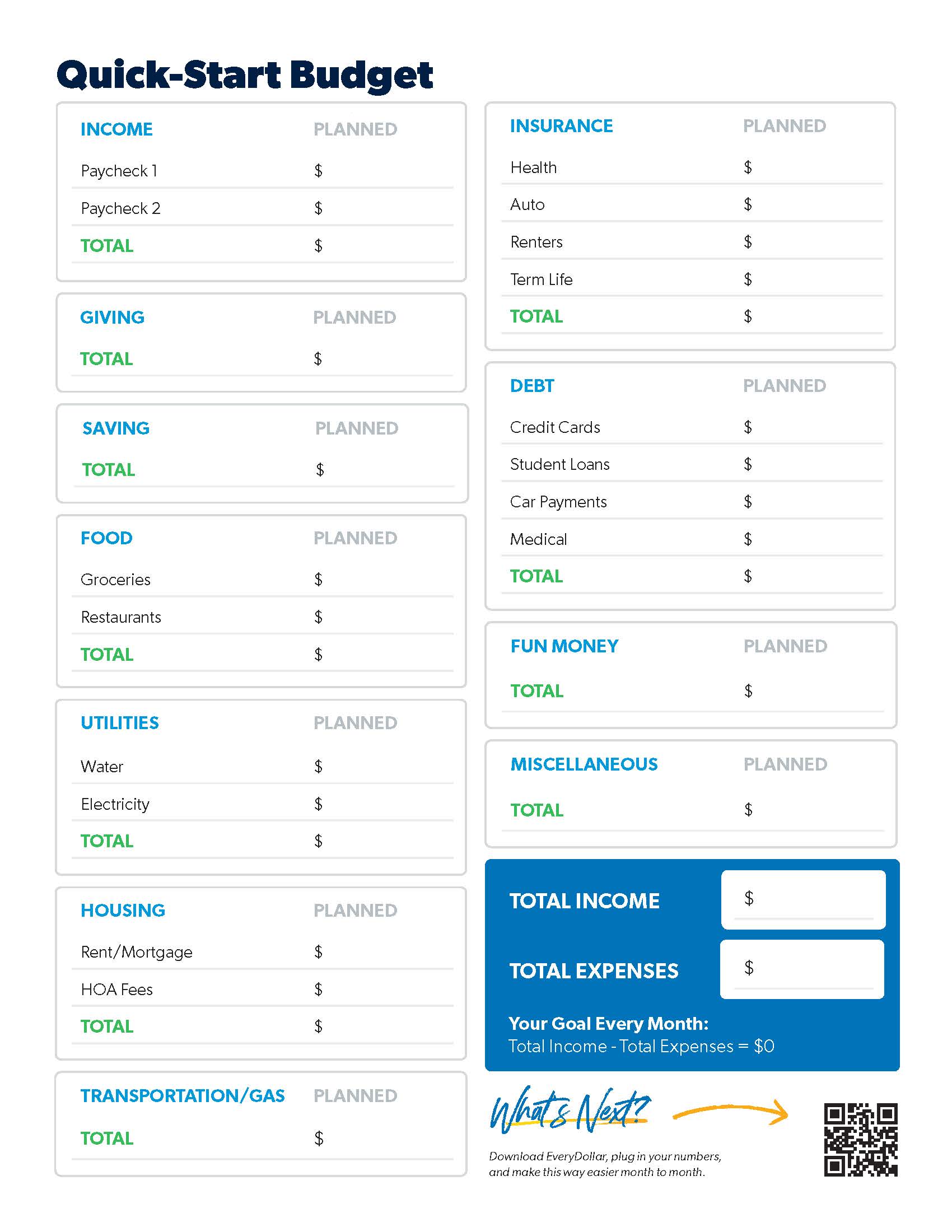 2. List your expenses.
Now that you've planned for what's coming in, you need to plan for what's going out: your giving, saving (depending on what Baby Step you're on), and spending.
When it comes to all the monthly spending you need to plan for, you'll see the budget worksheet goes in this order:
Four Walls—food, utilities, housing and transportation
Other essentials—like insurance and debt
Extras—like fun money and that helpful miscellaneous line
(You've probably noticed your online bank account is coming in real handy right now.)
As you work through your monthly budget template:
Skip any lines you don't need.
Write in anything you don't see a spot for.
Add the planned amounts inside each box.
All right. What's next?
3. Subtract expenses from your income.
When you do the math on your budget planner sheet, your income minus your expenses should equal zero. We call this the zero-based budget.
No, this does not mean you let your bank account reach zero. Leave a little buffer in there of about $100–300.
What it does mean is that you're giving all your money a job—paying the bills and moving you forward on your money goals. Because you work hard for your money, people. And it should work hard for you. Every. Single. Dollar.
What if you don't hit zero?
Got money left over? Um, celebrate. This is great! Then put those dollars toward your current Baby Step.
Got a negative number? Pause. Don't freak out. It'll be okay. You just need to cut spending (or increase your income!) until you get to zero.
So, guess what. That's it for creating the budget. These next two tips will help you stick to it and make it actually work for you.
4. Track your transactions (all month long).
How do you stay on top of your spending? Track. Your. Transactions. That means you're tracking everything that happens to your money all month long! This is how you keep an eye on your progress and keep from overspending.
5. Make a new budget (before the month begins).
Your budget won't change too much from month to month—but no two months are exactly the same. So, create a new budget every single month. Don't forget month-specific expenses (like holidays or seasonal purchases). And do this before the month starts so you can get ahead of what's coming your way.
To the Budget Template . . . and Beyond!
Okay, you probably noticed those last two steps aren't on your monthly budget template. Because the template is a great start. It really is! It helps you level up from budget dreamer to budget planner.

Start budgeting with EveryDollar today!
But once you get those first three steps on paper, it's honestly way easier to keep up with it all when you've got an easy-to-use budgeting app like our personal BBFF (budgeting best friend forever), EveryDollar. Download the app (for free!), plug in all those numbers you organized on your budget template, and take your budget with you. Everywhere. It's so much better than penciling in every transaction and doing the math yourself or rewriting a budget every month. Trust us.
Here are three more helpful resources before you go:
Hey, we're proud of you for budgeting. It's seriously the first step to go from where you are with your money to where you want to be. And you're going great places, one EveryDollar budget at a time!

Did you find this article helpful? Share it!