Planning vacations is one of my spiritual gifts. Seriously, my in-laws even ask me to plan their family vacations! Another passion of mine is finding a good deal. So, when it comes to finding cheap places to travel, I'm your girl.
There are lots of ways to save money when you travel, and I'll include my travel tips at the end for you too. But let's start with choosing places that have plenty of free and cheap things for you and your family to do.
1. St. Louis, Missouri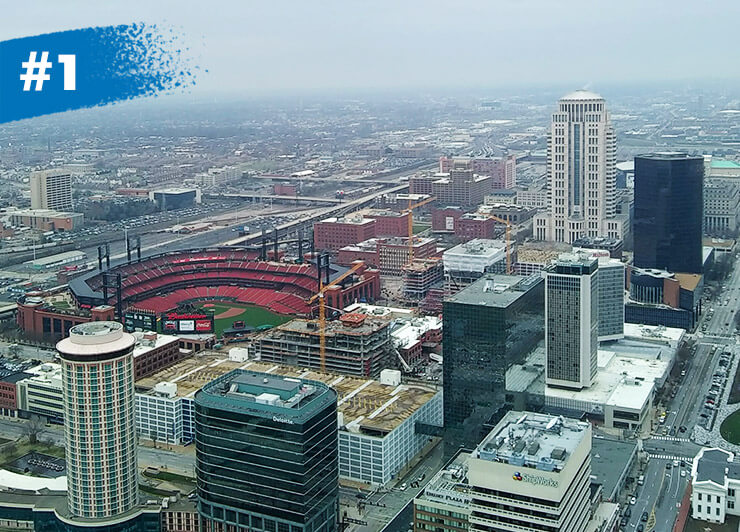 I'm ranking St. Louis among the cheapest places to travel because it's a drivable destination for a lot of people in the South and Midwest. The Gateway City has a lot of free things to do when you get there.
Free attractions:
The St. Louis Zoo: Yup, it's really free! There are some attractions with a small $4 cost once you get inside, like the sea lion show or carousel, but you'll get to see as many lions, tigers and bears as your heart desires for exactly $0.
Forest Park: The museums, trails and boathouse make this one of the biggest urban parks in the country.
The Budweiser Brewery Experience offers free tours on a first-come, first-served basis. Or if you're more of a planner, you can reserve your spot in advance for $5.
Purina Farms is 40 miles west of St. Louis and has pet lovers in mind. Photo ops, wagon rides, and a baby animals petting area would keep my girls happy, for sure!
Grant's Farm: Meet the Budweiser Clydesdales up close and personal and ride a carousel too! Admission is free, and activities, like camel rides and feeding the goats, range from $1.50 to $6 per person.
Cheap attractions:
The Gateway Arch should absolutely be part of your itinerary. Tickets to the top are as low as $12 for adults and $8 for kids.
The City Museum is like a giant playground for the whole family, and you can take a family of four for around $65. Children under two are free.
St. Louis is famous for its food: You'll get the most bang for your buck at places like Blues City Deli, Lulu's Local Eatery, and Guerrilla Street Food.
2. Washington, D.C.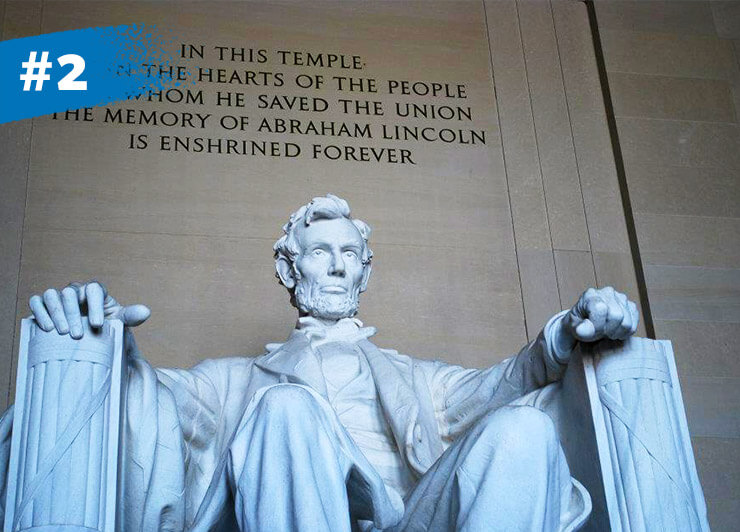 Ready to start saving? Get started with a free trial of Ramsey+ today.
Our nation's capital may not come to mind when you're looking to save money. But if you book a cheap Southwest flight and an affordable Airbnb, this is one of the cheapest places to travel! That's because there are so many incredible things to do in this city for free.
Free attractions:
The White House tours are free! You'll just need to book at least 21 days in advance.
The Smithsonian's National Zoo: Ever wanted to see a panda live and in person? The National Zoo is one of the only places in the U.S. where you can!
The Smithsonian Museums are world class and totally free. The National Museum of Natural History and The National Air and Space Museum have so much to offer for everyone in your family.
The Supreme Court: If you're into politics like me, this is exciting! You can actually sit in on a court session (amazing, right?) or take in a free lecture on how the court functions.
The Library of Congress is the largest library in the world. The library offers guided tours, exhibitions, and a variety of live events.
The Holocaust Memorial Museum is widely regarded as one of the best museums in the world. There are several rotating exhibits and lectures, but perhaps the most powerful—the self-guided Holocaust Exhibition spanning three floors—is there year-round.
All of the monuments: There are a ton of memorials, but a few highlights include Lincoln Memorial, Martin Luther King, Jr. Memorial, Vietnam Veterans Memorial, and the Washington Monument . . . just to name a few.
Cheap attractions:
Eat all the things! D.C.'s food game is strong, with a melting pot of influence from basically everywhere in the world.
Half-smoke: What some call the official food of D.C. It's basically a half-beef, half-pork hot dog, and Thrillist says this is the best one in town.
Wiseguy Pizza: To know me is to know my love for pizza, so I'm not sending you on vacation without recommending a pizza place. Wiseguy is known for its five-star reviews and budget-friendly thin crust.
3. Sleeping Bear Dunes, Michigan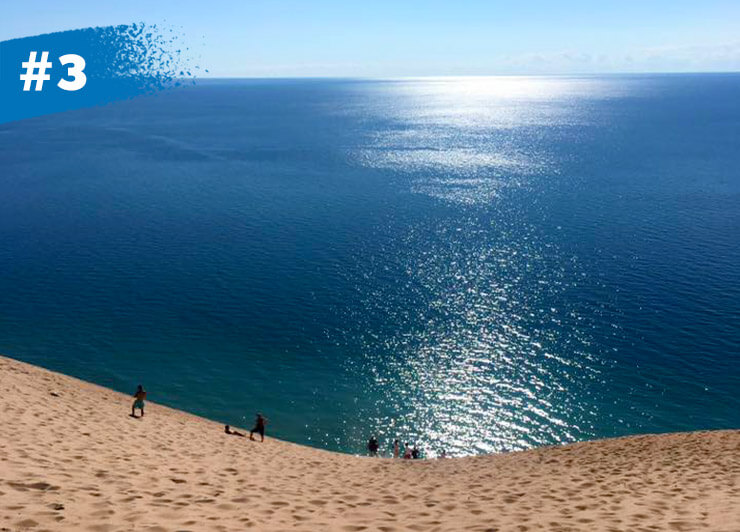 Named after an Ojibwe legend of the sleeping bear, the Sleeping Bear Dunes National Lakeshore covers over 50,000 acres along Lake Michigan. The dunes were voted the Midwest's "Number One Nature Escape for Families" by Disney's Family Fun Magazine thanks to the scenic hikes, drives, campsites, and canoeing and kayaking trips.
Free attractions:
The Manitou Islands: Take the ferry over to explore the lighthouse, private beaches and even shipwrecks.
Attend a monthly Star Party led by park rangers in the spring and summer, complete with a bonfire on the beach. It's worth timing your trip around!
Go fishing in any of the 21 lakes inside Sleeping Bear Dunes National Lakeshore Park.
Lookout Nine, or any west-facing beach, is the perfect place to catch a sunset.
Pierce Stocking Scenic Drive offers 7.4 miles of beautiful sights.
Cheap attractions:
Cherry Republic's Glen Arbor gift shop: Michigan is famous for its cherries, and you can try some for yourself here.
Cottage Book Shop: Book lovers will love wandering the shelves of the renovated log cabin that's been turned into a book shop. (Browsing is free!)
Cherry Public House falls between cheap and pricey, depending on what you get. To save money, share a basket of Cherry BBQ Rub fries with a flight of their unique cherry beers—yes, please.
4. New Orleans, Louisiana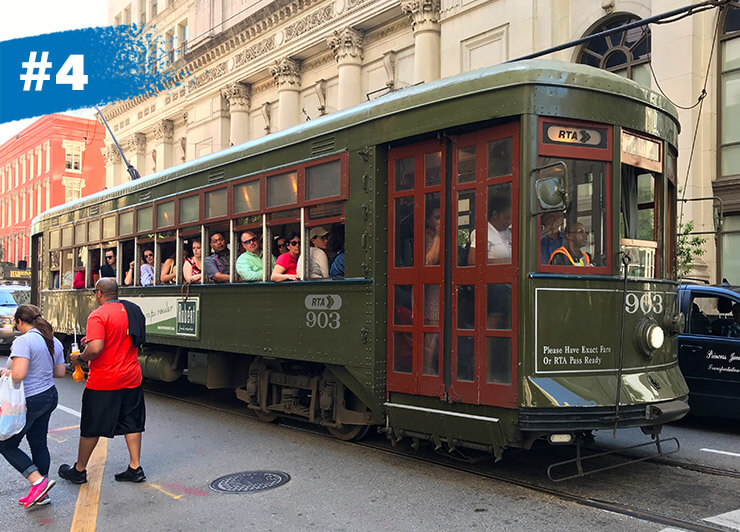 New Orleans is more than a party destination during Mardi Gras—it's rich in history, music and delicious food. But you don't have to be rich to go.
Free attractions:
The French Quarter: This iconic area is the oldest neighborhood in New Orleans and makes for super charming photo ops.
City Park has the largest collection of live oak trees in the world—some up to 600 years old.
Algiers Ferry: Take a ride down the Mississippi River and get an incredible view of the New Orleans skyline.
St. Louis Cathedral: It's one of New Orleans' most well-known landmarks and is totally beautiful!
A literary walking tour will show you the homes of Thornton Wilder, William Faulkner, Tennessee Williams and more.
Cheap attractions:
The National World War II Museum has over 23,000 5-star ratings on TripAdvisor and costs around $30 per ticket for adults, and less for kids!
St. Louis Cemetery No. 1: It's historical and creepy, and it seems so fascinating to me! Guided tours start at around $20 per person.
Preservation Hall: One of my favorite things to do on a classy date night is check out live jazz. You can do that here for around $20 per ticket (kids under 5 are free).
Eat the food: Try an original New Orleans SnoBall for just $2. Or try a favorite of mine: beignets—a French-style donut covered in powdered sugar. There's really no excuse for leaving New Orleans without eating at least 27. Or locals say the Po-Boy at Adams Street Grocery & Deli is the best value in town.
You can find extra money to fund your vacation savings plan with my free 14-Day Money Finder!
5. Phoenix, Arizona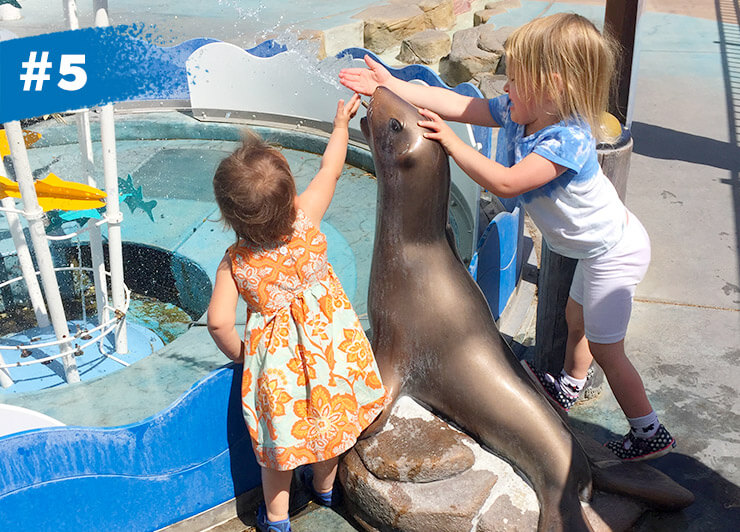 Ranked one of the top 50 best cities in the world, Phoenix has a lot to offer. Go for the desert landscape, shopping and architecture, and—if you're a fan of queso like I am—stay for the Mexican food.
Here's how to make it cheap, though: Visit Phoenix during the summer months. That's when hotel prices are slashed in half because most people flock to Arizona when it's cold everywhere else.
Free attractions:
Papago Park is gorgeous, and you could spend a whole day exploring the trails and beautiful landscape. Watch the sun set in Hole-in-the-Rock.
Camelback Mountain: If hiking is your thing (full disclosure: it's not mine), you'll love it!
Fountain Park: Take the kids for a picnic, to play disc golf, or to splash around at the splash pad.
Cheap attractions:
Desert Botanical Garden is located in Papago Park, and it's full of color and life with more than 50,000 plants. Spend the day with a family of four for under $100. These pictures give me all the heart-eyes.
Mexican food: You can get it pretty much everywhere in Phoenix, but Carolina's Mexican and La Santisima Gourmet Taco Shop are known for authentic flavor for super cheap.
Last Chance is Nordstrom's clearance store, where designer clothes sell for, in some cases, just a few dollars! If you love fashion or just want the best deal ever on a pair of jeans, check it out.
6. Virginia Beach, Virginia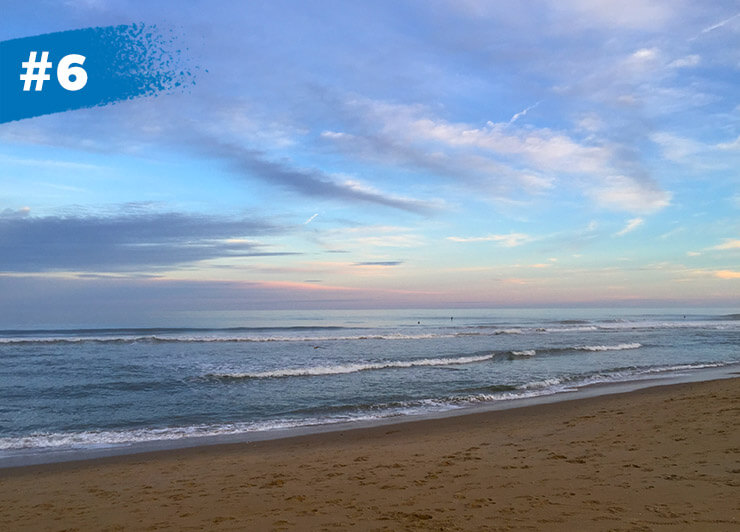 Virginia Beach is beautiful and makes my list of cheapest places to travel because there are plenty of affordable lodging options: camping in the woods, camping at the beach, renting a cabin or an Airbnb.
Free attractions:
Virginia Beach oceanfront: This three-mile boardwalk would make my beach-loving heart so happy.
Cape Henry: You can explore the shore of the Atlantic Ocean and see America's first lighthouse. (You can also tour the lighthouse for $10—and children under 42 inches are free!)
First Landing State Park: Relax on the beach or hike all the trails!
Cheap attractions:
Zip line through Virginia's breathtaking forests.
Ocean Breeze Waterpark will keep a family of four entertained all day long for under $150 when you book tickets online.
Food, obviously: Try She-crab soup—a staple menu item at several restaurants in Virginia Beach. And get lunch at Margie & Ray's Crab House, where an entire plate of seafood, fresh or fried, plus an iced tea is only $7.99. The Back Deck's daily specials include $2 Fish Tacos on Tuesdays!
The Military Aviation Museum has 70 planes from World War I and World War II. Tickets are only $15 for adults, and less for seniors and kids! Bonus: It's free to all WWII and Korean War veterans.
7. Seaside, Oregon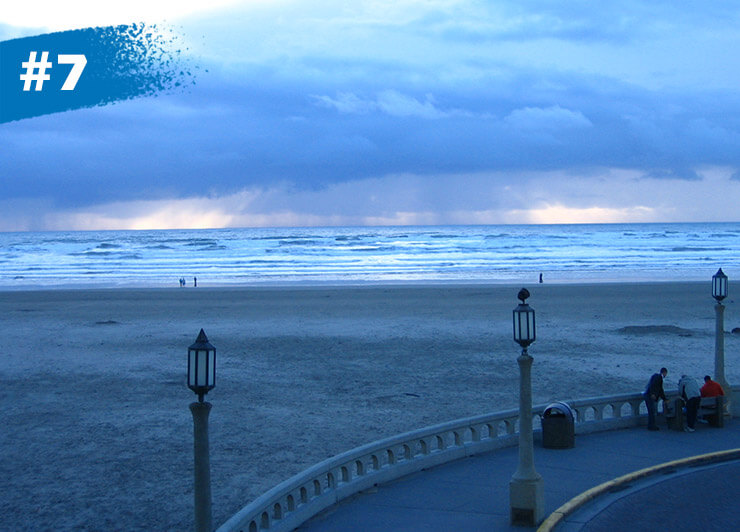 Seaside is a charming, family-friendly town right on the water. It's one of my cheapest places to travel because there are so many unique things to do at little or no cost. Flights into Portland International Airport are on the cheaper side—you'll just need to find a good deal on a rental car to drive to the coast when you land. (My friends at Dollar Rental Car would love to help you do that! Plus, you can rent from them with your debit card.)
Free attractions:
Arcadia Beach State Recreation Site is one of the cleanest, most scenic beaches in the area.
The Tillamook Head Trail: Take in breathtaking views of the Pacific Ocean during a hike.
The Turnaround at Seaside is the perfect place to see a gorgeous beach sunset and pose for a selfie with the Lewis and Clark statue.
Cheap attractions:
Seaside Aquarium: You can interact with and feed the seals! Adult tickets are $8.50, and kids 6–13 are just $4.25.
Sam's Seaside Café has something for everyone, from hand-breaded oysters to a garlic lovers burger.
Rent a bicycle and explore the town and many biking trails in the area.
Seaside Inverted Experience: Admission is only $15 and includes a photo souvenir.
Seaside Brewing Co. is built in an old jailhouse. They have an $8 stack of blueberry pancakes and bookshelves full of family games.
8. Tulsa, Oklahoma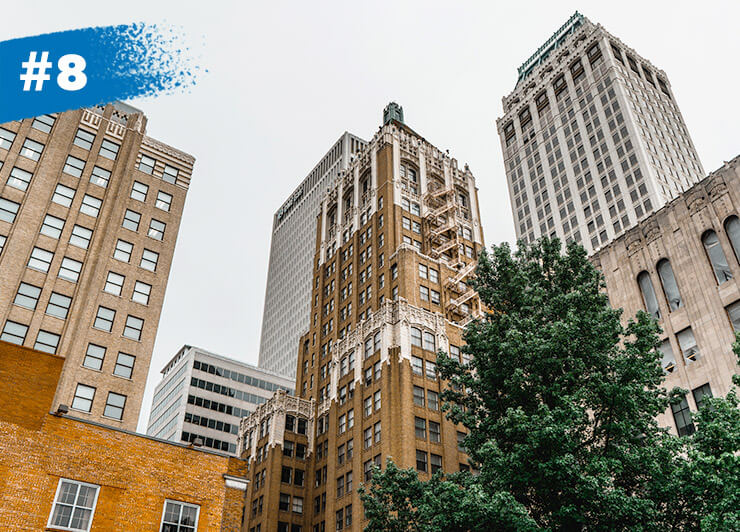 Despite Chandler's complaints in Friends season 9, Tulsa is actually a gem. There's so much to explore while spending little to no money. And the hotel rates are some of the best of any major city out there!
Free attractions:
Gathering Place is a public park that's more like a resort and may very well make it worth the trip to Tulsa all on its own.
Woodward Park is surrounded by old, historic neighborhoods and feels like stepping into a fairytale.
The Center of the Universe: Hunt to find this eerie, discreet circle at 1 S. Boston Avenue in downtown Tulsa. If you stand on the center and speak, your voice echoes.
Cheap attractions:
The Tulsa Zoo: Spend the day with lions, elephants, giraffes and more for less than $50 for a family of four.
Decopolis is Tulsa's art deco museum, and it's a shimmering gold spectacle of 1930s glamour.
Andolini's Pizzeria has my name written all over it. If you're going to go out to eat, paying for pizza beats buying individual entrees for everyone. Plus, guys, it's pizza.
9. Gatlinburg, Tennessee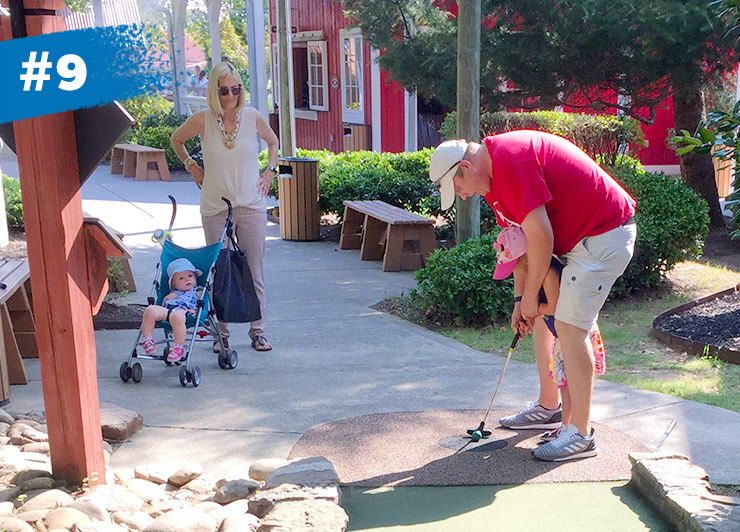 You know I can't make a list of places to travel without including a destination from my home state. The Great Smoky Mountains are a popular tourist destination year-round, and here's a few reasons why.
Free attractions:
Cades Cove: If you're looking for tons of panoramic views you can enjoy in the comfort of your own car, check it out.
Clingmans Dome is an observation tower at the highest point in Great Smoky Mountains National Park.
Grotto Falls: Take the 2.6-mile hike from the Roaring Fork Motor Nature Trail to see the 25-foot waterfall.
All the hiking: There's really no shortage of hiking opportunities here. I'm no expert in that, but Google is!
Cheap attractions:
Cabin lodging: When you go to Gatlinburg, you've got to stay in a cabin. They're surprisingly affordable, and who doesn't want to wake up every morning to a mountain sunrise?
Dollywood is a theme park, water park and resort all in one. Tickets start at $80, but you'll save a bunch of money on multiple days if you buy the tickets in a bundle.
Delauder's BBQ is a great spot for traditional barbecue.
The Donut Friar: The best donuts in town! It's cash only, so I'm already a fan!
10. Raleigh, North Carolina

The Raleigh-Durham area is beautiful, trendy and great for both families and couples. You won't have to spend too much to get a decent hotel room, and they have reasonably-priced nonstop flights from many cities in the South and Midwest.
Free attractions:
Pullen Park: There is plenty to do at this park, and you can even pose for a cute picture with The Andy Griffith Show's Andy and Opie.
Museum of Natural Sciences: Learn about dinosaurs, butterflies, fish and more!
Wrightsville Beach and Carolina Beach are about two hours outside of Raleigh. Pack up a cooler and spend a day at the ocean!
Cheap attractions:
What to Do Before You Travel
Researching alternative, cheaper options is what this article is all about—because problems start when you go on vacations that you can't afford. Keep your financial goals on track by doing these things before you travel:
Research all the free or low-cost attractions.
Stay with friends or family.
Travel with others to split costs.
Pack snacks.
Budget ahead.
Always compare airlines.
My best tips and strategies for getting the cheapest flight you can are in this video:
And don't forget: Plan for everything. Things always cost more than you expect, so build in a buffer to cover the unexpected stuff.
Give your vacation budget a head start with the money you free up by using my 14-Day Money Finder!