Inflation. It's the headline in every news story, the butt of the joke in every meme, and the word we curse under our breath. Sure, the word inflation is turning out to be the buzzword of the decade—but it's so much more than that. This buzzword is actually zapping Americans of their hard-earned money faster and faster each month.
And it's no surprise that our State of Personal Finance report found that 71% of Americans say inflation price jumps have impacted their lives—with 26% saying it has had significant impact. That means half of the country is struggling trying to keep up with the growing weight of inflation. Nope, you're not the only one sitting around wondering, Why is everything so expensive? We're all feeling it.
What Is the Rate of Inflation Right Now?
In case you missed it, the Consumer Price Index has the inflation rate at a whopping 6.4% right now.1 And all along, some experts have said this would only be a "transitory inflation"—aka temporary. Well, it's been anything but that. And to top it off, 78% of Americans think it will keep going up over the next six months.2
You can't control how much inflation swings up from month to month, but you can stay on top of your money to handle inflation. Even if you feel powerless against those rising numbers, there are still a ton of practical ways you can combat inflation. Let's dig into how to beat inflation one empowered step at a time.
Protect Your Four Walls Against Inflation
Watching inflation numbers climb like someone going up El Capitan flat out stinks. And the sticker shock doesn't stop there. It hits you every time you walk into the grocery store, pump gas, open your electric bill, or take a peek at housing prices.
If money is tight and getting tighter by the second, you need to make sure the most important things in your budget are covered. No, we're not talking about your Amazon Prime membership or your Disney+ streaming subscription. You need to make sure your Four Walls (food, utilities, housing and transportation) are paid for each month. Here's how to beat inflation and keep your Four Walls guarded!
Food
You're not dreaming—that banana is costing more these days. Heck, it seems like the price of groceries goes up with every new trip to the grocery store (and it probably does).
Get this: Since January 2022, the price of groceries has jumped 11.3%!3 Our State of Personal Finance study found that 82% of people have noticed higher prices at the grocery store in the last three months. And like it or not, you've probably had to up your grocery budget just to cover the cost of the same items you were buying six months ago.
So, just how much are Americans spending these days? The average cost of monthly groceries for one person ranges from $248 to $439.4 And when it comes to a family of four, the average cost for their monthly grocery bill shoots up to around $1,000.5 Yikes!
Ways to Save on Groceries
You might feel like you've tried everything when it comes to saving money on groceries. And maybe you have. But don't forget, saving money at the grocery store comes down to a lot more than just using a few store coupons and an Ibotta deal (although, we do love both of those things).
1. Shop at the cheapest grocery stores.

Start budgeting with EveryDollar today!
Shocker—Whole Foods (aka Whole Paycheck) won't have the cheapest prices on food. And that means if you really want to cut back on your grocery bill, you have to rethink where you shop. In the U.S., some of the top cheapest grocery stores are Aldi, Market Basket, WinCo Foods, Food 4 Less, Costco, Walmart and Trader Joe's.
2. Look for foods that give you more bang for your buck.
Are we talking about beans and rice? Yeah we are. Beans and rice are cheap, healthy, and you can use those ingredients to make all kinds of easy meals. Rethink dinner if you need to, and look for foods like this that will go a long way in your cooking. Not every meal needs to have a big slab of meat to go with it either. Meat is super expensive these days, so only buy it when it's on sale.
3. Cut out the wants, and only buy the items you need.
You need food for breakfast, lunch and dinner—you don't need chocolate chip cookies, kombucha and the fresh watermelon that costs $7 because someone else cut it for you. If your grocery budget is being blindsided, it's time to have a serious conversation with yourself about which groceries you need and which ones you don't.
4. Use cash-back apps and coupons.
All right, we took a jab at these in the beginning, but they really can make a huge difference in your grocery budget. Use cash-back reward apps like Ibotta, Receipt Hog, Checkout 51 and Fetch Rewards to help you save. While rebates don't give you a discount up front (like a traditional coupon), you should see savings in the long run once those cash-back savings add up.
And let's not forget, coupons can be a big help too. Grocery stores and brands offer lots of coupons for a ton of items. Just make sure the coupon is for an item you already buy—aka don't buy something random just because there's a coupon for it. Some grocery stores will double your coupon on specific days of the week or give you $5 off a purchase of $50 or more (which isn't hard to hit these days).
Utilities
Have you opened up your electric bill lately and noticed that it tripled? Yep, welcome to the world of higher energy prices thanks to inflation. Since January 2022, energy service prices have gone up by almost 15.6%!6 That's madness. No wonder it's costing an arm and a leg to keep your home warm and keep the lights on.
Ways to Save on Utilities
Whether you're trying to cut down on your electric bill or heating bill, you can use these tips to hit back at energy prices.
1. Don't run appliances unless they're full.
The kids got chalk stains all over their pants—again. But instead of washing those pants alone, wait until you have enough clothes to run a full load of laundry. The average washing machine uses 590 kWh, and the average dryer uses 769 kWh.7 And that all adds up.
And when it comes to the dishwasher, the same thing is true. Don't run it unless you have a full load to wash.
2. Program your thermostat.
Spoiler alert: If you're not going to be home all day, the heat doesn't have to be pumping through the house. You can save as much as 10% a year if you drop your thermostat down 7–10 degrees for eight hours a day.8 So turn down the thermostat before you head out the door.
3. Use less.
This one seems like a no-brainer, doesn't it? But if energy costs are busting up your budget, one of the best things you can do is try to use less of it. Even the little things like turning off the lights and putting on an extra layer of clothing can do a lot to keep you from using more.
Housing
Like everything else right now, the price just to live somewhere is insane. And that's whether you're renting an apartment or buying a three-bedroom home. Since January 2022, the price of paying for a roof over your head increased 7.9%.9
Renting
Did you get a letter saying your rent is going up? Yep, a lot of folks did in the last year. Rent prices ballooned in the last year, with the national median monthly rent sitting at $1,712 in December 2022.10 Sheesh. Rent increases really stink—especially when the price increase is so massive. But you don't have to stand by and take the hit. Here are some practical ways you can brace yourself for that rent jump.
Ways to Save on Rent
1. Get a roommate.
Okay, we get it—you don't want to live with other people. People are complicated. People don't want to wash their dishes after cooking spaghetti. But you know what? Those same people can cut that nearly $1,900 rent down to only $900 or even $600. For a savings like that, you can put up with a few extra dishes in the sink.
2. Sign a longer lease.
If you know you want to stay in the place you're in right now, do a little negotiating with your landlord. If you sign a 16- or 18-month lease, your landlord might drop the monthly price for you or let you lock in your rate to help protect you from that rent going up. Bottom line? It never hurts to ask and brush up on those negotiating skills.
3. Move out.
Yep, moving is the worst. Packing up all your belongings and physically moving them to a different place is a big ol' pain. Nobody likes moving. But if you can find cheaper rent 15 miles outside of town—suck it up and make the move.
Buying
You might have heard it's a little impossible to buy a house right now. Between inflation, housing shortages and lower mortgage rates, home values have gone through the roof. Which is great news if you're selling your house but not so great news if you're trying to buy your first place.
The national median home price was $366,900 by the end of December 2022.11 Now, with the fed hiking interest rates back up again, home prices might slow down.12 Why? Well, when mortgage interest rates are higher, there are usually less people in the market for homes. Still, the projection for 2023 housing trends is that prices will continue to go up, just not at such a fast-paced rate.
Ways to Save on Housing
1. Save 10–20% for a down payment and avoid PMI (private mortgage insurance).
Like everything on this list, this is our core advice no matter what's going on in the world. The more money you have for a down payment when you buy a house, the better—because it'll lead to a smaller mortgage. So the more you save up , the less your mortgage will be. Which means your house payment will be less too, and we're big fans of that.
Plus, even though missing out on paying PMI might not lower your mortgage total, it will lower your monthly mortgage payment. That's a huge win!
2. Make sure your house payment isn't more than 25% of your monthly take-home pay.
You don't want to be house poor at any time and definitely not with inflation on the loose. Making sure your house payment isn't more than your income can handle will help you have enough room in your budget to live.
3. Wait until the market cools down.
We get it—house-buying fever is real. But just because you want to buy a house right now doesn't mean you should. With federal interest rates expected to rise later this year, we should see the housing market cool off a little as mortgage interest rates adjust to the change. If house prices right now are making your skin crawl, then just ride it out and wait for prices to come back down.
Transportation
Gas Prices
To get from point A to point B, you need transportation. And for most folks, that means a car. But unless you've got a car that runs on electric power, you're going to need gasoline to keep your ride on the road. Inflation (and the Russian-Ukrainian conflict) has increased the price you'll pay at the pump—by a lot.
Ways to Save on Gas
There are plenty of ways to save money on gas that don't include having to pedal your car around like Fred Flintstone.
1. Join gas rewards and cash-back programs.
Sign up for gas rewards programs at places like Kroger and Costco (just make sure they're free rewards you're signing up for and not credit cards). Or check out cash-back apps like GetUpside to score some extra cash in your pocket every time you head to the pump.
2. Use apps to track the cheapest gas prices.
You don't have to waste gas driving around town looking for a good deal. Just use an app like GasBuddy or Waze to find the cheapest gas prices in your area.
3. Make one trip.
Have a bunch of errands to run this week? Knock them all out in one trip instead of making eight different trips to the store during the week.
4. Carpool.
When all else fails when it comes to saving money on gas, there's always carpooling. Hear us out—carpooling to the office, to school or to the kids' soccer game is a great way to build some human connection while saving money too.
Car prices
Thinking about buying a car these days? Be prepared for the cost to be higher than ever—even if you're looking at used cars. In December 2022, the average price paid for preowned vehicles was about $27,000.13
Ways to Save on Cars
Car prices are nuts, but there are a few ways you can save (our favorite might just be number one).
1. Don't buy a car right now.
First of all, this isn't the best time to be in the market for buying a car—it's just not. Get creative and try to think of ways to make things work for a while without having to make a car purchase. Put it off unless your current car broke down and you need a new one ASAP to get to work.
2. Shop around for auto insurance rates.
Okay, if you decide you're going to keep your current ride, it's time to shop around and see if you can score a cheaper auto insurance rate. If you can lower your yearly premium by $375, that would free up more than $30 in your budget each month!
3. Carpool with coworkers.
Instead of shelling out cash to buy a car right now, just hitch a ride to work with coworkers. It doesn't have to be forever, but sharing your commute can make a huge impact and save you from making a knee-jerk car purchase.
4. Share a car.
Have a second car? Maybe you and your spouse can share one car between the two of you. Ask around and see if you can borrow a vehicle from someone who isn't using their second car right now.
5. Budget for a used car.
If you're going to tackle the craziness of buying a car right now, make sure you budget for the cost, shop around to find a good deal, and get the car inspected at a reliable mechanic.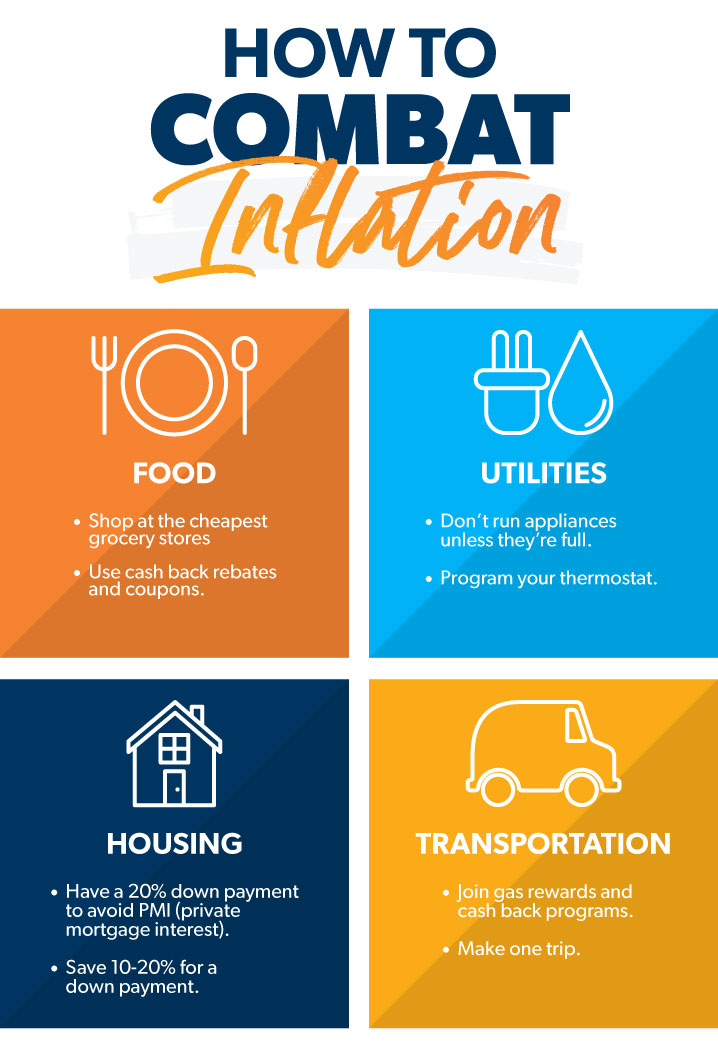 Watch Out for These Traps
Okay, so everyone out there has an idea about the best ways "help" you handle inflation. But guess what? Their ideas aren't all they're cracked up to be. Be sure to steer clear of these traps.
Buy Now, Pay Later
If you haven't seen a buy now, pay later option when you're shopping online, just wait—you will. These guys charm people with the idea of breaking up their big-time, can't-afford-it purchase into just four small payments. In fact, 35% of shoppers say they'll be more likely to use buy now, pay later options as the cost of living goes up.14 A lot of people jump at this option without even realizing it's debt. But 36% admit to using buy now, pay later to spend more than they can afford.15
At first, you might think that breaking up the payments will help you combat inflation. After all, paying a little bit for something now and a little bit for it later isn't that big of a deal, right? Wrong. If you can't make that next payment (because inflation took too much of your paycheck at the grocery store), you're going to get hit with interest and late fees.
And guess what? People do miss payments on these things. Our State of Personal Finance study shows that 3 in 4 people who used buy now, pay later installment plans in the last three months have missed a payment.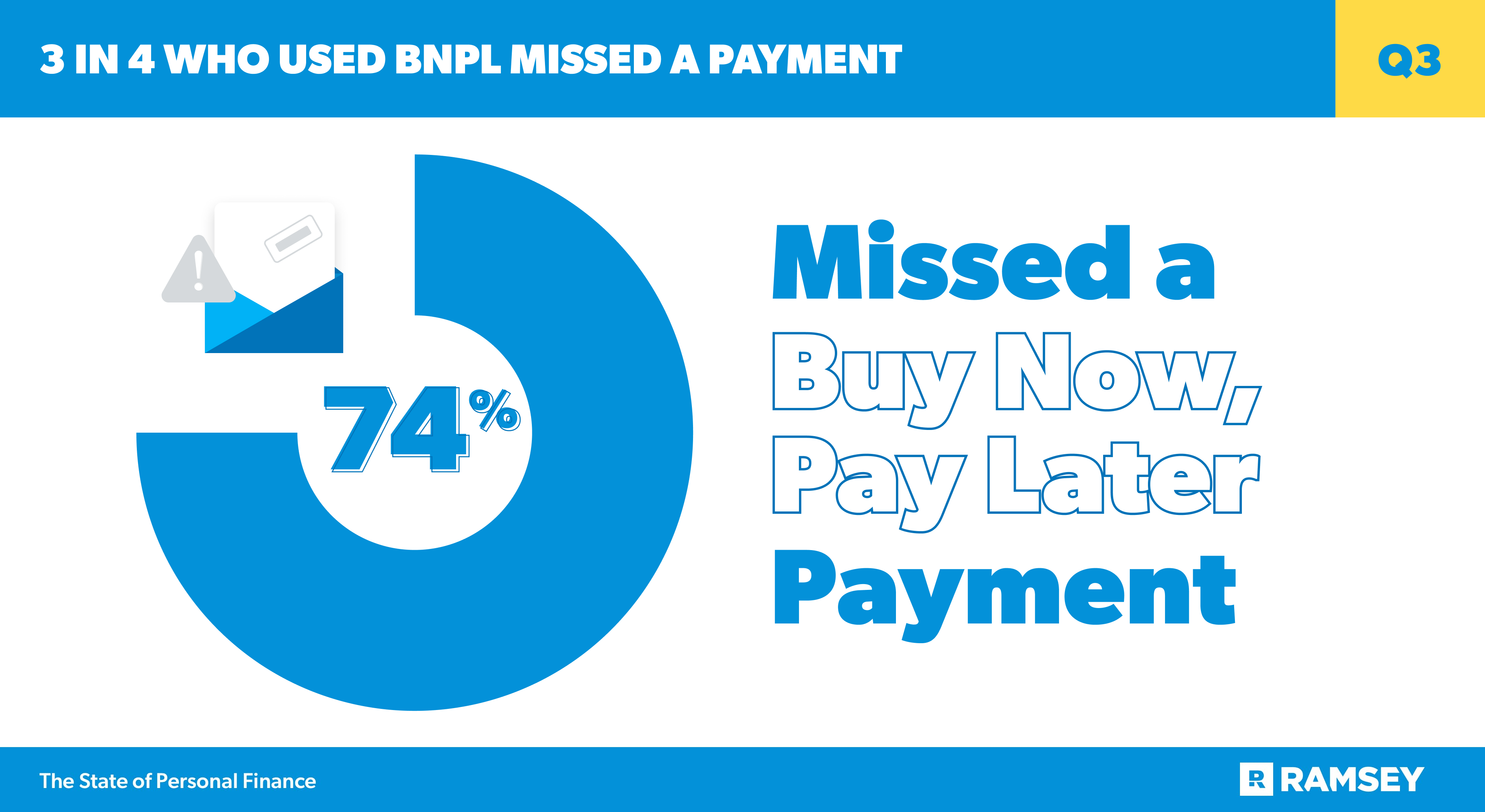 Store Credit Cards
These things try to suck you in with the discount: "You'll get 10% off every purchase when you use our store credit card!" But don't let that "discount" fool you. Opening up a store credit card isn't a money-saving hack (sorry to break it to you). Debt is debt. Even when it comes with a 10% off coupon.
Zero Percent Financing
Can't afford to buy things because of inflation? Zero percent financing would gladly help you pay for things you can't afford. But hold up. Don't fall for this one either. Just because they're being oh so kind and holding off on slapping you with interest right away, that doesn't mean anything. When the interest does kick in (oh, and it will), it's going to throw you for a loop. When that zero percent ends, these companies usually make up for lost time by hitting you over the head with high interest rates.
Personal Loans
When you're already struggling to make ends meet, a personal loan might look like the life raft you need to keep from sinking. But the truth is, it's not. Loans don't fix the problem—they just dig a deeper hole for the problem you already have.
More Tips to Combat Inflation
Believe it or not, we've got a couple more ways to combat inflation up our sleeve. Give these a try too:
Buy Less Stuff
Now, before you call us Captain Obvious, hear us out. A lot of people can't handle the idea of tweaking their lifestyle and making sacrifices to spend less money. They hate the idea of buying a generic brand and saying no to impulse purchases. Even though it's an obvious answer, people still don't want to do it. But the truth is, if gas for your car is going to cost you more, then you've got to focus on something you can control (like your spending) to help free up more cash.
So, where can you cut back and make a few sacrifices? Try a spending freeze where you don't spend anything all weekend long. Switch to the generic brands at the grocery store. Connect with people again and carpool in to work to save on gas. Try whatever you can to cut back wherever you can.
Make More Money
With the gig economy gaining speed and side hustles everywhere you look, it's pretty easy to make extra money these days. Have a slow weekend? Get started with Door Dash, Task Rabbit, Uber or Lyft. You could even pick up a part-time job in the evenings or weekends too. Bonus: You'll probably get a store discount on top of the extra income. If you work Saturdays at Target, you'll not only make some extra cash, but you'll get a markdown on groceries there too. Win-win!
And what about making more money at your full-time job? Good news on the salary front—companies are planning to increase the average raise by 4.6% this year.16 Nice! But there's some bad news here too—inflation is moving faster than raises are. Remember, in the last 12 months, the price of goods and services has gone up 6.4%.17 And if your next raise isn't 6.4% or better, inflation will eat up all the new ground you gained with that raise.18 Bummer.
Now, that doesn't mean you shouldn't work toward a promotion or get up the guts to ask for a raise. But it does mean you should make a plan for your money so you're getting the most out of every single dollar.
Budget Your Money
Look, if your budget has been derailed by inflation lately, you're not alone. But just because things cost more now, don't throw your budget out the window. Heck no! You need a budget now more than ever.
Don't let it all overwhelm you—you've got this! Prices going up just means you have to rework your budget. If you need to bump up the grocery budget these days, just be sure you're taking money from somewhere else. Like, oh, let's say the restaurants category. That's right, you've got to cut back somewhere. And if you've got all those groceries in the fridge, then stay home and eat those instead of dropping $50 going out to eat.
We know—budgeting might feel like more of a headache right now, but our free budgeting app, EveryDollar, makes that much easier. You can keep an eye on things, track what you spend, and make tweaks on the fly all right from the app. So tell those rising prices to get the heck out of here—because you've got a plan to combat inflation.
Did you find this article helpful? Share it!