If you feel like your grocery bill has gone up lately, you aren't alone. For the past two years, groceries have risen big time. Prices on fruits and vegetables have jumped 7.2%, and the price of dairy and related products has blown up 14%—in just this past year!1
Whoa. That can take a huge chunk out of your monthly budget. The good news is, you can find budget-friendly grocery store options near you with my list of the top 10 cheapest grocery stores in America.
What Is the Cheapest Grocery Store?
Our research shows four out of five Americans are changing the way they shop for groceries because of inflation. Maybe it's time for you to make a change—and find a cheaper store.
My team and I did research online and in person to find the best places with the best deals. Let's look at our top 10 grocery stores, how they keep their costs low, and the best things to buy at each store.
Jump to the Cheapest Grocery Stores:
Aldi
Market Basket
WinCo Foods
Lidl
Trader Joe's
Costco
Walmart
Food 4 Less
H-E-B
Sam's Club

1. Aldi
Want the best deal ever? Grab a quarter (you'll need it to rent a shopping cart) and head to Aldi!
How They Keep Costs Low
Originally from Germany, Aldi is famous for their ruthless cost-cutting strategies, like expecting customers to take care of tasks employees usually handle. Remember how they rent out their shopping carts? That means Aldi doesn't have to pay staff to collect them.
And if you forget to bring your own bags, you'll have to pay for paper or plastic—or go without. That's right, you'll bag your own groceries at Aldi. These cost-cutting inconveniences might seem weird at other chains, but Aldi shoppers don't seem to mind. Probably because keeping costs low is a big reason Aldi is one of the cheapest grocery stores—and we all love saving money.
Best Things to Buy
My favorite things at Aldi are baking supplies, fresh produce, wine, chocolate, cheese and of course canned goods—which can be as low as $0.65 per can.
Pro tip: Aldi's specials change up each week. As you're meal planning and creating your shopping list, search your zip code on their website to see what's on sale in your area!
2. Market Basket
Market Basket is a New England supermarket with a more than 100-year legacy. Yep, that's right: You won't find one here in the Nashville area where I live. But if you're in the Northeast, you're in luck.
How They Keep Costs Low
How does Market Basket achieve their "More for Your Dollar" tag line? Well, they have a much smaller corporate staff than other grocery chains of similar size. And they stock all their stores with almost the same products, meaning they streamline purchasing for their stores and pass on the savings to the customer.
Best Things to Buy
If you go to Market Basket, you have to try the local New England goods. Check out Rhode Island clams, maple syrup, and their unique regional produce like apples from Maine and pears from New Hampshire.
3. WinCo Foods
With an average footprint of 90,000 square feet, employee-owned WinCo Foods is a physically huge grocery store with massive bulk sections. But unlike their warehouse cousins Sam's Club and Costco, they don't require memberships. Anyone can shop there!
How They Keep Costs Low
WinCo Foods doesn't accept credit cards (to avoid paying those transaction fees!), employ baggers, or spend a dime on advertising. The Idaho-based chain passes on those savings to you, and their strategy seems to be working since they are at 134 stores and growing.
Best Things to Buy
I know you're on the hunt for the cheapest grocery stores. If you're in the Pacific Northwest, check out WinCo Foods for their rock-bottom prices on bulk and organic items. You won't be sorry!
4. Lidl
Lidl (rhymes with beetle, not idle) wants to be your favorite affordable, high-quality grocery store. They don't only sell grocery goods—you also can find small kitchen appliances, gardening stuff, toys and even power tools at this East Coast chain.
How They Keep Costs Low
Lidl made the cheapest grocery store list with their intentional efficiency standards. Their stores are designed to get shoppers in and out quickly—meaning they can sell more products to more shoppers. And they eliminate "any unnecessary costs," like paying employees to unpack produce. Instead, they just put a new box of produce on the stand.2
Best Things to Buy
Good news for families trying to eat healthy on a budget: Lidl has a reputation for top-shelf produce. They also have a crazy good spice rack—I'm talking $0.85 for onion powder, cinnamon and more. And if you shop for certified seafood, you'll be happy to hear that Lidl products are good for the planet and good for your budget all at the same time.

Try our free Meal Planner to save money on groceries!
Pro tip: If there's a Lidl near you, visit one of their more than 100 stores on the weekend, when their "super deals" come out. Budget-savvy shoppers know the most important part of saving on your groceries is to meal plan, so check out their myLidl app to find great sales ahead of time.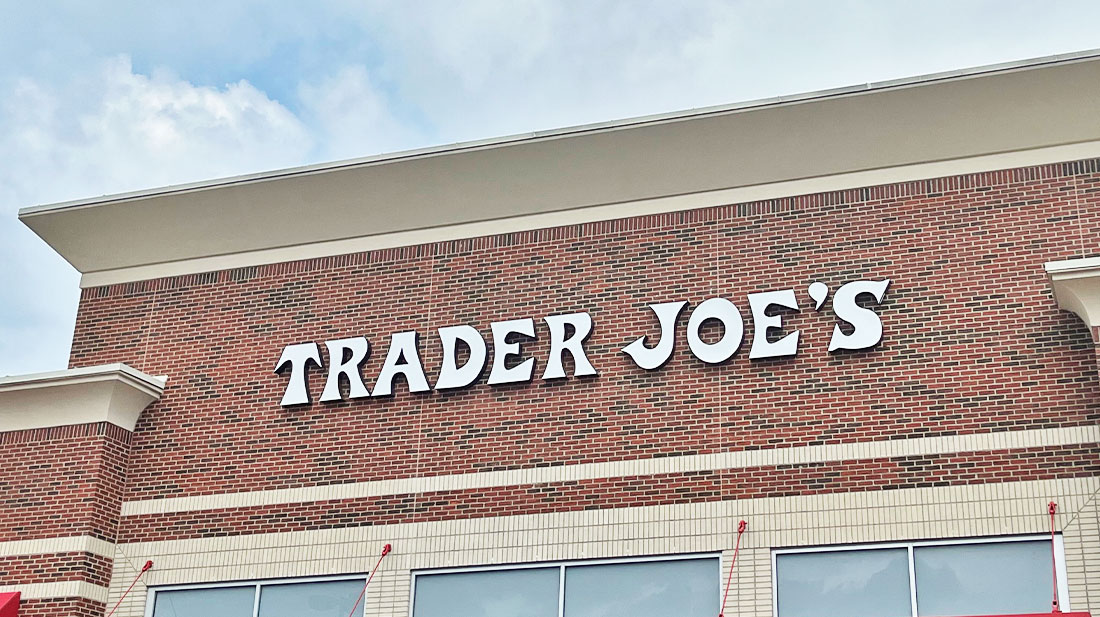 5. Trader Joe's
If you combined a convenience store, a produce stand, and an international market into an island-themed grocery store, you'd get a Trader Joe's! This petite grocery store is more than just a store to its fans—shopping there is an adventure. At TJ's, kids push adorable pint-sized carts and employees are called the "crew." Plus, supervisors (aka "mates") and managers (the "captains") sport colorful Hawaiian shirts. Not a bad uniform if you ask me!
How They Keep Costs Low
How did Trader Joe's make the cheapest grocery store list? Most of their products are store brand, so they can say yes to low prices and no to the middleman.
They also put supplier shelving fees on the chopping block, and in exchange, vendors provide their merchandise at a discount. And they don't do coupons—ever. Yes, I'm tearing up a little bit on the inside. But there is good news: Everything is always priced as low as possible.3
Best Things to Buy
What are the best things to buy at Trader Joe's? Well, they win in the weird food category, that's for sure. Ahem—Trader Joe's calls weird food their unique product offerings. Either way, if you're looking for honey-roasted pumpkin ravioli, sweet cinnamon-filled Korean pancakes, or vegan chickpea masala salad (whatever that is), Trader Joe's has you covered. Why not take TJ's up on their adventurous product invitations and pair some new-to-you food with my romantic dinner ideas for your next date night?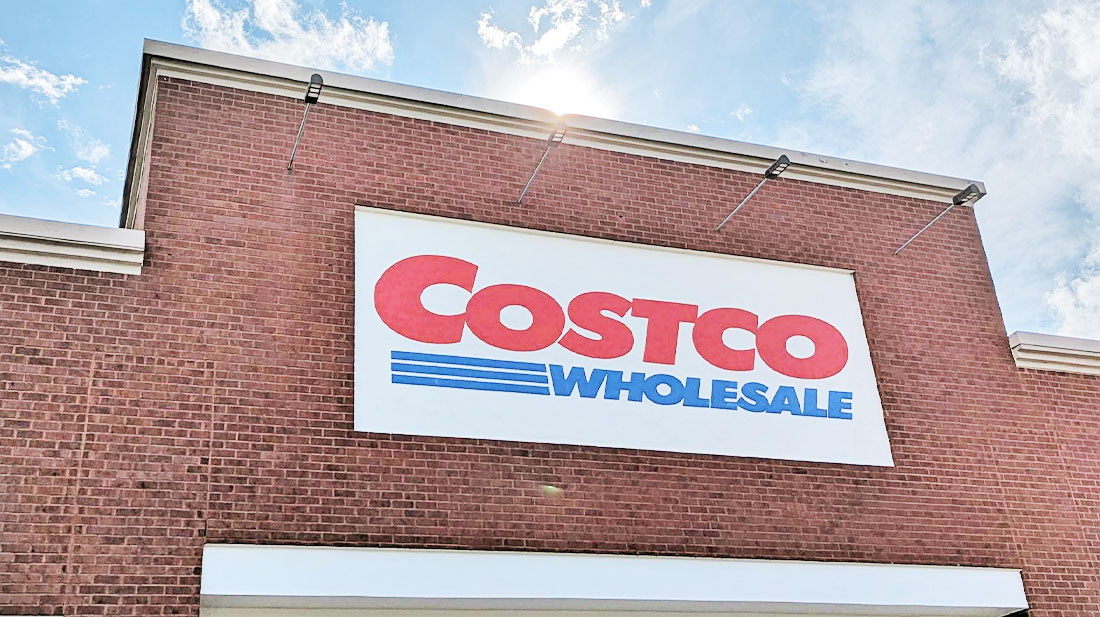 6. Costco
Get ready, guys, because we're going to the most magical place on earth—Costco! I use my Costco membership every week thanks to all the wonderful things they offer. Be careful—it's easy to run in for water and come out with a charcuterie board, 10 gallons of milk, and a patio set. Trust me.
How They Keep Costs Low
Costco is on a never-ending quest for efficiency. And have you ever seen a Costco commercial? Nope! They do almost no traditional advertising, passing the savings on to customers.
They don't hire workers to unpack boxes, either. If you've been to a Costco warehouse, you know that products are purchased in bulk and placed directly on warehouse floors with little attention paid to how the store actually looks. Costco also offsets prices with its membership fee, which ranges from $60–120.
Best Things to Buy
Because you're buying in bulk, this is one of those places where you can save a lot. Plus, their Kirkland Signature brand is a great way to save—and still enjoy the quality of your favorite name brands. Kirkland's cranberry juice is made by Ocean Spray. Kirkland's coffee? Made by Starbucks. And their diapers (all the moms say amen) are by Huggies, but by shopping at Costco, you save $10 a box!
And at Christmastime, did you know you can even buy real American Girl dolls at a discount? (I know that's not in the grocery budget—I just think it's pretty cool.)
I'm going to close my Costco love letter with a mention of their food court. They may be famous for their $1.50 hot dogs, but the unsung hero is their hot and delicious 18-inch pizza for just $9.95. You're welcome.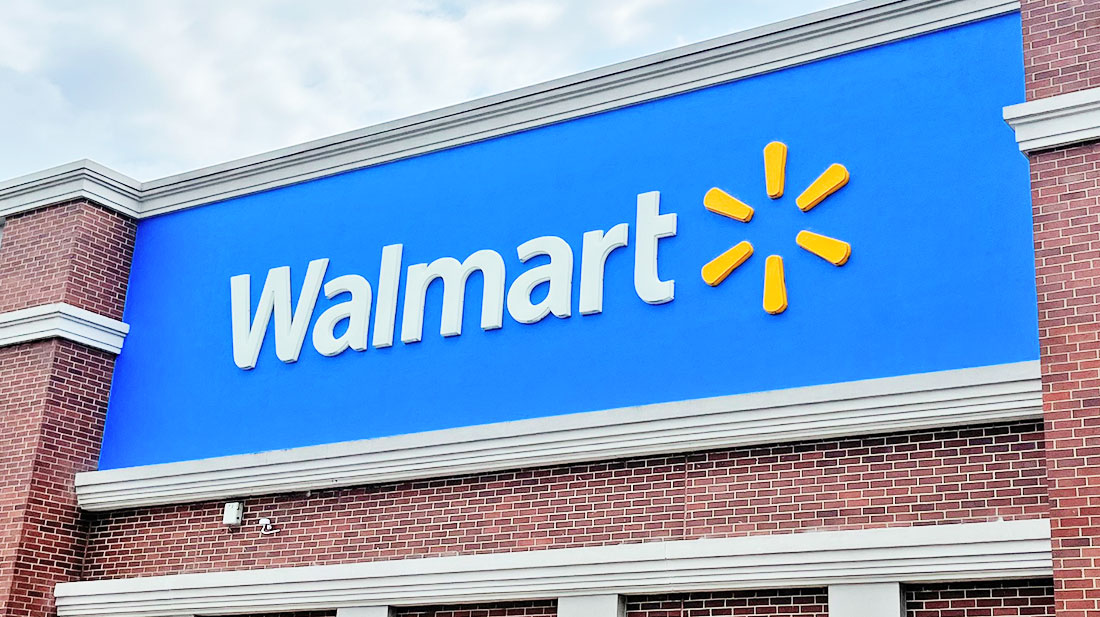 7. Walmart
Walmart is the world's largest retailer, known for massive stores, large selections, and most of all, low prices. It's nice that Super Walmart is a one-stop shop, so you get your lawn stuff, clothes, jewelry, gift items and groceries all in the same place. Or maybe it's not so nice, since my $5 frozen pizza trips have the potential to turn into $40 toy trips.
How They Keep Costs Low
Walmart made the history books in 1950 when Sam Walton first began rolling back prices at Walton's 5&10. Today, thanks to its huge global footprint, Walmart can get lower prices from its vendors, then pass those savings on to customers.4
Best Things to Buy
Walmart is known for the basics—pantry staples, toiletries, laundry detergents and cleaning supplies. And even though I personally tend to eat like a 5-year-old, you healthy eaters will be happy to know Walmart now has organic, keto and gluten-free items.
8. Food 4 Less
Food 4 Less is an affordable grocery chain (you knew that already—it made the cheapest grocery store list!) with stores scattered throughout the West Coast. When you visit a bright yellow Food 4 Less, you could be going into an independent store or one operated by Kroger. Not only are they budget friendly, but some also have Mexican-style carniceria meat departments. A Mexican deli? Take all my dinero!
How They Keep Costs Low
Expect to bag your own groceries. Food 4 Less is a warehouse-style supermarket, where efficiency is king.
Best Things to Buy
Shop at Food 4 Less for your basic grocery, health and beauty items. I also hear they have a surprisingly affordable organic produce section and wide selection of gluten-free items!
9. H-E-B
Texas lovers, this one's for you! With more than 420 stores in Texas and Mexico, grocery giant H-E-B will hand you a tortilla to snack on while you shop. (Winston, pack the kids, we're moving to Texas.) The store that's been serving Texans since 1905 has captured the hearts, minds and wallets of residents of the Lone Star State with its proud Don't Mess With Texas products.5
How They Keep Costs Low
H-E-B says they're "relentlessly dissatisfied with the present" and always looking for ways to offer customers products at better prices.6 The Texan supermarket emphasizes local foods, so they cut down on transportation costs.
Best Things to Buy
H-E-B sells the Texas way of life through their Totally Texas regional products. Put on your boots and head to an H-E-B for Whataburger sauces, San Antonio's Cafe Olé coffee, Clint's Texas Salsa, and just about anything you can imagine in the shape of the state of Texas. Not kidding! All this adds up to big savings for Texans (who already believe they're in the best place to live).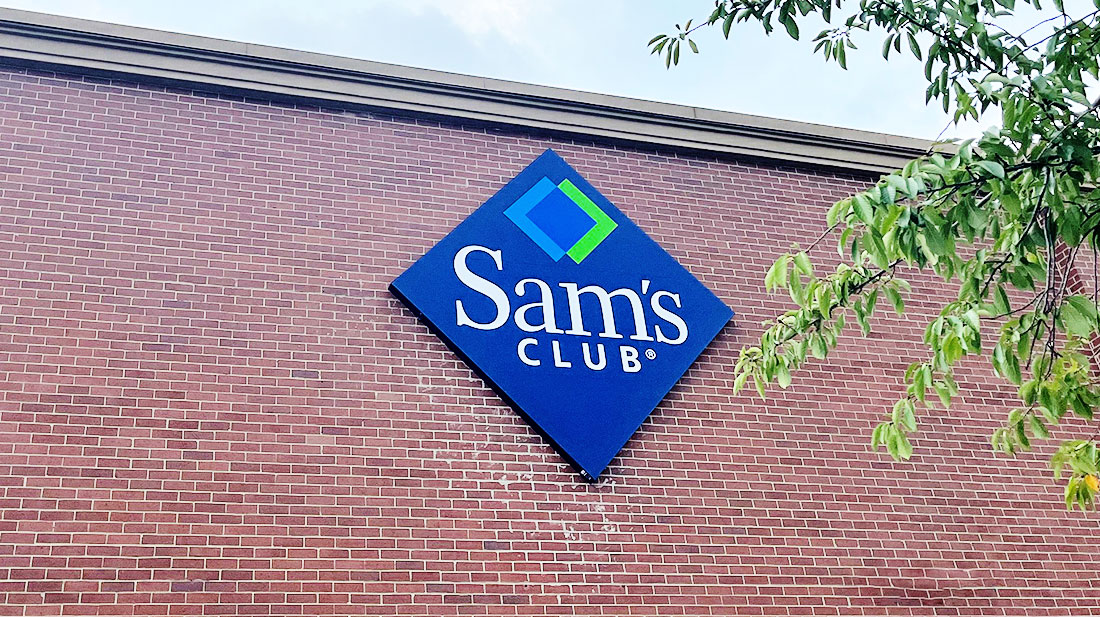 10. Sam's Club
Sam's Club is Walmart's version of Costco. Even if you've never been to America's third-largest retailer, you wouldn't be surprised to see that it sells most of its goods in bulk and off pallets.7 And what's not to love about their endless free samples?
How They Keep Costs Low
If you're a Sam's Club fan, you're familiar with their cost-cutting strategies like buying in bulk, membership fees, and leveraging their vendor relationships with sister company, Walmart.
Best Things to Buy
Some things my friends love to buy in bulk at Sam's Club are vitamins, protein bars, toilet paper and their extreme value gift cards. Have you seen these? You can purchase a $100 value gift card for just $75 at Sam's Club. Hello, teacher gifts! Sam's Club will load you up with more than just grocery items, though—try booking flights, cruises and hotels through Sam's Club Travel.
Trying to get in and out fast? Sam's Club is one of the only grocery stores that has "scan and go" technology in its app, which lets you ring up your own goods right in the cart so you can bypass the checkout lane entirely.
Get More From Your Grocery Budget Anywhere You Shop
Where do people overspend the most?
Food.
It's no wonder everyone wants to know which grocery store is the cheapest.
Yeah, I've been there—but it's not just where you shop that determines if you're in control of your money. It's how you shop.
That's why I made my brand-new Meal Planner & Grocery Savings Guide. This is exactly how my family keeps our groceries under control every week. I wasn't always a good meal planner (just ask my Chick-fil-A down the street if you don't believe me), but I've learned how to save time and money while getting rid of stress—and now you can too.
My Meal Planner & Grocery Savings Guide will help you save time and money because:
It includes a digital and printable grocery list and meal calendar.
Being organized will take the stress out of last-minute dinner decisions.
Planning ahead will let you take advantage of apps, store sales and coupons.
You won't be tempted to blow the budget at the drive-thru.
You'll take back control of your grocery budget.
What are you waiting for? Get started right now with your Meal Planner & Grocery Savings Guide!
Take the stress out of grocery shopping!
I'll walk you through scheduling out your breakfast, lunch, dinner and snacks for each day, step by step, so you can easily create your grocery list from there.
Get the Guide
Did you find this article helpful? Share it!