Traveling on a budget? Timing is everything—especially when you're booking a plane ticket. These days, flying in general has gotten crazy expensive. According to the Bureau of Labor Statistics, airline ticket costs rose 18.6% in April 2022 after rising 10.7% in March 2022.1
If you thrive on a challenge, finding cheap airfare will be your new favorite pastime. It all starts with knowing the cheapest days to fly. We've got the scoop on that (and the best time to buy plane tickets) right here.
What Are the Cheapest Days to Fly?
Great question. It turns out, the day of the week you choose to fly makes a huge difference in the cost of your tickets. No matter where you're jetting off to, the cheapest days to fly are Tuesdays or Wednesdays (with Wednesdays leading the charge by a dollar).
In fact, a recent airfare study found you'll save an average of $57 flying on a Tuesday or Wednesday compared to flying on a Sunday (the most expensive travel day).2 That might not seem like huge savings, but if you're buying for a family of four, that's an extra $228 in your pocket just for picking a different day of the week!
Take a look at the cost differences for these round-trip flights found on Google Flights for mid-September 2022:
Nashville to Los Angeles:
Flying Wednesday to Wednesday: $178
Flying Sunday to Sunday: $228
Miami to Boston:
Flying Wednesday to Wednesday: $64
Flying Sunday to Sunday: $134
Denver to Rome:
Flying Wednesday to Wednesday: $1,193
Flying Sunday to Sunday: $1,315
If you can't fly midweek, you may be able to find a deal on Saturday flights. Just avoid traveling on a Friday or Sunday—those are typically the most popular days to fly, making them the worst flight options when it comes to your wallet (and your sanity).
Pro tip: Choose more inconvenient flight times—like early morning, late night or even overnight flights. Tickets are typically cheaper for less desirable flight times, and flights are usually less crowded! What you sacrifice in timing, you make up for with less stress and money back in your wallet.
What Are the Cheapest Months to Fly?
Fall and winter months tend to be the cheapest times to fly because those aren't popular vacation months—except around Thanksgiving, Christmas and New Year's, of course. The most recent data shows February is the cheapest month for airfare, followed by January and April.3
A good rule of thumb is to avoid traveling during the summer or around spring break (March) to get the best flight deals possible. Airlines tend to jack up the prices just in time for school vacations. How convenient.
Most seasoned travelers know you're more likely to get a bargain if you vacation in the off-season. But don't miss this: The off-season looks different depending on your destination. For example, Florida is a popular spot for Northerners wanting to escape the cold winter, so it's actually more expensive to fly there in the winter and cheaper to fly there in May. And if you're planning a trip to Munich, you probably won't find cheap flights there in September or October because that's when the city hosts its world-famous Oktoberfest.
Doing a little research to discover your destination's off-season can help you find the best deals for flights (along with hotels and activities). And if you're just looking for a getaway but don't have your heart set on a destination, check out the cheapest places to travel in 2022.
When Is the Best Time to Buy Plane Tickets?
There are a ton of budget travel bloggers who claim Tuesday is not only a cheap day to fly but also the cheapest day of the week to book a flight. There's this age-old legend that the best flight deals drop on Tuesday afternoons because that's when airlines put up their sale seats.
The legend of the Tuesday flight sale may have been true at some point, but recent flight data says otherwise. According to a study done by CheapAir, the day of the week you book doesn't matter. It found the average low fare only varies by about $1, no matter which day of the week you book.4
So, there may not be a specific day of the week that's best for booking a flight, but there is a best time to buy in relation to your departure. That same CheapAir study found that travelers who booked their ticket 127 to 21 days before departure scored the cheapest flights.5
But like all travel hacks, the best time to buy also depends on the season. Here's when travelers got the best price on their seat based on 2021 flight data:6
Winter: Book 110 days before takeoff.
Spring: Book 76 days before takeoff.
Summer: Book 42 days before takeoff.
Fall: Book 77 days before takeoff.
Is It Cheaper to Buy a Plane Ticket at the Last Minute?
For as often as it happens in the movies, you might think there's a benefit to rushing up to the airport's ticket counter, begging for a seat on the next flight out. Just ask Kevin's mom in Home Alone as she tried to get a flight home to find her lost son. Or the characters of Planes, Trains, and Automobiles. Begging for last minute flights was a thing in the movies, but real life is a little different.

Every savings goal starts with a budget. Create yours today with EveryDollar.
According to flight trackers at Scott's Cheap Flights, airlines have done away with last-call price drops because they realized they can make much more money taking advantage of business travelers who will pay full price for a seat at the last minute.7 Turns out, businessmen and women will pay a premium to get to that important meeting across the country . . . and airlines want to take full advantage of it. Can you blame them?
Just remember: You're much more likely to get a cheap flight if you do some planning ahead of time. Recent data shows you'll pay an extra $150 on average if you book your flight less than a week before takeoff.8 Just do your homework, people!
What Are the Best Flight Booking Tools?
When it comes to traveling, everyone is looking for a bargain. Luckily, that means you've got a lot of great resources to help you find cheap flights! Here are some of our favorite budget-friendly travel tools:
Airfarewatchdog
FareCompare
Google Flights
Skyscanner
Scott's Cheap Flights
Expedia
Kayak
Notice we didn't mention buying flights with credit card rewards (ick!). That's because the whole idea that you're getting free flights and discounts is a huge scam. Don't believe us? Listen to Episode 2 of The Fine Print podcast to hear the surprising details we learned about rewards from a former executive at Capital One.
And while we're on the subject, you need to know it's just as easy to travel with a debit card as it is to travel with a credit card. Actually, it's easier. Why? Because you won't bring debt home with you as a souvenir . . . a really crappy souvenir.
What's the Best Way to Budget for a Vacation?
We've talked about some travel hacks to score cheap flights (like being flexible with your travel dates and working the system). But knowing the cheapest days to fly won't actually help you unless you have money in the bank to purchase those flights!
That's where a budget comes in handy. The best way to save for a vacation is with a little something we call a sinking fund—where you set aside a specific amount of money every month so you can spend it on a big purchase later.
Let's say you want to take a trip to Cabo San Lucas, Mexico. You'll have to decide when you want to take your vacation. For the best (and lowest) prices, you should try to buy your plane tickets at least three weeks out and no earlier than four months in advance.
But before you get to the booking stage, you need to start saving (remember that sinking fund we talked about?). Do a quick search for general airfare prices and divide that number by how many months you have left to save. That number is how much you should put away in your sinking fund every single month until it's time to book your flight!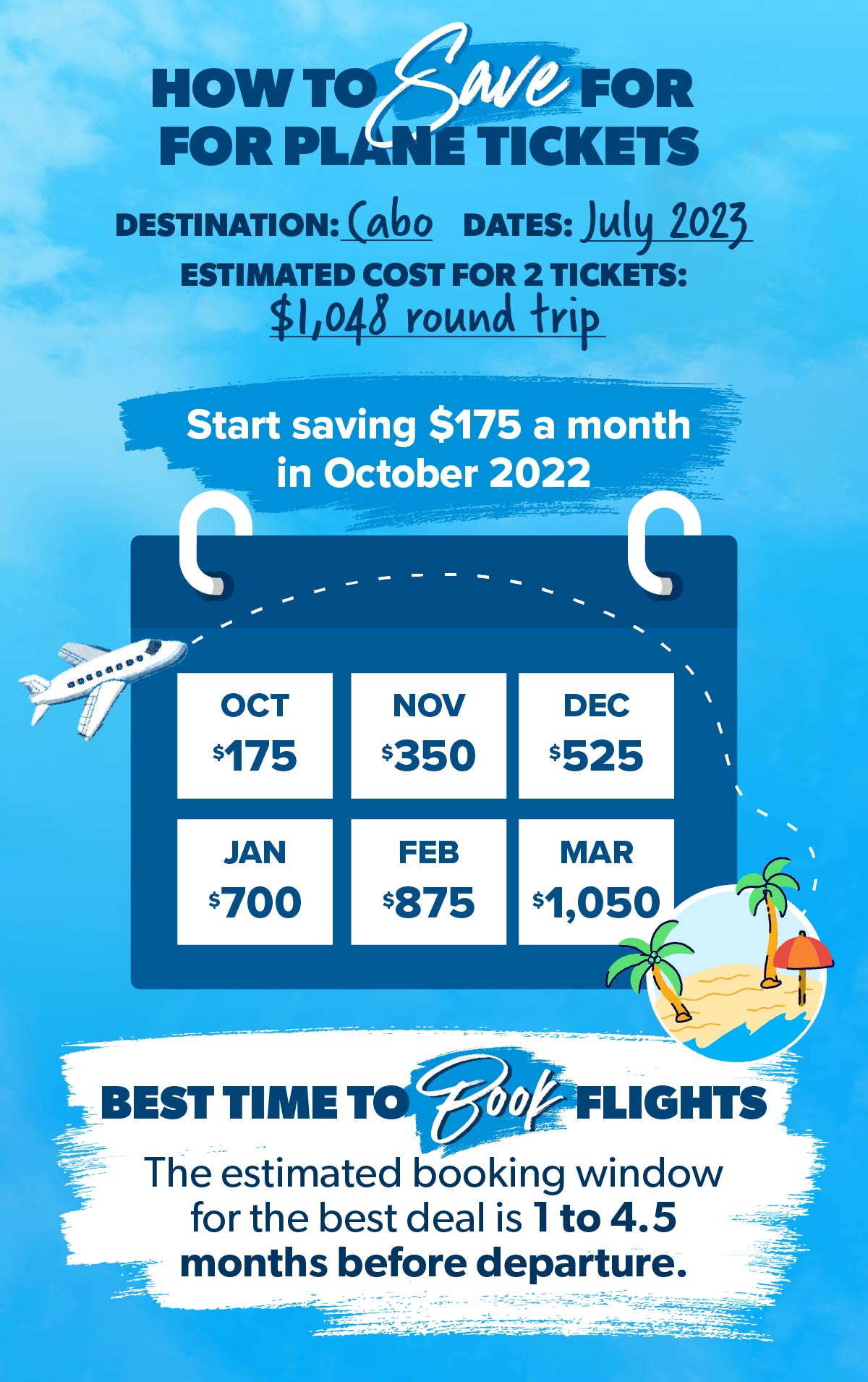 Here's an example: Two adult tickets for a seven-day trip from Nashville, Tennessee, to Cabo San Lucas, Mexico, in July 2023 are around $1,048 round trip. The best time to purchase your airfare would be in March 2023 (about four months before your trip). So, if you start saving in October 2022, that means you have six months to sock away money into your sinking fund (about $175 per month to be exact). The best part? That's just for the plane tickets. After you purchase those, you can still keep saving for lodging, food and entertainment.
Side note: If you're still in debt or working on your starter emergency fund (saving $1,000), stop looking for cheap flights. Seriously. We hate to rain on your vacation, but no trip is worth sacrificing your financial peace, even if you do get a cheap flight. If you work the Baby Steps plan and stick with it, you can look forward to plenty of great vacations in the future—but only when you can actually afford them.
Now that you're armed with knowledge about the cheapest days to fly, it's time to get that sinking fund set up in EveryDollar. Using this app is an easy way to keep your vacation savings goals front and center. And when it's time to book your flights, you'll know that everything is accounted for. Cheap flights? Check. Hotel? Check. And look—you've even got money left over for great restaurants and souvenirs (the good kind)! So, what are you waiting for? Start budgeting for your next vacation today.
Did you find this article helpful? Share it!