There are two things I love doing: going to Disney World (where else can you have such a magical experience?) and saving money. And believe it or not, there are some great ways to save serious cash when planning a Disney trip.
For a family of four, the average cost of a Disney World trip is anywhere from $4,500 to $10,000 or more.1 But you can do it for less. There are plenty of ways to save on your Disney dream vacation—up to thousands of dollars.
Planning a Disney trip on a budget isn't for the faint of heart, but it can be done. I know because I've done it. Now, who's ready to start planning a Disney trip?
How to Plan a Disney Vacation
The best way to plan anything is with lots of research, right? The same is true for a Disney vacation. Thankfully, there are a million different resources out there focusing on how to do Disney World "the right way."
But when it comes to vacations, the only right way to do it is to make sure your finances are in order. No one wants to go into debt for vacation—not even for Disney World.
So, the first thing you need to do when planning a Disney trip (or any other cheap vacation) is make a budget. EveryDollar is my favorite budgeting app. Not only is it free, but it helps take the guesswork out of creating a budget—especially when you're wondering how much does it cost to go to Disney World?
Your budget will help you save, show you where you need to cut spending, and actually give you the freedom to spend. And with a trip to Disney, you'll really want to spend.
15 Ways to Do Disney on a Budget
So, you want to do Disney on a budget. But how much does it cost to go to Disney World in the first place?
If you're in a good position financially (and it's the right time for your family to go), these 15 tips for Disney World will help you stay on budget and kick your experience up a notch (at no extra cost). Ready?
Let's get started.
1. Spend some days at the park and some days at the pool.
You guys—this isn't a popular opinion, but you don't have to spend every day of your vacation in the Disney parks. Trust me, your feet will thank you when you break up the week with one day at the park and the next hanging by the hotel pool. If you stay on property at a Disney resort, the pools make you feel like you're still at the park. They're themed, they're huge, and they're super fun.
If you take a day off from the parks, you can go to plenty of other places and still be immersed in Disney magic. Head to Disney Springs for shopping, restaurants and free entertainment. Go to Disney's Polynesian Village Resort for dinner and stay to watch the Magic Kingdom fireworks on the beach—for free! (The boat dock is a magical place to catch those fireworks too.)
This one tip will save you hundreds or thousands of dollars in Disney park tickets, depending on how many people you're going with and how many days you're staying.
2. Skip the Park Hopper and visit one park per day.
It might seem like a good deal to buy the $174 Park Hopper ticket for access to all four Disney World parks in one day. However, if you're staying for multiple days, you can make your budget go even further if you just visit one park per day. The starting price for a standard park ticket (where you visit one park per day) is $109 (for ages 10 and up), saving you $65 per person, per day.* (Single-park tickets for kiddos ages 3 to 9 are about $104.)

Every savings goal starts with a budget. Create yours today with EveryDollar.
Keep in mind, Disney will lower the price of your daily ticket when you buy three or more days. And always look at their ticket calendar when you're booking your trip—prices change depending on the when you go. (Rates are often higher during weekends, summer months and holidays. So if your schedule is flexible, try to work around those times so you can save some extra cash.)
When you purchase your tickets, reserve your spots at the theme parks you want to visit. It would be a bummer to buy tickets only to realize the park you want to visit doesn't have any reservations left. Plus, those tickets are nonrefundable, so be sure to triple-check before you purchase.
Try to be realistic about how much you can and want to do each day. Moving from park to park is time-consuming and can be exhausting, especially with little ones. But if you're only going for a couple of days, maybe do the Park Hopper ticket one of your days and spend another whole day at Magic Kingdom—which, believe me, is entirely possible and worth it.
3. Buy Disney gift cards at a discount.
Always try to buy Disney gift cards at a discount. If you're a member of a big-box discount store like Sam's Club, you can buy Disney gift cards at nearly 4% off. And if you use your RedCard debit card at Target, you can get 5% off.
Sure, it doesn't sound like much, but it will save you $40 to $50 for every $1,000 you spend. That's, like, eight Mickey Mouse ice cream bars! Or if you're not into ice cream (I see you, dairy-free people), you can use these gift cards to pay for your park tickets, Disney hotels, food on property and more.
4. Pay for food as you go—with cash.
I love the food at Disney. Seriously—give me all the food. But it's best to pay for your food as you go—with cash (or gift cards). That way, you know how much you're spending throughout the day. And if you use the envelope system in the parks, you'll know exactly how much you have left to spend after each purchase. (Disney used to offer a prepaid dining plan, and they're bringing it back in 2024. But I still recommend paying as you go so you can avoid paying for a lot of food ahead of time that you won't actually want to eat in the moment.) Pro tip: If you decide to eat on property at one of the parks or resorts, book your dining reservations early using the Disney Genie service in the My Disney Experience app.
5. Bring your own food.
Did you know Disney allows you to bring food into the park? This could be a huge budget saver. You can pack a nice picnic lunch with sandwiches, fruit, water bottles, cookies—whatever your family likes—and store it in lockers inside the park for either $10, $12 or $15 per day, depending on what size you need.2 There are no coolers allowed, so only bring things that don't need to be kept ice-cold. Instant savings!
Another way to save on food is by making your own meals at your hotel. Making your meals is worth it even if you do it just a few times during your stay. The Garden Grocer is an Orlando-based grocery store that delivers your groceries to your resort. You can even order your groceries up to 120 days in advance (which may qualify you for a discount). You do have to pay a delivery fee if your order is less than $200.3
6. Arrive just before the park opens.
Now, if you've been to Disney before, you know how much of a luxury the FastPass was for skipping those long lines. But FastPass (which was free) has been discontinued and replaced by the new Disney Genie+ service. Genie+ helps you plan your day and allows you to skip the long lines . . . but it's going to cost you. Pricing starts at $15 per person per day and fluctuates based on how busy the parks are. And, according to Disney, guests only get to skip the lines two or three times a day with this feature.4 There's also an option to purchase individual Lightning Lane entry for a specific ride, but that will cost you too.
If you don't want to shell out the money to save time on those long lines, you'll want to get to the parks as early as possible. Lines get long fast, but if you get to the gate before the park opens, you can book it straight to your favorite rides when the rope drops.
7. Use PhotoPass photographers (but don't buy the package).
What's a family vacation without the memories to prove it? For $199, Disney's PhotoPass photographers will take professional photos of you all over the parks. You get access to the photos online, but that's a pretty big hit to your travel budget. The cool thing is, you can just ask Disney's photographers to take your picture with your phone or camera. They'll still want to take your photo with their camera too, but you don't have to buy it. This way, you'll save $200 and still have a great pictures. Score!
8. Buy personal items and souvenirs ahead of time.
How much it costs to go to Disney World depends on how well you prepare ahead of time. When it comes to saving money, stocking up on personal items and souvenirs before you get to the park can save hundreds of dollars. Here are some things I recommend buying ahead of time instead of at the park or your hotel (because those prices will be super jacked up):
Sunscreen (you'll pay up to 40% more for sunscreen in the park)
Band-Aids
Ponchos or umbrellas
Refillable water bottle (there are tons of water stations around the park—and quick-service stations will give you cups of water for free)
Snacks
Toiletries
A spare jacket and pair of shoes
And when it comes to the fun stuff, you can find some really cute souvenirs, like Mickey ears, pins and costumes, online. I found a deal on Amazon that included two pairs of ears for $8.99. That's less than $5 per pair. (In the parks, Mickey ears will cost you $35.) A friend of mine orders souvenirs online and leaves one toy on their kids' hotel bed every night, like it's a gift from Mickey or Tinkerbell. How cute is that?
9. Save money on hotels.
When you're making your Disney vacation budget, you might wonder if it's worth staying at one of Disney's beautiful on-property resorts. There's no denying it can be expensive, but if you go with one of Disney's value resorts, it's about the same as (and sometimes cheaper than) staying off-site. For one thing, Disney is always running limited-time specials (like 25% off room rates for Disney+ subscribers) or discounts when you stay five nights or more.
Don't forget to factor transportation into your budget. If you're flying, do you need transportation between the airport and the hotel or resort? How do you plan to get to and from the parks? One major benefit to staying on property is having free Disney public transportation. But if you're staying off property, check with the hotel to see what options they offer.
So, let's break it down so you understand how to find the cheapest Disney hotel.
Staying Off-Site
The WorldQuest Orlando Resort is right next to Disney World, and the lowest rate I found was $143 per night. For two adults and two children staying five nights, the total comes to $1,023 (with taxes and fees). And you won't have to drive to the Disney parks and pay for parking because a shuttle service is included .
WorldQuest also offers Disney packages that can save you money. Just for fun, I put together a WorldQuest Disney package, and it came out to about $3,240 for a five-night stay with four five-day park tickets. By purchasing the hotel package, you save almost $200 on park tickets!
Staying On-Site
The lowest rate I could find at Disney's All-Star Sports Resort was a promotional rate of $159 per night (plus taxes and fees). With that discount, staying on-property at the All-Star Sports Resort totals about $903 with taxes and fees for a five-night stay. The key to making your Disney resort count is finding promotions that help cut the cost. Plus, Disney resorts offer free shuttle transportation to and from all the parks (by bus, monorail, boat or Skyliner). And if you choose to drive, staying at a Disney resort gets you free parking as well.
If you decide to add four five-day Disney park tickets to your package, the total comes to about $3,310 with taxes and fees. And not only is it more convenient to stay on-site, you also get all the magical moments that come with staying at a Disney resort. Just make sure to remember your budget when you're hankering for a Mickey-shaped pretzel.
| | | | | |
| --- | --- | --- | --- | --- |
| | On-Site | Off-Site | On-Site w/ Disney Package | Off-Site w/ Disney Package |
| Cost per night | $159 | $143 | $662 (including park passes) | $648 (including park passes) |
| Total cost for 5 nights (including taxes and fees) | $903 | $1,023 | $3,310 | $3,240 |
If staying off-site at a hotel or on-site at a Disney resort doesn't suit you, try out a local Airbnb or VRBO. You might find deals there too.And don't forget to call around to other hotels off property. You're not limited to these options—there are plenty in the Orlando area.
10. Look for built-in admission discounts.
You don't have to hunt too hard for discounts if you're a Florida resident or a former or active-duty U.S. military member. Florida residents can save 40% on 4-day park tickets, and military personnel can purchase a 4-day ticket (with the Park Hopper option) for $349 plus tax.5,6 Y'all, that adds up to a couple hundred dollars in savings, so be sure to take advantage of these perks if they apply to you.
11. Get creative at restaurants.
Just like in "normal" life, food can be the easiest place to bust your budget if you're not careful. Here are some ways you can help curb the cost of meals at the resort and park restaurants.
Order a kids meal instead of an entrée. You'll still get plenty of food for a portion of the cost.
Split an entrée between adults or order an appetizer as the main dish.
Limit how often you buy soft drinks for the whole family. Stick with waters for most meals to save lots of money.
Buy a refillable popcorn bucket for $13. This makes for a cheap snack later because refills are just $2. (And you can keep the bucket.)
Plan one or two sit-down restaurant meals and DIY the rest. It only costs a few bucks to buy a loaf of bread and the makings for PB and Js, yogurt cups and fruit . . . plus, you won't have to worry about carrying leftovers around the park.
12. Check out free kids activities across the property.
Want to save money by buying one less park ticket—or simply take a day off from the rollercoasters and walking for hours on end? Make the most of your resort by checking out the free kids activities. (You can even visit other hotels.) Your concierge can recommend activities that are tons of fun for the kids and won't cost a thing, like:
Watch a Disney movie at night with a campfire, on the beach, or in the pool (weather permitting, resort guests only).
Check out the animals at Disney's Animal Kingdom Lodge.
Watch the street performers at Disney's Boardwalk Resort.
Resort hop and travel by monorail, boat and Skyliner.
Look for Hidden Mickeys at the Wilderness Lodge.
Watch the Electrical Water Pageant parade of lights and sea creatures at Seven Seas Lagoon.
13. Find cheap airfare.
Okay. You're convinced that a Disney trip is on the horizon. Now it's time to figure out: When is the cheapest time to go to Disney World? Just like the cost of park passes fluctuates throughout the year, so does airfare. Guys, do your research to find out which days are the cheapest to fly . Timing really does count. I would not recommend flying during holidays or any school break because prices are going to be through the roof. And be sure to book your flights well in advance. Depending on the season you're planning to visit Disney World, it's best to book your flights a few weeks to a couple months ahead of time. And don't forget to check out price trackers like Kayak, Scott's Cheap Flights and even Google Flights to find the best deals and nail down the cheapest time to go to Disney. (And you can always drive. Plenty of people, especially in the south where I live, pack up the kids and drive to Disney to save on flights.)
14. Ask about bounce-back deals and secret specials.
When you're in the process of booking your trip, you can save money by asking your Disney customer service expert about special offers and limited time deals. These perks—like adding on a free food package or discounted room—aren't advertised, so the key is to ask. The same goes for a bounce-back deal, which is a discount on your next Disney trip when you book during your stay.
15. Give your kids a spending budget.
Just like you're planning to budget for Disney so you can have all the fun without going into debt or draining your savings, you can help your kids practice spending responsibly too. If they've never used the envelope system before, this is a great time to let them try it out. Each day, give them a set amount of money for snacks, treats or toys so they can understand if that cotton candy or extra pair of mouse ears is really worth it—or if they'd rather splurge on a fancy t-shirt. How does this save you money? It'll help your kids understand the limit of what they can spend . . . and by giving each kid a budget, it helps you plan ahead so impulse buys are kept to a minimum. And as a bonus, you don't have to spend all day telling your kids no when they ask to buy stuff. When the money's gone for the day, they're done spending.
What's the Cheapest Time to Do Disney?
When is the best time to go to Disney World? The best times are from early January to President's Day in February, or during late August into early September.8 These are the seasons when tourism slows down, meaning more opportunity for you to hit all the best rides and attractions without battling the crowds (especially if you do Disney during the week, instead of the weekends). As always, make sure you price compare ticket dates and airlines to get the best deals.
When Is the Right Time to Plan a Disney Vacation?
There's no right or wrong time to do Disney, but there are things to consider when you're planning a trip so you can save money. If I had to boil it down, I'd say the best time to go to Disney World (besides the slow season) is when you can afford it. So if you're trying to decide whether or not to book a trip, here are a few things you'll want to think about before committing to spending money on a trip:
1. Are you out of debt?
If you're in Baby Steps 1, 2 or 3, Mickey will have to wait . . . for now. There's no room in the budget for Disney because any extra money is either building up your starter emergency fund, paying down debt, or building out your fully funded emergency fund. Yep—that $2,000 to $3,000 you were hoping to spend on a Disney trip will do wonders for your debt snowball.
But don't give up on your Disney dream just because you're not debt-free. Actually, I encourage you to use that dream as motivation to pay off your debt quickly. Just put on some Disney music as you do your budget each month and think about how fun it will be when you're debt-free!
2. How old are your kids?
I'm all for going to Disney without the kids. But if you want to take the whole family, there are some pros and cons to consider, depending on how old your kids are.
A big pro of taking anyone under 3 years old is their park admission is free. That's a savings of $174 per day for the Park Hopper ticket. And I can tell you from experience: When I took my daughter to Disney around this age, there was nothing like seeing her meet Cinderella for the first time. That moment was priceless. The downside is, she may not remember it when she's older—but we'll always have the pictures.
I hear the sweet spot is between the ages of 6 and 10. At that point, they're old enough to enjoy the anticipation of planning a Disney vacation (and you won't be stuck pushing a stroller or changing diapers). Plus, they're taller, so they can go on more of the rides. And let me tell you: They're going to want to ride the rides.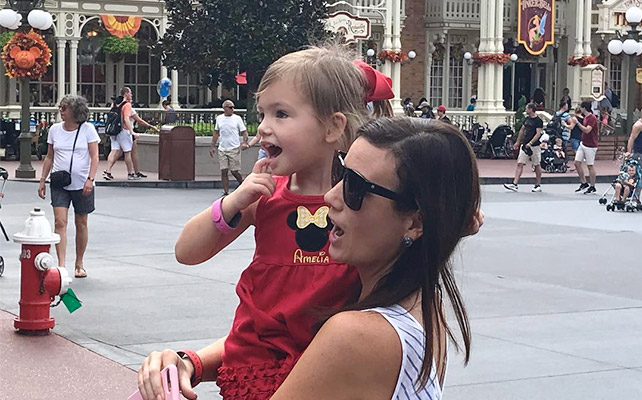 As you can tell, I'm pretty passionate about saving money without sacrificing experience on a Disney vacation. And like I said earlier, planning a trip to Disney World on a budget is possible. You just have to budget for it. Make sure to download our free version of EveryDollar now so you can live happily ever after later.
Neither Rachel Cruze nor the producers of this content are in any way affiliated with or sponsored by The Walt Disney Company or its subsidiaries. All marks and goodwill of Walt Disney World or related brands are that of The Walt Disney Company and/or its affiliates. Nothing in this article is a paid advertisement or endorsement of Walt Disney World or any affiliated brand.
*Prices in this article were pulled from disneyworld.disney.go.com on 5/1/23 and are subject to change.
Did you find this article helpful? Share it!