Whether you're dreaming of a beach bungalow on the Gulf Coast or a house near Mickey Mouse, buying property in Florida comes with a few specific ins and outs. The last thing you want is to get stuck with a Florida home that costs the same as launching rockets off Cape Canaveral (unless you're Elon Musk and can afford it).
At Ramsey Solutions, we want your home to be a blessing, not a curse. That's why we've laid out the best advice for buying a house in Florida. Following these simple steps will help you stick to your timeline and give you confidence to buy an affordable home you love.
8 Steps for Buying a House in Florida
Here's a quick overview of the steps you'll need to take to buy a house in Florida—from your budget all the way to closing day.
Before we dig into the details, you should know that the absolute best way to buy a house in Florida is to work with a real estate agent who actually lives there. The Florida agents we trust are local experts and can help you make the smartest housing decisions for your situation.
How to Buy a House in Florida
Buying a house is one of the most expensive decisions you'll ever make. And buying one in the Sunshine State is no different—no matter if you move to Florida's Panhandle, near one of its world-famous theme parks, or along those sunny southern shores. That's why you'll want to be debt-free before you buy.
Ready for a little tough love? If you're not 100% debt-free, you're not ready to buy a house. Period. At Ramsey Solutions, we teach people to get out of debt and never go back. Why? Because debt is dumb! And adding a mortgage on top of other debts sets you up for all kinds of financial failures. We've seen too much of it and don't want that for you. To learn the step-by-step process that millions of people have used to pay off debt and take control of their money for good, check out Financial Peace University.
Once you're debt-free and have an emergency fund of 3–6 months of expenses, you'll be ready to start these steps:
1. Know how much house you can afford.
To determine how much house you can afford, follow the 25% rule—make sure your mortgage payment is no more than 25% of your monthly take-home pay on a 15-year fixed-rate mortgage. (Any other type of mortgage will cost you so much more in extra interest and fees and keep you in debt for decades.) By sticking to the 25% rule, you'll still have enough money left over in your budget to cover bills, home maintenance and other financial goals. (Plus, you can still afford to have a life.)
P.S. That 25% limit includes principal, interest, property taxes, home insurance, private mortgage insurance (PMI), and homeowners association (HOA) fees.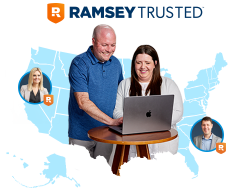 Don't buy or sell without an agent you can trust.
There are RamseyTrusted real estate agents all over the country who are ready to help you win.
Find a Local Agent
2. Save up a down payment.
Now, maybe you're retiring in Florida and have the means to pay for 100% of your new home in cash—awesome! That's the best way to go. But if that's not you, your ideal down payment amount is at least 20% of the home price. That way, you'll avoid paying for PMI, which is insurance you pay for that protects your lender (not you) if you stop making payments.

Find expert agents to help you buy your home.
If you're a first-time home buyer, a smaller down payment (like 5–10%) is okay too. Just be prepared to pay that PMI fee, remember to stick to the 25% rule, and make sure you get a 15-year fixed-rate mortgage (stay away from FHA and VA loans). Use our Florida mortgage calculator to enter your down payment amount and try out different home prices within your budget.
3. Budget for closing costs and moving expenses.
In addition to your down payment, you'll need to save a separate pile of cash for your closing costs. Last year, average closing costs in Florida were $8,551 for an average home sale price of $368,560—that's 2.32% of the home price.1 These include taxes, as well as the fees you pay to the various third parties (like lenders and attorneys) who help you finalize your home purchase on closing day. But don't worry, their congratulatory slaps on the back are free!
Another item you'll want to save separately from your down payment amount is a moving budget. If you're renting a truck and hiring movers, it could cost you around $900 to $2,400.2 But if you currently live far away from Florida, you'll probably have to bump up the savings to cover more ground. Moving out of state can cost anywhere from $2,600 to $6,800.3
4. Get preapproved for a mortgage.
After you've piled up enough cash to cover all these expenses, work with the home loan specialists we trust at Churchill Mortgage to get preapproved for a 15-year fixed-rate conventional loan. Having a preapproval letter attached to your offer will give you a leg up on competing buyers who don't have one. It tells sellers you're a serious buyer who already got the ball rolling on the financing part so closing can move faster.
Some lenders might say you need a credit score in the mid-600s or higher to get a mortgage. But here's a secret the toxic money culture doesn't want you to know: You don't need a credit score to buy a house. For real. And if you've been living a debt-free lifestyle, you probably don't even have a credit score—and that's a good thing! All you have to do is work with a lender that does manual underwriting. This is when a lender personally reviews your payment records, income and savings to make sure you're in good shape to take on a mortgage.
Last thing: No credit isn't the same as bad credit. Buying a house with bad credit is a terrible idea. If your credit score is less than the mid-600 range, you'll only be eligible for loans that have super high interest rates and risky features. If you have bad credit, first cut up your credit cards and cancel the accounts. Then, be patient as you focus on paying off all your debt before buying a house. You'll thank yourself later!
5. Find your dream Florida home.
Next up, work with a Florida real estate agent to go over your list of must-haves. Being on the same page with your agent will help them track down the kinds of houses you actually want and can afford.
Your agent will be a huge help as you go house hunting. Instead of dealing with outdated or mispriced online listings, a professional agent has special connections that allow you to view the most up-to-date and accurate data on homes that are for sale.
Another thing to think about is your dream location. For inspiration on where to move in the Sunshine State, here are some of the best places to live in Florida:
Sarasota
Naples
Melbourne
Jacksonville
Tampa4
6. Make a competitive offer.
Again, you're really going to want a local real estate agent's help here. You don't want to make an offer so low that you miss out on the house you really want. And you don't want to get ripped off either. An expert agent will know how to help you make an offer that's just right.
7. Finalize your financing.
After the seller accepts your offer, you'll pay something like a security deposit called earnest money. This money gets held by a neutral third party (like a bank, lawyer or title company) who'll keep it safe until closing day. Meanwhile, your lender will start finalizing all your mortgage documents. While you wait, you'll want to get a home inspection done to make sure there aren't any unpleasant surprises on your move-in day—like a family of gators living in the pool.
8. Close on your Florida house—woo-hoo!
On closing day, make sure your fingers are as quick as a concert pianist's because you'll be signing a ton of paperwork. This is the day you commit to your mortgage, pay your closing costs, exchange legal ownership with the seller, and get the keys to your very own Florida house.
Pop the champagne—you're a Florida homeowner!
How Much Money Do I Need to Buy a House in Florida?
As of summer 2022, the median listing price for a house in Florida was $498,500.5 Keep in mind, median refers to the midpoint—half the homes were listed for more, half for less. So, if you work with a good real estate agent, you'll likely find a home within your budget.
Let's say you want to buy a $300,000 house in Florida. Pretend your monthly household take-home pay is $10,800. Following the 25% rule we mentioned earlier, the maximum monthly mortgage payment you can afford is $2,700.
Using our mortgage calculator, you'll find you need at least a 10% down payment ($30,000) to stay under that $2,700 max monthly payment. (This is assuming you get a 15-year mortgage with a fixed rate of 5% and a monthly payment that includes principal and interest at $2,135, PMI at $113, property tax at $275, home insurance at $71, and HOA dues at $86.)
Next, you need to factor in the closing costs. Let's say those are 3% of your $300,000 home. That adds $9,000 to your savings goal. And since you're moving long distance to Florida, you'll probably want to set aside $3,000 for moving expenses.
Based on this example, you'd need to save a total of at least $42,000 to buy a house in Florida:
| | |
| --- | --- |
| Florida Home Price | $300,000 |
| Down Payment | $30,000 |
| Closing Costs | $9,000 |
| Moving Costs | $3,000 |
| Total Savings Goal | $42,000 |
Sound like a lot? It is. But you can totally do this! In fact, you could save up to $42,000 in two years by setting aside $1,750 every month. You could save even faster if you cut some things out of your budget or got a part-time job.
Buying Property in Florida as an Investment
Let's shift gears real quick for those of you looking to buy investment property (as passive income) or flip houses in Florida. Real estate investing is an awesome way to build wealth—if you add it to your money plan in the right place. By that, we mean following the 7 Baby Steps—a simple plan that has helped millions of people take control of their money and build wealth.
That means waiting to buy an investment property until you're debt-free, have an emergency fund of 3–6 months of expenses, are investing 15% of your household income in retirement, and have paid off 100% of your own house (your primary residence).
People who are on Baby Step 7 are in the perfect position to explore wealth building in new ways, like investing in real estate. If that's you, here are some tips on how to invest in real estate:
Pay cash. Never use a loan to purchase investment property. That way, you won't have a mortgage cutting into your profits. And you won't have to panic about losing rental income if you can't find tenants.
Buy property near where you live. This allows you to keep a close eye on your investment. You don't want to find out too late that something fishy is going on—you can't nip it in the bud if your property is hundreds of miles away.
Consider location. While you're shopping for the perfect investment property, be sure to learn about location details that'll influence its value—like the local crime rate and school districts. Plus, you can make bank if you invest in a property that's close to the beach or an amusement park.
Is Now a Good Time to Buy a House in Florida?
The Florida housing market is looking good. Home prices are still increasing, but they're showing signs of growing at a slower rate than in the past few years. Plus, with mortgage rates on the rise, other buyers may hit pause on their purchasing plans.6 That means, if you're in good financial shape and can budget for a larger interest rate, you may have less buying competition and more homes to choose from—yay!
And the market isn't the only good thing about Florida. It's a great place to live in general thanks to the fact that it has a relatively low cost of living, zero state income taxes, popular beaches, world-class amusement parks, and warm, sunny weather.
What Are the Pitfalls of Buying Property in Florida?
If you're going to move to Florida or invest in property there, you should also know some of the state's downsides. For example, Florida has hurricanes. Not to scare you, but flooding and crazy windstorms can damage or even completely destroy your home. So, depending on what your home insurance policy covers, you may or may not need extra insurance to protect your house from natural disasters. Also, remember that Florida has a hot and humid climate—something to keep in mind if you can't stand the heat.
Find a Florida Real Estate Agent You Can Trust
If you already know which area in the state you want to move to, it's time to work with a real estate agent. For a fast and easy way to find the best agents in Florida, try our RamseyTrusted program. We handpick Florida agents who meet our high standards of excellence and regularly coach them on how to serve you better. That's how they've earned the right to be called RamseyTrusted.
Did you find this article helpful? Share it!