So you're ready to buy a house. If you think house hunting is like trying to find toilet paper during a pandemic, you're not alone. Most buyers say finding the right home is the most challenging step of the home-buying process.1 But don't let that get you down. If you strap in and stay focused, you'll find the home of your dreams!
To keep calm during your home search, it helps to know that most buyers search for 10 weeks and view nine homes before they find the one they purchase.2 In the middle of all that, it can be easy to lose focus and forget what kind of house fits your budget and lifestyle. But our house hunting tips will show you exactly how to buy a home that's right for you!
What Should I Do Before House Hunting?
Before you hit the pavement with a handful of listings, make sure you check off these boxes first: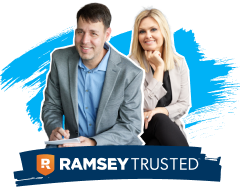 With the right agent, taking on the housing market can be easy.
Buy or sell your home with an agent the Ramsey team trusts.
Connect for Free
Got questions about these steps? All your questions are answered in our free Home Buyers Guide.
An agent gives you access to a multiple listing service (more on that later) and simplifies the rest of your home-buying steps toward a great house and a great price. You can't afford to go without a great real estate agent!
How to Find a House
How do buyers find homes? Most of them use the internet or a real estate agent. Drive-by viewings just aren't going to cut it anymore, folks. In fact, the National Association of Realtors reports that 50% of buyers—that's right, half of all buyers—found the home they purchased on the internet, while 28% found theirs with a real estate agent.3
Use a Multiple Listing Service for Top Accuracy
House hunting can drive you crazy if the listings aren't accurate. Did you find the perfect home? Whoops! It sold last week. See a price that fits your budget? Sorry! That price went up. Doesn't sound fun, does it? That's why you want to go house hunting with access to a multiple listing service—a fancy real estate term you'll hear a lot during your home search.

Find expert agents to help you buy your home.
A multiple listing service (MLS) is a private database of available homes for sale—compiled and managed by real estate professionals for up-to-date status information and accuracy. Agents have to pay a fee to be part of an MLS because it helps their properties get more exposure to potential buyers like you. It also gives them access to a larger pool of properties to show to their own buyers.
A multiple listing service (MLS) is a private database of available homes for sale—compiled and managed by real estate professionals for up-to-date status information and accuracy.
Find an Agent to Get Serious
You see, only licensed real estate agents have access to an MLS. So when you go house hunting with a real estate agent, you get an insider's look at the latest listings (sometimes even before they hit the market) and always have the most accurate information about properties you find.
And if you share your list of must-haves (including your max price) with your agent, they'll help you set realistic expectations and target your search to areas you can afford. They can also guide you through the home-buying process to make sure you get the best deal with no surprises.
Browse the Internet for Ideas
Many house hunting apps and websites like Zillow and Trulia allow anyone to post a listing for free, which means some of the properties might have outdated or unreliable information. However, these online services have become so popular among house hunters that many MLS brokers strike a deal to get their listings added. So, look for apps and websites that rely heavily on MLS data.
What Are the Best Apps and Websites for House Hunting?
Your agent will always have the latest and greatest information, but if you want to browse homes online to get the lay of the land, check out the house hunting apps and websites available to buyers today. Here are some of the best:
Zillow: It features everything you'd think a house hunting app should include—plus the unique "Zestimate" tool that estimates the market value of each house listing. It's no appraisal, but it might give you a heads up if the asking price is a complete rip-off.

Trulia: If you're a sucker for maps and stats, you'll like Trulia. Its property listings include interactive maps that show nearby schools and shopping centers and it also has heat maps with data on crime rates, commute times and demographics to give you an instant idea of what life is like in that community.

Realtor.com: Imagine falling in love with a home only to learn it was already sold and the listing was never updated. Frustrating, right? Well, Realtor.com boasts listings that are updated on an average of at least every 15 minutes. That'll help you avoid chucking your phone across the room.

Redfin Real Estate: Unlike the others we mentioned, this house hunting app was developed by a real estate brokerage. Each listing features a question box you can click to learn more about the house. You can also see the next available house showing by date and then click to schedule your tour.
After you've had fun seeing what's out there, connect with your real estate agent to narrow down your search to the home that's just right for you and your budget.
House Hunting Tips
Now that you have some house hunting tools and an agent in your corner, you're ready for the hunt! Avoid common house hunting mistakes by following these tips and score the home of your dreams:
Tip #1: Keep looking until you find your price range.
Every housing market is different. House prices range on such a huge spectrum throughout the country that one ridiculous price might stop you dead in your tracks. But don't let one number make you think you'll never find a home that fits your budget.
Don't give up! And rely on the advice of your agent—they're a seasoned pro. A house is one of the biggest investments you'll ever make. Do the math to know how much house you can afford and stick to that number!
Tip #2: Pay attention to location and layout.
Hate the decorations? Disgusted by the paint colors? Get over it. You can fix those later. But there's nothing you can do about a lousy neighborhood and crummy floorplan or a 20-minute drive to the nearest grocery store. So don't compromise on those. Look for a community and layout that fit your lifestyle. And for a good deal, be open-minded about that kitchen tile.
Tip #3: Consider the size.
How much space does your family need? Remember, your budget should have the final say on how much home you buy. But to give you an idea of what people are buying, recent data shows most buyers purchased homes that were 1,850 square feet—including three bedrooms and two bathrooms.4
Tip #4: Evaluate the school districts.
If you have kids, the quality of the surrounding school districts is obviously a big deal that's already on your mind. But even if you don't have kids, a home located near good schools could increase the value of your home when it's time to sell.
Tip #5: Think about home value growth.
Don't just go for a groovy porch or spacious yard. Look for a home that'll grow in value over time. Research the history of home values and businesses in that area. Are home values rising? Is the number of businesses increasing? Those are good signs!
Also, try to find a home at the bottom price range in the best neighborhood you can afford. You don't want to get stuck trying to sell a $300,000 house to future buyers who are shopping in a $200,000 neighborhood.
Tip #6: Ask questions while viewing the house.
Ask a ton of questions when you're touring the house to make sure it's truly your ideal home. Your real estate agent can help you with this as well. Here are questions to ask sellers when you view a home:
What's included in the sale? (Does the price include things like appliances or light fixtures?)
When were the appliances and other systems last updated? (Look at the HVAC, plumbing, septic tank, washer and dryer, refrigerator, oven, and dishwasher.)
How old is the roof?
What are the neighbors like?
Have there ever been any pest infestations?
What's it like to live there in winter and summer?
What do you love most about the house?
What problems have you experienced with the house?
And there you have it, folks!
Start House Hunting!
Whew! That's a lot to throw at you. But if you follow these house hunting tips, you're gonna do great. You'll find the house you've always dreamed of and avoid a purchase you'll regret. If you want to be confident in your search, connect with one of the agents in our Endorsed Local Providers (ELP) program. It takes the pressure out of finding high-performing real estate agents who share your values so you can focus on your house hunt!
Find the best real estate agents in your area and start hunting for your perfect home!
Did you find this article helpful? Share it!