If you own a condo, you need condo insurance. Simple as that. But wait . . . doesn't your homeowners association (HOA) cover you? Not really.
Even though condo insurance is similar to homeowners and renters insurance, there are some big differences. And some of it gets pretty complicated. But stick with us! We'll explain everything you ever needed to know about condo insurance so you can be sure you're covered.
What Is Condo (HO-6) Insurance?
Condo insurance protects your belongings if they are stolen or damaged (think fire or theft). It also gives you liability protection if someone is injured on your property. Condo insurance provides financial protection for repairs to the specific condo unit you own.
Many condo owners assume their unit and personal belongings are covered by their homeowners association (HOA) insurance. (An HOA is an organization that maintains the property in housing communities like condos, townhouses and housing subdivisions.)
Sorry to be the bearer of bad news, but HOA insurance only covers the building and common areas. It won't pay for your stuff or interior repairs if the bad guys break in, steal your flat-screen and wreck your condo.
Insurance for your condo is also called HO-6 insurance, a label that's used for different types of property insurance. Traditional homeowners insurance policies are usually called HO-3 while renters insurance is referred to as HO-4. (And if you're still in the research phase of buying a condo, check out our analysis of whether a condo is really a good investment.)
Is Condo Insurance Required?
Usually. Most mortgage companies require you to have condo insurance. And some HOAs require it too—even if you paid for that condo in cash (nice work!).
Bottom line? If you own a condo, you need condo insurance. The last thing you want is to have to dip into your savings or retirement nest egg to pay to replace your belongings or make repairs.
What Does Condo Insurance Cover?
Condo insurance is a lot like home insurance. It protects your finances from natural disasters like fire, hail, windstorms and theft. Once you pay your deductible, your insurance company will start reimbursing you.
Here's a list of what condo insurance typically covers:
Personal Belongings
If a thief breaks in and steals or damages your stuff (furniture, clothes, appliances and electronics), condo insurance will help pay for repairs or to replace your items. Also, just like homeowners insurance, higher-end items like art and jewelry are only covered up to a certain limit. If you need more coverage, you may want to look into umbrella insurance.
You should also decide if you want actual cash value coverage or replacement cost coverage. Actual cash value takes into account depreciation, so you won't get as much for lost items. Replacement cost coverage will pay you to buy a new TV.
Structural Damage
You're also covered if the interior of your condo unit is damaged. This would include things like inside walls, flooring, sinks, cabinetry, tiles and other fixtures.
Additional Living Expenses
If a storm destroys your condo and it's your primary residence, you may need some help with living expenses. Additional living expenses coverage, also called loss of use, can help cover these unexpected costs.
Personal Liability
Let's say you're throwing a party for some friends and family at your ski resort condo. Awesome! Until your cousin Vinny falls and breaks his ankle on your steps. Good thing you've got condo insurance. Liability coverage will cover legal and medical expenses related to injuries on your property. It even covers you if your dog bites your neighbor down the hall.
What Does My HOA Insurance Cover?
Your HOA insurance (also called a master policy) does cover a few things—common areas (swimming pools, tennis courts, lobby, etc.), injuries that take place in those common areas, and any damage to the exterior of the building from disasters or storms.

Protect your home and your budget with the right coverage!
But we'll warn you again. Don't count on HOA insurance as your only protection. It won't protect your unit or your stuff. That's what condo insurance is for.
What Kind of Incidents Does Condo Insurance Cover?
Now you're wondering, Condo insurance seems like a great deal, but will it really cover me if my condo's flooded during a hurricane?
Here's a handy list of what types of events are normally covered by a standard condo insurance policy.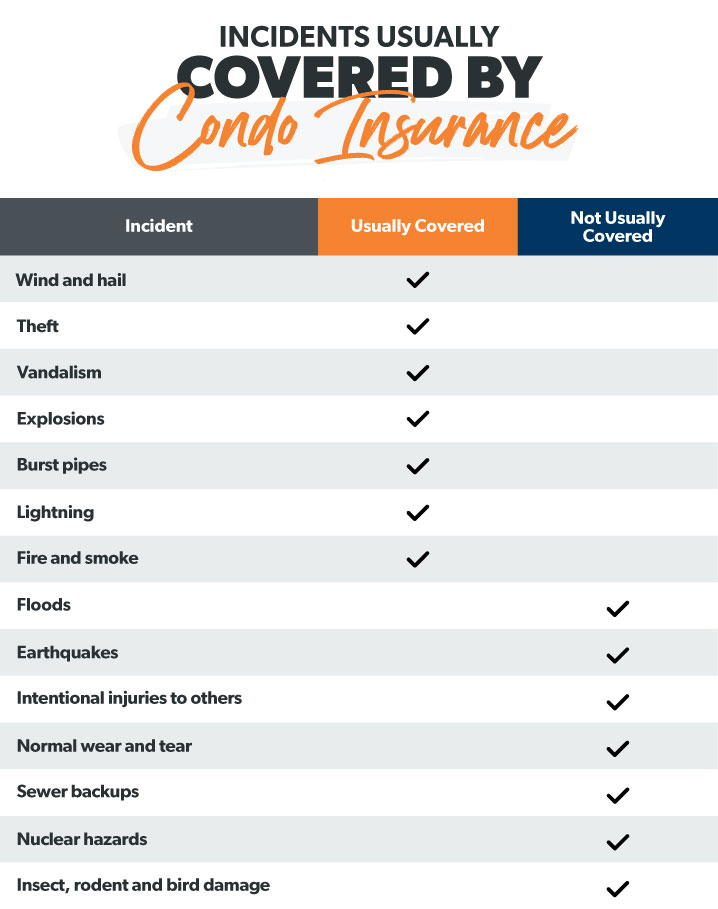 How Much Condo Insurance Do You Need?
To figure out how much condo insurance you need, here are a few things to consider. First, do an inventory of all your personal belongings. Create a spreadsheet you can keep somewhere safe (like cloud storage) so it doesn't get lost or destroyed during a disaster. Take photos and videos of everything you own so you have a record if you ever need to provide it to your insurance company during the claims process.
Next, check what your HOA insurance covers so you're not buying coverage you already have. Ask your HOA for a copy of their insurance declaration page.
You'll also want to look at liability limits. Most plans offer a range starting at $100,000 up to $300,000. Research how much you think you'll need based on assets that could be at risk in a lawsuit. Also look at local construction costs to get an idea of how much it would cost to rebuild your condo.
Finally, if your condo is in a flood zone or an area that gets hurricanes, look into extra coverage. Many Americans believe their standard property insurance policies will cover them in the event of flooding or earthquakes. Not true. A typical condo insurance policy will not, we repeat, not pay for flood, earthquake or hurricane damage. You'll need additional flood insurance, earthquake coverage and hurricane insurance.
Optional Condo Insurance Coverage
Just like the TV commercials tell us (over and over and over . . .), you can customize your insurance. The same is true for condo insurance. If you're looking at your situation and you think you need more coverage, here are a few things you can add to your plan.
Loss Assessment
Loss assessment (also called special assessment coverage) is an extra layer of coverage that kicks in if your HOA insurance policy hits its limits. Say there's a major disaster. Your entire condo building is mostly destroyed. Your HOA might make each condo owner pitch in to cover costs that are above the master policy limit. Here's where loss assessment comes in. It can help cover some or all of these expenses so you don't end up paying out of pocket.
And since we're talking about bad things that could happen, one more thing. If major damage results from your unit, you could be on the hook to cover the entire HOA insurance's (large) deductible. For example, let's say your toddler is playing with the microwave (not good) and accidentally starts a fire (even worse) that spreads to other units (ouch). Your HOA might require you to pay their deductible since it was technically your fault (reason #937 to not let kids play with microwaves).
Replacement Cost Coverage
We mentioned this above, but if you want to make sure you're reimbursed for the full amount it would cost to replace your 4K UHD 72-inch flat-screen TV, you can get replacement cost coverage.
Identity theft protection
Surprisingly, you can even add identity theft protection to your condo insurance. This will help cover lawyer fees if your identity is ever stolen.
Scheduled Personal Property
Want to make sure that Picasso's covered? We get it. You can buy higher limits for higher-end items like art and jewelry.
Unoccupied (or Vacant) Coverage
If you're away from your condo for a period of over 30 days, your insurance company may not approve claims for damage that occurred while you were vacant. If you're only in your condo for part of the year, you should look into getting unoccupied or vacant coverage.
Water Backup Coverage
This is exactly what it sounds like—extra coverage in case your sump pump explodes and water backs up in your condo.
Okay, so we saw there are lots of options when it comes to condo insurance. Your insurance agent can walk you through which add-ons might be useful for your situation.
How Much Is Condo Insurance?
The cost of condo insurance ranges dramatically. But the nationwide average yearly premium for condo insurance is $506.1
Insurance companies base rates on a few factors: where you live, the value and age of your condo, your deductible, coverage amounts, and things like your age and credit history.
Here's a look at the average costs by state so you can get a feel for what you might be paying.
| | |
| --- | --- |
| State | Cost of Average Yearly Premium |
| Alabama | $541 |
| Alaska | $396 |
| Arizona | $400 |
| Arkansas | $539 |
| California | $535 |
| Colorado | $417 |
| Connecticut | $399 |
| Delaware | $431 |
| Florida | $964 |
| Georgia | $493 |
| Hawaii | $310 |
| Idaho | $420 |
| Illinois | $398 |
| Indiana | $354 |
| Iowa | $295 |
| Kansas | $439 |
| Kentucky | $390 |
| Louisiana | $748 |
| Maine | $342 |
| Maryland | $310 |
| Massachusetts | $444 |
| Michigan | $369 |
| Minnesota | $312 |
| Mississippi | $600 |
| Missouri | $416 |
| Montana | $382 |
| Nebraska | $355 |
| Nevada | $424 |
| New Hampshire | $332 |
| New Jersey | $450 |
| New Mexico | $397 |
| New York | $553 |
| North Carolina | $456 |
| North Dakota | $320 |
| Ohio | $319 |
| Oklahoma | $631 |
| Oregon | $364 |
| Pennsylvania | $385 |
| Rhode Island | $500 |
| South Carolina | $500 |
| South Dakota | $307 |
| Tennessee | $473 |
| Texas | $790 |
| Utah | $269 |
| Vermont | $345 |
| Virginia | $352 |
| Washington | $374 |
| Washington, D.C. | $369 |
| West Virginia | $313 |
| Wisconsin | $280 |
| Wyoming | $3792 |
How to Save on Condo Insurance
If you're looking to save on condo insurance (and honestly, who isn't?), here are a few tips.
Bundle and save. Bundle and save. Bundle and save. Yep, we've heard it only a million times on TV. But it's true! If you bundle condo insurance with your auto insurance policy at the same insurance company, you could save money.
You might also be able to save a little by installing better safety features at your condo, like deadbolt locks and smoke detectors. Insurance companies reward people with discounts if they take safety more seriously.
Another way to lower monthly premiums is to increase your deductible. Just make sure you have enough savings to cover that higher deductible if you end up needing to file a claim.
How to Get the Right Coverage
Another great way to save when getting condo insurance is to simply shop around. And you could do this on your own—but really, who has time for that? Instead, we recommend using one of our insurance pros who is part of our Endorsed Local Providers (ELP) program. They are RamseyTrusted and can shop for you to get the best coverage at the best price.
Like your home, your condo is one of your biggest investments. But finding your condo insurance sweet spot can be hard. So many options, so little time! Let a pro shop for you so you can sleep easy knowing your condo's covered.
Connect with a local ELP today!
Frequently Asked Questions
1. What's the difference between an HO-3 and an HO-6 policy?
An HO-6 policy refers to property insurance that specifically covers a condo. An HO-3 policy is a standard homeowners insurance plan and is the most common form of coverage for single-family homes. HO-6 policies only cover the condo owner's belongings and their unit, not the building itself.
2. Does condo insurance cover structural damage?
It depends on the damage. The HOA master policy will pay for exterior structural damage (like the building's roof) while your own condo insurance will pay for interior structural repairs (like your floors or walls).
3. If my building has an all-in HOA policy, do I need condo insurance?
Yes, although you might not need as much dwelling coverage. This is because "all-in" HOA insurance protects the condo's structure as well as shared property. However, this "all-in" policy won't cover your personal belongings. So you still need condo insurance to make sure you're fully protected.
4. If I get injured in my condo, will my condo insurance cover my medical expenses?
No. Typical condo insurance liability coverage (including medical payments coverage only pays the medical expenses for someone else who is injured on your property. If you were injured, you would have to use your own health insurance plan.
Did you find this article helpful? Share it!