So you've got your heart set on Colorado? Great choice! This state's got it all—snow-capped mountains and rolling plains, amazing performing arts and crazy wilderness adventures. You can even try dog sledding!
Moving to Colorado is a big deal. And you'll have a ton of decisions to make before and after you move there.
Good thing you've got us! We'll help you sort through all the relocation info you need—like Colorado's job market, cost of living, pros and cons, and fun things to do—so you can feel more confident about your new state.
Grab your hiking boots and let's get started!
What to Know Before Moving to Colorado
Colorado blends a pioneer spirit and beautiful outdoor spaces with some really hip towns and events. But those aren't the only things you should think about when you want to live that Colorado life.
Here are 10 things you should know about Colorado before moving:
1. Why Are People Moving to Colorado?
Last year, the U.S. population grew about 0.1%.1 But Colorado's population grew about 0.7%.2 And part of the reason for Colorado's above-average population growth is that people want to move there.
Here are the top six reasons why people are moving to Colorado:
Family (36%)
Work (31%)
Lifestyle (26%)
Retirement (15%)
Health (5%)
Cost (4%)3
You may notice those numbers add up to over 100%. That's because some people moved to Colorado for multiple reasons. Now, we don't know your reasons. But in case work is one, let's look at the job market!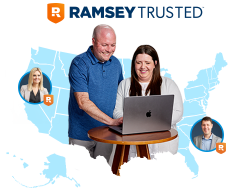 Don't buy or sell without an agent you can trust.
There are RamseyTrusted real estate agents all over the country who are ready to help you win.
Find a Local Agent
2. Job Market
Colorado's job market has improved over the past year. The unemployment rate dropped from 6.2% in January 2021 to 4.1% in 2022.4 (That's very close to the U.S. average of 4%.5) And 138,200 more Coloradoans had jobs at the beginning of 2022 than the year before.6 That rising employment rate is good news!
By the way, if you're moving to Colorado for work, check out Ramsey personality Ken Coleman's advice on how to negotiate a relocation package to go with your new gig.
Oh, and if you run your own business, remember to register it with your new state and county—even if you're working from home. You can also check out our resources to help grow your business, like EntreLeadership.
3. Cost of Living
Utilities in Colorado cost 13% less than the average state because of Colorado's renewable energy sources.7 But otherwise, Colorado can be an expensive place to live. The cost of living here is 7% higher than the national average.8
If you're coming from a place with a lower cost of living—like Texas or Arizona—you can expect to pay more for things like groceries, housing and transportation in Colorado. But if you're coming from a pricey state—like California or New York—your expenses should go down.
Just remember, the cost of living varies from city to city. So it's smart to figure out your budget first, then look for places you can afford to live. Try our Cost of Living Calculator to compare your current location to your dream town in Colorado.
4. Cost of Housing
In early 2022, the national median home price was $392,450, and the median rent for a two-bedroom apartment was $1,294 a month.9,10 But in Colorado, those median prices were $594,500 for a house and $1,600 for monthly rent.11,12 That's over $200,000 more for a house—or an extra $300 a month for an apartment.

Find expert agents to help you buy your home.
Now, some of you may be thinking, I can handle that—it's about what I pay now. Or, Whew! Colorado housing is so much cheaper than where I live. But the rest of you may have some sticker shock.
No matter which camp you fall into, you'll deal with housing costs in Colorado the same way. First, decide if you should buy or rent. Then figure out how much house or how much rent you can afford. Once you've got those numbers in hand, you can start searching for the perfect place to live!
An expert real estate agent can help you find a house or an apartment that fits your budget.
5. Major Cities
Colorado has some pretty sweet towns, and you can learn about them on our list of the best places to live in CO. But to help you get started, let's compare three of the top cities:
Boulder: Boulder is a super cool city just north of Denver, on the edge of the Rocky Mountains. The food, craft beer and natural scenery are all out of this world . . . and so are housing costs! So prepare your soul for that price tag if you're moving here.
Denver: The biggest city and state capital, Denver is also near the Rockies. It has tons of fun things to do and vibrant neighborhoods that appeal to families and singles. (Fun fact: Denver's Cherry Creek suburb is named after the stream where settlers first found gold in Colorado.13)
Colorado Springs: Colorado Springs is one of the most popular cities to move to in Colorado—and for good reason! It offers delicious food, inspiring art, and even more of Colorado's natural beauty. And as a bonus, housing is cheaper here than Denver or Boulder.
6. Geography
Colorado borders Nebraska and Wyoming to the north, Utah to the west, Oklahoma and New Mexico to the south, and Kansas and Nebraska to the east. Plus, southwest Colorado is part of the Four Corners, where you can stand in four different states at the same time. Pretty cool, huh?
The Rocky Mountains cover western Colorado, making that half of the state a great place for ski resorts and hiking trails. A line of really steep mountains called the Front Range divides Colorado down the middle. Most of Colorado's biggest cities are in the Front Range.
But eastern Colorado is part of the Great Plains—so it's actually pretty flat and grassy. Many ranchers raise livestock here. So if you move to eastern Colorado, get ready to see lots of cows! You may also see jackrabbits, coyotes, antelopes and lark buntings—the state bird.14
7. Year-Round Weather
Thanks to its high elevation and distance from big lakes or oceans, Colorado has a semi-arid, continental climate.
Semi-arid means it doesn't rain much—so in some parts of the state, you can enjoy 300 sunny days a year. And continental means Colorado has cold winters, snow that seems to last forever, and short growing seasons.15 (Gardeners, we hope you can get your hands on a greenhouse.)
Colorado has some extreme temperatures. Temperatures can drop below zero during mountain winters or spike to over 90 degrees during hot summers on the plains.16,17 Even in the same area, daytime and nighttime temperatures can be really different. So if you adventure in Colorado's great outdoors, be sure to check the forecast and prepare for sudden weather changes.
And not to scare you, but Colorado does have some severe weather like tornadoes and thunderstorms that have been known to spark wildfires. Fortunately, all the gorgeous sunny days and perfect ski powder help make up for it!
8. Taxes
Like North Carolina, Colorado has a flat income tax rate. You'll pay 4.55% regardless of your income or marital status.18 And the state legislature just made tax laws simpler for some corporations, partnerships and LLCs—which could be helpful if you run a business.19
Out of all the states that charge sales tax, Colorado's is the lowest at just 2.9%.20 Unfortunately, local taxes run around 4.9%.21 That's a little high compared to local sales tax rates around the country, so you may want to ask your real estate agent to help you find a town that goes easy on the local sales tax.
Want help filing your taxes after you move? We've got you covered. Check out the tax services we trust.
9. Schools
If you're bringing the kiddos to Colorado or plan to start your family here, you'll want to check out the local schools. Some online tools, like GreatSchools, can help you weigh the pros and cons of different districts.
And when the kids get older, they can get in-state tuition at some great schools like the University of Colorado Boulder, which ranks as one of the top 100 best schools in the country.22
10. What Is There to Do in Colorado?
Here are some of the coolest places to take the kids (or yourself) in Colorado:
Natural Areas
Hanging Lake
Cave of the Winds
Garden of the Gods
Pagosa Springs hot springs
Red Rocks Park and Amphitheatre
National parks like Great Sand Dunes, Rifle Falls, and Rocky Mountain
Peaks like Mount Elbert, Pike's Peak, San Luis Peak and Crestone Needle
Outdoor Activities
Skiing
Hiking
Trout fishing
Rock climbing
Snowboarding
Wildlife viewing
Mountain biking
Horseback riding
Whitewater rafting
Historic Sites
Trujillo Homestead
Santa Fe Trail Scenic Byway
Bent's Old Fort National Historic Site
Ancient Pueblo settlements at Mesa Verde National Park
Dinosaur, Hovenweep, and Canyons of the Ancients National Monuments
Museums and Festivals
Denver Zoo
Pearl Street Mall
Denver Art Museum
Museum of the West
Colorado Freedom Memorial
ProRodeo Hall of Fame & Museum of the American Cowboy
Performing arts festivals like The Colorado Shakespeare Festival, Aspen Music Festival, and Vail International Dance Festival
Pros and Cons of Moving to Colorado
Okay, so Colorado is pretty awesome. But it's not all roses and sunshine (especially during fire season). You've got to weigh the pros and cons to decide if Colorado is right for you.
Pros
Low state sales tax
Breathtaking mountain views
Tons of cool things to do—especially outside
Lower cost of living if you're moving from an expensive state
Cons
Tornadoes, wildfires and lots of wind
Hot, dry summers and long, cold winters
Cost of living that's 7% above the national average
Housing that's about 15% more expensive than in the average U.S. city23
How Much Money Do I Need to Move to Colorado?
On average, it costs $2,600 to $6,800 to move to another state.24 And that's just for hiring long-distance movers to transport your stuff. The true cost of moving varies and can be a bit higher.
Here are some things that can affect your moving costs:
How far you move. Moving from Utah to Colorado is just a hop, skip and a jump. But if you're crossing the country—like moving from Tennessee to Colorado—you'll pay more.
The services you get. Some movers charge extra to pack, load and unload your stuff.
The amount of stuff you bring. Got a three-bedroom house stuffed to the gills with your kids' favorite things? Your moving costs will be way higher than a single person who's just got a cat and a couple succulents.
The good news is, there are some ways to make moving cheaper—so even if you're crossing the country to get to Colorado, you can still save here and there. Oh, and don't forget to save for your down payment or security deposit when you're calculating your moving costs.
What Do I Need to Do When Moving to Colorado?
Okay, so you finally made the decision to move to Colorado. Awesome! A lot goes into moving—from packing and decluttering to changing your address. To help make sure you don't miss a beat, we made this handy moving checklist.
And one more thing . . .
Update Your License, Registration and Vehicle Titles
First things first: Whenever you move, you need to update your driver's license to match your new state and address.
Next, you'll have to find car insurance in Colorado and have proof of insurance in the state so you can register your vehicle there. (Remember to register motorcycles, trailers and any other fun toys too.)
Finally, you'll need to transfer your vehicle's title to Colorado too. That way there's no question you're the rightful owner, and you shouldn't have any issues if you decide to sell it.
There's generally a fee for these papers, and you'll need to have your ID and vehicle documentation handy too. Learn what to bring and how much licenses, registration and titles cost on Colorado's Official Division of Motor Vehicles website.
Is It Smart to Move to Colorado?
Moving to Colorado can be a good idea if the pros outweigh the cons for you. At the end of the day, you have to feel confident you'll enjoy living there—and that you can afford it.
We can't tell you what you will—or won't—like about living in Colorado. But we can help you with the money stuff (no surprise there). Use our free Cost of Living Calculator to see how your dream city in Colorado compares to your current town.
All set to head for Colorado? Get our free relocation guide to help your move go smoothly.
Find a Colorado Real Estate Agent
We hope you're pumped about moving to Colorado. There's just one last thing you need to do: Find a trustworthy real estate agent, like an Endorsed Local Provider (ELP).
We created the ELP network to help people just like you find top-performing agents who know their client's new neighborhood like the back of their hand. And since these agents value serving over selling, they'll treat you right and work their butts off to find you a house that fits your needs and budget. That's why we're proud to call them RamseyTrusted.
Did you find this article helpful? Share it!