So you're dreaming of moving to Texas—and what's not to love? You can rock out at free live music venues in Austin, cheer on the Dallas Cowboys, remember the Alamo at the Alamo, and eat all the brisket and Tex-Mex your heart desires.
Everyone knows everything is bigger in Texas. But does "bigger" mean more expensive? Well, as it turns out, the cost of living in Texas is surprisingly affordable!
In fact, the average cost of living there is 8% lower than the national average, according to a Cost of Living Index.1 Keep in mind, Texas is the second largest state in the U.S.—only behind Alaska (but don't tell Texans that)—so some cities are more expensive than others.
To learn if you can afford to live in the Lone Star State, you'd have to compare the cost of living in your current city with the Texas city of your dreams. To help you make a confident decision on whether Texas is the right move for you cost-wise, we'll show you how much Texas charges for "super fun" grown-up stuff like housing, food, taxes and bills.
Let's giddyup!
Housing Costs in Texas
Okay, let's start with housing costs. In June 2020, median home prices in Texas were $310,000—about 9% lower than the national median of nearly $342,000!2 Meanwhile, the median monthly rent for a two-bedroom apartment was nearly 11% lower than the national median of $1,200.3

Find expert agents to help you buy your home.
With prices like those, you might be wondering why you haven't ridden off into the Texan sunset sooner! Well, don't forget, not all of Texas costs the same. When you consider total housing cost factors, Texas ranges all the way from 40% lower than the national average in the southern city of Harlingen, to 23% higher in the city of Plano, north of Dallas!4
To find the Texas city that fits your budget, check out the cost differences between these cities:
| | | |
| --- | --- | --- |
| City in Texas | Average Home Price | Average Apartment Rent |
| Dallas | $389,520 | $1,588 |
| Austin | $335,082 | $1,484 |
| Houston | $304,837 | $1,247 |
| San Antonio | $259,713 | $1,211 |
| Amarillo | $214,933 | $8885 |
How to Handle Housing Costs in Texas
Whether you decide to rent or buy in your new city, first make sure you can afford it. Cross off any cities from your list that don't allow you to keep your monthly housing payment to no more than a fourth of your take-home pay.
For home buyers who are getting a mortgage, that 25% limit includes principal, interest, property taxes, homeowner's insurance, private mortgage insurance (PMI)—and don't forget to take homeowners association (HOA) fees into consideration. Use our mortgage calculator to enter your down payment amount and try out different home prices within your budget.
If you want a smart mortgage you can pay off fast, talk to Churchill Mortgage about getting a 15-year fixed-rate conventional loan. Any other type of mortgage will drown you in interest and fees and keep you in debt for decades.
To feel confident about finding an affordable home you love in Texas, work with the top real estate agents in the market. We make it quick and easy for you to find the best-performing agents. It's their mission to help you find a home that allows you to keep all your other financial goals in balance.
Utilities
Utility costs like energy and phone use in Texas range from 14% lower than the national average in the western city of El Paso, to 41% higher in Corpus Christi on the Gulf of Mexico! McAllen, located at the southern tip of Texas in the Rio Grande Valley, is somewhere in the middle range among Texas cities for utility costs at 2% higher than the national average.6
Trust us, you're going to want to crank up the AC.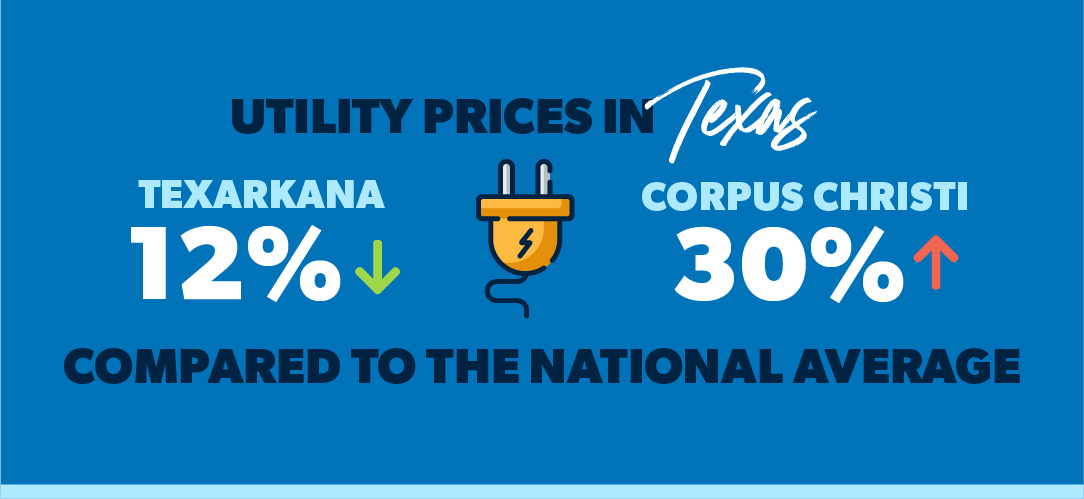 Groceries
Groceries in Texas range from 24% lower than the national average in the city of Temple—about an hour north of Austin—to 2% higher in El Paso.7
Speaking of groceries, you might find yourself shopping at H-E-B. The supermarket chain is headquartered in San Antonio, which just so happens to sit somewhere in the middle price range among Texas cities for groceries. In San Antonio, you can purchase a half gallon of milk and some cereal for under $5, which is 25% less than the national average—cha-ching! 8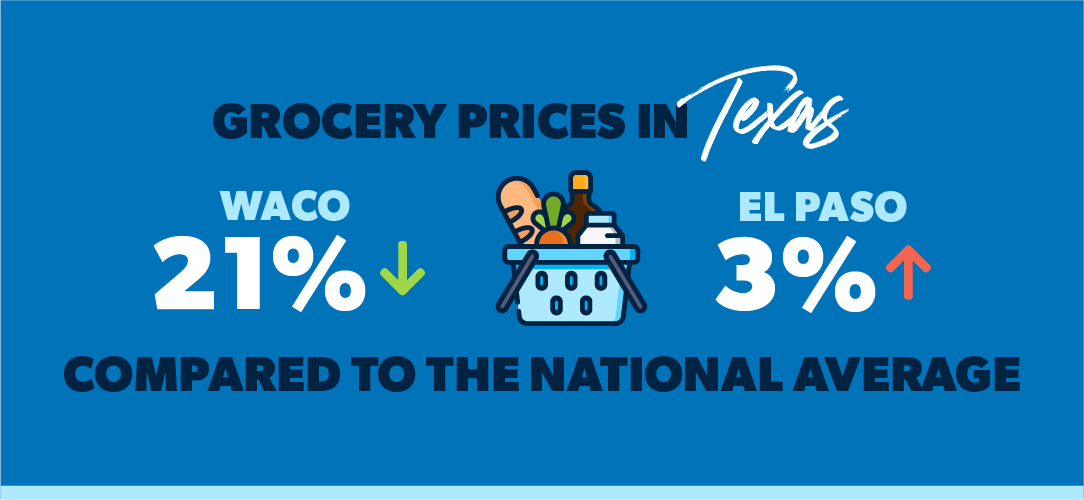 Transportation
Rev up your engines! Texas transportation costs range from 19% lower than the national average in the northern city of Amarillo, to 7% higher in San Marcos, a city south of Austin. Waco, the homeland of Dr. Pepper just south of Dallas, slides into the middle range for transportation costs among most Texas cities, which is 7% lower than the national average.9
Since Texas is mostly a driving state, you'll want to keep transportation costs low by getting the right coverage. Try bundling your auto insurance for a discount by talking to one of the independent insurance agents we recommend.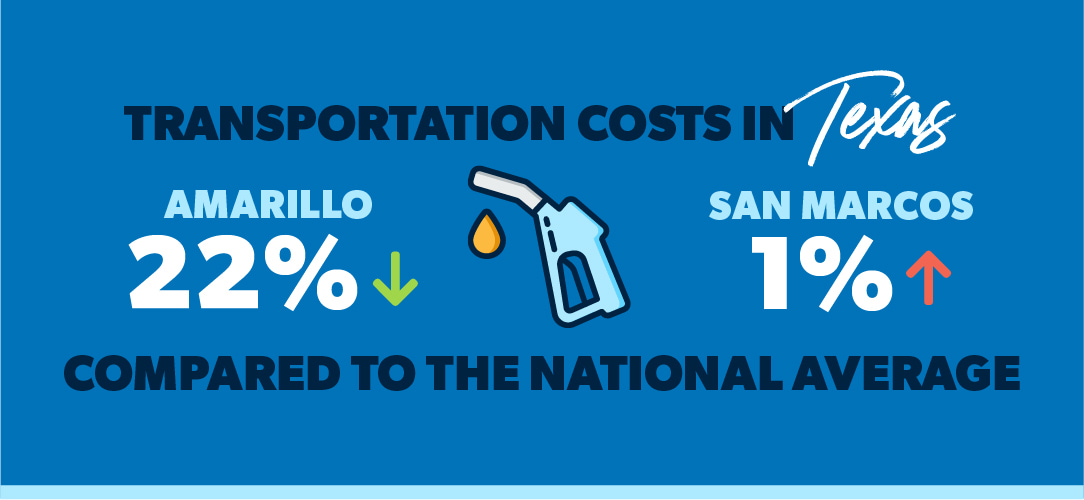 Health Care
Texas health care costs range from 21% lower than the national average in Plano, to 26% higher in San Marcos. Meanwhile, Midland, a city in western Texas, sits in the middle range among Texas cities, with health care costs almost 4% lower than the national average—not too shabby.10
Here's a breakdown of how Midland health care costs compare to the average city in the country:
| | | | |
| --- | --- | --- | --- |
| Health Care Type | Midland, TX Cost | Average U.S. City Cost | Cost Difference |
| General doctor | $83 | $115 | 28% |
| Dentist | $103 | $98 | 6% |
| Eye doctor | $99 | $106 | 6% |
| Advil | $10 | $9 | 10% |
| Prescription drug | $521 | $469 | 11%11 |
Taxes
Guess what? Texas has no state income tax!12 That's right, if you don't mess with Texas, Texas won't mess with your taxes. Well, at least it won't touch your paycheck. Texas still has a state sales tax rate of 6.25%—or 8.19% if you include its average local rate. That percentage ranks Texas as the 13th highest in the country for total sales tax—cue the eye roll.13
If all this tax talk makes you quake in your boots, don't worry. You can find out exactly how moving to Texas will impact your taxes by connecting with one of our trusted tax advisors.
Miscellaneous Goods and Services
Miscellaneous costs refer to a wide range of goods and services including things like common restaurant foods, clothing, entertainment, activities and personal care. In Texas, these costs range from 24% lower than the national average in Harlingen, to 13% higher in Midland.14
The western city of Odessa represents most Texas cities for miscellaneous costs, which is 6% lower than the national average. In Odessa, you can order a pizza for $12, get a haircut for $16.50, and buy a shirt for $29. For reference, those prices are $10, $17.45 and $32 for the average U.S. city.15 But if you want authentic kolaches for dessert, you'll have to move to Texas.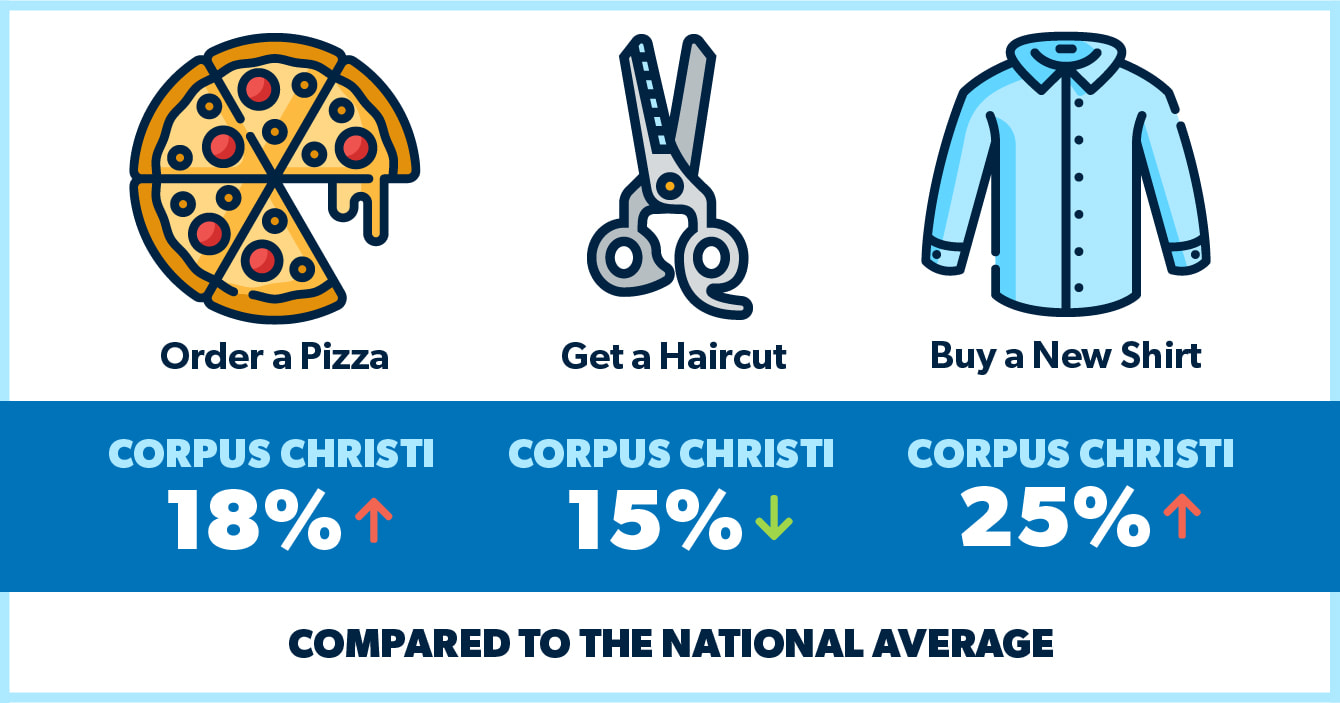 Compare the Cost of Living in Texas With Your Current City
Now you know the cost of living in Texas—but can you afford it? If you want to be sure, try our free Cost of Living Calculator to determine how much more or less expensive it would be for you to live in the Texas city that's calling your name.
If Texas has a higher cost of living than you can currently afford, not all hope is lost. Try one of these ideas:
Adjust your standard of living
Try to bump up your salary when you find a new job
Move to an affordable zip code that's within range of your desired city
Ready to Move to Texas?
If you can afford to live in Texas, congrats! The next step on your relocation journey is to handle your housing. For a quick and easy way to find real estate agents in Texas and your current city, try our Endorsed Local Providers (ELP) program. We only recommend the best-performing agents who are on a mission to help you crush your relocation goals.
Find a top-performing real estate agent!
Where Did We Get Our Data?
The data that drives most of these numbers and our Cost of Living Calculator comes from the Cost of Living Index published by the Council for Community and Economic Research (C2ER). Since the cost of living in any area is constantly changing, you can always check our calculator to find the most recent data. If you want to learn more about C2ER, get the scoop here.