So you're dreaming of moving to New York—home of the Statue of Liberty, Times Square and Central Park. The Big Apple tends to get all of the attention, but there's plenty more to love all throughout the Empire State—like seeing Niagara Falls, boating across the Erie Canal, camping in the Adirondack Mountains and going apple picking.
But how expensive is the cost of living in New York? That's a smart question to ask before you board a ship to Ellis Island. For starters, let's look at the other cities in New York—they're pretty affordable with an average cost of living that's nearly equal to most U.S. cities.
But the Big Apple is a whole other animal. If you want to live in Manhattan or one of its boroughs, your cost of living will skyrocket to almost double the national average (91% higher), according to a Cost of Living Index.1
To learn if you can afford to live in the Empire State, you'd have to compare the cost of living in your current city with the New York State city of your dreams. To help you make a confident decision on whether New York is the right move for you cost-wise, we'll show you how much New York State charges for "super fun" grown-up stuff like housing, food, taxes and bills.
So, hail a cab and let's get rolling!
Housing Costs in New York
Okay, let's start with housing costs. In July 2020, median home prices in New York were $527,000—about 51% higher than the national median of $349,000!2 Meanwhile, the median monthly rent for a two-bedroom apartment was nearly 29% higher than the national median of $1,200.3
With prices like those, you might have second thoughts about quitting your job to start an acting career on Broadway. But remember, New York State is bigger than Manhattan, where total housing cost factors are 430% higher than the national average—yikes! In fact, the north central area of Syracuse is actually 20% lower than the national average.4
To find the city in New York State that fits your budget, check out the cost differences between these cities:
| | | |
| --- | --- | --- |
| City in New York State | Average Home Price | Average Apartment Rent |
| Manhattan | $2,105,921 | $5,063 |
| Queens | $821,021 | $2,878 |
| Albany | $435,175 | $1,209 |
| Buffalo | $366,476 | $839 |
| Rochester | $305,797 | $1,086 |
| Syracuse | $254,112 | $1,1175 |
How to Handle Housing Costs in New York
Whether you decide to rent or buy in your new city, first make sure you can afford it. Cross off any cities from your list that don't allow you to keep your monthly housing payment to no more than a fourth of your take-home pay.
For home buyers who are getting a mortgage, that 25% limit includes principal, interest, property taxes, homeowner's insurance, private mortgage insurance (PMI)—and don't forget to take homeowners association (HOA) fees into consideration. Use our mortgage calculator to enter your down payment amount and try out different home prices within your budget.
If you want a smart mortgage you can pay off fast, talk to Churchill Mortgage about getting a 15-year fixed-rate conventional loan—the cheapest overall type of mortgage and the only kind we recommend. Any other type of mortgage will drown you in interest and fees and keep you in debt for decades.
To feel confident about finding an affordable home you love in New York, work with the top real estate agents in the market. We make it quick and easy for you to find the best-performing agents. It's their mission to help you find a home that allows you to keep all your other financial goals in balance.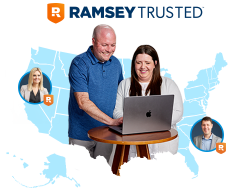 Don't buy or sell without an agent you can trust.
There are RamseyTrusted real estate agents all over the country who are ready to help you win.
Find a Local Agent
Utilities
Utility costs like energy and phone use in New York State range from 7% lower than the national average in the western city of Buffalo (birthplace of Buffalo wings!), to 18% higher in Brooklyn.6

Find expert agents to help you buy your home.
Ithaca, home of Cornell University, is somewhere in the middle range among New York State cities for utility costs at 6% higher than the national average.7 Trust us, you're going to want to crank up the heat during those lake-effect snowstorms.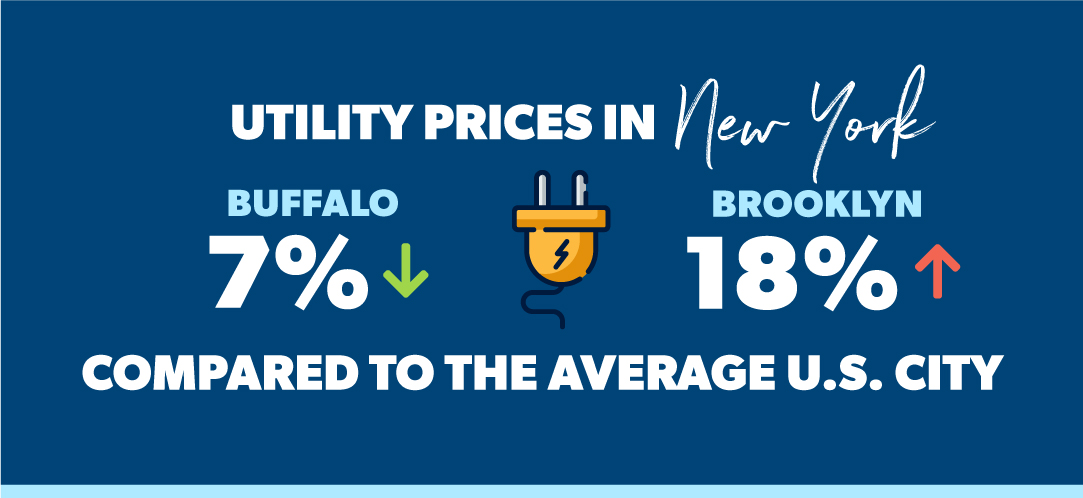 Groceries
Have you ever met shoppers proud enough to brag about their grocery store? Well, if you move to New York, you might start bragging about Wegmans—named America's favorite grocery store for several years in a row.8 Speaking of groceries, New York State groceries range from 6% lower than the national average in Buffalo, to 41% higher in Manhattan.9
Syracuse sits somewhere in the middle of the pack among New York State cities for groceries. In Syracuse, you can purchase ground beef, potatoes and orange juice for a little more than $11—which is 6% higher than the national average.10 And while we're on the subject of oranges, you can catch Syracuse Orange men's college basketball games at the Carrier Dome.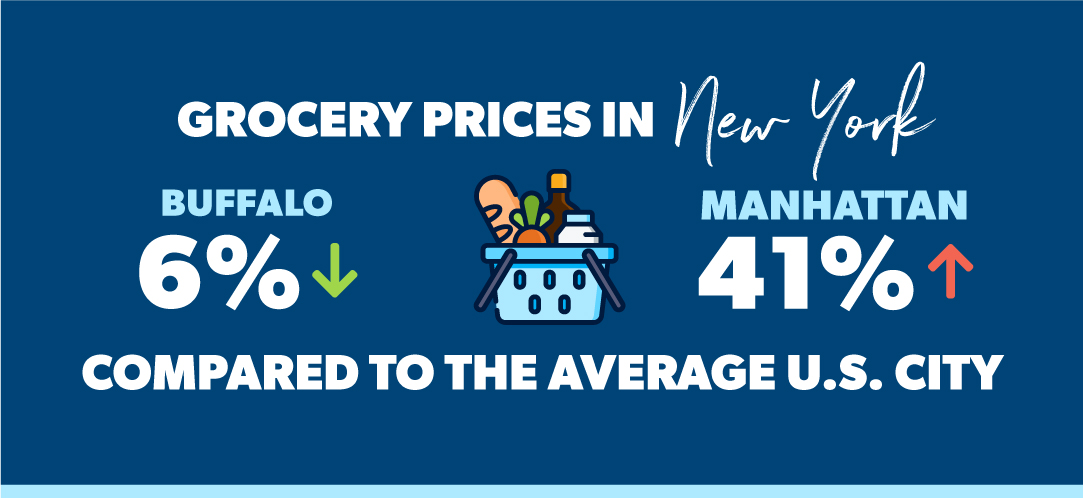 Transportation
Rev up your engines—or fill up your MetroCard! New York transportation costs range from 6% lower than the national average in the eastern area of Utica-Rome, to 29% higher in Manhattan. Meanwhile, Rochester, birthplace of Kodak and Xerox, drifts into the middle range for transportation costs among most New York State cities, which is 5% higher than the national average.11
Unless you're moving to New York City, you'll probably be driving a lot. So you'll want to keep transportation costs low by getting the right coverage. Try bundling your auto insurance for a discount by talking to one of the independent insurance agents we recommend.
Health Care
New York State health care costs range from 16% lower than the national average in Buffalo, to 12% higher in Ithaca. Meanwhile, Albany, the state capitol, sits in the middle range among New York State cities, with health care costs that are 3% higher than the national average—not too shabby.12
Here's a breakdown of how Albany health care costs compare to the average city in the country:
| | | | |
| --- | --- | --- | --- |
| Health Care Type | Albany, NY Cost | Average U.S. City Cost | Cost Difference |
| General doctor | $109 | $115 | 5% |
| Dentist | $105 | $98 | 7% |
| Eye doctor | $142 | $106 | 34%13 |
Taxes
New York State has an obnoxiously high tax rate. In fact, its income tax is the seventh highest in the country! New Yorkers in the highest tax bracket pay up to 8.82% of their income to the state, while those in the bottom bracket still pay about half that.14
The Empire State also has a state-level sales tax rate of 4%—or 8.52% if you include its average local-level sales tax rate. That percentage ranks New York State as the 10th highest in the country for total sales tax.15 As Frank Sinatra said, "If I can afford taxes there, I'll afford them anywhere"—or something like that.
If all this tax talk makes your eyes glaze over, no worries. You can find out exactly how moving to New York State will impact your taxes by connecting with one of our trusted tax advisors.
Miscellaneous Goods and Services
Miscellaneous costs refer to a wide range of goods and services including things like common restaurant foods, clothing, entertainment, activities and personal care. In New York, these costs range from 2% lower than the national average in Buffalo, to 36% higher in Manhattan.16
Rochester returns to represent most New York State cities for miscellaneous costs, which is 6% higher than the national average. In Rochester, you can order a pizza for $12, get a haircut for $19, and buy a shirt for $37. For reference, those prices are $10, $18 and $32 for the average U.S. city.17 But if you want the original Garbage Plate for dinner, you'll have to go to Rochester to get Nick Tahou's.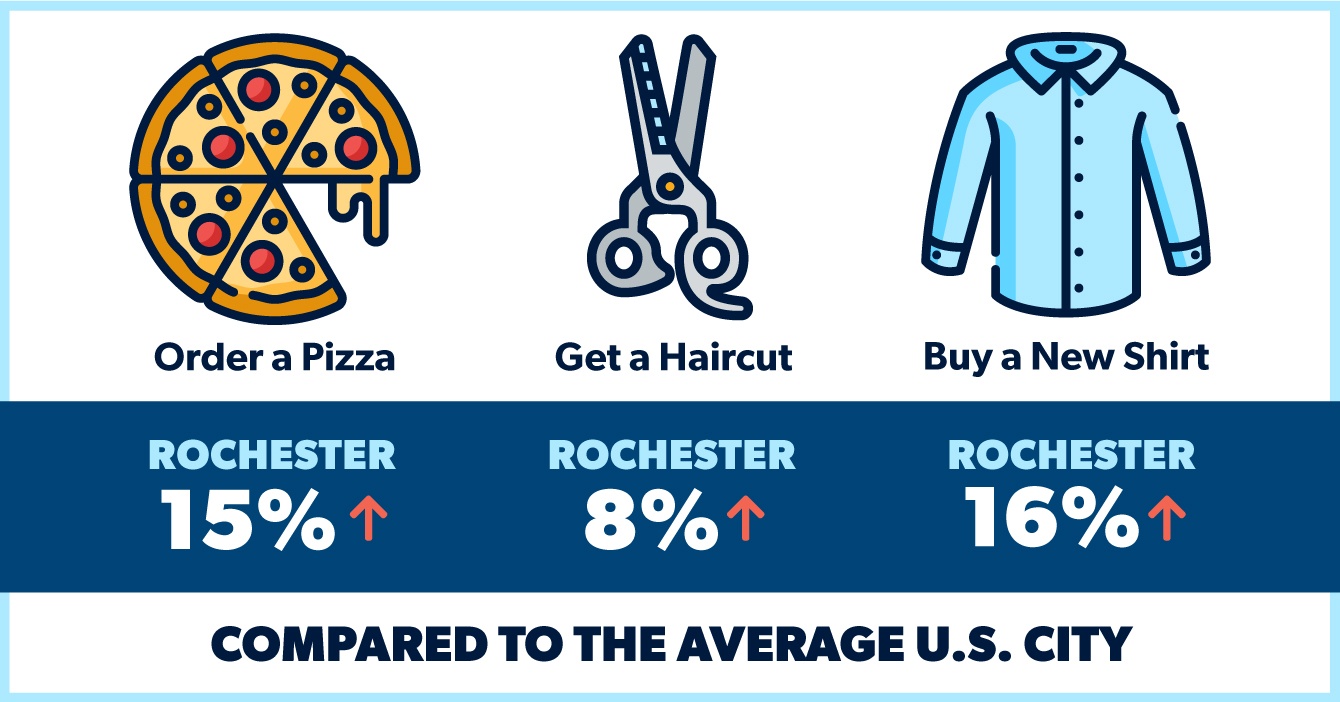 Compare the Cost of Living in New York With Your Current City
Now you know the cost of living in New York—but can you afford it? If you want to be sure, try our free Cost of Living Calculator to determine how much more or less expensive it would be for you to live in the New York State city that's calling your name.
If New York has a higher cost of living than you can currently afford, not all hope is lost. Try one of these ideas:
Adjust your standard of living
Try to bump up your salary when you find a new job
Move to an affordable zip code that's within range of your desired city
Another option—specifically to afford housing in NYC—is to find a roommate. That's how a lot of New Yorkers in the Big Apple avoid getting stuck in a shoebox apartment with a monthly rent that costs more than your first car. Even if it is a shoebox, at least you'll have some help covering rent.
Ready to Move to New York?
If you can afford to live in New York, congrats! The next step on your relocation journey is to handle your housing. For a quick and easy way to find real estate agents in New York State and your current city, try our RamseyTrusted program. We only recommend the best-performing agents who are on a mission to help you crush your relocation goals.
Find a top-performing real estate agent!
Where Did We Get Our Data?
The data that drives most of these numbers and our Cost of Living Calculator comes from the Cost of Living Index published by the Council for Community and Economic Research (C2ER). Since the cost of living in any area is constantly changing, you can always check our calculator to find the most recent data. If you want to learn more about C2ER, get the scoop here.
Did you find this article helpful? Share it!