Dreaming of becoming Nashville's next big music star? Longing to smear your face in barbecue sauce? Then Tennessee—the land with zero state income tax, short winters, beautiful blue skies and the Great Smoky Mountains—might be for you!
Whether you're moving the whole family, scoping out a new young-professionals scene, or looking for your dream retirement destination—we'll help you narrow down the best places to live in Tennessee.
Get ready, y'all!
10 Best Places to Live in Tennessee
The four main metro areas we've included here (Nashville, Knoxville, Chattanooga and Memphis) were inspired by a list that ranks the best places to live in Tennessee using data on quality of life, housing, job market, desirability and net migration (where people are actually moving to).1 We also added six other popular counties and areas surrounding those metros as a bonus.
Keep in mind, all "best places" lists are pretty subjective when you think about it. Still, this list can inspire you with ideas on where to live. So, let's dig into some of the most popular places in Tennessee so you can compare their stats and features to see if any stand out to you.
Nashville
Kicking off our list as one of the best places to live in Tennessee is Nashville. Sure, we're a little biased here since this is our town—but seriously, this city is full of life! Smack dab in the middle of Tennessee, the Nashville metro includes surrounding hot spots like Davidson County, Franklin and Murfreesboro.
Day or night, the Broadway strip features nonstop bachelorette parties and live music performed by some of the best aspiring musicians in the world. And you never know when you might bump into some of the music industry's brightest stars like Taylor Swift, Luke Bryan, Carrie Underwood or Keith Urban.
If music isn't your thing, don't worry: You can root for the Titans at Nissan Stadium or watch the Predators smash the competition at Bridgestone Arena. For a bite to eat before the game, check out Assembly Food Hall—a hip downtown hub including local and global eateries and live entertainment.
Enjoy relaxing weekends exploring Nashville's Centennial Park—featuring a beautiful sunken garden, a pond and a walking trail that surrounds a full-scale replica of the Greek Parthenon.
| | |
| --- | --- |
| Metro Area Population* | 1.9 million2 |
| Median Household Income | $70,2623 |
| Median Monthly Rent** | $1,4574 |
| Median Home Price | $459,9005 |
| Average Annual Rainfall | 52"6 |
*Metro Area Population numbers include the city together with the surrounding urban and suburban areas.
**Median Monthly Rent numbers refer to two-bedroom apartments unless otherwise noted.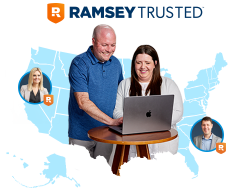 Don't buy or sell without an agent you can trust.
There are RamseyTrusted real estate agents all over the country who are ready to help you win.
Find a Local Agent
Franklin
For a quieter, more historic atmosphere, check out the city of Franklin. Just a short drive away from downtown Nashville, Franklin offers a cozy, small-town feel—a perfect setting where all your Hallmark-movie dreams can come true.
Downtown Franklin's Main Street District is probably one of the best you'll ever find. You can stroll along the strip and pop into charming local boutiques, bakeries and cafes with your family and friends.
There's also the Factory at Franklin—a multi-use facility that features a weekly farmers market, culinary treats, artisan goods and live events.

Find expert agents to help you buy your home in Tennessee.
Franklin joins other Nashville metro areas like Brentwood, Nolensville, Thomson's Station and Fairview to form Williamson County. On a harder-to-swallow note, this popular location comes with quite a hefty price tag. Here are some quick stats on the affordability of Williamson County:
Murfreesboro
Now, if Franklin has you scratching your head when trying to find a house in your budget, take a peek at Murfreesboro. It's a bit further southeast from all the honky-tonk happenings of Nashville, but Murfreesboro residents are probably happy about that!
The city is known for its Civil War history. You can visit historic sites like Stones River National Battlefield and Oaklands Mansion for a glimpse into the past. The city is also home of Middle Tennessee State University (MTSU).
Murfreesboro joins La Vergne and Smyrna among other towns and cities to make up Rutherford County. Rutherford County is a nice option if you want to live near the Nashville and Franklin area without having to pay the big bucks.
Clarksville
About an hour's drive northwest of Nashville, near the Kentucky border, is another great place to live in Tennessee: Clarksville. Home to McGregor Park and the Cumberland RiverWalk, Clarksville offers plenty of outdoor spaces to explore if you enjoy spending time outside.
Clarksville also has some great locations for history buffs—including Dunbar Cave, with its long-preserved ancient Native American cave art, as well as Clarkville's Customs House Museum and Cultural Center, one of the largest general museums in Tennessee!
Knoxville
Another one of the best cities to live in Tennessee is Knoxville. Knoxville is home of the University of Tennessee (UT), where the infectious local team spirit will transform you into a Vols fan in no time. Even if you're dead set against UT, there's nothing like the enthralling rush you'll feel at Neyland Stadium on game day.
Downtown Knoxville also has a lot to offer with the historic World's Fair Park. This park hosted one of the last successful World's Fairs in 1982, which was even highlighted in an episode of The Simpsons. Towering over the park's amphitheater, festival lawn and splash pad is Knoxville's iconic Sunsphere—specifically built as a symbol for the World's Fair.
If you're more into an edgy, bohemian vibe, you'll love Old City. This neighborhood features some of Knoxville's oldest buildings, businesses and homes mixed with trendy coffee shops, boutiques and eateries.
| | |
| --- | --- |
| Metro Area Population | 869,52516 |
| Median Household Income | $56,62317 |
| Median Monthly Rent | $1,23518 |
| Median Home Price | $337,45019 |
| Average Annual Rainfall | 50"20 |
Pigeon Forge / Gatlinburg
Here's another bonus we've added to the list. Just a little southeast from Knoxville is Sevier County. Inside this county are two Tennessee towns that would be the perfect place to call home if you're the adventurous type: Pigeon Forge and Gatlinburg.
These mountain towns are known as the gateway to the Great Smoky Mountains National Park. And you know what that means—incredible views and endless mountain trails to explore!
Pigeon Forge is also home to Dollywood—country singer Dolly Parton's Appalachian-inspired theme park featuring roller coasters, water rides and a museum. In other words, you'll never run out of things to do here!
Please note: The latest data we could find on median monthly rent for Sevier County is a little older than the other examples in this list.
Oak Ridge
On the west side of Knoxville, Oak Ridge is another one of the best places to live in Tennessee. Oak Ridge has earned a few nicknames like "The Atomic City" and "The Secret City" due to its history as a production site for the Manhattan Project during World War II.
Today, the city is still rich with history in technological discoveries—and it's home to several museums to showcase it. The American Museum of Science and Energy boasts an electrical orb you can touch that makes your hair stand up from the static. And the Children's Museum of Oak Ridge offers kids a chance to learn more about the Manhattan Project.
If you're more of a foodie, you'll enjoy Oak Ridge's food scene—like Big Ed's Pizza. They say legendary boxer Mike Tyson was once spotted wearing this local pizza joint's t-shirt while training before a big fight—so that means it's got to be good, right?
Again, the latest data we could find on both median monthly rent and median home price for Oak Ridge is a little older than the other examples in this list.
Chattanooga
Next on our list of best cities to live in Tennessee is Chattanooga. Located in southeastern Tennessee, Chattanooga offers a beautiful landscape that's close to many outdoor adventures.
For you outdoorsy types, Chattanooga has white water rafting on Ocoee River, hiking trails on Signal and Lookout Mountain, a local Ironman triathlon and an annual race called the Seven Bridges Marathon.
If you prefer food-based adventures, Chattanooga's Bluff View Art District offers delicious eateries like Tony's Pasta Shop. Nearby, there's also locally handcrafted ice cream at Clumpies and pancakes at Aretha Frankensteins. And if you love the performing arts, this area is home to the Tivoli Theater.
| | |
| --- | --- |
| Metro Area Population | 566,15327 |
| Median Household Income | $55,36628 |
| Median Monthly Rent | $1,15829 |
| Median Home Price | $337,45030 |
| Average Annual Rainfall | 52"31 |
Memphis
Along the Mississippi River, in the far southwest corner of Tennessee, the metro area of Memphis also makes the list. Memphis is the birthplace of rock 'n' roll—and where the King of Rock 'n' Roll, Elvis Presley, eventually called home. Hundreds of thousands of visitors still tour his Graceland Mansion each year!
The city's iconic Beale Street in downtown Memphis features three blocks of restaurants, shops and nightclubs where you can experience live performances of rock 'n' roll, blues, jazz, R&B and gospel. But if sports are more your thing, you'll love being able to watch the Grizzlies play at the FedExForum arena.
| | |
| --- | --- |
| Metro Area Population | 1.3 million32 |
| Median Household Income | $54,85933 |
| Median Monthly Rent | $1,18234 |
| Median Home Price | $242,50035 |
| Average Annual Rainfall | 50"36 |
Germantown
Last but not least, Germantown completes our list of best places to live in Tennessee. This southeast suburb of Memphis offers tons of things to do.
Adore the theater? You'll love the Tennessee Shakespeare Company. Have some hyper kiddos you need to wear down? The 4,500 acres of Shelby Farms Park are perfect. Obsessed with spelunking? The Crystal Shrine Grotto—the only man-made crystal cave in the world—is for you!
Germantown joins several other Memphis suburbs to form Shelby County. Here are some more details about the area:
Is Tennessee an Affordable Place to Live?
If you're anything like us at Ramsey, you know one of the most important things to do before moving to a new area is to make sure you can actually afford living there.
One way to know you can afford it is to research the cost of living in Tennessee. The biggest factor that'll determine whether you can afford living there is the cost of housing.
To figure out your housing budget, use the 25% rule—never buy or rent a home that comes with a monthly payment that's more than 25% of your monthly take-home pay.
If you're getting a mortgage, that 25% limit includes principal, interest, property taxes, home insurance, private mortgage insurance (PMI) and homeowners association (HOA) fees. Use our mortgage calculator to enter your down payment amount and try out different home prices within your budget.
If you want a mortgage you can pay off fast, talk to the home loan specialists we trust at Churchill Mortgage about getting a 15-year fixed-rate conventional loan. Any other type of mortgage will drown you in interest and extra fees and keep you in debt for decades.
Ready to Move to Tennessee?
For a fast and easy way to find Tennessee agents we trust, check out the real estate agents in our RamseyTrusted program. The agents we recommend have earned the right to be called RamseyTrusted by always serving with excellence.
Did you find this article helpful? Share it!