So you're dreaming of moving to Colorful Colorado—but can you afford the cost of living? That's a smart question to ask before you pack up the skis and snowboards and head toward the Rocky Mountains.
The average cost of living in Colorado is 5% higher than the national average, according to a Cost of Living Index. As one of the top ten largest states in the U.S., Colorado's cost of living has a wide range. For example, CO cities are anywhere from 5% lower to 15% higher in cost when compared to the average U.S. city.1
To learn if you can afford to live in Colorado, you'd have to compare the cost of living in your current city with the CO city of your dreams.
To help you make a confident decision on whether Colorado is the right move for you cost-wise, we'll unpack how much CO charges for grown-up stuff like housing, food, taxes and bills.
Let's hit the slopes!
Housing Costs in Colorado
Okay, let's start with housing costs. In April 2020, median home prices in Colorado were almost $500,000—nearly 56% higher than the national median of $320,000!2 Meanwhile, the median monthly rent for a two-bedroom apartment was more than $1,300—nearly 11% higher than the national median of $1,200.3

Find expert agents to help you buy your home.
Sure, prices like those might hit you like an avalanche, but keep in mind Colorado is a big state. So there's hope in finding housing prices within your budget range when you look across the entire state.
For example, renting a two-bedroom apartment in Grand Junction—Colorado's largest Western Slope city and wine hub—is around $300 cheaper than the national average! And total housing costs in Pueblo, just a couple hours south of Denver, are 12% lower than the average U.S. city.4
Check out the cost differences between these Colorado cities:
| | | |
| --- | --- | --- |
| Colorado City | Average Home Price | Apartment Rent |
| Glenwood Springs | $572,888 | $1,588 |
| Denver | $515,298 | $1,500 |
| Grand Junction | $391,837 | $874 |
| Colorado Springs | $343,668 | $1,310 |
| Pueblo | $305,828 | $1,1025 |
How to Handle Housing Costs in Colorado
Whether you decide to rent or buy in your new city, first make sure you can afford it. Cross off any cities from your list that don't allow you to keep your monthly housing payment to no more than a fourth of your take-home pay.
For home buyers who are getting a mortgage, that 25% limit includes principal, interest, property taxes, homeowner's insurance, private mortgage insurance (PMI) and homeowners association (HOA) fees. Use our mortgage calculator to enter your down payment amount and try out different home prices within your budget.
If you want a smart mortgage you can pay off fast, talk to Churchill Mortgage about getting a 15-year fixed-rate conventional loan. Any other type of mortgage will bury you in interest and fees and keep you in debt for decades.
To feel confident about finding an affordable home you love in Colorado, work with the top real estate agents in the market. We make it quick and easy for you to find the best-performing agents. It's their mission to help you find a home that allows you to keep all your other financial goals in balance.
Utilities
Get this—utility costs like energy and phone use are 3–23% lower in Colorado than the average U.S. city. So if you move to Westminster, a northwest suburb of Denver, you'll only pay a monthly average of $99 for total energy—$70 cheaper than the national average!6
Even if you choose a CO city in the higher range of utility costs, like Colorado Springs, you'd still pay $7 less in monthly energy costs compared to the national average. After all, it's hard to sit at home racking up the utility bill in a state surrounded by gorgeous mountains and nature trails.7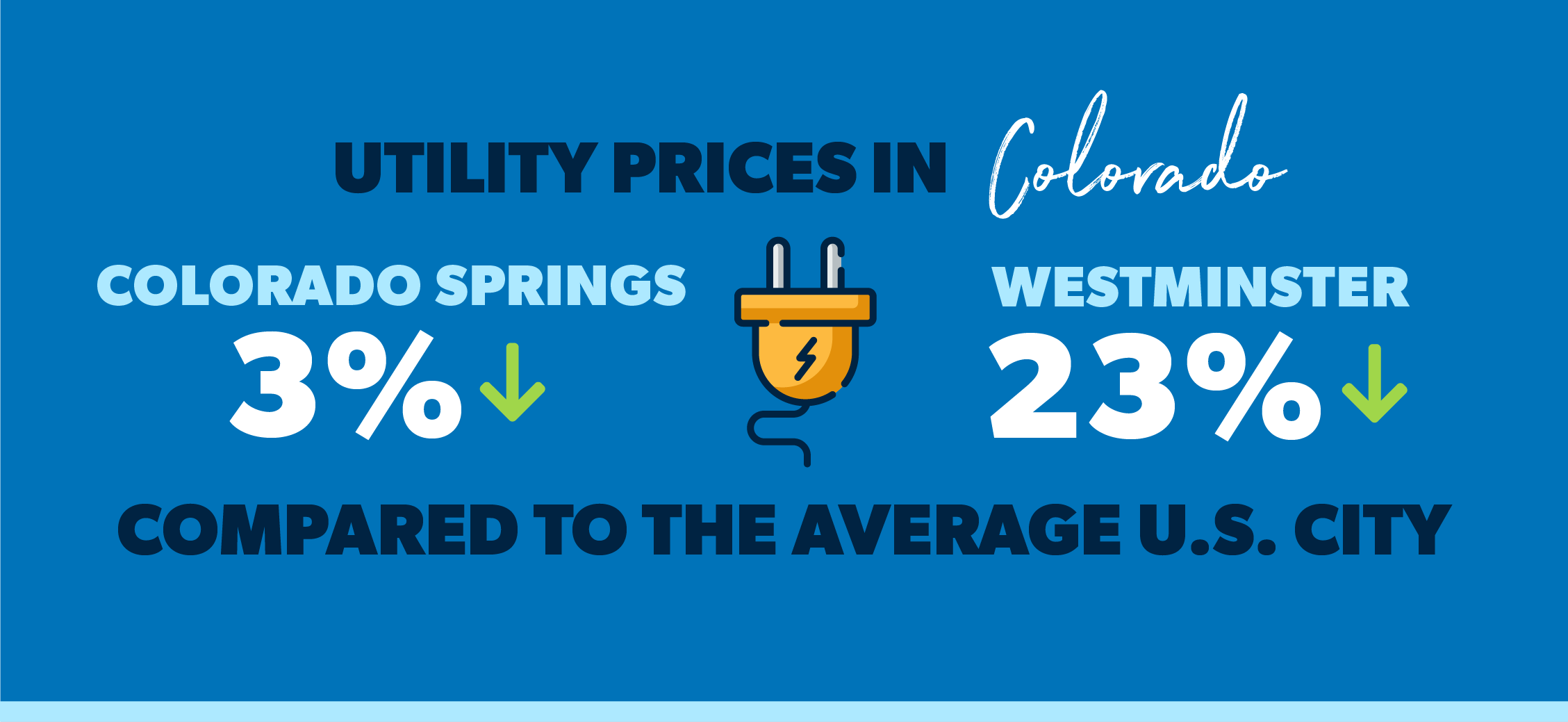 Groceries
In Colorado, you might pay a visit to the mighty King Soopers! Okay, it's not a real king—it's a supermarket. But hopefully you'll feel like royalty loading up on groceries there. Groceries in Colorado range from 9% lower than the national average in Westminster, to 9% higher in Grand Junction.8
Meanwhile, Pueblo sits somewhere in the middle price range among CO cities. In Pueblo, you can purchase a supply of sausage, eggs, toast and orange juice for nearly $13. Sure, that's 25 cents more than the national average.9 But a post-breakfast hike with breathtaking views might be worth that extra quarter.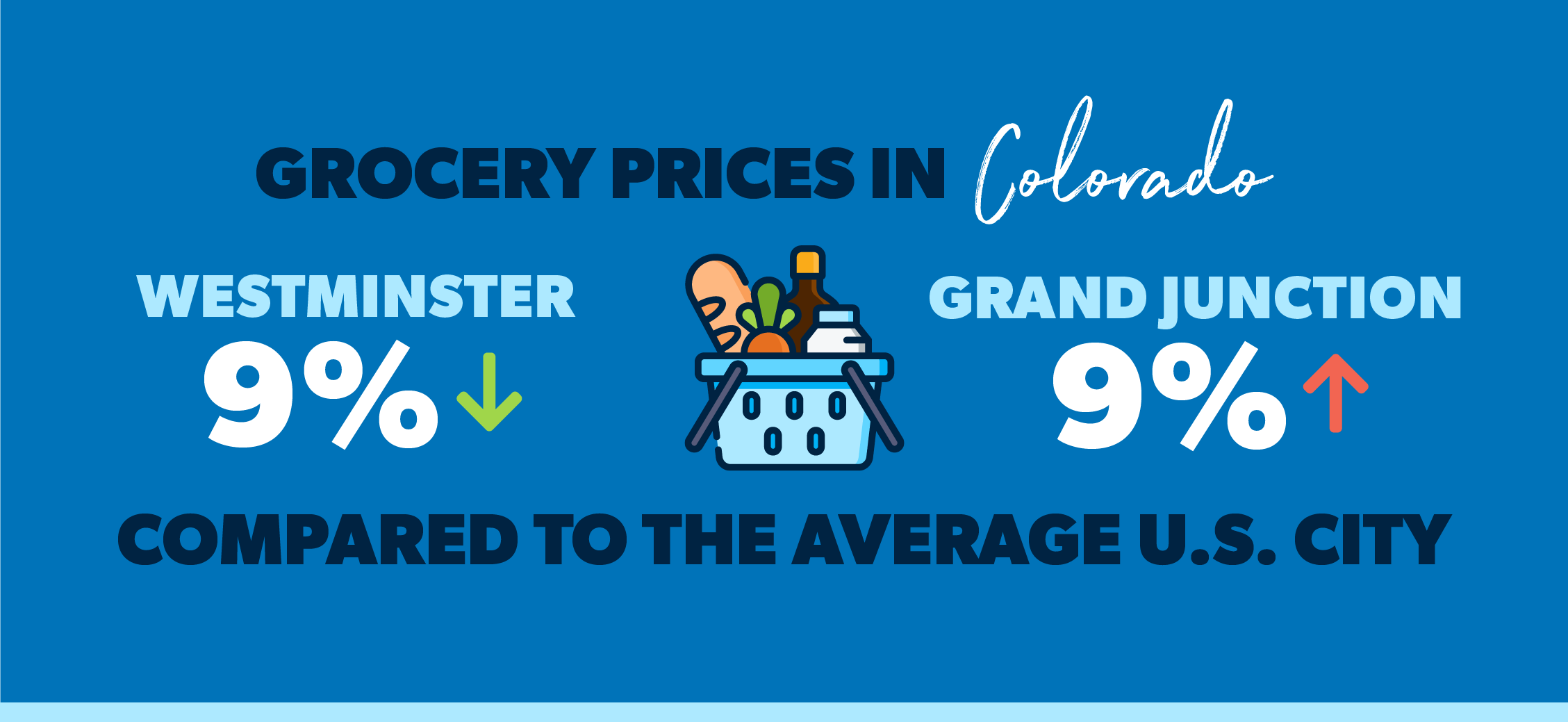 Transportation
Buckle up for the off-road adventures ahead! Transportation costs like gas prices and car maintenance in Colorado are mostly affordable. Costs range from 10% lower than the national average in Glenwood Springs, to 7% higher in Grand Junction.10
Westminster swerves into the middle range of Colorado's transportation costs, which is still 1% cheaper than the national average.11 Cha-ching!
If you do plan on off-roading in Colorado, keep transportation costs low by getting the right car coverage. Try bundling your auto insurance for a discount by talking to one of the independent insurance agents we recommend.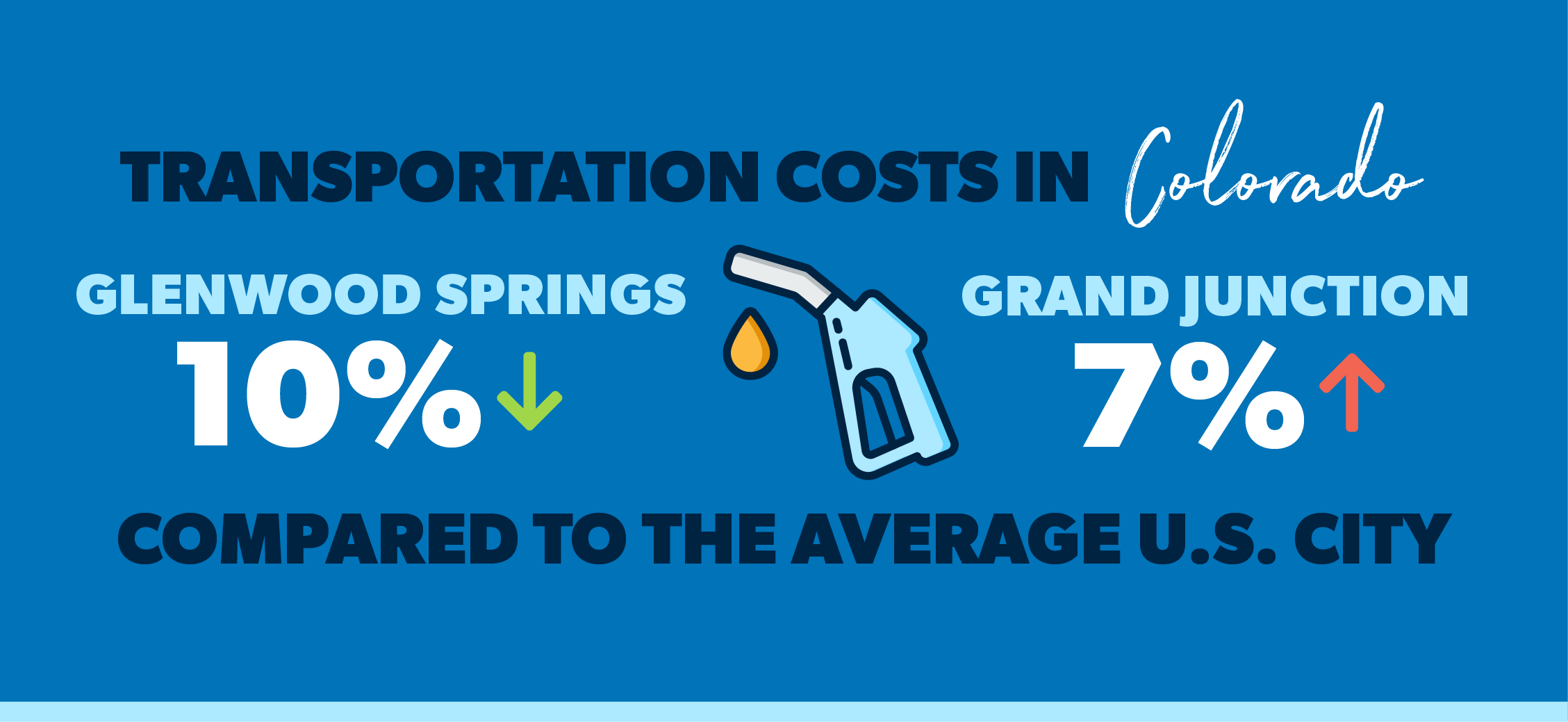 Health Care
Colorado health care costs range from 7% lower than the national average in Pueblo, to 14% higher in Glenwood Springs. Meanwhile, Denver charges about the average among Colorado cities. Thankfully, the Mile High City doesn't charge mile high prices for health care. In fact, Denver health care costs are only 4% higher than the national average.12
Here's a breakdown of how Denver's health care costs compare to the average city in the country:
| | | | |
| --- | --- | --- | --- |
| Health Care Type | Denver, CO Cost | Average U.S. City Cost | Cost Difference |
| General doctor | $121 | $115 | 6% |
| Dentist | $102 | $98 | 4% |
| Eye doctor | $105.68 | $106.10 | 0.4% |
| Advil | $8.52 | $9.30 | 8% |
| Prescription drug | $497 | $469 | 6%13 |
Taxes
Colorado isn't too bad when it comes to taxes, but it isn't the greatest either. The state sits on the lower end of the spectrum for income taxes—residents all pay the same flat rate of 4.63%.14
For state-level sales tax, Colorado has the lowest non-zero rate at 2.9%! But CO also has one of the top five highest local-level sales tax rates in the country at 4.75%—ranking the state as the 16th highest in the country for total sales tax.15
If all this tax talk makes your head spin, don't worry. You can find out exactly how moving to Colorado will impact your taxes by connecting with one of our trusted tax advisors. We only recommend tax pros who have the heart of a teacher.
Miscellaneous Goods and Services
Miscellaneous costs refer to a wide range of goods and services including things like common restaurant foods, clothing, entertainment, activities and personal care. In Colorado, these costs range from 4% lower than the national average in Pueblo, to 7% higher in Denver.16
Glenwood Springs represents most CO cities for miscellaneous costs at 2% higher than the national average. In Glenwood Springs, you can order a pizza for $11, get a haircut for $23, and buy a new shirt for $32.48. For reference, those prices drop to $10, $17 and $32.15 for the average U.S. city.17 But hey, in Glenwood Springs you get hot springs and majestic mountains.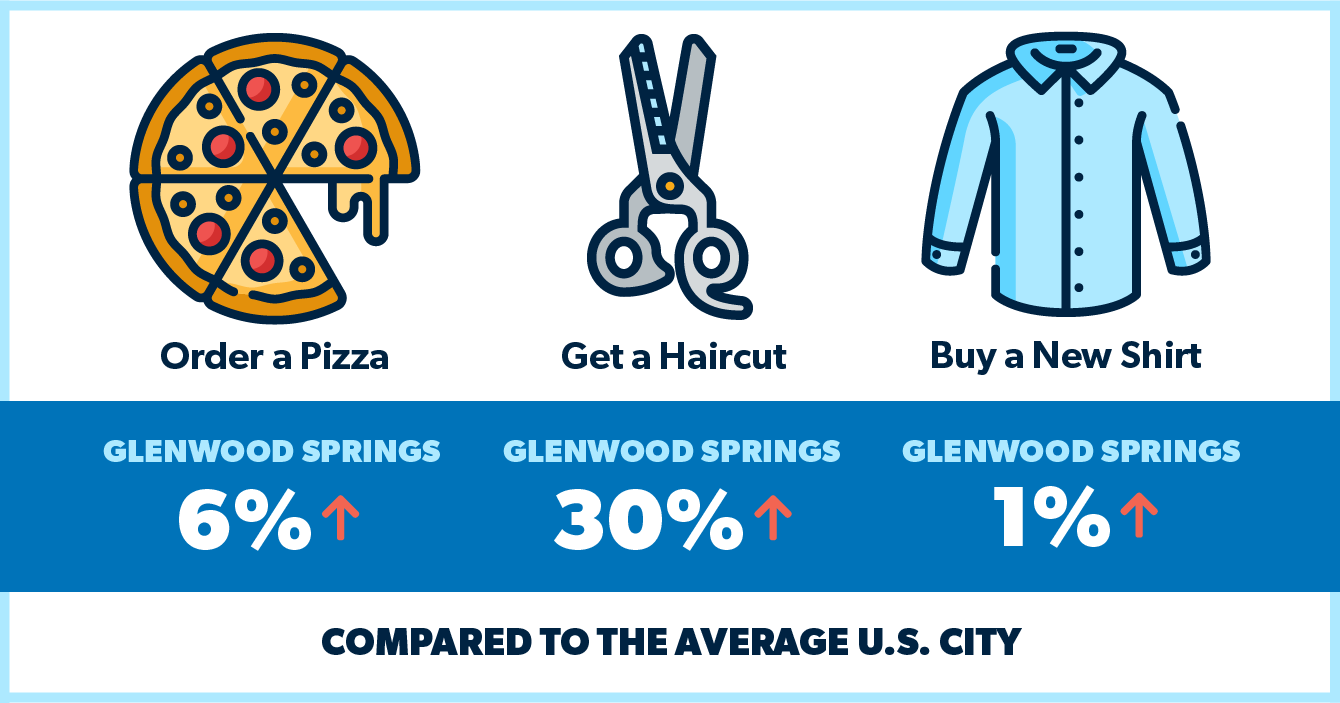 Compare the Cost of Living in Colorado With Your Current City
Now you know the cost of living in Colorado—but can you afford it? If you want to be sure, try our free Cost of Living Calculator to determine how much more or less expensive it would be for you to live in the CO city that's calling your name.
If Colorado has a higher cost of living than you can currently afford, not all hope is lost. Try one of these ideas:
Adjust your standard of living
Try to bump up your salary when you find a new job
Move to an affordable zip code that's within range of your desired city
Ready to Move to Colorado?
If you can afford living in Colorado, congrats! The next step on your relocation journey is to handle your housing. For a quick and easy way to find real estate agents in CO and your current city, try our Endorsed Local Providers (ELP) program. We only recommend the best- performing agents who are on a mission to help you crush your relocation goals.
Find a top-performing real estate agent!
Where Did We Get Our Data?
The data that drives most of these numbers and our Cost of Living Calculator comes from the Cost of Living Index published by the Council for Community and Economic Research (C2ER). Since the cost of living in any area is constantly changing, you can always check our calculator to find the most recent data. If you want to learn more about C2ER, get the scoop here.