So you're dreaming of moving to Colorful Colorado—but can you afford the cost of living there? That's a smart question to ask before you pack up the skis and head to the Rocky Mountains permanently.
To help you feel more confident about deciding whether you can afford the cost of living in Colorado, we'll unpack how much people in this state pay for grown-up stuff like housing, food, taxes and more.
Let's hit the slopes!
What's the Average Cost of Living in Colorado?
The average cost of living in Colorado is about 7% higher than in the average U.S. city.1 So it's a little expensive to live in Colorado—especially if you pick a big city like Denver or Colorado Springs.
But as one of the top 10 largest states in the U.S., Colorado's cost of living varies quite a bit—anywhere from 4% lower to 14% higher than the average U.S. city.2
How do we know? We look at a cost of living index that compares five cities in Colorado with hundreds of other cities around the country. On the index, the number 100 represents the national average cost of living. Anything below 100 means Colorado is cheaper than average in that category. Anything above 100 means Colorado is more expensive. Make sense?
Let's take a look:
| | | |
| --- | --- | --- |
| Cost of Living Category | Colorado | U.S. |
| Housing | 115 | 100 |
| Utilities | 87 | 100 |
| Groceries | 99 | 100 |
| Transportation | 107 | 100 |
| Health Care | 101 | 100 |
| Miscellaneous | 104 | 100 |
| Total | 107 | 1003 |
So what do all those numbers mean? Let's dig into each category and find out.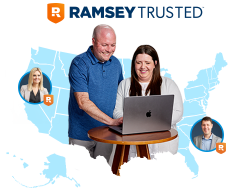 Don't buy or sell without an agent you can trust.
There are RamseyTrusted real estate agents all over the country who are ready to help you win.
Find a Local Agent
Housing Costs in Colorado
Okay, housing is the most expensive cost of living in Colorado, so let's start there. In February 2022, median home prices in Colorado were $594,500—about 51% higher than the national median of $392,450!4 Meanwhile, the median monthly rent for a two-bedroom apartment was $1,600—nearly 24% higher than the national median of $1,294.5
Those sky-high prices might hit you like an avalanche, but keep in mind Colorado is a big state. So there's still hope that you can find housing within your budget if you're willing to move to a lower-cost area.
For example, buying a home in Fort Morgan—which sits an hour and a half east of Denver—costs around $317,000 (or $75,000 less than the national median home price)!6 And total housing costs in Pueblo, just a couple hours south of Denver, are 11% lower than the average U.S. city.7
Check out the cost differences between these Colorado cities:
| | | |
| --- | --- | --- |
| Metro Area* | Average Home Price | Apartment Rent |
| Boulder | $851,740 | $1,940 |
| Denver | $649,500 | $1,745 |
| Greeley | $499,950 | $1,296 |
| Colorado Springs | $488,515 | $1,419 |
| Fort Collins | $620,0008 | $1,5019 |
*Metro Areas include the city and surrounding urban and suburban areas.
**Median Rents refer to the monthly costs for two-bedroom apartments.
Housing Costs in Denver, Boulder and Colorado Springs
Okay, we're going to take a quick timeout and look at three of the most popular cities in Colorado: Denver, Boulder and Colorado Springs. We'll break down the numbers and show how those housing prices play out over the long term. So here we go.
Denver
It seems like everyone is looking to buy real estate in Denver these days. And who can blame them? It's a breathtaking city in the foothills of the Rocky Mountains.

Find expert agents to help you buy your home.
But with the median home price coming in at just under $650,000, buying a home in Denver is easier said than done—even if you get a 15-year, fixed-rate mortgage. (That's the cheapest mortgage you can get.) Take a look:
$650,000 home x 20% = $130,000 down payment
Monthly payment: $4,500
That means if you make the household median income in Denver—which is around $72,700—you'll only have about $1,600 left each month for all your other living expenses after you pay your mortgage.10 And that's before you pay for taxes and health insurance—so that number could drop well below $1,000. That's just not a good idea!
Boulder
This beautiful city is just over half an hour from Denver. But drive those 30 minutes, and you'll see home prices climb another $200,000 higher! Here's how that plays out with a 15-year, fixed-rate mortgage:
$852,000 x 20% = $170,400 down payment
Monthly payment: $5,900
Not-so-fun fact: That means you'll pay more than $70,000 on your mortgage each year . . . but the median household income in Boulder is just $72,300.11 So you'll have to have a pretty killer job (or be willing to buy a smaller, cheaper house than most people) to afford a home here.
Colorado Springs
Out of these three cities, Colorado Springs has the most affordable homes. Check out what a 15-year, fixed-rate mortgage could look like here:
$488,515 x 20% = $97,703 down payment
Monthly payment: $3,400
The median income in Colorado Springs is lower than the other cities at $67,700.12 So if you buy a median priced home on a median salary, you're looking at around 60% of your income being tied up in house payments. Yikes! No, thank you.
Okay, you get it. Homes are expensive in Colorado's most popular cities. But that doesn't mean you shouldn't live in those places. Hear us loud and clear: It's totally okay to move there!
You just have to make sure you can afford it first. So if you've been googling "homes for sale in Denver" and falling in love with cool mountain cabins, let's pump the brakes for a minute. We'll talk about how you can afford those cabins—you know, without selling a kidney.
How to Handle Housing Costs in Colorado
Whether you decide to rent or buy in Colorado, your first step is to decide on your monthly housing budget. We recommend keeping your rent or mortgage payment to no more than a fourth of your take-home pay. (Here's why we say that.) For home buyers who are getting a mortgage, that 25% includes property taxes, homeowners insurance, private mortgage insurance (PMI) and HOA fees too.
Stick with a 15-year, fixed-rate conventional mortgage (so you can own your Colorado home faster). And your down payment should be at least 10% (20% is better so you can avoid tacking private mortgage insurance on top of your monthly payment). You can also use our mortgage calculator to enter your down payment info and see different home prices within your budget.
Now take a look at housing in cities where you want to live. Cross off any cities on your list where rentals or home prices are too high. You'll also want to make sure you talk to a local real estate agent who can help you scout out the best deals and find a home that's truly in your budget.
And if you want a smart mortgage you can pay off fast, talk to Churchill Mortgage. They'll help you find a mortgage that keeps all your financial goals in perspective—not just your house payment.
Utilities
Get this: Utility costs like electricity, water and natural gas are 2–22% lower in Colorado than the average U.S. city.13 That's because Colorado gets a lot of its energy from renewable sources like hydroelectric, wind, solar and even geothermal power. In fact, 40% of Colorado's energy came from renewable sources in December 2021—up from 30% in 2020.14,15
So if you move to Westminster, a northwest suburb of Denver, you'll only pay a monthly average of $102 for total energy—$68 cheaper than the national average!16
Even if you choose a city in the higher range of utility costs, like Colorado Springs, you'd still pay $4 less in monthly energy costs than the national average.17 (Not a lot less, but hey, every dollar counts, right?)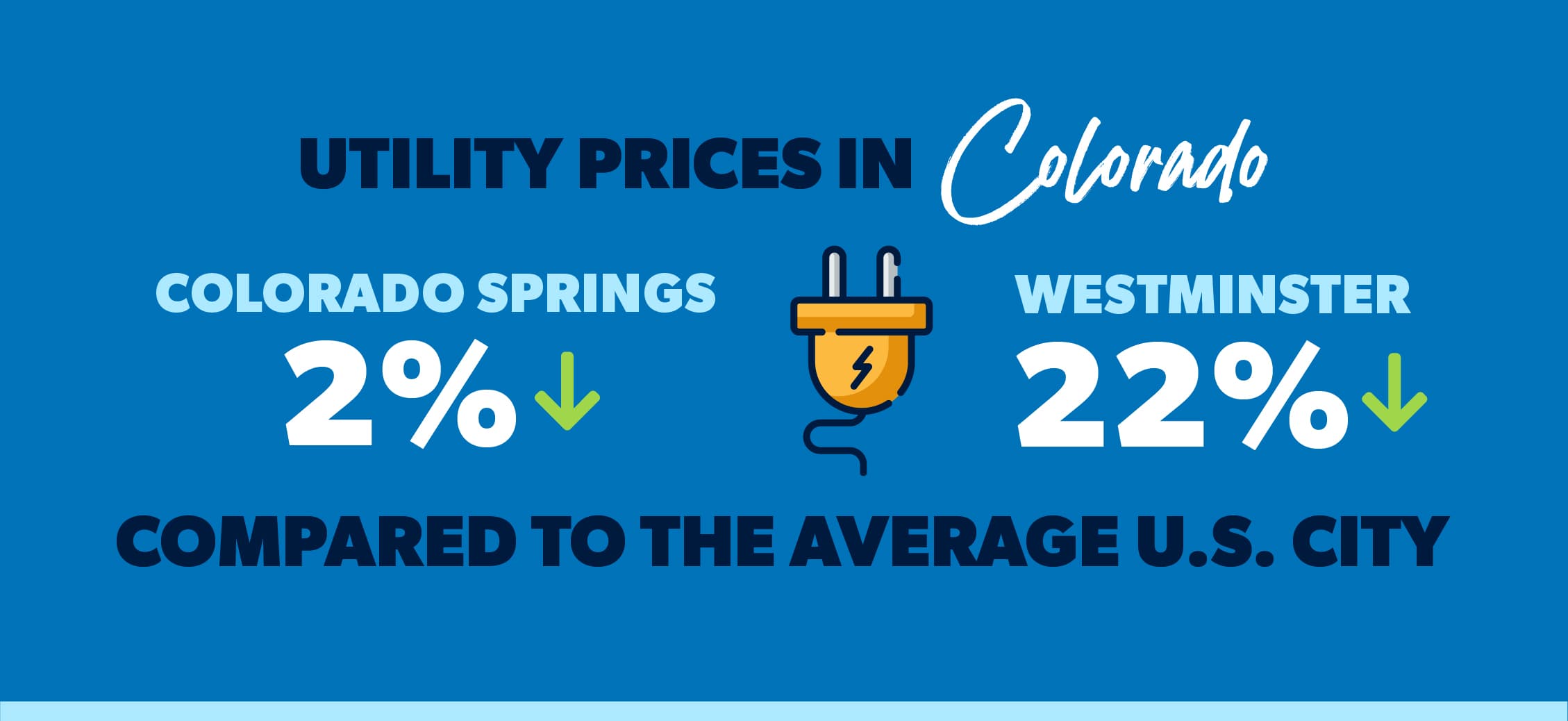 Groceries
In Colorado, you might pay a visit to the mighty King Soopers supermarket! (Don't worry—if you're not feeling the royal vibes, you can hit up a trusty ol' Trader Joe's in this state too.)
When you look at the state as a whole, Colorado residents pay about what everybody else in the country pays for groceries. But exactly how much you pay will depend on the city you live in. This Colorado cost of living category will run you anywhere from 11% below average in Westminster to 11% above average in Grand Junction.18 So if your family runs through a lot of groceries, choose wisely!
But if you do find yourself paying more for groceries—either because of where you live or due to crazy inflation—stay calm and take some tips from Rachel Cruze. She's the grocery budgeting queen, and she's got great advice to save at the grocery store.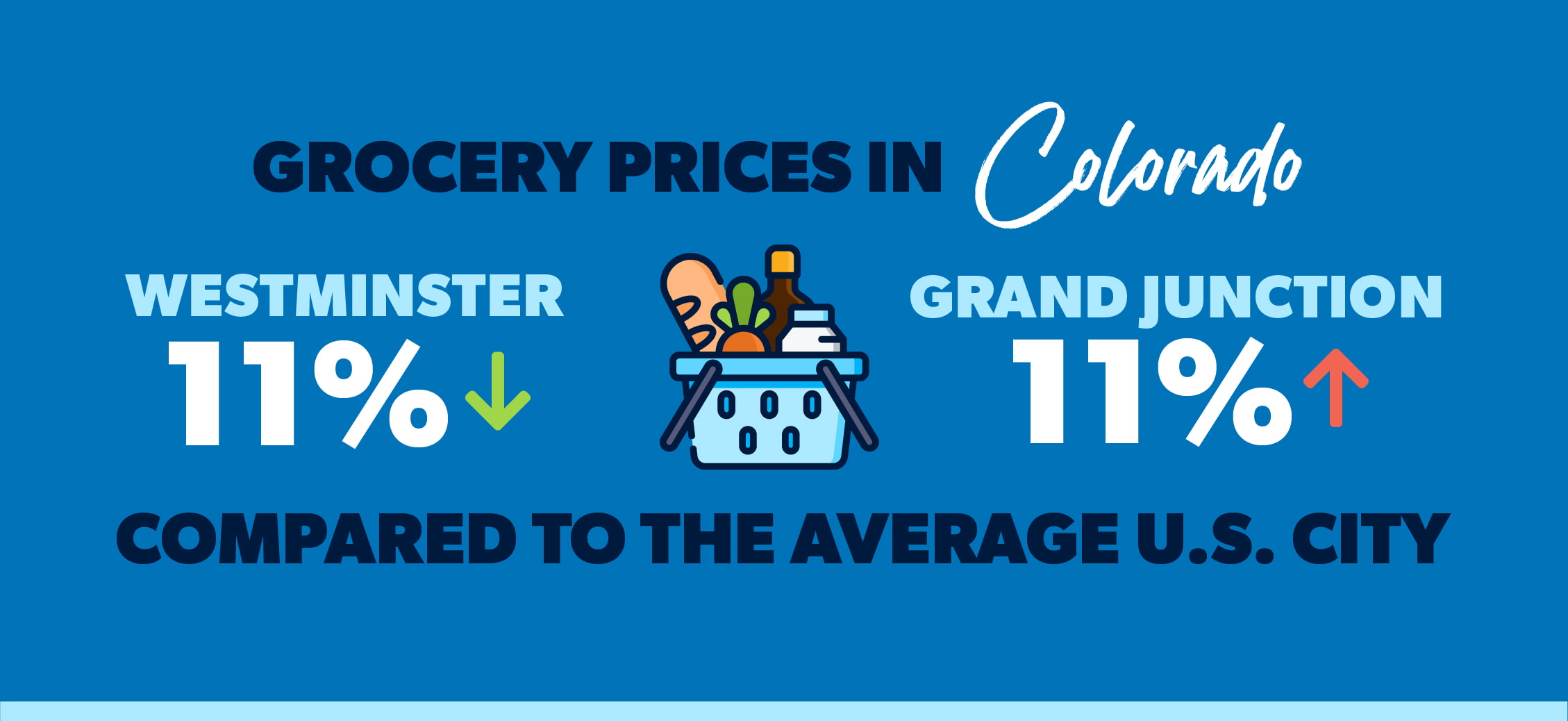 Transportation
Buckle up for the off-road adventures! (Seriously—Colorado's got some gnarly off-roading trails that'll either give you the thrill of a lifetime or have you wetting your pants.) But what about normal transportation costs?
We'll be honest: Transportation costs like gas prices and car maintenance are a little high in Colorado. You can expect to pay about 11% more for transportation costs in Denver than in the rest of the country.19 Even in cities that are "cheap" by Colorado standards—like Pueblo—don't get too excited. You'll still be paying about 1% more than everybody else.20
Oh, and whether you want to stay on the road or hit up the trails, remember to count getting the right car insurance into your transportation costs.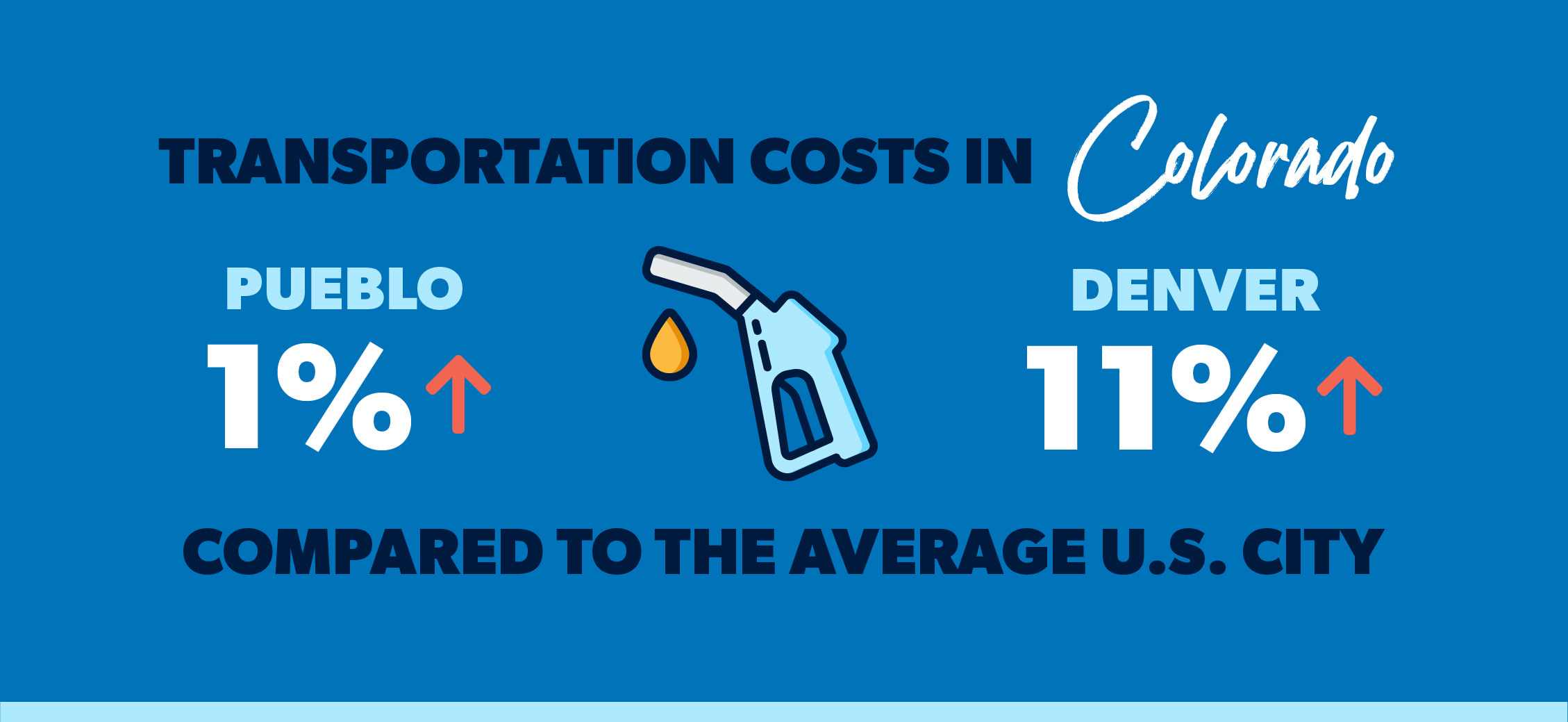 Health Care
Colorado health care costs range from 12% under the national average in Pueblo to 3% above average in Grand Junction.
Meanwhile, Colorado Springs charges about the average among Colorado cities. Thankfully, the prices aren't mile high—they're only about 1% higher than the national average.21
Here's a breakdown of how much common health care services and products cost in Colorado Springs compared to the average U.S. city:
| | | | |
| --- | --- | --- | --- |
| Health Care Type | Colorado Springs Cost | Average U.S. City Cost | Cost Difference |
| General doctor | $120 | $117 | +2.6% |
| Dentist | $103 | $101 | +2.0% |
| Eye doctor | $112 | $109 | +2.8% |
| Ibuprofen | $9.27 | $9.90 | -6.4% |
| Prescription drug | $476 | $470 | +1.3%22 |
Taxes
Colorado has a flat income tax rate—meaning all residents pay the same rate regardless of income, that's 4.55%.23 That's not the lowest rate out there (nine states don't even charge income tax), but it's about the middle of the pack compared to other states that have flat income tax rates.
Out of the 45 states (plus D.C.) that charge sales tax, Colorado has the lowest rate. It's just 2.9%!24 Unfortunately, the cities and counties make up for it. Colorado has the third highest local-level sales tax rates in the country at 4.87%—and if you combine that with the statewide sales tax rate, that puts Colorado as the state with the 16th highest total sales tax.25
If all this tax talk makes your head spin, don't worry. You can find out exactly how moving to Colorado will impact your taxes by connecting with one of our trusted tax advisors.
Miscellaneous Goods and Services
The miscellaneous goods and services category includes all sorts of fun things! (And okay, maybe a couple not-so-fun necessities.) Here are some examples:
Clothing
Restaurant foods (mmm, pizza)
Entertainment like concerts and movies
Activities like fitness classes or sightseeing
Household goods like wall hangings or new silverware
Personal care items like deodorant and feminine hygiene products
In Colorado, these types of items cost anywhere from 1% less than the national average in Pueblo to 13% more in Denver.26
Westminster represents most Colorado cities for miscellaneous costs of living at 4% higher than the national average. In Westminster, you can catch a movie for $14.23, get a haircut for $24.50, and buy a new shirt for $21.81.27 (Those things cost about $10.90, $20.16 and $30.70 in the average U.S. city.)28 But hey, at least you'll be close to some majestic mountains in Westminster.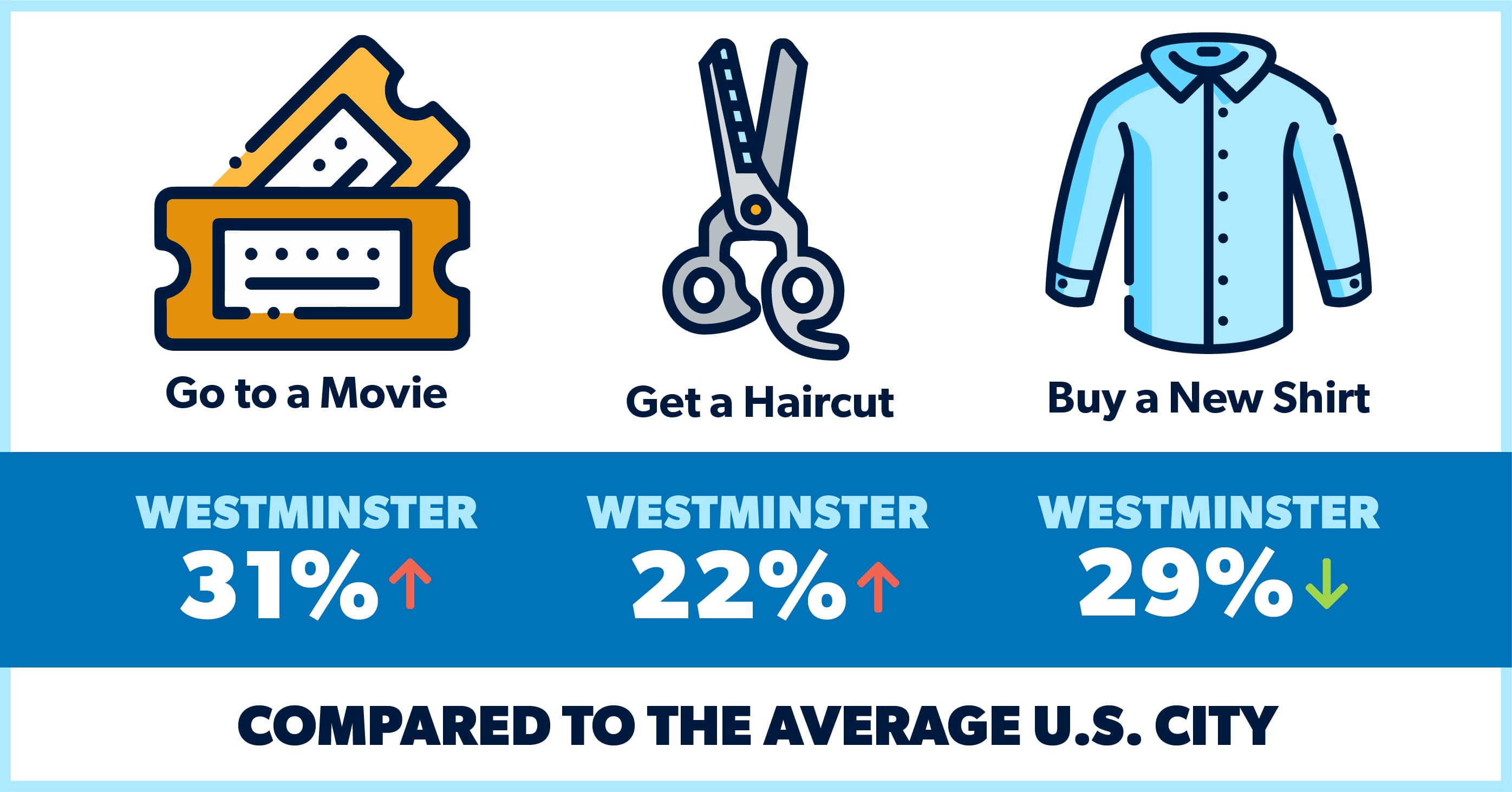 Compare the Cost of Living in Colorado With Your Current City
Now you know the cost of living in Colorado—but how does it compare to the place where you're living now? To find out if you can afford to live a similar lifestyle (on a similar salary) in Colorado, try our free Cost of Living Calculator. It'll show you a side-by-side comparison to help you decide if you can afford to live in the Colorado city that's calling your name.
If Colorado has a higher cost of living than you can currently afford, not all hope is lost. Try one of these ideas:
Ready to Move to Colorado?
Congrats! You did your homework on Colorado's cost of living, you made your budget (because of course you did), and you're all set to move! Of course, you need somewhere to move to.
The next step on your relocation journey is to handle your housing. We've got your back! With our RamseyTrusted program, you can find a great real estate agent to help you sell your current house and a great agent to help you find the perfect place in your new Colorado city.
Why do we say they're great? Because all our agents are peak-performers who are on a mission to serve you with excellence—even if it means less money in their pockets. These are top-notch pros, and we're proud to call them RamseyTrusted.
Find a RamseyTrusted real estate agent!
Where Did We Get Our Data?
The data that drives most of these numbers and our Cost of Living Calculator comes from the Cost of Living Index published by the Council for Community and Economic Research (C2ER). Since the cost of living in any area is constantly changing, you can always check our calculator to find the most recent data.
Did you find this article helpful? Share it!