So, you're dreaming of moving to Arizona—home of the Phoenix Suns, Sedona vortexes, not to mention the freakin' Grand Canyon!
Sounds like a happening place to be, right? Well, before you get hot to trot on solar panels and trade in your snow boots for flip-flops, let's nail down what the cost of living in Arizona is to see if you can afford it.
Let's get started!
What's the Average Cost of Living in Arizona?
Despite being smack dab in the middle of the desert, most of Arizona compares pretty evenly with the rest of the country in affordability. While cities may range from 8% below the national average in Bullhead City to 31% above in Lake Havasu City, the cost of living in the state as a whole is just above the cost of living national average by 6%.1
To help you make a smart decision on whether Arizona is the right move for you cost-wise, we'll show you how much Arizona charges for all the grown-up stuff like housing, food, taxes and bills.
We use a cost of living index to compare the eight most popular cities in Arizona with the average cost of living nationwide. Keep in mind that anything below 100 means Arizona's less expensive than the U.S. average in that specific cost of living category. Take a look:
| | | |
| --- | --- | --- |
| Cost of Living | Arizona | U.S. |
| Total | 106 | 100 |
| Housing | 117 | 100 |
| Utilities | 103 | 100 |
| Groceries | 104 | 100 |
| Transportation | 98 | 100 |
| Health Care | 98 | 100 |
| Miscellaneous | 103 | 1002 |
Okay, so that's a whole lot of numbers . . . What the heck do they all mean? Let's look into each category and figure it out.
Housing Costs in Arizona
So let's kick things off with housing costs. As of early 2022, the median price of homes in Arizona was about $470,500—which is nearly 20% higher than the national median of $392,450.3 Meanwhile, the median monthly rent for a two-bedroom apartment was about 18% higher than the national median of $1,295.4
With stats like those, you may be unsure if living in the desert looks like the move for you. But let's keep in mind that not all of Arizona costs the same. In fact, when you consider the total housing factors, Arizona ranges all the way from 18% lower than the national average in Yuma to 82% higher in Lake Havasu City!5
That 82% jump is intimidating, but housing costs in most of Arizona's popular destinations are pretty close to the national average. Check out the cost differences between these Arizona cities:
| | | |
| --- | --- | --- |
| City in Arizona | Average Home Price | Average Apartment Rent |
| Bullhead City | $439,000 | $919 |
| Flagstaff | $502,844 | $1,529 |
| Lake Havasu City | $883,585 | $1,152 |
| Phoenix | $383,557 | $1,708 |
| Tucson | $433,943 | $1,123 |
| Yuma | $326,587 | $9176 |
How to Handle Housing Costs in Arizona
Whether you decide to rent or buy in an Arizonan city, first make sure the cost of living there fits your budget. Cross off any places on your list that don't allow you to keep your monthly housing payment to less than a fourth of your take-home pay.
For home buyers who are getting a mortgage, that 25% limit includes principal, interest, property taxes, homeowners insurance and private mortgage insurance (PMI)—and don't forget to take homeowners association (HOA) fees into consideration. Use our mortgage calculator to enter your down payment amount and try out different home prices within your means.
If you want a smart mortgage you can pay off fast, talk to Churchill Mortgage about getting a 15-year fixed-rate conventional loan. Any other type of mortgage will drown you in interest and fees and keep you in debt for decades.

Find expert agents to help you buy your home.
To feel confident about finding an affordable home you love in Arizona, work with the top real estate agents in the market. Good news is, we make it quick and easy for you to find the best-performing agents. It's their mission to help you find a home that allows you to keep all of your financial goals in balance.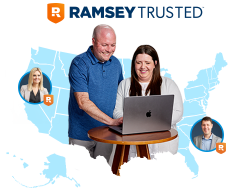 Don't buy or sell without an agent you can trust.
There are RamseyTrusted real estate agents all over the country who are ready to help you win.
Find a Local Agent
Utilities
On average, Arizonans pay a little more than most U.S. cities for utilities like energy and phone use—which makes sense because not even the Human Torch would skimp on AC when it's 112 degrees out.
Utility costs range from about 13% lower than the national average in Bullhead City, to 32% higher in Surprise which sits right outside Phoenix.7 However, Flagstaff settles somewhere in the middle at about 6.3% lower than the national average.8
Because utility costs vary so much from city to city, definitely do your research before you move. And remember, if the city you're considering lands on the high end, that's not an automatic stop sign if other cost of living factors balance it out in your budget.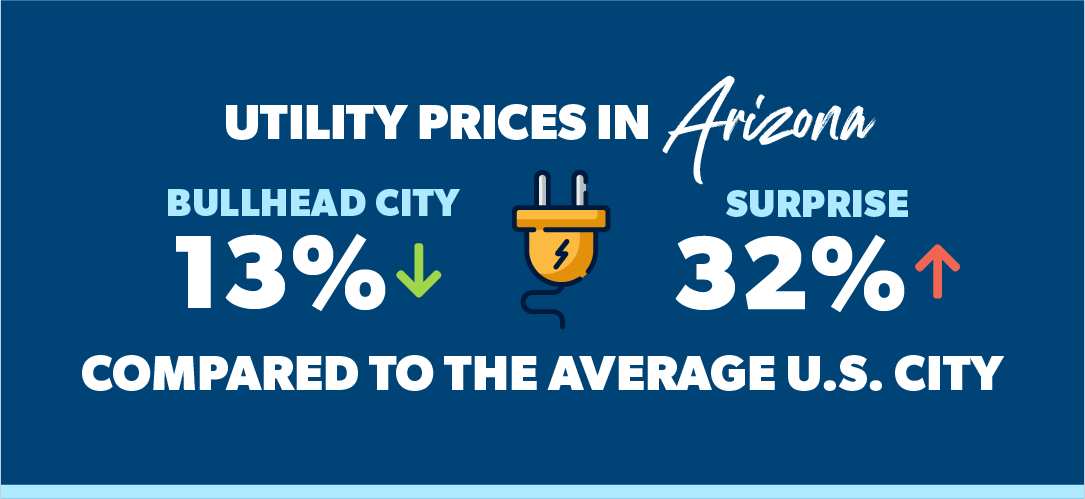 Groceries
Grab your grocery list, because we're going to Fry's Food Stores! No, it's not a golden grease-pit of fried food (unfortunately), but it is the go-to supermarket for many of our desert friends. Grocery prices in Arizona generally don't stray too far from the national average except for Lake Havasu City, whose prices climb about 20% higher. However, grocery prices drop 8% lower than the national average in Surprise.9
If you find yourself in Phoenix, Yuma or Tucson, your grocery bill will usually be within 3% of the U.S. average.10 That means that ground beef for your chimichangas will cost you anywhere from $4.07 to $4.52—or in other words, fried burrito goodness is staying in the budget.11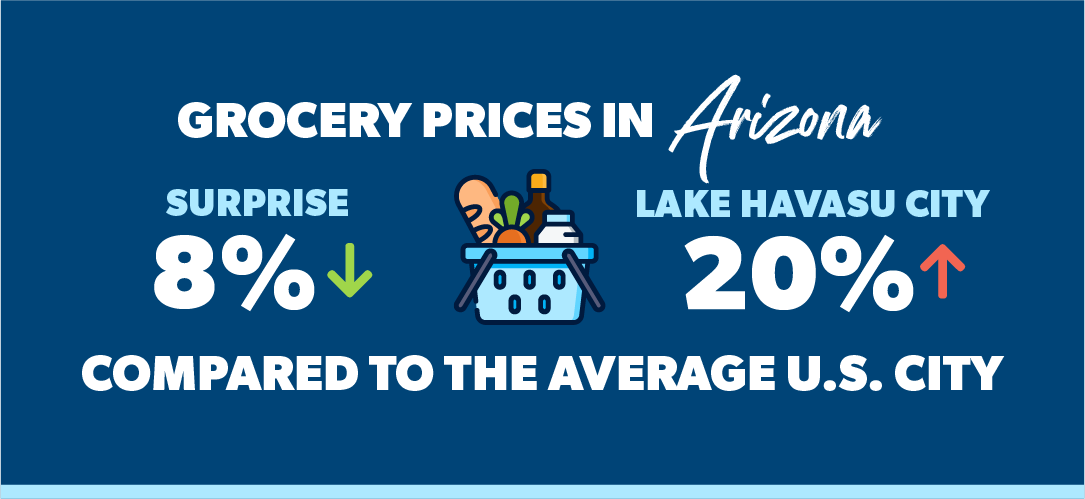 Transportation
Life in the fast lane might look a little different in Arizona. Transportation costs like gas prices or car maintenance are about 2% lower compared to the rest of the U.S., ranging from 10% lower than the national average in Lake Havasu City to 7% higher in Flagstaff.12 Tucson drifts into the middle range for transportation costs at just 1% above the national average.13
Since Arizona is a pretty huge state (sixth largest in the nation!), you're bound to have some long road trips if you plan on ever leaving your city. The best way to keep transportation costs low is to get the right insurance coverage. Try bundling your auto insurance for a discount by talking to one of the independent insurance agents we recommend.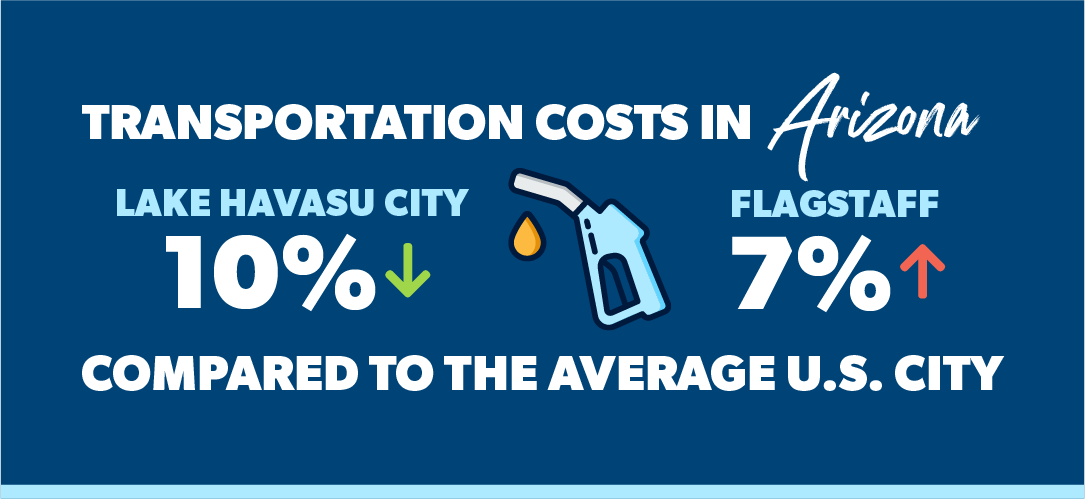 Health Care
Arizona health care costs range from 20% lower than the national average in Surprise to 8% higher in Flagstaff.14 Meanwhile, Lake Havasu City ranks in the middle range among Arizona cities, with health care costs falling right on the national average—not too shabby.15
Here's a breakdown of how Lake Havasu City health care costs compare to the average city in the country:
| | | | |
| --- | --- | --- | --- |
| Health Care Type | Lake Havasu City Cost | Average U.S. City Cost | Cost Difference |
| General doctor | $99 | $117 | -16% |
| Dentist | $109 | $101 | +8% |
| Eye doctor | $99 | $109 | -10% |
| Advil | $10.70 | $9.90 | +8% |
| Prescription drug | $501 | $470 | +7%16 |
Taxes
Arizona isn't the worst when it comes to taxes, but it isn't the best either. The state is sitting pretty on the lower end of the spectrum for income taxes with residents paying anywhere from 2.59% to 4.5%.17
But the downside is that Arizona still has a state sales tax rate of 5.6%—or 8.4% if you include the average local taxes.18 That makes Arizona the 11th highest in the country for sales tax.19
If all this tax talk makes you feel dizzy, don't worry. When you're ready to file your first tax return in Arizona, we've got the people and programs to help you do it all. Check out our trusted tax services.
Miscellaneous Goods and Services
Miscellaneous costs refer to a wide range of goods and services including things like common restaurant foods, clothing, entertainment, activities and personal care. In Arizona, these costs range from 14% lower than the national average in Bullhead City, to 22% higher in Lake Havasu City.20
Yuma represents most Arizona cities for miscellaneous costs, which is just 0.5% above the national average. In Yuma, the typical Arizonan cowboy can eat a pizza for $12.24, get a haircut for $16.12, and buy a new shirt for $25.62.21 For reference, those prices are $10.74, $20.16 and $30.70 for the average U.S. city.22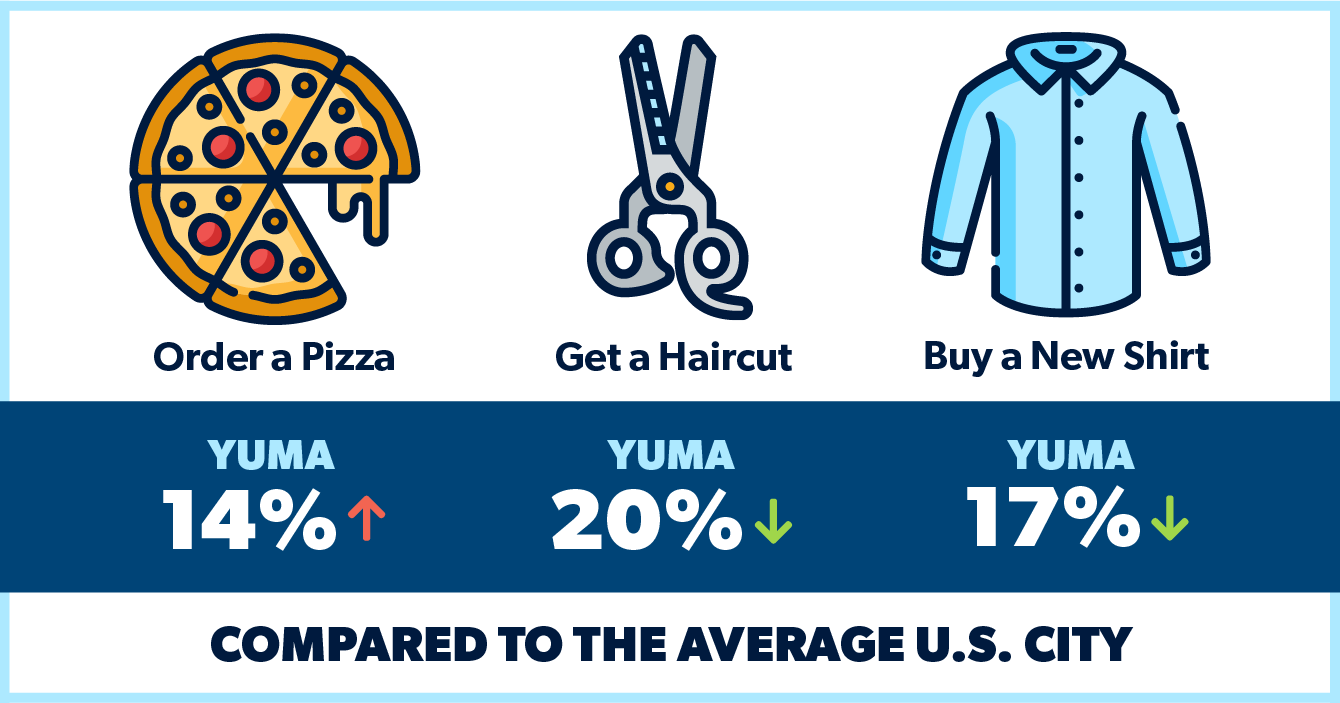 Compare the Cost of Living in Arizona With Your Current City
Now you know the cost of living in Arizona—but can you afford it? If you want to be sure, try our free Cost of Living Calculator to determine how much more or less expensive it would be for you to live in the Arizona city that's calling your name.
If Arizona has a higher cost of living than you can currently afford, not all hope is lost. Try one of these ideas:
Adjust your standard of living.
Try to bump up your salary when you find a new job.
Move to an affordable zip code that's within range of your desired city.
Ready to Move to Arizona?
If you're able to afford living in Arizona, congrats! The next step on your relocation journey is to handle your housing. For a quick and easy way to find trusted real estate agents in Arizona and your current city, try our RamseyTrusted program. We only recommend the best-performing agents who are on a mission to help you crush your relocation goals—that's how they earned the right to be called RamseyTrusted.
Find an Arizona real estate agent we trust!
P.S. Want to Know Where We Got Our Data?
Most of these numbers came from the Cost of Living Index (COLI). The Council for Community and Economic Research (C2ER) publishes this data every few months, and we use that info to help keep our Cost of Living Calculator as up-to-date as possible. Learn more about C2ER here.
Did you find this article helpful? Share it!