So you've got your heart set on North Carolina? Great choice! This state's got it all—breathtaking mountains, sparkling beaches, top-notch medical centers, and boatloads of museums. (There's even a museum on a boat.)
Moving to North Carolina is a big deal. And you'll have a ton of decisions to make before and after you move there.
Fortunately, you're not alone! We'll help you sort through all the relocation info you need—like North Carolina's job market, cost of living, pros and cons, and even some fun things to do—so you can feel more confident about all those decisions.
So grab a glass of sweet tea and let's go!
What Should I Know Before Moving to North Carolina?
So. Many. Things. North Carolina is an incredible state with a rich history and lots of opportunities to work and play. (Hey, that last one's just as important!) Here are 10 things you should know about North Carolina:
1. Why Are People Moving to North Carolina?
Um, it's awesome! North Carolina ranked fourth in the nation for population growth in 2021—probably because it was one of the 12 most popular states to move to that year.1,2 Here are the main reasons so many people packed up and moved to North Carolina:
Family (32%)
Work (28%)
Retirement (27%)
Lifestyle (21%)3
If you're a math whiz, you can tell some of those people moved for multiple reasons (and if you're not a math whiz, those numbers add up to 108%). That's because North Carolina offers so many opportunities to find a meaningful job and create a life you love with the people you love.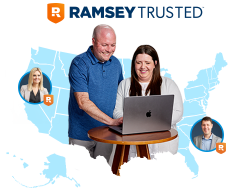 Don't buy or sell without an agent you can trust.
There are RamseyTrusted real estate agents all over the country who are ready to help you win.
Find a Local Agent
2. Job Market
North Carolina's unemployment rate was 3.7% at the end of 2021, just a smidge under the U.S. average of 3.9%.4 And 143,500 more North Carolinians had jobs at the end of 2021 than at the same time the year before.5
With the unemployment rate dropping and more people getting jobs, it's no wonder so many people are moving to North Carolina for work. And hey—if that's you, you may even be able to talk your employer into a sweet relocation package.
P.S. Are you running your own business? Remember to register your company with the state and county—even if you're working from home or online. And while you're at it, check out our resources for business owners, like EntreLeadership. We'd love to help you grow your business!
3. Cost of Living
You'll definitely want to learn about the cost of living before you pack up and move. After all, you've got to make sure you can afford living here!
North Carolina's cost of living is about 4% lower than the national average.6 So if you're coming from a pricey state—like moving from California to North Carolina—your expenses should go way down.
Just remember, the cost of living varies from city to city. So it's smart to figure out your budget first, then look for places you can afford to live.
4. Major Cities
North Carolina has plenty of great places to live. To help you start narrowing down your options, we'll compare just a few of the top cities:
Raleigh: Located in central North Carolina, the state capital is a major tech, medical and research hub. Plus, it's got awesome food, art and music. (Just try not to get barbecue sauce on some fancy painting.)
Charlotte: The biggest city in the state sits right on the border with South Carolina. It's got beautiful historic sites and natural areas like Lake Norman. And you'll enjoy a mix of trendy and family-friendly neighborhoods.
Asheville: High up in the Blue Ridge Mountains, Asheville offers endless hiking and skiing opportunities. And if you prefer the indoors, you may enjoy visiting its dozens of art galleries and breweries.
Wilmington: Beachside living, baby! Wilmington is right on the Atlantic Ocean, so you can enjoy the sand and surf all year long.
5. Cost of Housing
In early 2022, the median home price in North Carolina was $369,500, compared to the national median price of $375,000.7 And a two-bedroom apartment here will run you around $1,137 a month.8 That's almost $150 a month lower than the national median rent of $1,286.9

Find expert agents to help you buy your home in North Carolina.
So before you move, you'll need to decide if you should buy or rent. And if you buy, decide just how much house you can afford before you start making offers.
6. Geography
North Carolina sits between Virginia to the north, Tennessee to the west and South Carolina to the south (duh). To the east, there's the Atlantic Ocean.
What's super cool is that North Carolina has three unique regions. You can live in the Appalachian Mountains or on the Atlantic coast. Or you can enjoy the best of both worlds in the Piedmont. (That's the middle part of the state.)
Wherever you live, get ready to see lots of trees. North Carolina is more than half forest—it's even called the Tar Heel State because back in the old days, people used tar from the local pine trees to seal their wooden ships.10 (Fun fact: One of those ships belonged to the famous pirate Blackbeard.)11
7. Year-Round Weather
Most of North Carolina has a humid subtropical climate—aka short, mild winters and hot, humid summers. (Get ready to sweat any time you step outside!)
The mountains are a little different though. They've got a warm continental climate, so the average annual temperature stays cooler here than in the Piedmont (55 degrees in Asheville compared to 61 degrees in Raleigh).12,13
The mountains also get more rain and snow than the rest of the state—up to 80 inches per year.14 That's over six and a half feet! The rest of the state usually gets around 45–52 inches of rain each year.15 But that could change: North Carolina suffered a major drought in 2021.16
And not to scare you, but hurricanes are a thing in North Carolina. (It's a bummer, but it's part of living on the coast.)
8. Taxes
North Carolina has a flat income tax rate—you'll pay 5% no matter how much you make or whether you're married or single.17 And the state plans to lower that tax rate to 4% over the next few years.18 (Woo-hoo!)
State sales tax is also around 5% in North Carolina, and local taxes average just over 2%.19 That's the 15th highest local sales tax rate in the country, so be sure to ask your real estate agent whether the city you want to move to charges local sales tax or not.
Want help filing your taxes after you move? We've got you covered. Check out the tax services we trust to serve you with excellence.
9. Schools
If you're bringing the kiddos to North Carolina or plan to start your family here, you'll want to check out the local schools. Some online tools, like GreatSchools, can help you weigh the pros and cons of different districts.
Bonus: When the kids get a little older, they can get in-state tuition rates at some of the most prestigious universities in the country! Duke University, University of North Carolina and Wake Forest University are all here.
10. What Is There to Do In North Carolina?
Again. So. Many. Things. Here are some of the coolest places to take the kids (or yourself) for a fun outing:
Natural Areas
Outer Banks islands
Blue Ridge Parkway
Chimney Rock State Park
Cape Hatteras National Seashore
Peaks like Clingmans Dome, Mount Mitchell or Grandfather Mountain
Historic Sites
Biltmore Estate
Old Salem Museum and Gardens
Wright Brothers National Memorial
U.S.S. North Carolina battleship in Wilmington
Reed Gold Mine (where the first gold in the U.S. was found)
Museums and Other Activities
North Carolina Zoo
NASCAR Hall of Fame
Morehead Planetarium
North Carolina Aquarium
Raleigh Contemporary Art Museum
North Carolina Museum of Natural Sciences
Pro sports games like Carolina Panthers (football), Charlotte Hornets (basketball) or Carolina Hurricanes (hockey)
One more thing worth seeing: North Carolina's home to blue ghost fireflies, which light up the night with their beautiful blue-green glow.
Pros and Cons of Moving to North Carolina
Okay, so North Carolina is pretty awesome. But it's not all roses and sunshine (especially during hurricane season). You've got to weigh the pros and cons to decide if North Carolina is right for you.
Pros
Flat income tax rate
Tons of cool things to do
Good universities and health care systems
Beaches, mountains and forests—an outdoor lover's dream
Lower cost of living if you're moving from an expensive state
Cons
Hurricanes
Hot, muggy (and buggy) summers
Higher cost of living if you're moving from a cheaper state
Expensive medical care—it costs about 12% more than in the average U.S. city20
How Much Should I Save Before Moving to North Carolina?
On average, it costs anywhere from $2,600 to $6,700 to move to another state.21 And that's just the cost of hiring long-distance movers to transport your stuff. The true cost of moving varies quite a bit.
Some things that can affect your moving costs are:
How far you're moving. Moving from South Carolina to North Carolina is just a hop, skip and a jump. But if you're crossing the country—like moving from California to North Carolina—then you'll pay a lot more.
The amount of stuff you're bringing. Got a three-bedroom house stuffed to the gills with all your kids' favorite things? Your moving costs will be way higher than a single person who's just got a cat and a couple succulents.
The best way to save on moving costs is to do most of it yourself, if you're physically able to. You can also try to find a friend who owns a horse trailer—it's basically a redneck moving van! (Just make sure you hose it out first.)
Oh, and don't forget to save for your down payment or security deposit when you're calculating your moving costs.
What Do I Need to Do When Moving to North Carolina?
Okay, so you finally made the decision to move to North Carolina. Rock on! A lot goes into moving—from packing and decluttering to changing your address. To help make sure you don't miss a beat, we made this handy moving checklist.
You'd think once you get to your new place, you'd be done. But there's still a bit more to do. One of the most important things?
Update Your License, Registration and Vehicle Titles
First things first: Whenever you move, you need to update your driver's license to match your new state and address.
Then, you'll need to register your car (or truck or van or motorcycle or whatever you're driving) in North Carolina. That means you'll need to find car insurance in North Carolina. Once you have proof of insurance, the state will let you register your car and put on your shiny new tags. Yeah, baby!
Finally, if you own your car outright, you'll need to transfer your title to North Carolina too. That way there's no question you're the rightful owner, and you shouldn't have any issues if you decide to sell it.
You can get all the info you need from North Carolina's Official Division of Motor Vehicles website—like how much these things cost and what documents to bring with you (Social Security card, birth certificate, and current license, registration or title are always good bets).
Is North Carolina the Right Move for You?
Moving to North Carolina is worth it . . . if you know the pros outweigh the cons for you. Because at the end of the day, you have to feel confident that you'll enjoy living here—and that you can afford it.
We can't tell you what you will—or won't—like about living in North Carolina. But we can help you with money stuff (shocker, right?). Use our free Cost of Living Calculator to see how some cities in North Carolina compare to your current region.
All set to move to North Carolina? Get our free relocation guide to make your move smooth as butter.
Find a North Carolina Real Estate Agent
Whew, you made it! We hope you're feeling pumped about moving to North Carolina. There's just one last thing you need to do for your big move: Find a super-awesome real estate agent like the ones in our RamseyTrusted program!
Since they're local, you can work with a top-performing agent who knows your new neighborhood like the back of their hand. Bonus: These agents value serving over selling, so they'll tell you the truth and work their butts off to find you a house that fits your needs. That's why we're proud to call them RamseyTrusted.
Did you find this article helpful? Share it!