An estate planning checklist isn't just for Downton Abbey types with lots of money and large estates that include multiple mansions and yachts. Even if your net worth is camped out on zero as you're paying down debt or building up some wealth, estate planning is still for you. Actually, if your net worth is a bit on the slim side, it will be much easier for you to set up your estate plan. But with either a big or small net worth, having an estate plan is definitely not something you want to put off.
So, what exactly is estate planning? Estate planning is just a fancy legal-ish word for what you want to happen to your money and your stuff when you die or become disabled. It also includes medical wishes and who you want to take care of your kids or pets. It's made up of documents like:
A will
Statement of desires
Financial power of attorney
Medical power of attorney
Beneficiary designations
Your estate plan can be simple or complicated based on your life. Without an estate plan, a lot of things could happen that you never wanted. And the great thing is that you don't necessarily need to pay a lawyer an arm and a leg to draw one up. The average estate plan can be done entirely online in the comfort of your favorite armchair. However, if you do have a large estate, you should consider hiring an estate planning attorney to help with all the ins and outs.

Save 10% on your will with the RAMSEY10 promo code.
Having a solid estate plan in place means you care enough about your loved ones to look after them when you're gone. It gives you a legacy you can be proud of and peace of mind knowing that your assets are going to the right people. It can also be a good way to minimize estate taxes.
But knowing how to set up a proper estate plan can be like trying to untangle those Christmas cord lights after they've been in the closet all year. That's why we created this estate planning checklist—it'll give you everything you need to get your life organized and bring your estate planning skills from rookie to pro. Let's jump in.
1) Inventory Your Stuff
First, look at your life from a 30,000-foot view. Take out your laptop or a pen and paper and make a list of your assets—everything you own. Start thinking about who you want to give them to. If you're married, this could be as easy as listing your spouse as the beneficiary of your things. (A beneficiary is just a big word for someone you're giving something to—they're benefitting from your gift.) These gifts can be money, brokerage accounts or things like a house or car.
A good question to ask is, "Does it have a title?" If yes, it's an asset. Here's a common list of physical assets:
Cars
Homes
Boats
RVs
Property
Art or collectibles
Other assets include things like:
Money in checking or savings accounts
Mutual funds and retirement accounts
HSAs (Health Savings Accounts)
Businesses
Life insurance policies
There are also sentimental things you should think about. Like, do you want to leave your favorite fishing pole to your second son? Or that special painting that's been in the family forever to your niece who loves art?
Another thing to look at is your debt. While it's obviously not an asset, your debt obligations are something you should definitely account for in your estate plan. Make a plan for what happens to your debt after you're gone so your family doesn't have to deal with everything on their own.
Once you've got everything listed out, you're ready to start divvying it up. And remember, even if you don't have much, that's fine. It just means your estate plan will be easier to create.
2) Choose Your People
This step on the estate planning checklist might bring up all kinds of emotions, but it's important because you don't want the courts making these personal decisions for you. Take time to think about the people in your life. Who do you want to get what? These roles will be outlined in your will. You can easily get one online and it'll become a key part of your estate plan. Let's walk through what this looks like.
Name a Personal Representative
Your personal representative (also called an executor) is the one who will carry out your wishes. Who do you most trust in your circle? Think of someone you think would knock this out of the park and add their name to your list under this section.
Pick a Guardian
Do you have young kids who would need to be cared for? Or even a pet you'd like someone to look after if you're gone? This is where you need to pick a guardian, someone you really, really trust. Add them to your list in the guardianship column.
Choose a Power of Attorney (Medical and Financial)
Your will also includes a section where you can choose a power of attorney. There are two types: medical and financial. First, you'll need someone to make medical decisions on your behalf—called a medical power of attorney. Like if you're in a coma, what do you want done? Your health care power of attorney should be very familiar with what you want in certain medical situations.
You can also get something called a medical care directive, or advanced health care directive. This allows you to legally state exactly what you want to happen in different medical events. If you become really sick or injured, and you can't make your own decisions, this document outlines what medical treatments you want to accept or reject.
Next up is picking someone who can make financial decisions on your behalf—a financial power of attorney. This is good if you become incapacitated and you don't want a probate court deciding what to do with your assets. This person will have the power of the pen regarding your finances. So choose wisely! You can also make this kick in right away (if you want someone handling some of your affairs while you're alive and well) or you can make it so it only takes place if you're disabled.
After you've found those special people, talk to them and ask them if they'd be willing to help in these areas. If you've inventoried your assets, and chosen people you trust, you're well on your way to estate planning greatness!
3) Write a Statement of Desires
A statement of desires is like a roadmap for the executor of your estate. It's not technically a legal document but it's a great addition to your will. It outlines your financial accounts, insurance policies, credit cards, car loans, mortgages and any other financial information they would need to know about. You can also include instructions about contacting your family and friends upon your death and about the location of things like legacy drawers or safety deposit boxes. Finally, this is a great place to put your wishes about your funeral, burial and organ donation. It's like an instruction manual to your life for your personal representative.
Okay, so you've got your will and your statement of desires. Great job! But wills don't actually cover everything. And sometimes there's an easier way to give stuff to your family and friends at your death. That's what we'll look at next.
4) Add a Co-Owner to an Asset
Did you know that you can add someone to the title of an asset, like a car? Well, yes, you can. And it can be a good way to make sure it passes to the right person. Just make sure to list the person you want to add as a "joint tenant" with the "right of survivorship."
There are two downsides to this though: 1) If you ever want to sell the asset, or connect it in any way to a loan, the co-owner has to agree. They co-own it. 2) If the value of the asset is over a certain amount, and it transfers to them, they could get hit with a federal gift tax. That said, you should still consider adding co-owners to some of your assets depending on your circumstances.
5) Name Your Beneficiary Designations
Someone won an award somewhere for creating the longest, most complicated term to describe something simple—"beneficiary designation." All it really means is the person you've picked to get your money. This money could be in the form of a checking or savings account, retirement account, or life insurance policy. Most states let you name someone for a brokerage account. If you don't pick a beneficiary designation, probate court gets to decide. And you don't want that.
You should also pick contingent beneficiaries. So maybe you list your spouse on your life insurance policy as the primary one who receives the payout. But if something happened to them, you'd want someone else listed as a backup. And make it a habit, too, to set yourself a reminder every year to double-check the beneficiary designations to make sure you still have the right people listed.
6) Consider a Living Trust
A simple will is perfect for about 95% of the population. If your net worth is over $1 million, you may want to take a look at a living trust. A living trust is when you transfer your money and assets into a trust while you're still alive. Your property is transferred to a trust and you act as the trustee who controls it. This can be a good way to minimize estate taxes and help avoid probate court. You name a successor trustee to make sure everything is transferred properly after your death.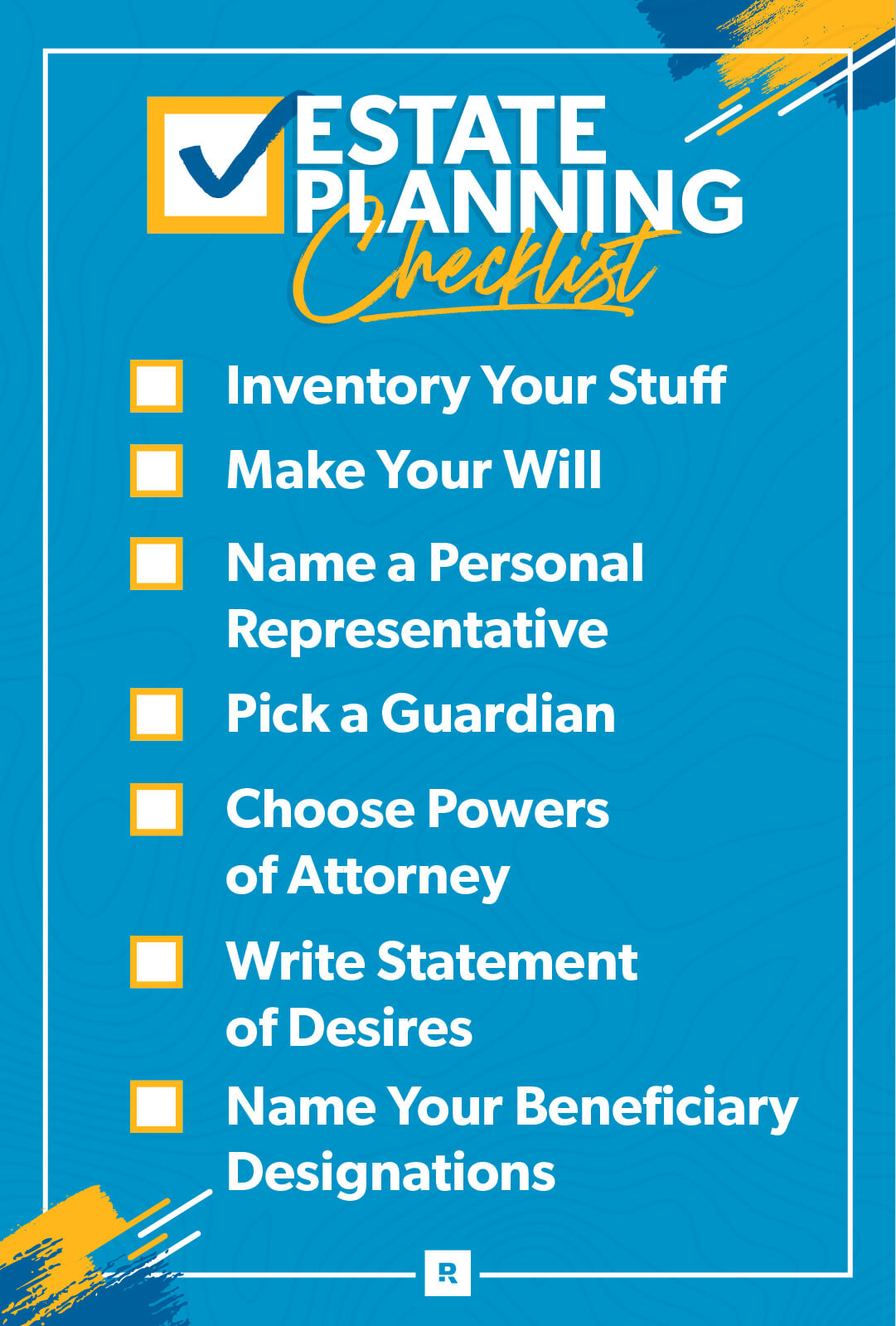 Best Place to Start
So, there you have it. Your estate planning checklist. Congratulations! You made it through. Now take a deep breath . . . give yourself a pat on the back (you earned it)—and then start checking off those boxes.
Even though it can all be pretty overwhelming, you've got this! Start with getting a will. We recommend RamseyTrusted provider Mama Bear Legal Forms and then fill in any gaps from there. You'll sleep better knowing your loved ones are taken care of and that you have a plan for your money and assets.
Estate planning success is right around the corner!