So you're looking to live in the land of peach trees and the home of the Braves (the Atlanta Braves, that is). But before you move to Georgia, you want to make sure you find the safest city possible—especially if you're moving there to start a family. So, what are the safest cities in Georgia?
Top 10 Safest Cities in Georgia
First, let's admit that lists like this aren't always an accurate way to determine a city's level of safety. So make sure to do enough research to back up whatever you find online until you feel comfortable enough to make a decision.
The Georgia crime rate stats we're using are based on official data reported by the FBI.1 The cities are ranked by number of total crimes and law enforcement employees per 1,000 residents.2 Those total crimes are made up of two different crime categories:
Violent crimes. These are defined by the FBI as murder, manslaughter, rape, robbery and aggravated assault.3
Property crimes. These include burglary, larceny (theft of personal property), motor vehicle theft and arson (setting fire to property).4
For comparison with the stats below, the national estimated crime rate in a year was nearly 370 violent crimes and almost 2,200 property crimes per 100,000 residents.5 In other words, that's about 4 violent crimes and 22 property crimes per 1,000 residents.
With that said, let's unpack the safest cities in Georgia so you can compare their stats and narrow down an area you'll feel comfortable moving to.
Oh, and a quick reminder on how to read our charts—the numbers for crimes and law enforcement employees are per 1,000 residents in a year.
Now let's get to it!
1. Braselton
Braselton scores the top spot as one of the safest cities in Georgia. Northeast of Atlanta, Braselton has a small-town, Southern charm vibe. A highlight of Braselton is the Chateau Elan Winery and Resort. The 3,500-acre resort offers luxurious event spaces, restaurants, golf, tennis and a spa!6 If fancy wining and dining isn't your thing, Braselton's Michelin Raceway Road Atlanta could be your new playground. This 750-acre motor sports facility hosts professional and amateur sports car and motorcycle races—get ready to rev up your engine!7
| | |
| --- | --- |
| Population* | 11,537 |
| Violent Crimes** | 0.1 |
| Property Crimes** | 6 |
| Law Enforcement** | 2 |
*For each city, the Population number includes only city limits (not the greater metro area).
**For each city, the Violent Crimes, Property Crimes and Law Enforcement numbers are per 1,000 residents in a year.
2. Holly Springs
Our next safest place to live in Georgia is Holly Springs—a city tucked away in Cherokee County, north of Atlanta. Living there gives you plenty of opportunities to bask in nature with close proximity to outdoor spaces like J.B. Owens Park, Hickory Trails Park and Olde Rope Mill Park. There's also Toonigh Creek Falls and the Cherokee County Aquatic Center to help you cool off on hot summer days. Holly Springs is near Woodstock, which means you don't have to drive far to hit up the outlet mall for discount shopping!
| | |
| --- | --- |
| Population | 12,369 |
| Violent Crimes | 0.2 |
| Property Crimes | 10 |
| Law Enforcement | 3 |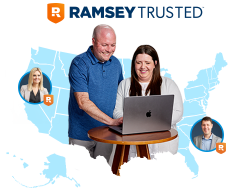 Don't buy or sell without an agent you can trust.
There are RamseyTrusted real estate agents all over the country who are ready to help you win.
Find a Local Agent
3. Johns Creek
This northeastern suburb of Atlanta is another one of the safest cities to live in Georgia. Families gather at Newtown Park to picnic under pavilions, while kiddos and pups run their hearts out around the playgrounds and dog park. Newtown Park also provides older kids and adults a chance to play soccer, baseball, tennis, basketball, flag football, lacrosse and even bocce ball. If you have a green thumb, the park also has a community garden where you can reserve one of the 41 beds to grow fruits, veggies, herbs and flowers.8
| | |
| --- | --- |
| Population | 85,446 |
| Violent Crimes | 0.4 |
| Property Crimes | 6 |
| Law Enforcement | 1 |
4. Milton
Milton feels rural even though it's about an hour's drive north from Atlanta. It has a strong reputation as a horse town—so it's common to see neighbors riding around on horseback. Milton also has an exciting project in the works! After acquiring the former Milton Country Club in 2018, the city is working toward converting the 137 acres into an expansive outdoor space open to residents and visitors.9 Most of the land will be developed into hiking trails that stretch out across lakes and trees. A smaller portion of the land, where the clubhouse was located, will feature a public pool and tennis courts.
| | |
| --- | --- |
| Population | 39,848 |
| Violent Crimes | 0.3 |
| Property Crimes | 7 |
| Law Enforcement | 1 |
5. Jefferson
The city of Jefferson is the county seat of Jackson County and another one of Georgia's safest places to live. Families that live there enjoy visiting O5 Farms—a family-owned and operated farm that lets you pick your own blueberries and pet all the cute farm animals. At the nearby Jackson County Airport, Atlanta Sport Flying offers light-sport aircraft flights that give you gorgeous views of Georgia lakes and mountains—they even train you how to take the aircraft controls into your own hands (if you dare).
| | |
| --- | --- |
| Population | 11,394 |
| Violent Crimes | 1 |
| Property Crimes | 13 |
| Law Enforcement | 2 |
6. Kennesaw
Northwest of Atlanta is the city of Kennesaw. Interestingly, in 1982, Kennesaw unanimously passed a gun law that requires every qualifying head of household to maintain a firearm together with ammunition, which is said to have since decreased its burglary rate—making it the city with the lowest crime rate in Cobb County.10 Residents can enjoy exploring the trails and Civil War monuments of Kennesaw Mountain National Battlefield Park as well as the steam locomotive and other relics displayed at the Southern Museum of Civil War and Locomotive History.
| | |
| --- | --- |
| Population | 34,907 |
| Violent Crimes | 1.6 |
| Property Crimes | 12 |
| Law Enforcement | 2 |
7. Grovetown
Grovetown is part of the greater Augusta metro area, located along the South Carolina border. As one of the safest cities to live in Georgia, Grovetown has many family-fun activities for residents to take part in. The Euchee Creek Greenway Trails includes a beautiful pond and over 4 miles of trail space for walking, running and cycling.11 There's also the newer Gateway Park, which features 150,000 square feet of wide-open meadow space, a paved walking path, play area, picnic pavilions and—most importantly—a massive splash pad!12
| | |
| --- | --- |
| Population | 14,543 |
| Violent Crimes | 1 |
| Property Crimes | 13 |
| Law Enforcement | 2 |
8. Peachtree City
Golf Cart City—wait, no—Peachtree City is our next safest city to live in Georgia. Seriously though, Peachtree City is full of locals who love zipping around town on their golf buggies. The city's 100-mile wooded golf cart path connects residents to neighborhoods, schools, parks and shopping centers.13 So there's really no reason to ever leave home without taking a joyride on your golf cart—sounds fun, right? The city is also a famous site for celebrities, thanks to its nearby filmmaking studios.
| | |
| --- | --- |
| Population | 35,374 |
| Violent Crimes | 0.5 |
| Property Crimes | 13 |
| Law Enforcement | 2 |
9. Duluth
Here's another family-friendly suburb in Georgia. In Duluth, the Hudgens Center for Art and Learning gives locals regular access to visual art exhibits, a sculpture garden and art classes for all ages. There's also mini golfing at Pirate's Cove Adventure Golf. Love trains? Duluth's Southeastern Railway Museum is jam-packed with railroad memorabilia and life-size trains from all across history. Regular admission also includes one ride on a train—chugga chugga choo-choo!
| | |
| --- | --- |
| Population | 29,882 |
| Violent Crimes | 0.7 |
| Property Crimes | 18 |
| Law Enforcement | 2.5 |
10. Roswell
No, not the Roswell riddled with UFO conspiracies—this Roswell is a calmer suburb of Atlanta that's less likely to be frequented by extraterrestrials. Residents have close access to the Chattahoochee River, which means you can always soak up nature whether you're floating on the water or hiking along the riverwalk. Roswell's historic district features over 200 independent restaurants, shops, performing art venues, galleries, and business services that make it a perfect place for family and friends.14
| | |
| --- | --- |
| Population | 95,677 |
| Violent Crimes | 1 |
| Property Crimes | 16 |
| Law Enforcement | 2 |
There you have it, folks! If you're still not sure which place in Georgia is best for you to live, you might be tempted to ask a real estate agent to recommend the safest neighborhoods. Keep in mind, certain laws like real estate steering prevent agents from giving you that kind of advice. So keep doing your own research until you're satisfied you've found a city you're comfortable with.

Find expert agents to help you buy your home.
Also, don't forget to look into the cost of living in Georgia to make sure the city that interests you is affordable compared to where you live now. Safety and affordability are huge factors in where you call home. The biggest expense that'll determine whether you can afford living somewhere new is the cost of housing.
To figure out your housing budget, use the 25% rule—never buy or rent a home that comes with a monthly payment that's more than 25% of your monthly take-home pay. If you're getting a mortgage, that 25% limit includes principal, interest, property taxes, home insurance, private mortgage insurance (PMI) and homeowners association (HOA) fees. Use our mortgage calculator to enter your down payment amount and try out different home prices within your budget.
If you want a mortgage you can pay off fast, talk to the home loan specialists we trust at Churchill Mortgage about getting a 15-year fixed-rate conventional loan. Any other type of mortgage will drown you in interest and extra fees and keep you in debt for decades.
Ready to Move to Georgia?
If you know the area in Georgia where you want to move, your next step is to work with a real estate agent. For a fast and easy way to find Georgia agents we trust, try our RamseyTrusted program. The agents we recommend have earned the Ramsey team's seal of approval by always serving with excellence.
Did you find this article helpful? Share it!