So, you're wondering how much it'd cost to live in Georgia—home of the largest aquarium in the U.S., the University of Georgia (go Bulldogs!), and where Forrest Gump retold his life story.
To figure out if you can afford to live there comfortably, you'd have to compare the cost of living in your current city with the Georgia city of your dreams. To help you make a confident decision on whether Georgia is the right move for you cost-wise, we'll show you how much the state charges for "super fun" grown-up stuff like housing, food, taxes and bills.
What's the Average Cost of Living in Georgia?
The average cost of living in Georgia is about 11% lower than the national average—woo-hoo!1 Keep in mind, there's still a wide range. Some popular Georgia cities rank 16% lower to 4% higher in cost when compared to the average U.S. city.2
To get these numbers, we use a cost of living index that compares nearly a dozen cities in Georgia with the average U.S. city for several expense categories. An amount below 100 means Georgia has a lower cost of living than the U.S. average for that category—take a look!
| | | |
| --- | --- | --- |
| Cost of Living | Georgia | U.S. |
| Housing | 74 | 100 |
| Utilities | 91 | 100 |
| Groceries | 96 | 100 |
| Transportation | 94 | 100 |
| Health Care | 96 | 100 |
| Miscellaneous | 97 | 100 |
| Total | 89 | 1003 |
To better understand this index, let's take a closer look at each category.
Housing Costs in Georgia
Okay, we'll kick it off with housing costs. At the start of 2022, median home prices in Georgia were $367,000—more than 6% lower than the national median of around $392,000!4 Meanwhile, the median monthly rent for a two-bedroom apartment was nearly 2% lower than the national median of almost $1,300.5
With prices like those, you might be wondering why you haven't started livin' way down yonder in Georgia sooner! But don't forget, not all of Georgia is the same. When you consider total housing cost factors, Georgia ranges all the way from nearly 40% lower than the national average in the central city of Dublin (not to be confused with the capital of Ireland) to almost 11% higher in the Atlanta metro area.6
To find the Georgia city that fits your budget, check out the cost differences between these greater metro areas:
| | | |
| --- | --- | --- |
| Georgia Metro Area | Median Home Price | Median Apartment Rent* |
| Atlanta | $389,950 | $1,485 |
| Savannah | $377,450 | $1,324 |
| Augusta | $284,950 | $1,027 |
| Columbus | $199,900 | $1,153 |
| Macon | $174,9507 | $1,0818 |
*Median Apartment Rent numbers refer to two-bedroom apartments in the surrounding metro area.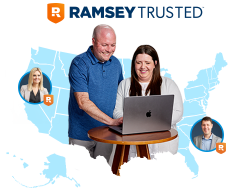 Don't buy or sell without an agent you can trust.
There are RamseyTrusted real estate agents all over the country who are ready to help you win.
Find a Local Agent
Utilities
Utility costs like energy and phone use in Georgia range from 1% lower than the national average in the northwest city of Dalton (in the foothills of the Blue Ridge Mountains) to 17% lower in Douglasville, west of Atlanta. Dublin is somewhere in the middle range among Georgia cities for utility costs at 9% lower than the national average.9
Trust us, you're going to want to crank up the AC during those long, hot summers.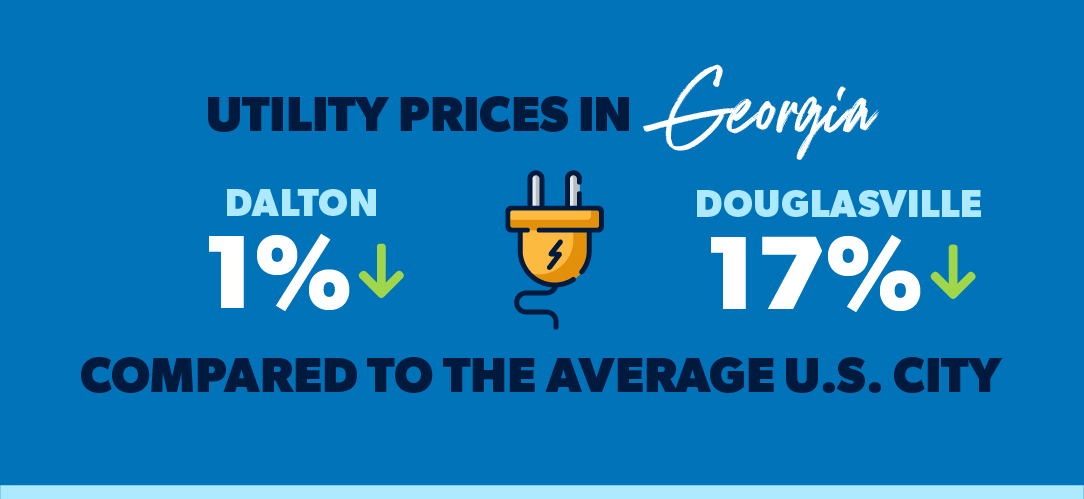 Groceries
In Georgia, you might find yourself doing your grocery shopping at Kroger or Publix. There's also Sprouts, Trader Joe's and Whole Foods in the more city and suburban areas. And Ingles is a common choice if you move to a more rural, small-town area.

Find expert agents to help you buy your home.
Groceries in Georgia range from around 8% lower than the national average in Augusta (near the South Carolina border) to 5% higher in Douglasville.10
The southwest city of Albany sits somewhere in the middle price range among Georgia cities for groceries at 3% lower than the national average.11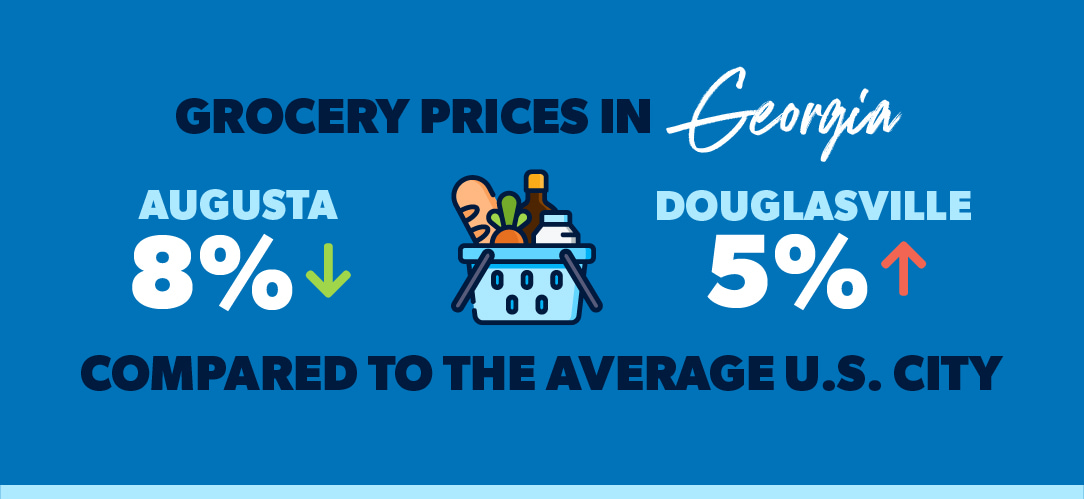 Transportation
Transportation costs include things like gasoline and oil changes. In Georgia, you can expect to pay around 6% less for these things than in the average U.S. city.12
Atlanta comes in with the highest costs in this category, but that's still only 0.3% more than the national average (no sweat)—while Augusta has the lowest costs at 16% less than average.13
With Georgia's long drives and winding roads, you'll want to keep transportation costs low by getting the right coverage. Try bundling your auto insurance for a discount by talking to one of the independent insurance agents we trust.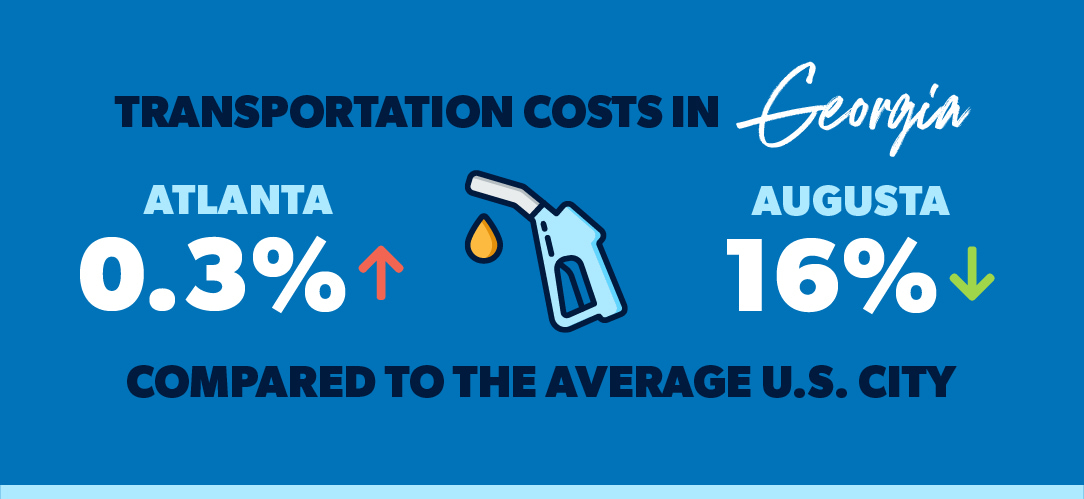 Health Care
Georgia health care costs range from around 13% lower than the national average in Douglasville to 5% higher in Atlanta.14 Meanwhile, Dublin sits in the middle range among Georgia cities, with health care costs around 4% lower than the national average—not too shabby.15
Here's a breakdown of how Dublin health care costs compare to the average city in the country:
| | | | |
| --- | --- | --- | --- |
| Health Care Type | Dublin, GA Cost | Average U.S. City Cost | Cost Difference |
| General doctor | $75 | $117 | -36% |
| Dentist | $118 | $101 | +16% |
| Eye doctor | $116 | $109 | +6% |
| Advil | $8.95 | $9.90 | -9% |
| Prescription drug | $468 | $470 | -0.3%16 |
Taxes
Ew, taxes. No one's favorite subject. But they're something to consider when it comes to the cost of living in Georgia.
Compared to other states, Georgia's tax on income ranks somewhere in the middle-to-lower end of the spectrum. Still, taxpayers are hit with the state's highest tax bracket rate (5.75%) if they earn at least $7,000 in a year—womp-womp.17
The good news is, Georgia has one of the lowest sales tax rates in the nation at 4% (not counting states with zero sales tax).18 But when you combine that with the average local rate, total sales tax in Georgia can reach up to 7.35%.19
Don't worry, though—not every city in Georgia has the same local taxes. You can talk to your real estate agent to find out what the taxes are like in the specific area where you're looking to buy.
And when you're ready to file your first Georgia tax return, we've got the people and programs to help you do it all. Check out our trusted tax services.
Miscellaneous Goods & Services
This category refers to a wide range of things, including common restaurant foods, clothing, entertainment, activities and personal care. In Georgia, these costs range from nearly 12% lower than the national average in the southeastern city of Statesboro to more than 7% higher in Atlanta.20
The coastal city of Savannah represents most Georgia cities for these costs at around 3% lower than the national average. In Savannah, you can get a haircut for $19, buy a shirt for $26, or catch a movie for $9. For reference, the national average cost for those items is $20 for a haircut, $31 for a shirt, and $11 for a movie ticket.21
Then again, in Savannah, you could skip the movie ticket and just watch films being made in person—since it's a popular filmmaking location!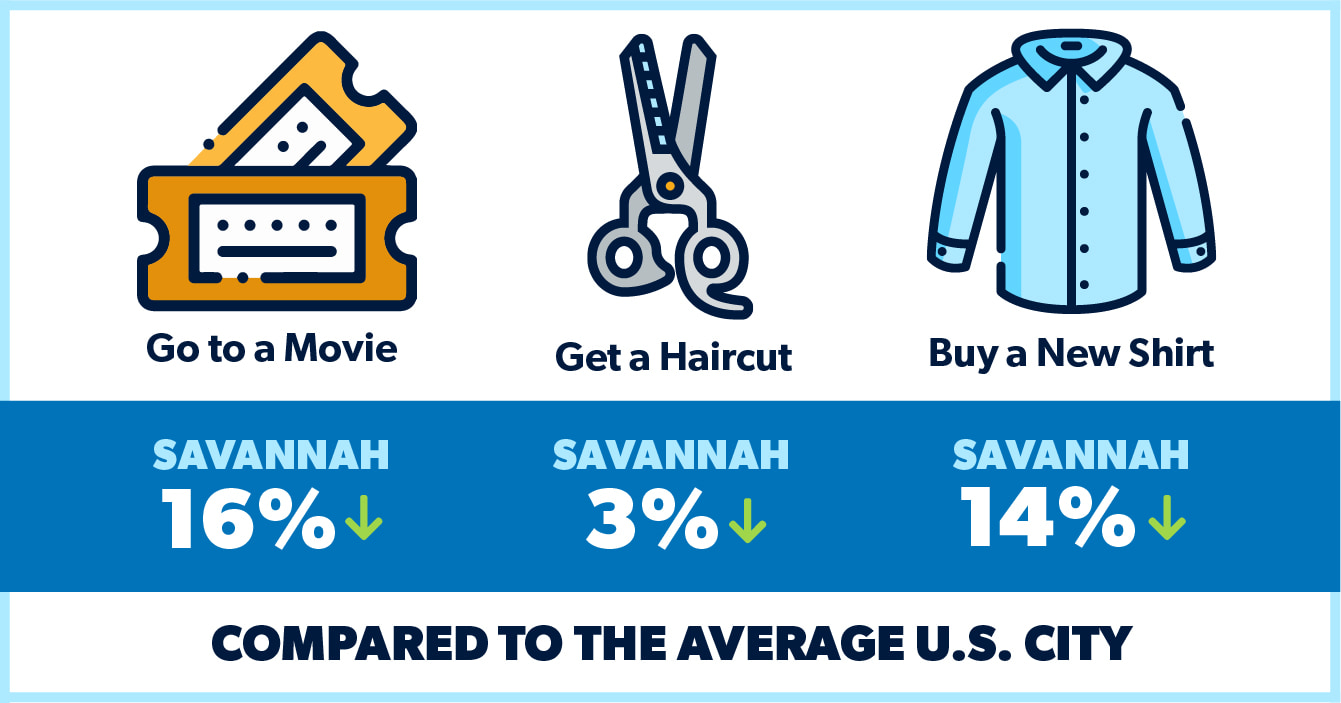 How Much Money Do You Need to Live Comfortably in Georgia?
In Georgia, the median household income is $61,224.22 But living comfortably isn't just about how much money you make. It's about what you do with that money.
Wherever you live, you have to take charge of your money and tell it where to go—instead of wondering where it went. When you stick to a written budget, you may find that you can actually afford to live in a more expensive city if you lower some other costs.

Even if you're living on a budget, though, you need to keep your housing costs under control. Never buy or rent a home that comes with a monthly payment that's more than 25% of your monthly take-home pay.

For home buyers who are getting a mortgage, that 25% limit includes principal, interest, property taxes, home insurance, private mortgage insurance (PMI), and homeowners association (HOA) fees. Use our mortgage calculator to enter your down payment amount and try out different home prices within your budget.

For a mortgage you can pay off fast, talk to our friends at Churchill Mortgage about getting a 15-year fixed-rate conventional loan. Any other type of mortgage will cost you extra in interest and fees and keep you in debt for decades.
Georgia's Lowest Cost of Living by County
If you want some ideas on the most affordable places to live in Georgia, check out these counties that rank for the lowest cost of living:
Atkinson County
Johnson County
Wheeler County
Wilcox County
Appling County23
Keep in mind, moving to a part of the state with the lowest cost of living could mean you'll be farther away from the more popular cities and suburbs. But even a less popular area might have just what you need for your specific season of life. Plus, saving money and making serious progress with your financial goals will make it all worth it!
Compare the Cost of Living in Georgia With Your Current City
Now you know the cost of living in Georgia—but can you afford it? If you want to be sure, try our free Cost of Living Calculator to determine how much more or less expensive it would be for you to live in the Georgia city that's calling your name.
If Georgia has a higher cost of living than you can currently afford, not all hope is lost. Try one of these ideas:
Adjust your standard of living.
Try to bump up your salary when you find a new job.
Move to an affordable zip code that's within range of your desired city.
Ready to Move to Georgia?
If you know the area in Georgia where you want to move, your next step is to work with a real estate agent. For a fast and easy way to find Georgia agents we trust, try our Endorsed Local Providers (ELP) program. The agents we recommend have earned the right to be called RamseyTrusted by always serving with excellence.
Find a Georgia real estate agent we trust!
P.S. Want to Know Where We Got Our Data?
Most of these numbers came from the Cost of Living Index (COLI). The Council for Community and Economic Research (C2ER) publishes this data every few months, and we use that info to help keep our Cost of Living Calculator as up-to-date as possible. Learn more about C2ER here.
Did you find this article helpful? Share it!