South Carolina can be a great place to move to! Maybe you've been thinking about it for a while—or maybe it's already a done deal. Either way, moving to South Carolina will come with lots of big decisions and emotions.
To help make it easier, we'll walk you through the 10 important things to know before you take the plunge. Plus, we'll cover the pros, cons and costs of moving to South Carolina so you can decide if it's really the right choice for you.
So, grab some boiled peanuts (the official state snack) and let's get started!
What to Know Before Moving to South Carolina
South Carolina (aka the Palmetto State) is known for its pristine islands, golf courses, and being the home of country music star Darius Rucker. It was also an important starting point for our country—lots of Revolutionary War battles took place there.
Those are all cool facts, but they don't determine whether South Carolina is right for you and your family. Here are 10 more things you should know before moving to South Carolina:
1. Why Are People Moving to South Carolina?
In 2021, South Carolina's population grew 1.4%—that's 14 times more than the average national population growth rate.1
One big reason South Carolina grew so much is inbound migration. That's just a fancy term for when people move into a state. In fact, South Carolina tied with West Virginia as the fourth most popular state people moved to in 2021.2
Let's see the top six reasons people moved to South Carolina:
Retirement (37%)
Family (29%)
Lifestyle (24%)
Work (19%)
Cost of living (13%)
Health (5%)3
While some people moved for multiple reasons, retirement was clearly the top reason people came to South Carolina. And it's definitely a great state to retire to! But if you're still working, you'll need to know about South Carolina's job market.
2. Job Market
South Carolina's job market is heating up. In March 2022, the unemployment rate was 3.4%.4 That's 1% lower than the year before and below the U.S. average.5 More good news: 57,200 more South Carolinians had jobs in spring 2022 than the year before!6
So if you're looking for a job in South Carolina, don't settle for a J-O-B. Now's the perfect time to land your dream job. You can even try to negotiate a sweet relocation package to help cover your moving costs (more on those later).
Things will look a little different for business owners. You'll need to register your company with the state and your new county—even if you work from home. Want help growing your business in South Carolina? EntreLeadership offers practical principles to help you win in business.
3. Cost of Living
South Carolina's overall cost of living is 6% less than the U.S. average.7 That's pretty affordable! Of course, costs of living vary. For example, utilities in South Carolina run about 9% above average, and housing is about 22% below average.8
Costs of living also change from city to city. You can try our Cost of Living Calculator to see how your town compares to different places in South Carolina. With that in mind, you should have a better idea of which South Carolina cities you can afford—and how moving might affect your budget.
Generally, if you're coming from a cheaper place (like Texas), you'll want to make sure you can handle South Carolina's higher living expenses. If you currently live in an expensive state like (California or New York), your overall expenses should go down. That could mean more money in your pocket to save, pay off debt, or give generously!
4. Cost of Housing
For most people, housing costs more than any other expense. So let's take a deeper dive into South Carolina's housing prices—and how they compare to the rest of the country. Here's what that looked like in March 2022:
| | | |
| --- | --- | --- |
| | South Carolina | U.S. |
| Median Home Price | $330,708 | $404,9509 |
| Median Monthly Rent* | $1,157 | $1,29110 |
*Median Monthly Rents refer to two-bedroom apartments.

Find expert agents to help you buy your home.
Housing prices are way cheaper than normal in South Carolina. (Yay!) But that doesn't mean you should buy more house or sign a pricier lease than you can afford. You'll still need to deal with housing costs in South Carolina the right way.
Talk through the numbers with your spouse (or a close friend if you're single) to see how much house or how much rent you can actually afford. Then look for a place that matches those numbers. (Pro tip: A good real estate agent will help you stick to your budget, even if it means less of a commission for them.)
5. Major Cities
We made a countdown of the best cities in South Carolina a while back. But to give you a taste of what's out there, here are three of those top cities:
Tega Cay: Tega Cay is a retiree's dream! It's got a golf course, several parks and a marina. The town is great for families and single working folks too—incomes are high, costs of living are low, and home prices are reasonable. And since Tega Cay's right on the state line, it's just minutes from all that downtown Charlotte, North Carolina, has to offer.
Columbia: Columbia is South Carolina's state capital. It offers tons of museums, tours, outdoor adventures and family-friendly activities. So whether you're single or raising kids, there's always an adventure just around the corner.

Charleston: Tons of people moving to South Carolina head for Charleston—for good reason! It has beautiful beaches, great shopping and dining options, and even historical pirate tours. And while its costs of living are higher than Tega Cay or Columbia, Charleston is still on par with the national average.
6. Geography
South Carolina only borders two states: Obviously, North Carolina is to the north, and Georgia is to the west and south. To the east, you'll find the Atlantic Ocean.
South Carolina has three regions. The Atlantic Coastal Plain is—not surprisingly—next to the Atlantic Ocean. It's flat and swampy, but you can also find a few small hills and pine trees as you go inland.
The Piedmont Province in the middle of the state has much bigger hills. Some are even made of sand. They all lead up to the Blue Ridge Mountain Province in northwestern South Carolina—home to the state's highest point, Sassafras Mountain.
7. Year-Round Weather
Most of South Carolina has a humid subtropical climate—meaning hot, humid summers, cold winters, and rain spread evenly throughout the year.11 But in the Blue Ridge Mountains, where elevations are higher, you'll typically see lower temperatures and even chances of snow.
In the summer, South Carolina's high temperature can range from the low 80s in the mountains to the low 90s on the coast.12 The coldest winter temperatures drop from the mid-40s by the sea to below freezing in the mountains.13
One last thing: You'll need to prepare for hurricanes if you move to South Carolina. That may sound scary, but they're part of life there. Fortunately, beautiful weather and sunny days are way more common—whew!
8. Taxes
South Carolina has a graduated income tax rate that ranges from 0–7%.14 But don't let that fool you. All South Carolina residents "graduate" to the highest tax rate as soon as they make more than $16,040 a year.15 So if you're a middle-income earner hoping to catch a tax break, South Carolina ain't for you.
South Carolina's combined state and local sales tax rate is the 18th-highest in the country.16 You can expect to pay 6% for state sales tax and around 1.44% locally.17 So you may want to ask your real estate agent which towns go easy on local sales tax.
P.S. When you're ready to file your taxes in South Carolina, check out our trusted tax services.
9. Schools
Whether you've already got kiddos or you want to start a family in South Carolina, you'll want to check out the local schools before you pick a place to settle down. Some online tools, like GreatSchools, can help you weigh the pros and cons of different districts.
If you've got older kids, there's good news. They can get in-state tuition at some great schools in South Carolina—like Clemson University, which ranks as one of the top 100 best schools in the country.18
10. What Is There to Do in South Carolina?
South Carolina has a ton of cool things to go see and do. Here are some of the coolest ones we found:
Natural Areas
The Jocassee Gorges
Mountain Bridge Wilderness Area
Mountains like Sassafras and Table Rock
Islands like Hunting, St. Phillips, Pawleys and Edisto
Angel Oak, a 400-year-old live oak tree in Charleston
Beaches like Charleston, Hilton Head Island and Huntington
ACE Basin, the largest wetland ecosystem on the Atlantic coast
National parks and forests like Congaree, Sumter and Francis Marion
Outdoor Recreation
Fishing
Golfing
Ziplining
Wildlife viewing
Mountain biking
Hiking and trail running
Horseback riding on the beach
Water activities like sailing, whitewater rafting and kayaking
Historic Sites
USS Yorktown
Poinsett Bridge
McLeod Plantation
Catawba Cultural Center
Georgetown Historic District
Fort Sumter National Monument
Revolutionary War-era sites like Brattonsville, Camden, Cowpens National Battlefield and Ninety Six National Historic Site
Museums and Events
Revolutionary War Days
Charleston's Museum Mile
Coastal Discovery Museum
South Carolina State Museum
Annual Gullah Days Celebration
Children's Museum of the Upstate
Halsey Institute of Contemporary Art
Carolina Brew HaHa, a craft beer festival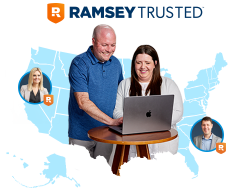 Don't buy or sell without an agent you can trust.
There are RamseyTrusted real estate agents all over the country who are ready to help you win.
Find a Local Agent
Pros and Cons of Moving to South Carolina
Okay, so by now you've probably noticed a couple things about South Carolina that you are (or aren't) crazy about. But just in case you haven't considered them, here are some more pros and cons of moving to South Carolina:
Pros
Beautiful sandy beaches
Tons of cool history and things to do
Low cost of living, especially housing prices
Cons
Hurricanes and storms
Hot, muggy and buggy summers
High state income and sales taxes
How Much Money Do I Need to Move to South Carolina?
Moving to another state typically costs anywhere from $2,600 to $6,800.19 And that just pays the movers to haul your stuff long-distance. The true cost of moving can be a bit higher if you're moving cross-country, have lots of stuff, or want the movers to do extra work like packing and unpacking.
And keep in mind, South Carolina's cost of living will also affect how much you pay movers there.
What Do I Need to Do When Moving to South Carolina?
Okay, you decided you're moving to South Carolina—woot woot! Moving takes a lot of work—packing, decluttering, updating your address and more. Use this handy moving checklist to make sure you don't miss a thing.
Oh, one more piece of advice: Update your driver's license and vehicle documents asap!
Update Your License, Registration and Vehicle Titles
When you move, you'll need to get a shiny new South Carolina driver's license. Next up: getting the right documents for your car.
You'll need South Carolina car insurance. Once you've got that, you can register your car in South Carolina (and your motorcycle, boat, trailer and other fun toys). You'll also need to transfer all vehicle titles to South Carolina so it's clear you're the rightful owner. Plus, that'll make selling your car easier if you decide to do that down the road.
Find out what personal documents you need and how much licenses, registration and titles cost on South Carolina's official Division of Motor Vehicles website.
Is Moving to South Carolina a Good Idea?
Moving to South Carolina is a great idea if you're confident there are more pros than cons. We can't tell you for sure whether you'll like living in South Carolina, but we can help you figure out if you can afford it.
Use our free Cost of Living Calculator to see how your dream city in South Carolina compares to your current town.
All set to head for South Carolina? Get our free relocation guide to help your move go smoothly.
Connect With a South Carolina Real Estate Agent
You're moving to South Carolina—how exciting! There's just one more important thing you need . . . a trustworthy, local real estate agent.
We recommend agents from our RamseyTrusted program. They're some of the best agents in the business, and since they're local, they can help you find a home in the best neighborhood for your needs. Plus, they're RamseyTrusted—meaning we count on them to have your back, no matter what.
Did you find this article helpful? Share it!